Janiva Magness Seductive, Sassy and a Vamp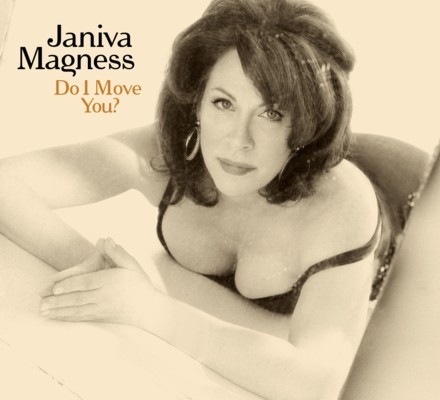 "I am very vulnerable, very fragile and sometimes just very human. Overall, we are talking about the human condition and I think about things like that. Why are we here in the first place? It isn't to be separate. Music is a way of connecting with people and a way of connecting with me. I can't sing about great pain with any kind of truth unless I have had great pain. I am willing to reveal that part of myself to people. This music allows me to do that. I am willing to do that. I have become very, very willing to do that," says Janiva Magness the 2006 Contemporary Female Blues Artist of the Year.
Whether Magness is belting out the number one track "I'm Just A Prisoner" on her album Do I Move You? or performing the song onstage, she exhibits raw emotion that can only come from a singer who has experienced heartache and pain. That pain came early in life with twelve foster homes in a two years span of time while she was a teenager. That experience was coupled with a teenage pregnancy and chemical dependency also in her teen years. She is also the first to admit that earlier in her career she was "well experienced in relationships."
"I don't believe there can be great joy unless there is great pain or a high price. The early part of my life was difficult. In some ways it was an early ticket price to access that part of me that I try to let come through the music," Magness says.
Magness can be seductive, sassy, vamp like, and in your face when she is on stage. Sitting across from her one moment, she is thoughtful and thought provoking, another she is coarse and opinionated. There is one thing that she can always be accused of however and that is her ability to be completely honest not only with her conversation but in her music. There is an authenticity to her music that is true to the roots of blues and early jazz music. That ability to be transparent often missing from many of today's artists is what no doubt gave rise to two previous nominations for the same coveted blues award that she received this year.
"I am a singer, a vocalist and a person who tells stories with melody," says Magness, "It is about the story for me but it is also really about accuracy and truth. You can have the greatest chops in the world but if the story that you are trying to tell doesn't have a piece of your own truth to it then it isn't going to mean anything. It isn't going to move people and it isn't going to move me."
Continuing to talk about songs that move her Magness says, "There are a lot of songs that do that for me otherwise I would be in big trouble when I am looking for material. That's what I look for. I look to be moved by the tune and that doesn't have to be in a particular genre. For me it tends to be in blues. Occasionally I will stray away from blues, R&B and Memphis soul into some very early jazz material." She adds that she favors the music from the Roger Young and Billie Holiday era more than today's jazz. It is not a comment on the quality of the music but just personal preference.
It is fitting then that the title of Magness' current CD is Do I Move You? The title has its origins in the Nina Simone song of the same name. Magness recorded "Do I Move You?" for this album. She sings "Do I move you, are you willin'/Do I groove you, is it thrillin'/Do I soothe you, tell the truth now/ Do I move you, are you loose now/The answer better be (Yes, yes)/That pleases me." She sings with such conviction that male listeners will be shouting, 'yes, yes'.
Commenting on the title track Magness says, "There are a couple of things going on there for me. That Nina Simone tune is one that I have wanted to do for a very, very long time. I keep this ongoing wish list of tunes and "Do I Move You?" has been on my wish list for a very long time, probably twenty years." The singer says the music and lyrics to "Do I Move You?" have always moved her.
"Anything that is about the truth or is going to strike a chord in me is the stuff that I look for," says the blues singer, " When I listen to Albert King, Freddie King, B. B. King, or Aretha Franklin those people weren't playing, they weren't making it up. They were telling the truth in their songwriting, guitar playing and in their vocalizing. They were emotive. They moved people. If you can't move people, it doesn't mean anything. They won't pay to see you and they won't buy your records. End of story."
Magness extends that quest for authenticity to the choice of musicians that she works with. On her CD the piano and Hammond B3 chops were performed by Richard Bell. At the concert that I attended Benny Yee was the man caressing the keys. Both men are outstanding musicians and create passionate grooves. Magness says, "With drummers I look for someone who can groove. That's the number one thing," then she adds, "The second number one thing is time. Drummers who have bad time are just a bummer." Stephen Taylor Hodges keeps the beats for this project.
Magness' husband Jeff Turmes adds to both the melody and rhythm for several songs from Do I Move You? He plays guitar, bass and both baritone and tenor saxophone. Turmes also penned three original tunes, "Bad Blood," "I Can't Stop Crying," and "Don't Let Your Memories".
Another quality that Magness looks for in her musicians is what she describes as a "really big vocabulary". "I have carved a career out of doing what I damn well please and not allowing myself to be reigned in by any particular genre. In terms of where I pick my material, I choose from blues, soul and ballads. Sometimes I push up into the Billie Holiday and Dinah Washington type of material. You have to be able to play all of that stuff and play it well or you can't work with me. I look for people who have a very large vocabulary and that can be very, very difficult. I can't have a straight-ahead blues drummer or a straight-ahead blues guitar player. It gets really tricky to find those cats."
Although she now lives in Los Angeles Magness' Detroit roots run deep as evidenced in her cover of the Lee Rogers' song "I Want You To Have Everything." Richard Bell's Hammond B3 grooves are a good comp for the blues singer's soulful rendition. This mamma cat would have fit right in during the early sixties when the song made Rogers an overnight success.
Magness says of "I Want You To Have Everything," "There is so much joy in that song. I really was plucked away by it when I heard it. I thought I really need to cut this tune."
Among those who were an early influence on Magness's music was her father who passed away while she was a teenager. She says, "He used to play his records really loud on Sunday morning and he would often sing to me at night. He had a beautiful voice."
Another major influence upon the singer was Bob Tate whom she met in Phoenix. "Bob had been Sam Cook's musical director for the majority of Sam's career. (He was with) Sam from the gospel tent shows to the day Sam was murdered."
"Bob taught me so very much about being a professional musician and the dos and don'ts of it. (He taught me) the importance of telling the truth in my craft," she says.
Being nominated and ultimately awarded the top prize in blues music is, "to me an honor of the highest order," says Magness, "The nominators for this accolade are a group of highly knowledgeable people who have dedicated at least part of their lives to this business of the blues."
All of which brings us back to the people who also provided a huge influence upon the career of Janiva Magness as she says, "And then there are the ones who told me, 'No you can't do or be a singer,' I owe them just for giving me a reason to stand up and prove them wrong!"
Interviewed by Joe Montague in 2006 Return to Our Front Page
This review is protected by copyright © and may not be reproduced in print or on the internet or through any other means without the written permission of Riveting Riffs Magazine, All Rights Reserved