Interview by Joe Montague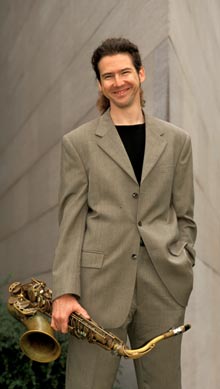 At the end of February, I had a chance to visit and dine with Washington DC saxophonist Jeff Antoniuk who was returning to his native Canada for the week to act as an adjudicator for a province wide high school jazz competition. Most of our conversation focused on his new CD Here Today, his debut solo effort in which he was joined by his band The Jazz Update. At the time, the album was ranked number twenty-five on the national airplay list and by the end of March had spent ten weeks in the top fifty.
"Not in a million years did I think I would be on the chart at all. I just wanted to get my music recorded and out to some people so the fact that it is accepted on some levels, I am not really sure what to make of that yet. It is certainly exciting and I am certainly happy about it. It is affirming to me. I would continue what I am doing anyway but it is nice to have somebody say, 'yes you are on the right track, I like your sound.' That certainly feels good and it is nice to know that you are communicating with people," says the affable Antoniuk.
For the most part straight ahead jazz, university, National Public Radio and satellite radio stations have been the biggest cheerleaders for Here Today. While "Springfield" is the song that opens this collection of fine tunes, it is compositions such as Antoniuk's interpretation of the Thelonious Monk song "Four In One", Duke Ellington's "Prelude To A Kiss" and Antoniuk's original piece "Rain" that capture the imagination.
"When I am going to buy a CD of an artist that I don't really know I like to listen to somebody improvising over standards because that is a framework that I identify with a little bit better. I like to hear new voices singing or playing over a form that I can relate to because it gives me something that I can judge. That is the reason that I wanted to put some standards on this CD," says Antoniuk.
"I have always loved Monk and I picked "Four In One" because I love the humor in it. I always appreciate anyone whose music reflects his or her personality. We hear his (Monk's) quirkiness in this tune. Some of his tunes are complicated and hard to play as a musician but they have a simple quality however "Four In One" is just this sheet of notes. It is very unlike Monk and yet I am intrigued by the tune because there are so many notes in yet while still (retaining) that cockeyed Monk flavor to it. Monk's tunes have been recorded a trillion times but this is one of the less recorded ones," says Antoniuk.
Antoniuk (tenor/soprano sax) and his quartet The Jazz Update consisting of Wade Beach (piano), Tom Baldwin (bass) and Tony Martucci (drums/percussion) have created a CD that pushes the boundaries out much further than standards. The ensemble was joined by trumpeter Dave Ballou who also played his flugelhorn.
In describing the mix of tunes that found their way onto Here Today Antoniuk says, "Noah's Little Play Song", is a kid's song with classical counterpoint and we play it in an almost free jazz kind of way. There is a free jazz tune "Blues For JD Salinger" that covers a lot of stylistic territory and the Monk tune is straight ahead swinging. To me the unifying thing is the band. I thought with The Jazz Update that we developed a group sound in the way that we approach material. When we play a straight-ahead standard, we try to bring a freedom, a width and a breadth to it. We are not trying to be between the lines (but instead) to be expansive in the way that we look at a standard tune."
"Blues For JD Salinger" as one might suspect was inspired by the author and his writings. "I found out that he was a hermit and an eccentric guy. When I wrote the tune, it had an off kilter feel to it. It is a free tune so once the melody is stated it can go anywhere. We have played it where it becomes a funk tune, played it where it becomes a dirge and everything in between. There is no telling where it is going to go. That is the flavor of his (Salinger's) stories to me."
Antoniuk says, "As I was thinking about a ballad to put on the album I wanted to have something from Duke Ellington and I just kept coming back to "Prelude To A Kiss". I am comfortable with it and I feel that I have a connection to it. It is a dream piece for me to play."
There are various ways to approach a song previously composed and written by another artist. Laughing Antoniuk says, "One way is to ignore the original. When you are covering a piece, you are painfully aware of the brilliant original versions of it. I think one thing that is particularly helpful when we think of Duke Ellington is (we associate him) with the big band, the orchestrations and colors that they had. Here (with "Prelude To A Kiss") I am doing it as a quartet so in a sense I am not even competing on that level. They (Ellington's band) were seventeen people and in mine, there are four. "
Continuing the discussion concerning covering an original work Antoniuk philosophizes, "I think the idea is to be really in the moment with the great musicians that you have. We shouldn't worry about if are we reinventing something or are we being new. That is a valid concern and my hope is with these four musicians that we will react in the moment and there will be something different in this performance from the thousand other performances."
The sax man has over the years performed as a sideman for artists as diverse as Ray Charles, Natalie Cole and Kenny Rogers. Playing behind someone like Ray Charles who had a particular feel, groove and accent is very different than playing with Natalie Cole. There are little things that you do with the notes and how you bend them. You may lie back in time or play forward in time. I love that challenge. There are people who are fabulous at it (playing in different styles) and there are people who do not like that challenge. I personally love the challenge. "
One of the challenges that Atoniuk faces in the tightly formatted radio market is the length of the songs that comprise Here Today. Only one of the tunes is under six minutes. "When I recorded the CD I was vaguely aware concerning airplay but I must say that I was more interested in having the best music. One of my favorite tracks and a favorite of others is the second track "Rain". It is almost eleven minutes long. Interestingly we have been getting a lot of radio airplay," he says. A decision was made to promote four of the songs from Here Today to radio, "Springfield", "Back To Bowie", "Four In One" and "Stablemates". Despite those efforts DJs appear to be exploring the rest of the album and have in many cases chosen to play the considerably longer "Rain".
Jeff Antoniuk first picked up a saxophone in a junior high jazz band. He was initially inspired by the music of Tower of Power and Earth, Wind and Fire. He says, "Some of my mentors encouraged me to listen to Tower of Power and it was a gateway for me. I went, 'Wow there are saxophones in Tower of Power. There are saxophones in Earth, Wind and Fire and Maynard Ferguson. That got me into Spyro Gyra, then Jeff Lorber, onto Chick Corea, which means you have heard Michael Brecker and eventually Horace Silver. All of a sudden, I was listening to acoustic. It was that sort of progression from more commercial stuff and just following my instrument along."
Interview by Joe Montague, all rights reserved, protected by copyright © February 2007 Return to Our Front Page