Jenny Jones hosted her own nationally syndicated talk show but that was just one of many jobs that Jenny has held, including waitress, bookkeeper, author, comedian, musician, singer, songwriter, caterer and chef.
Jenny Jones Easy One Bowl Blondies
You only need 3 tablespoons of butter for these yummy, chewy bars. Toasting the pecans makes a huge difference in taste and there's almost no cleanup if you line your pan with foil. Do not overmix or overbake. - Jenny Jones
Prep Time: 12 minutes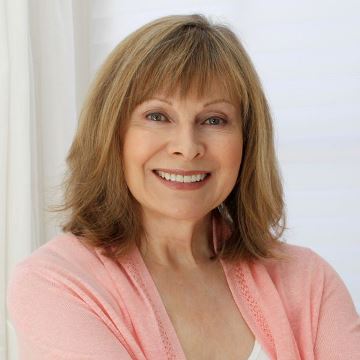 Cook Time: 18 minutes
Total Time: 30 minutes
Makes: 16 bars
Ingredients:
3 Tablespoons butter, melted & cooled
1/4 cup vegetable oil
1/2 cup brown sugar
1 egg
1 1/2 teaspoons vanilla
1/2 cup whole wheat pastry flour
1/2 cup all-purpose flour
1/4 teaspoon baking soda
1/4 teaspoon salt
1/2 cup dark chocolate chips
1/2 cup chopped toasted pecans
Instructions:
Preheat oven to 350° F.
Line an 8 x 8-inch square pan with foil.
In a bowl, stir together the butter, oil, sugar, egg & vanilla.
Gently stir in the flour(s), baking soda & salt until barely combined.
Fold in chocolate chips and nuts, stirring as little as possible.
Spread evenly into pan and bake for 18 minutes. Do not overbake.
Please visit the Jenny Can Cook website.
This recipe and all photos are protected by copyright © and are the sole property of Jenny Jones, All Rights Reserved. All other material including the logo is the property of Riveting Riffs Magazine
and is protected by copyright © All Rights Reserved.
This recipe, all descriptions by Jenny Jones and all photos may not be reproduced in print or on the internet or through any other means without the written permission of Jenny Jones