Jenny Jones hosted her own nationally syndicated talk show but that was just one of many jobs that Jenny has held, including waitress, bookkeeper, author, comedian, musician, singer, songwriter, caterer and chef.
Jenny Jones Easy One Bowl Coconut Cake Recipe
It's best to have all your ingredients at room temperature and I highly recommend using a cake strip so the edges don't over-bake. Be sure to aerate your flour before measuring.- Jenny Jones
Prep Time: 10 minutes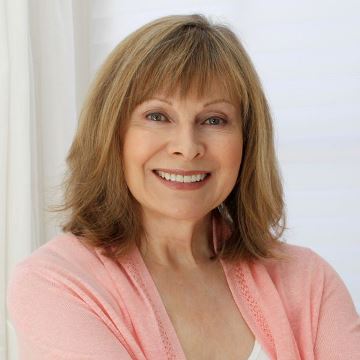 Cook Time: 30 minutes
Total Time: 40 minutes
Makes: 8 servings
Ingredients:
1/2 cup sugar
2 eggs
1 teaspoon vanilla
1/3 cup oil (any vegetable oil or extra light olive oil)
1/2 cup milk (I use 1% low fat milk)
1 1/4 cups all-purpose flour
1 1/4 teaspoons baking powder
1/3 cup shredded sweetened coconut
Cream Cheese Frosting:
2 ounces reduced fat cream cheese
1 1/2 cups powdered sugar
1/2 teaspoon vanilla
1-3 teaspoons milk
(1/2 cup shredded coconut for topping)
Instructions:
Preheat oven to 350° F.
Grease an 8 or 9-inch round cake pan.
With an electric mixer on high, beat sugar, eggs, & vanilla for one minute to thicken.
On low speed add remaining ingredients (in the order listed) but do not over-mix. This should take less than a minute.
Pour into pan and bake for 25-30 minutes until a toothpick inserted in the center comes out clean. Cool completely.
Cream Cheese Frosting:
Beat cream cheese, powdered sugar & vanilla and add just enough milk, a little bit at a time, to get a good spreading consistency. Frost the cooled cake and top with more shredded coconut. Keep refrigerated.
Please visit the Jenny Can Cook website.
This recipe and all photos are protected by copyright © and are the sole property of Jenny Jones, All Rights Reserved. All other material including the logo is the property of Riveting Riffs Magazine
and is protected by copyright © All Rights Reserved.
This recipe, all descriptions by Jenny Jones and all photos may not be reproduced in print or on the internet or through any other means without the written permission of Jenny Jones