While in the studio recording a few songs, Jesse & Noah (Bellamy) kept writing more songs and before they knew it they had enough for a new album. The album became Neon Pike.
Jesse says, "We cut three songs to begin with and it was going to be a tip our toe in the water kind of a thing, but we realized we might as well keep on making an album."
Noah says that they wrote about forty songs in total and then they picked the best ones for this record.
The album opens with the up-tempo love song "Unconfined," driven by Jesse and Noah Bellamy's acoustic and electric guitars and featuring some great fiddle playing by Lillie Mae Rische who also provides background vocals for this tune.
Although, Jesse & Noah have always played the guitars on their previous albums, we asked why it seemed for Neon Pike that their talent as superb guitarists seems even more highlighted.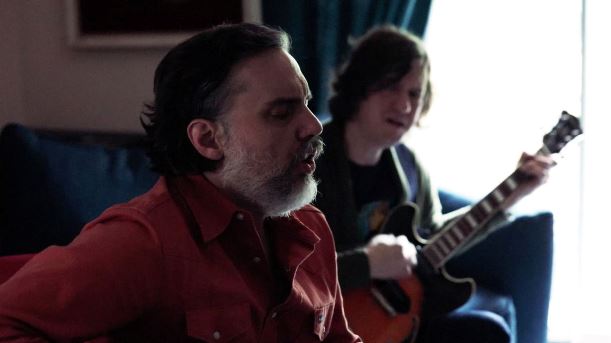 Noah says, "We brought in more musicians and other engineers, so we were able to focus more on our parts because of that, whereas before we were producing and engineering a lot of it ourselves. It took the pressure off with not having to do that."
To which Jesse adds, "We could just come in and be the players and not have to worry about (the rest). We were also able to cut it a little more live."
Both men are multi-instrumentalists and in the past they utilized those skills for their albums, but this time many more musicians appear on the album.
"We brought in Lillie Mae Rische (fiddle and background vocals) and Scarlett Rische (mandolin). Linwood (Regensburg) has been our bass player on the road now for a couple of years (also plays synthesizer on the album). Herschel Van Dyke has been our drummer for the past five years. Playing with the same guys all of the time and being able to bring that into the studio to lay down the basic tracks that helps a lot too. It feels more like a band is playing, well a band is playing," says Jesse.
The other musicians who appear on the album are, Billy Ramirez Jr. on congas, bongos and percussion, Paul Defiglia (piano, Fender Rhodes and the Hammond organ), upright bass player ('Lina Rose and I Just Want Rain) and baritone background vocals ('Lina Rose) Sambo Moncivaiz, Jason Moncivaiz (additional percussion and background vocals for "Dreams for Days"). Randy Hiebert appears on the third song "Gambler's Heart," playing baritone guitar. Special guests David and Howard Bellamy of the famous Bellamy Brothers also appear as guest vocalists on "Gambler's Heart." David is the father of Jesse and Noah and Howard is their uncle.
"Dreams for Days," is such a good song! Noah Bellamy takes the lead on vocals with Jesse harmonizing. As one has come to expect with this duo the guitar work is stellar. Although, the lyrics are about a love that has moved on and there is a sense of wishing that things could be the way they used to be, the memories are happy ones and the music is upbeat.
The mood slows down and is more reflective with "Gambler's Heart," as Jesse & Noah are joined by Howard and David Bellamy and it is truly a singer-songwriter's song. Paul Defiglia's Hammond organ is subtle and Randy Hiebert's baritone guitar adds depth and color to an already good song.
In addressing the musical influences that are evident in this collection of songs, Noah says, "It is the most Rock album and the most Country album that we have done simultaneously."
Jesse joins in, "We started (this conversation) with was there a concept to this record and I think the only concept was to write the kinds of songs that we used to hear on the radio when we were growing up."
The song "Neon Pike," sounds straight out of the era of Cream with Eric Clapton, Ginger Baker and Jack Bruce.
Many readers will not understand the word pike and therefore, will not understand the title Neon Pike, so we ask Jesse & Noah to explain the background to the name of the album and of the song by the same name.
Jesse explains, "The pikes are the old turnpikes and they were the old farm roads around Nashville and there were tolls on each side of the city. Each pike in Nashville goes out to an outlying town, such as the Franklin Pike."
Noah further illuminates, "They would have been farming areas back then. The pikes are still around and we live on Hillsboro Pike. What is interesting about the pikes is they all seem to have their own personality. As things in the middle of the city continue to get more gentrified the center of the city is losing something culturally. I think the culture is being pushed out to the pikes.
There are a lot of people on the internet posting pictures of what the Nashville skyline looked like in 2011 versus what it looks like now. It is really crazy. I don't know another city that has gone through that kind of change lately."
"Samantha by Starlight," is the song that they agree set the tone for the album Neon Pike and there is a short organ intro by Defiglia. It is a song that simply invites the listener to sing along with the chorus and one can easily envision audiences moving to the music.
Noah says, "That was our attempt at a Heartland Rock song. We had some shows in the Midwest and we hung out with some people there. It was our attempt to do a John (Cougar) Mellencamp type of song."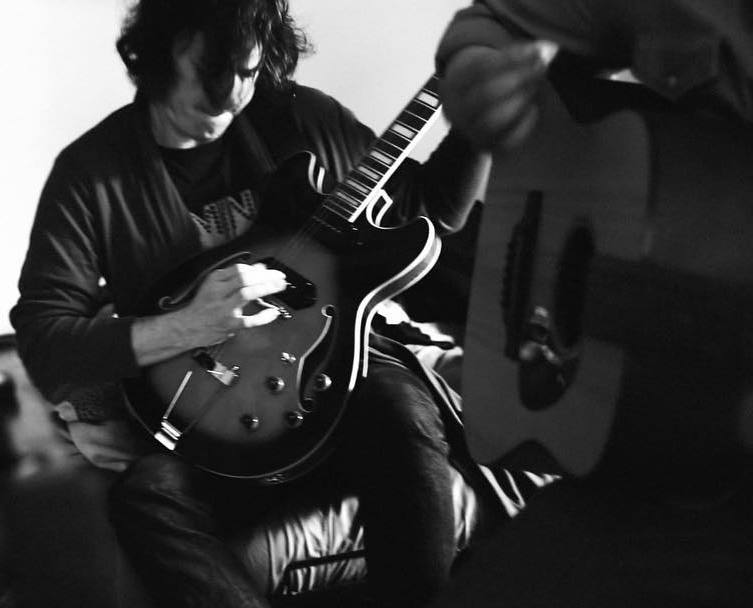 "Chances," the tenth song on the album is about finally meeting someone that is so important to you that you are willing to risk falling in love again and making a commitment to that special person. The message could not be any clearer than the lyrics, "Yours is the kind that is much too precious to lose. I want you to know I'm taking my next chance on you." The guitar solo by Noah Bellamy is some of the best playing this writer has heard in many years.
"We haven't done (all of the songs) live yet, but we have been working them in and we will keep working them in on the next couple of runs that we do. "Chances," is definitely an (audience) favorite. It comes off way better than I could even have imagined live. A lot of people have heard it now too, because it keeps getting passed around," says Jesse.
Jesse tells us that Noah dreamed the chorus and as he starts to tell the story he turns the conversation over to Noah.
Noah explains, "I know that sounds lame. I woke up and I had the chorus in my head from the dream and I kept singing it and messing around with it. Then I started writing something else that I thought was another song, but it was really the verse section of it. This was when we were getting ready to record "Gambler's Heart." Originally, when I heard the song in my head it was more like a ballad. It was more like a Roy Orbison song, but then when I added the verse I thought we probably have enough ballads, so it has a very seventies quality.
The solo section I did is two different guitars answering each other. It is me pretending to be two different guitarists. There are two different guitar sounds on it, a Fender Stratocaster and a Gibson Les Paul, which are the classic Rock sounds. It starts off with the Stratocaster and a very clean, direct sound and then it hands over to the Gibson Les Paul in the second half. It is kind of two solos in one. That is a trick that I have been doing for a long time. Bands like Lynyrd Skynyrd that had three guitar players would do stuff like that."
One of the prettiest songs to come along in many years in any genre is "I Just Want Rain." The beauty of the music is juxtaposed to the lyrics that provide a social commentary about farmers and how so often they are politicized by all sides of the political spectrum then comes the simple refrain in the chorus "I just want rain."
Noah talks about the song, "I had the idea for the chorus and I wasn't sure what it meant yet. You always hear about farmers who are thrown into political discussions. People always want to know what they think about things and then they get used by people on both sides. The farmer though doesn't care about any of that. The only thing he really cares about is rain and having a good crop."
Adding to that Jesse says, Beyond all of the political B.S. there is basic survival and everybody has to eat."
In terms of the music for "I Just Want Rain," Noah says, "This is one track that is without most of the band members. It is just Jesse, Sambo, Billy playing percussion and me. I used a very old school drum machine sound for the kick drum. It is a Roland 808, which became really popular in Hip-Hop music. Then there is the bass and flute. The inspiration is from minimalist composers. Lyrically it is the most Country (of the songs on the album), but at the same time it is a little more out there musically."
There is a bit of a surprise at the end of the song "I Just Want Rain," and we will keep our comments to a minimum, so we do not spoil the surprise and instead let Noah share his thoughts.
"That is the second part of "Neon Pike." It is a hidden Easter egg. The joke is "Neon Pike" is "Neon Pike Part One," but you don't see where Part Two is on the album until you get there."
The second last song on the album is "How To Hang the Moon," and it is a gentle song. Noah Bellamy takes the lead vocals.
He says, "It comes from one of the old expressions that our grandmother used to say. She would say that so and so hung the moon or he thought he hung the moon. You take something that is not meant literally and you take something that is poetic and you interpret it literally as though someone did actually hang the moon."
The casual music fan often thinks the top forty songs played by radio are the "hits" when in truth, while some of those songs are very good, they are backed by big money machines that often pave the way. If it was a more level playing field several of the songs that you hear on Jesse & Noah's Neon Pike would be the "hits" you would be listening to. Those are the words of this writer and the opinion of this magazine and those thoughts were not expressed by Jesse & Noah, just so this message does not get misconstrued. There are many other independent artists who are talented and deserve to be heard as well. Do yourself a favor purchase Neon Pike and listen to some fabulous songs, the "hits" you often do not get a chance to hear.
Please visit the website for Jesse & Noah.
#NeonPike #JesseAndNoah #NashvilleMusic #JesseAndNoahBellamy #RivetingRiffsMagazine
This interview by Joe Montague published October 1st, 2018 is protected by copyright © and is the property of Riveting Riffs Magazine All Rights Reserved. All photos and artwork are the the property of Jesse and Noah Bellamy
unless otherwise noted
and all are
protected by copyright © All Rights Reserved.
This interview may not be reproduced in print or on the internet or through any other means without the written permission of Riveting Riffs Magazine, All Rights Reserved