Jessy J Dishes Hot Sauce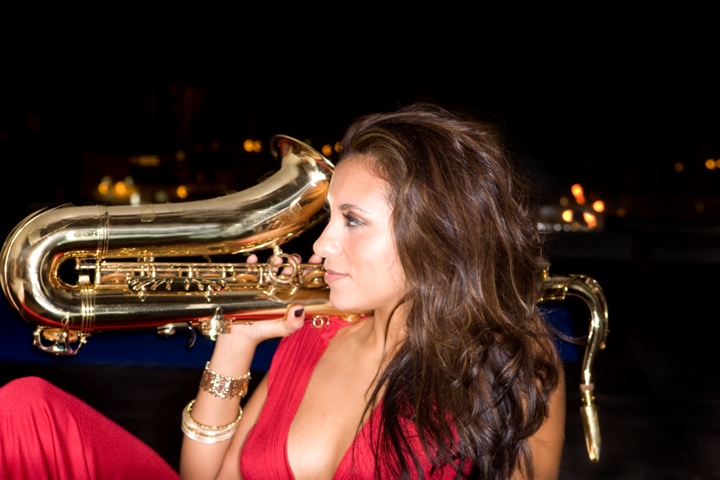 Jazz saxophonist – songwriter and singer Jessy J was in the third grade and she was signing up for the elementary school band when she started to play the saxophone and she laughs at this writer's suggestion that the instrument must have been bigger than she was at the time.
"It was. It was huge and it still is huge for me, but I love it. I played the alto sax and I really enjoyed the sound that it made. For me it was a fun hobby and I never thought that I would be a musician until I was 15 years old. It was a fun way to have time with friends. It was kind of like fate. It was my destiny," she says.
"I originally wanted to play the flute as my primary instrument in elementary school. There were too many people playing the flute, so my band director asked me to play the saxophone. At the same time, my best friend was playing the flute and my sister was playing the clarinet. I learned how to play the flute from just being in band. It was the same with the clarinet, I learned how to play it, by listening to my sister play it. Music to me is one big element and as soon as you can figure it out, you can basically learn any instrument."
Hot Sauce, Jessy J's new album from Heads Up International, a division of the Concord Music Group demonstrates her singing and songwriting ability in addition to her playing and she collaborated once again with Grammy Award winning producer Paul Brown. This is the third album that Jessy J has released under the Concord Music Group banner, her first being Tequila Moon, which was released through Peak Records and her second album, True Love, both of which also had Paul Brown's fingerprints on them as the producer.
"I really enjoy working with Paul Brown, because he has original concepts and ideas and it is really fresh. The other thing that I like is he comes from a different perspective. I grew up listening to Jazz, Sergio Mendes and a lot of Latin music and he has a whole other element that is more Carole King, as well as he grew up listening to a lot of R&B musicians. He brings that element to the music and when we combine our (influences) it is a great blend. It is something fresh that people haven't heard yet in this genre. It is a great combination. The songs that we have written have enjoyed great success, "Tequila Moon," was the # 1 song of the year in 2008 for Radio & Records and for Billboard. From True Love, "Tropical Rain," became a #1 hit and right now Hot Sauce is # 1 on Billboard's album chart. We have a lot of success working together and I think that is proof that what we do is really meaningful and he knows how to pull (the best) out of people," says Jessy J.
Among the other stellar artists featured on the album Hot Sauce are, keyboardist Joe Sample (Miles Davis, George Benson, Eric Clapton, B.B. King, Steely Dan and The Supremes), drummer Harvey Mason (Bob James, The Brecker Brothers, Lee Ritenour and Herbie Hancock's Headhunters), Ray Parker Jr. on guitar and vocals and Paul Brown also played guitar.
"I am a big fan of both Joe Sample and Harvey Mason, so it was a real treat to be able to record with them. I met Joe at the KSBR bash in 2008 and I met Harvey Mason at the Java Jazz Festival in 2009. The way that I met them was similar and it was on stage. Both of these events had jam sessions when the musicians from the festival would go up on stage and play together songs that were randomly called out. In the case of Joe Sample he was playing one of his songs "Put It Where You Want It," and of course I knew it and I was a big fan of his. Right before he hit the stage I approached him and I said, 'Joe I would love to play with you on this song,' and he said 'Grab your horn and let's go.' I knew he was a warm and receptive musician. We just could not end the song, because we were having so much fun and we were playing off of each other's ideas. After that we said, let's work together and we did on "Rainbow Gold," and "Last Night." With Harvey Mason I was on the Java Jive Jazz Festival and we were doing old songs like "Oleo," (Sonny Rollins – 1954) and Charlie Parker songs like "All The Things You Are," and Harvey said, 'Wow you really impressed me, you have the chops to play all of the standard Jazz songs with more of a Bebop (feel),' so we hit it off by talking about all of our favorite musicians from the Blue Note era. I saved everyone's information and I kept in touch with them. I knew there would be a time with my new album that we could all do something together," says Jessy J.
"Ray Parker Jr. is on "Rainbow Gold," as well. I met Ray through Joe Sample. They had become really good friends, because they did sessions together. When I was talking to Joe, Harvey Mason was playing drums and Nick Sample, Joe's son was playing bass and Joe suggested Ray to play guitar. Ray is a funky guitarist and he ended up helping out with the vocals as well on "Last Night," and that was the most fun part of the session. He helped to get me into the mood for that low, sexy voice that came out in that song. "Last Night," was a blast and I cannot imagine a more fun song. The original version is more than fifteen minutes long and we edited it down to eight and one-half minutes for the record, but with the full version, everyone was smiling, everyone was grooving and everyone was having a good time. We were feeling each other and that was one of the highlights of the CD," she recalls.
The song "In A Sentimental Mood," creates the mood of a late night in a Jazz club and Jessy J says, "It is a throwback to all of the Jazz greats like Duke Ellington, Sarah Vaughan and Count Basie. That era of Jazz is so classic and it is the golden era of Jazz. It is where it all started and that is when Jazz was Pop music. They were the Pop stars of the day. I am really interested in that. I have my degree in Jazz studies and I know the history of Jazz and the way that it (evolved). The way that "In A Sentimental Mood," was produced and the way that it was performed has both a classic and contemporary feel to it. That is also one of my goals to take things that are classic and just spin them slightly so they have freshness to them."
The team of Paul Brown and Jessy J reached into the past again for the song "We Kissed," an original tune, which was inspired by Jessy J's saxophone from the 1960's. She refers to it as her Stan Getz horn.
"I have a few different saxophones. On this one Paul Brown and I were working on a piece and I said, that is so nice, it reminds me of the Bossa Nova era, Stan Getz, Sergio Mendes, Antonio Carlos Jobim, Herb Alpert and all of the people that were creating music at that time. We created a song that was very, very Bossa Nova from the 1960's and we wanted to have that. If you didn't know you would think that it was recorded in the 1960's. It is simple, it is beautiful and it is also very innocent (lyrically). It started off as a saxophone piece and Paul Brown decided to write words to it, so it ended up on the album. It is a really special piece," she says.
Casting further light on how she and Paul Brown work together, Jessy J says, "We don't have any formula for writing a song and it is as easy as we will have a great idea for a song and I will call him or he will call me and say, 'I have a great concept for a song do you want to hear it?' and 'Yes come over tomorrow at two.' Usually it is just him and I jamming with a guitar or sometimes I will play piano and he will play guitar or sometimes he will play guitar and I will play flute or I will sing. It is very organic how we come up with the music. It is not like we (feel) we have to come up with ten songs that day. We just wait until we have a concept and then we will come up with it together. We will start off with maybe a verse and then the hook and then we will introduce the bridge section at a later time. Mostly our songs come together over a period of time."
Whether it is the hot Latin vibes of the title song "Hot Sauce," the seductiveness of "Remember The Night," or the sweet and romantic "We Kissed," music fans are in for a real treat when they listen to the instrumentals and Jessy J's vocals on her new album Hot Sauce.
To listen to the music of Jessy J you can visit her website.
This interview (November 2011) is protected by copyright © and may not be reproduced in print or on the internet or through any other means without the written permission of Riveting Riffs Magazine, All Rights Reserved Return to Our Front Page