Director Jim Cliffe's Feature Film Donovan's Echo With Danny Glover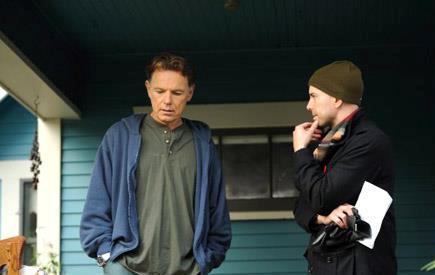 "I think déjà vu is something that we have all experienced in one form or another and a lot of things can bring it to fruition. I certainly am not suggesting that it has any specific meaning or that it is connected to past lives or past experiences, but in any case it is something that I have felt many times in my life. It is always an interesting phenomenon when it happens, particularly if you are in a place or a situation where you have never been and something just washes over you that feels extremely familiar, like you have done this before. I thought of my experience and something went off in my head afterwards saying it might be an interesting idea to explore," says director Jim Cliffe who collaborated with his wife Melodie Krieger to write the screenplay for the feature film Donovan's Echo.
The supernatural thriller stars Danny Glover in the lead role as Donovan Matheson, Bruce Greenwood as Finnley, Natasha Calis as Maggie and Sonja Bennett as Maggie's mother Sarah and it was filmed in 2010, was in postproduction for much of 2011 and had a limited release in Canadian cinemas during February of 2012. In May of 2013 the film was released through digital stores, as well as on DVD and Blu-ray.
"I love genre films. I love sci-fi and things that really stretch our imagination. Those are things that I like to explore, says Cliffe."
Donovan Matheson is the central figure in this film and the storyline deals with Donovan's demons, his inability to conquer his alcoholism, something that is fueled by his inability to forgive himself for a tragic event over which he had no control. He returns to the scene of those tragic events decades later and his past world collides with the present when he encounters a little girl named Maggie. Although Donovan is both a tragic and tormented figure, he is also very likeable.
"I originally had the idea for the story in 2006, so it is going back quite away. I was coming off Tomorrow's Memoir (his award winning short film) and I wanted to make the leap to a feature film. My original protagonist was a young man. That is the idea that I was going with. A few things happened that caused me to think that might not be the best direction to go, as I was already trying to structure out a story with a young character. I think I had just seen Donnie Darko and there were some ideas that I wanted to explore. Then I thought there might be some comparisons that I would rather avoid. At that point I thought I should probably start from scratch and rethink the story. That is when I got Melodie involved and we started talking about who was the best person to tell the story. We weighed all the pros and cons of various ages and sex etc. (We thought) it would be interesting to have somebody with a lot of life experience, particularly in a story that is going to deal with (a person) who has familiarity or has had regrets or has had life experiences and that it should come from an older character. So many movies in the supernatural genre tend to be younger characters or your typical leading man age, (like) your Bruce Willis in The Sixth Sense or that kind of a thing.
We started thinking about his (Donovan Matheson's) background and his life experience. I have a friend who is a physicist and I am fascinated with mathematics and quantum mechanics and that kind of a thing. I thought (Donovan) should be a mathematician. I am interested in world history and that led to Melodie and I talking about the Manhattan Project (a group of worldwide leaders, physicists and others who developed the atomic bomb) and what a physicist of that age, an older character might have done in his life. That opened a lot of doorways. This is something that is also not depicted on the big screen is that moment in history that is such a defining moment. It is rarely shown in mainstream media. We had actually written three or four scenes that explored more of his involvement. Through the process of development they got condensed to one or two scenes and then through postproduction we had to trim it down further. Now it is just a hint of his background and perhaps that is all we really needed to do.
When I met with Danny we talked about it (the character Donovan Matheson) and he told me that he felt he really knew the character and he felt that he equated a lot of that to himself. Danny had a background in mathematics when he was in school and he is dyslexic like Donovan. He has felt pain in his life too and he has lost people who were close to him. He definitely felt there were a lot of things for him to connect to," he says.
Like all good actors Danny Glover put his own stamp on the character of Donovan Matheson.
"I think an actor will always do that and when we saw (Danny Glover's) name it really leapt off of the page. We didn't really write the character as black or white. I imagined Donovan as a white character, because we were writing about a theorist in the 1940s working on the Manhattan Project. My assumption was with segregation there weren't a lot of physicists that were African American. When we saw Danny's name as a potential candidate through our L.A. casting agent it took me by surprise (for that reason), but it brought up so many memories of his performances. I thought wow he would be such an interesting choice and it would add a new layer to what I had in mind.
Canadian actor Bruce Greenwood (Knots Landing, Sleepwalkers, Class of the Titans, Conan and Young Justice) portrays Finnley and actress Lanette Ware is his wife Susan, the younger sister of Donovan's deceased wife. They are a key element in the storyline as they provide passage between Donovan's past and the present. Throughout the film there is really good dramatic tension between Danny Glover and Bruce Greenwood, as Donovan Matheson appears to precariously teeter on the precipice of insanity and or having his drinking demons swallow him up.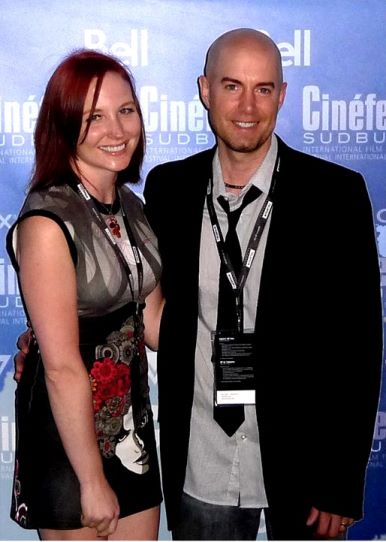 "Bruce liked the script and he liked (the idea) of working off of somebody who is trying to assess an old friend that he cares about, but he questions his sanity of course. It puts you in a very tough spot to be in as a friend and particularly somebody that you haven't seen for a long time. He responded to that and he responded to the script. He thought it would be great to work with Danny and to be shooting in Vancouver where he (Greenwood) is from. A lot of the elements added up for him," says Cliffe.
Natasha Calis who was ten years old when Donovan's Echo was filmed was brilliant in her role as Maggie and the onscreen chemistry between Calis and Glover is fabulous. Kudos to Cliffe and Krieger for writing Maggie into the story, because without her a huge hole would have existed in this movie.
Jim Cliffe concurs, "Absolutely, absolutely. It was extremely important to find the right actress and a little girl that could work off of Danny. You are right it is such an important part that the movie relies on. It is not only the chemistry, but to be able to work with such a seasoned performer and likewise for Danny to feel confidence in this child performer. We did a pretty exhaustive search in Vancouver. We did a casting call for a few weeks and we had a few weeks of pre-production in October. Natasha was so above the other actresses that we saw. She is such a strong performer. We continued with other auditions, because we wanted to weigh all of our options and time and time again she was easily the best. I was so happy that we made the choice to go with her, because she really is a talent. She was in Possession, the number one movie for a few weeks across North America last year. I think she has big things ahead of her."
The total budget for Donovan's Echo was only three million dollars, spectacularly small for a feature film and yet this film plays across the screen much bigger than that and it feels like a movie with a much larger budget.
"That was one of my goals and it was a challenging goal. I have a background in illustration and animation and I am a huge film buff. I love big movies and I wanted to try to capture that production value as much as I could with a minimal budget. We assembled the best team that we could and we knew we had a tight schedule, but we didn't want it to look like the typical Canadian small indie film. I wanted to show what we could pull off for a film of our size. We had a fantastic cinematographer Bob Aschmann and a great production designer Grant Pearse. Somehow we pulled it off, because most people assume our film is a bigger movie than it was. We went to several film festivals with (Donovan's Echo). It is fun to watch a film with an audience, because you can certainly gauge the pulse of the audience. It is always a treat when they laugh at moments when you expect them to laugh. You hear a gasp come over at certain moments and that is a real delight.
We had a lot of (locations) for a film of our size and it presented a lot of challenges. With a film of this size you try to condense your locations. Melodie and I had written the script and our goal at the time was to to see if we could get L.A. interested. We didn't have a lot of connections at that time. Our strategy was to enter some screenwriting competitions, because I had heard that if you win or you place high somehow you might start hearing from agents or production companies and that is essentially what happened. We wrote this movie and we weren't thinking about budgets or whatever. We thought if anybody out there is interested, maybe it could be a fifteen, twenty or thirty million dollar film if we found that kind of interest. We didn't worry about locations. We just wanted to serve the story and not serve the production. To our delight we ended up winning a screenplay competition and we placed high in another one. We started hearing from producers and production companies in L.A., but I had the challenge of attaching myself as the director, which was the whole point of me writing this. It is very hard for people to get behind a first time director particularly on a studio level, so we ended up bringing the project to some producers that I had known in Vancouver and that I had worked with (like) Trent Carlson. I had worked with his production company before. He and Andria Spring and Mary Anne Waterhouse came on as producers and they really liked the story that we were trying to tell. We did go through a period of development and rewrites, but they really liked the heart of what we were trying to tell and they wanted to maintain my vision of the story as much as possible. We left a lot of locations intact for a picture that we pulled off in just four weeks.
You can view the trailer to Donovan's Echo here.
Donovan's Echo is available for purchase through Amazon and iTunes
Top Photo of Bruce Greenwood and Jim Cliffe (L - R), by Diyah Pera protected by copyright ©, Donovan's Echo Productions Inc. All Rights Reserved Photo Two: Melodie Krieger and Jim Cliffe
Interview by Joe Montague May 2013, protected by copyright © All Rights Reserved
This interview is protected by copyright © and may not be reproduced in print or on the internet or through any other means without the written permission of Riveting Riffs Magazine, All Rights Reserved