Country Music's Joanna Mosca Sings About Pursuing Your Dreams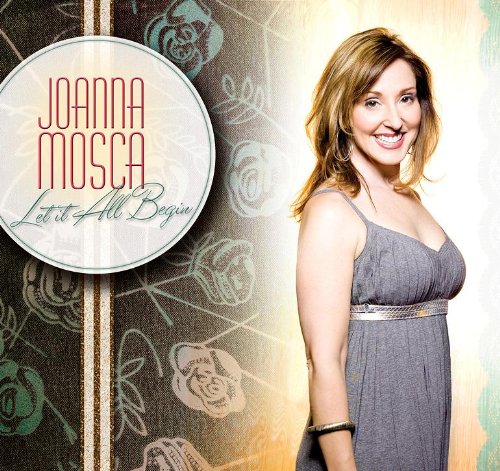 Joanna Mosca in some ways represents the antithesis of what people often envisage when they think of a Country music singer. She did not grow up in a small town in the mid-west or a southern state, driving down dusty roads in a pickup truck. Joanna Mosca, the daughter of an Italian mother, Vinnie and her father Ray, was the younger of two children in a West Hartford, Connecticut home. There were Country influences, as her father, who was an accountant, was a big Patsy Cline fan, but she was also listening to James Taylor and Carole King.
She is an ardent fan of Bonnie Raitt and Joanna Mosca says, Raitt's song "I Can't Make You Love Me," became a lullaby for her son when he was a little boy.
"I would sing to him "I Can't Make You Love Me," and he would say, mommy I want the bed song, the bed song. She sang 'Turn down the lights, turn down the bed.' The lyrics were certainly not appropriate for a child, but (she laughs) he loved the sound of that song and I loved the song so much it became his bedtime lullaby.
I also love Annie Lennox, who is a wonderful Rock singer. Do you remember Heart? The Wilson girls, my God, I remember as a young girl trying to sing those songs," she says.
Fast forward, and today Joanna Mosca is far from singing people to sleep as her distinctly Country song "Dream On Savannah," and the accompanying music video has been causing heads to turn. The song written by Mary Green, Hillary Lindsey and Troy Verges is an anthem for those who are or have been bullied and who never gave up on pursuing their dreams.
"I just fell in love with the message of that song and to me it is a dual message. It is the anti-bullying theme and also to follow your dreams and don't be derailed. Sometimes those things go hand in hand. If you are a young person and you follow your dreams other people can make you feel bad about it. It can all be happening simultaneously. I fell in love with that song and I wanted to sing it. Whenever you have children you see that there is a lot of peer pressure and there is a lot of mistreatment of one another. It has been going on for years and I think it may be getting worse or we are finding out more about it. I am sure if we look back at our childhoods it is there. Having a son that is gay too, it became a very important song for me to sing. After we did that song we decided to do a music video.
When that song came to life visually Steve Weaver and the people at Revolution Pictures did some amazing stuff. They cast the story. I found out later from Steve that he really loves story songs. He was very attracted to the project and he loved the message. Steve has done some amazing music videos for the great Craig Morgan and Montgomery Gentry. I went to look at his work and when we were trying to figure out who we wanted to work with I saw the way he handled a story song and I just loved it. He came onboard and we filmed it down in Nashville in that Franklin Theater (actually in Franklin, Tennessee). We were there in the middle of the night filming when they were closed. The theater has been there since 1937 and a couple of years ago they decided to refurbish it and maintain its original glory. It opened again about a year ago (2012). It is just beautiful and I adore that theater. I didn't know anything about it, but Steve knows the whole area and he chose that as the spot where I would narrate the story. That was my first video. The producers and other people that I worked with thought that I had done a hundred videos before," she says, adding that she was able to draw upon her experience as an actress in Off-Broadway productions.
She adds, "It felt familiar to me. I don't want to say it was easy, but it felt familiar and I enjoyed it. The people were so wonderful to work with. I just wish I had met the kids, because the other parts of the video took place in a school and they did it on another day. I didn't get to meet the girls who played Savannah (in the video Savannah is depicted at different ages). They were all wonderful, but the little one, I guess I would say she was nine or ten, what a wonderful actress that little girl was."
Joanna Mosca was once a girl with dreams as well. "I formed a girl band when I was thirteen. I played my guitar and I wish I had continued my guitar skills, but I didn't know that eventually I would be going into Country music. My mom had me study piano from the time I was seven and I studied piano for many years. Once I was well into my teens I finally got free of that. I am really glad that she made me continue that for seven or eight years. I would complain of course that I didn't want to do my piano lessons and all of that stuff. Even though I don't use it now for performing, I use it all of the time in terms of writing music and for being able to read music. It helps my singing and it helps me when I am working with a band, just to be musically articulate. I thank my mom for that even though I cursed her at the time (she laughs).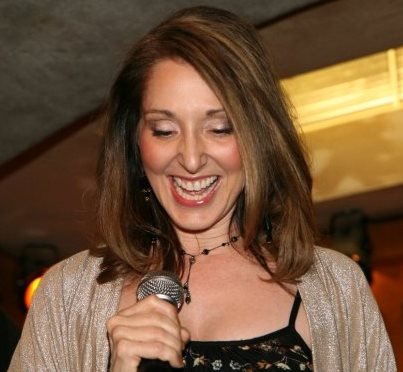 Even though, Joanna Mosca has a degree in nursing and received her master's degree in Hospital Administration and worked in that field as well, when one delves into her musical heritage it would seem that a career in music was in the cards from the beginning.
"My grandmother Bilodeau (maiden name LaChappelle) sang at a speakeasy in New York City in the twenties. I always find this very interesting, because she was (to me) the little old lady with gray hair and she had six children. When I think of her being a wild young thing I (she bursts out laughing) I just love it. My dad was a great singer and he did not pursue that professionally. My grandmother on the other side of the family (her mother's side), her brother made his living as a Jazz pianist his whole life. I remember he was quite good. My grandmother had me play for him and I was horribly intimidated, because I didn't want to play for Uncle Frank (Cretella), because he was a real pianist," she recalls.
"I like songs that can make someone feel better or make them think that they are not alone or wow I felt that way or there's some hope. The song "Keep On Going,'" was something that I co-wrote and I just felt that was my life right there. Not everybody is going to approve or be positive about a direction that you are taking in life or they will have fears about it. Some people will try to undermine you and they don't have the most positive motives. You just keep going and you try to stay focused on what you want to do and ignore some of the negative comments. You try to stay true to yourself and what you feel you should be doing out there in life. That is what that song is about. I have had people come back to me and say wow that song really helped me or that made me feel good or I didn't feel so alone when I heard that. It just kept them going. That is what I love, when someone tells me that a song has helped them in some way, that's the best. We received a lot of that with "Dream On Savannah," (as well)," says Joanna Mosca.
Like most Country music singers, Joanna Mosca also has some relationship songs in her repertoire, songs such as "The Little Things," from her self-titled debut album and "Would You Still Be Here," and "That Says It All," both from the EP Let It All Begin.
"There are many aspects to relationships (she laughs) and "The Little Things," is more about the newer love and the person in your life who can do no wrong. I don't want to say just at the beginning of a relationship, because it can continue. I have been married for many years, but the heartache of relationships and love is also very real and much more fun to sing about to be honest with you. "I Guess That Says It All," (written by Bryan White, Travis Thibodaux and Steve Williams) and "Would You Still Be Here," (written by David Grissom and Trish Murphy) is about the uncertainty of relationships. They are about love and the heartache of a relationship that has ended and the mistakes that one made to make that come about. I have experienced all of those things and we all have at one time in our lives or someone we know has gone through that. Those things eventually come out when someone is writing music or wanting to sing a song by another great writer. I think there is a place for all those types of songs, but as a singer to be honest with you the "tear your heart out" kind of a song is the most fun," she says.
If "Dream On Savannah," is the highlight of Joanna Mosca's album Let It All Begin, then her duet with Richie McDonald "Where Does Love Go?" cannot be far behind. The song opens with McDonald posing the question "Does love take the high road / First Time a heart is broke / Does it creep out, leak out, sneak out, I don't know." The vocal synergy between Mosca and McDonald is excellent and the song has a classic Country feel.
The songs "Dream On Savannah," and "Where Does Love Go?" serve as bookends for Joanna Mosca's very good, emotive and fun album Let It All Begin. Songs such as "Would You Still Be Here?" ask what if there were not any consequences if you walked out the door now? "Keep On Driving," is about not second guessing the choices you make in life, while the up-tempo "Let It All Begin," is a fun song that invites you to roll down the windows, put down the top to your convertible, crank the radio up, let the wind blow through your hair and sing along.
Would we buy Let It All Begin? A resounding yes!
You can also visit the Joanna Mosca website here. Return to our Front Page
Interviewed by Joe Montague Published September 2013, protected by copyright © All Rights Reserved.
This review is protected by copyright © and may not be reproduced in print or on the internet or through any other means without the written permission of Riveting Riffs Magazine, All Rights Reserved