Joanne Tatham - Out Of My Dreams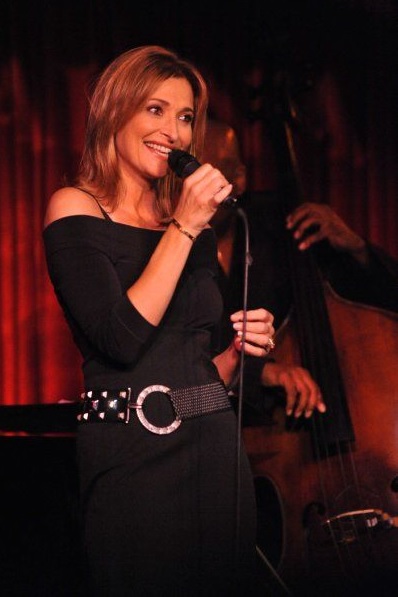 "You Taught My Heart To Sing," the McCoy Tyner and Sammy Cahn song opens Joanne Tatham's new album "Out Of My Dreams," and Tatham's vocals are out of this world. Add to her lush vocals the scintillating piano solo by Tamir Hendelman, the wonderful John Clayton on bass, Peter Erskine on drums and an accompaniment by saxophonist Bob Sheppard and you have an all-star cast. Platinum award winning singer and lyricist Mark Winkler is the producer and the result is a gorgeous collection of songs and an experience that definitely should not be missed by any true lover of Jazz music.
Jamieson Trotter beautifully arranged Harry Nilsson's "Without Him (Without Her)," and Trotter also accompanies Joanne Tatham on piano. As for Ms. Tatham her phrasing is masterful. She makes this song dance and likewise the scenes dance in the listener's imagination.
She says working with Mark Winkler was great and, "It is nice working with a singer. Singers "get it," and they understand singers. He has a really good grasp of what works for Jazz. He is very patient and he explains himself well and what he needs or what he thinks the project needs. He is a lot of fun to be around and it should be fun. He is very organized and he works well with people and we have similar tastes. It was a joy to do this with him.
Mark and I knew each other from being on the same circuit and we would go to see each other's shows. Then one day a couple of years ago he said I would like to produce an album for you. I am no fool, so I said sure, when do we start? We sat down and we started talking about the kind of music that we like and we wanted to do what we like. We really hit it off. We were a good team. There were a number of tunes that I had been doing around town in clubs that I had not yet recorded and I enjoyed and I thought were really a good fit for me."
As for the title of the album it is drawn from the Richard Rodgers and Oscar Hammerstein II song "Out Of My Dreams," the closing number.
"I always liked "Out Of My Dreams," since I was a little girl. I am not a big fan of Rodgers and Hammerstein stuff. I always preferred Rodgers and Hart. It is a little more sophisticated and a little smarter, but this tune always spoke to me. Because I like Jazz waltzes, I like that as a pocket. I like to sing a Jazz waltz and there aren't that many good ones. I took "Out Of My Dreams," to an arranger (Todd Hunter) and I said let's try this. "Out Of My Dreams," doesn't have very much going on for it. I took the bridge and I turned it into a verse, because I thought it worked better as a verse than a bridge. I was working with Todd and I said, you know what this needs, a little vocalese. Give me a little something that is like "Bluesette." He came up with that vocalese line (she imitates it) and I used to do it in clubs. I recorded it and it just didn't seem to work. I thought maybe I will write something and I will write a vocalese for it. I was on the treadmill one day, which is where I get all of my best ideas and I thought you know what it is. It is the Oklahoma story and it just came to me," she says.
Joanne Tatham's voice is tender and loving as she coos Antônio Carlos Jobim's "Vivo Sonhando," a confession of love and an expression of desire. Marcel Camargo's guitar is enchanting and Camargo and Mike Shapiro add background vocals that seem more like an endearing serenade.
Joanne Tatham says, "I love Jobim tunes, who doesn't? As Jobim tunes go, this is maybe a little less recorded than some of his other songs. The reason I named my album Out Of My Dreams is because there seemed to be a subtext of dreams and dreaming with this album for some reason. "Vivo Sonhando," just seemed to fit really well."
The sixth song on the album, Herbie Hancock's "Tell Me A Bedtime Story," appears with a lyric written by Tatham and with a slightly different title, "Double Life (Tell Me a Bedtime Story." Oh give us more of Tamir Hendleman whose piano solo sweeps you away and Tatham's lyrics are playful, as she wonders about her lover's dreams.
"I don't think that I would have attempted the lyrics, if it had not unfolded as it did. I know a producer out here and his name is Clifford Bell and his brother Bryan Bell has been working with Herbie Hancock for years. I decided that I really liked this song that I kept hearing. In particular I fell in love with this version of "Tell Me a Bedtime Story," that was by George Shearing. He had recorded it on Live at the Café Carlyle and when I listened to this it sounded like a form. It sounded like a story to me with a real melody. I asked Clifford to find out from Herbie whether or not a lyric had ever been written for this tune. Word came back from Herbie, no, but why doesn't she write some, so I did. That's how I felt emboldened. When it was all done at the request of Herbie Hancock's people we gave it another title to distinguish it from his composition, which is an instrumental," she explains.
We wondered if it is easier or more difficult to write lyrics for an existing composition.
"Personally, I think it is easier (light laughter), because you know the form and there is a definite meter and there is a definite rhythm. There is a form and I didn't feel constrained by it and in fact I felt liberated by it," she says.
The singer who was born in New Jersey and grew up in the states of New Jersey, Connecticut and New York says she is proud of her current album and "It reflects who I am, where I am and what I do. It is a really good selection of things that are close to me."
Joanne Tatham has come a long way from the fourth grade student who used to take her guitar to other classes and play and sing George Harrison's "My Sweet Lord." Out Of My Dreams is her second album, her first being Making Light recorded in 2003, and a record that started off as a demo.
She explains, "The husband of a friend of mine introduced me to Barry Coffing and Julius Robinson. Barry Coffing has been a very important person in my journey, because he taught me how to be a recording artist and he is a nice, nice man. I was going to do a demo, but he said it is just as easy to do a full-fledged album at this point. He really got to know me and who I was and what I did. He and Julius who was his songwriting partner at the time wrote some songs for me. He wrote some great stuff. I covered some standards and they wrote some songs that fit in with the standards. They say they don't write them like they used to, but Barry writes beautiful songs. We did that and it got a lot of airplay.
We had a song that he wrote called "You Can't Hold Me Back," and Barry placed it in a little independent film called Roger Dodger which went on to win the very first Tribeca Film Festival in New York. It starred Campbell Scott and Jesse Eisenberg and it was Jesse Eisenberg's first film role."
As for Joanne Tatham's current album Out Of My Dreams, it is out of sight and whether you purchase your music digitally or you still prefer a CD in your hand, so you can read the liner notes, Joanne Tatham's album deserves your attention; you hard earned money and your listening ears.
Please visit the Joanne Tatham website. Return to our Front Page
This interview by Joe Montague published May 21st, 2015 is protected by copyright and is the property of Riveting Riffs Magazine © All Rights Reserved. All Photos courtesy of Joanne Tatham and are
protected by copyright ©, All Rights Reserved
This interview may not be reproduced in print or on the internet or through any other means without the written permission of Riveting Riffs Magazine, All Rights Reserved