This is a reprint of the original interview conducted by Joe Montague with John Abercrombie and which was published on May 7, 2007 in Riveting Riffs Magazine. Mr Abercrombie passed away on August 22, 2017. He was 72 years old.
John Abercrombie has created one of the more elegant jazz guitar albums that you will hear. He refers to his new CD The Third Quartet as Chamber Jazz, which incorporates the violin, guitar and drums. For the most part The Third Quartet represents a departure in musical style from some of Abercrombie's more recent projects such as Cat 'N' Mouse (2002), Class Trip (2004) and Open Land (1999) which made liberal use of improvisation and less structured songs.
"My music is (usually) free in the sense that it is not mapped out, but on the current record it is quite structured. Almost all of the songs (on the new CD) have very specific chord progressions and melodies. They are songs, versus being little rhymes or ideas, such as was the case on the previous albums Cat 'N' Mouse and Class Trip. On Cat 'N' Mouse, there were a couple of pieces that were totally improvised, and there were a couple of pieces that were what I would call setups. They were little ideas that setup areas for improvising. They are not structured pieces. The new CD is very structured and that is probably why it sounds prettier. It is really song oriented," says Abercrombie.
The guitar virtuoso notes that the opening track "Banshee" is the only song from The Third Quartet that is very wide open. "It is a simple melody which I wrote the day before the record. I didn't even bother writing it down on paper. I just played it for Mark Feldman and he learned it by ear. I knew the basic direction in which I wanted the piece to go, and we recorded it in one take. The rest of the CD is very structured," he says.
Abercrombie says of his music, "The only difficult part about my tunes is the harmonies. All you need to pay attention to with my tunes is the harmony and the way that the rhythm moves. There is only one tune on The Third Quartet that I consider to be a hard tune, it is called "Trace," a medium tempo waltz with a lot of chords."
The Third Quartet was recorded in typical Abercrombie fashion with the John Abercrombie Quartet comprised of himself, Joey Baron (drums), Mark Feldman (violin) and Marc Johnson (bass) rehearsing only once before heading into the studio.
"Generally speaking my (recorded) projects have been done with one day rehearsals, and then maybe a day off between the rehearsal and the recording. A lot of decisions occur while recording in the studio. I rely a lot on the input of the other musicians (concerning) how to do a tune, what kind of feel it should have or how it should be structured. My charts are not really charts as much as they are sheets of tunes," he says.
Continuing Abercrombie says, "I plan very well before I go into the studio. (Some of) the songs that I write are a little more structured, while others are a little more abstract. Usually I put together ten or so different types of compositions that I would like to try. I am not married to any of them."
Abercrombie used four guitars during the recording of The Third Quartet, including a Taylor acoustic for the closing ballad "Fine," for which he multitracked himself playing, and then did some overdubbing. He also used a big-bodied arch top guitar and a custom Les Paul.
Abercrombie explains how Ornette Coleman's "Round Trip" wound up on the CD, "I originally had another Ornette tune in mind called "Rambling." I looked it ("Rambling") up and when I printed it out, at the bottom of the page was this tune "Round Trip." I played "Rambling," which I really liked, but I thought I would take a look at this other (Ornette) tune ("Round Trip"). I liked it even better because it has a swing Jazz feel, but it is open. There are no chords, there is no structure. It is a lot of fun."
The prominent role given to Mark Feldman's violin is what distinguishes the music of The Third Quartet from other Jazz guitar albums. His bow evokes pastoral images without becoming languid.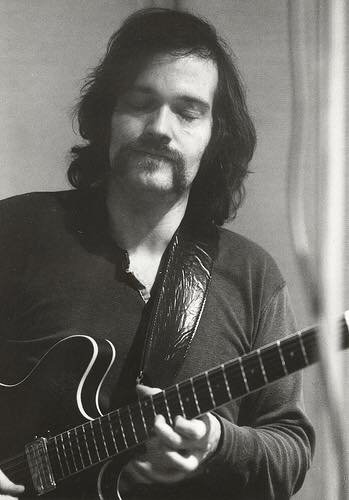 "My connection to Mark Feldman goes back almost twenty years. He was a student at the Banff Center for the Arts (Canada), way back when I was teaching up there. I was immediately taken with the way that he could play, as was everyone else in the school. He was by far one of the most interesting musicians to come through there. Years later, when he moved to New York we made a connection. We played together and I told him that someday I wanted to do something with him. A couple of years later I formed an organ trio. When we were playing at a club in New York, I invited Mark to come and sit in with us. That went really well. On my fourth organ trio recording, I invited Mark to play on some of the pieces. It was a project called Open Land. It was through that project that I realized how well Mark could play my songs. He seems to have this uncanny ability to navigate his way through my compositions, because they allow him to play in a way that is not Bebop. His ability to navigate through my compositions brings a different color. It gives it a Chamber atmosphere that doesn't exist in free Jazz. Free Jazz tends to for the most part get a little noisy. It gets more volatile and busy. With this band even at its most insane, it still has this chamber quality to it. That is what I think he brings. He influences me a great deal (as to) how I improvise."
Turning his attention to drummer Joey Baron, Abercrombie says, "Joey's first recording with me was on Cat 'N' Mouse, and he has been on the last three recordings. Joey is the perfect choice for my current band, and there is no doubt about it. He can play Bebop and free Jazz."
Concerning bassist Marc Johnson, you might say that Abercrombie is not only a friend and colleague, but also a fan, "Marc leaves so much space and he leaves such a beautiful sound."
"I don't like to say that I am expanding musical boundaries because that is being a little full of myself," says Abercrombie, and yet despite his modesty that is exactly what he has been doing for most of his career.
"I am still experimenting, trying to write different kinds of songs, trying to push myself into areas that are more expressive and not just guitar like. I have never been concerned with just being an amazing technician on the guitar. To me it is more important to have the music come first, and have the technique serve the music. You develop technique to accommodate what you are hearing, versus just sitting down and becoming a virtuoso guitar player.
When one delves into Abercrombie's musical background it does not take look to realize where the inspiration to push out the boundaries stems from. His mentors and fellow musicians form an eclectic group.
"I am steeped in the tradition of Wes Montgomery, Barney Kessel and Jim Hall. These were all great guitar players that I grew up listening to," he says.
Abercrombie reflects upon the evolution of his music, "I think what happened to me in the late sixties when fusion music started to hit and Jazz musicians got interested in different kinds of music (such as) Rock and Indian there was a lot of cross cultural stuff flying through the air. I got wrapped up in that. I got involved with music effects on the guitar, and trying to make it sound at times almost unlike a guitar.
I was also influenced by classical music and people such as Ralph Towner who studied in Vienna and plays nylon string guitar. He turned me on to a little more modern harmony, a more classical approach to playing the instrument and improvising."
Abercrombie concedes that he pushes the boundaries, "You start to put all of these things together, and I guess I am pushing boundaries in directions that wouldn't always be associated with the guitar."
Abercrombie he is also influenced by how other instrumentalists who are not guitar players approach their music.
Abercrombie's early tutelage in the music industry came through performing with the likes of Johnny "Hammond" Smith in clubs on the Chitlin' Circuit, venues where African Americans were readily accepted, in a time when racial discrimination often prevented them from entering establishments owned by white people.
Commenting on being one of the few white performers in those clubs Abercrombie says, "I was almost totally accepted. I very rarely ran across any tension. As soon as people knew that I was a guitar player and that I was playing at the Count Basie Lounge with Johnny "Hammond", Smith it was like I was given the key to the city.
I would take the train from midtown Manhattan where I was staying, over to 130 th street, or wherever it was. I would have to walk seven or eight blocks to get to the Count Basie Lounge and along the way people would say to me, 'Hey where are you going with that guitar?' I would say, 'I'm working over at Count Basie's.' It was like freedom to be included in the culture. The fact that I was a Jazz musician (seemed to) preclude or erase the fact that I was white. It really didn't seem to matter, and I was always supported by the musicians that I met in these clubs, by the people who would egg me on to play. If they liked what I was playing they would encourage me verbally."
His ability to cross cultural boundaries has continued throughout the years and today John Abercrombie is a favorite on the European jazz circuit playing in countries that include Italy, France, Austria and Spain.
Editor's Note: While John Abercrombie may have left this world his spirit, legacy and influence will undoubtely live on for many if not all generations of guitarists to come. It became obvious to this writer during the course of our conversation that I was talking to a musical genius and I held my breath hoping that I would not embarrass myself with the questions that I was asking. For his part, John Abercrombie was always gracious to me. RIP
#RIPJohnAbercrombie #JohnAbercrombie #JohnAbercrombiePassesAway #JohnAbercrombieRemembered #JohnAbercrombieTheThirdQuartet #RivetingRiffsMagazine #JohnAbercrombieandJoeMontague
This interview by Joe Montague was originally published May 7, 2007 and published again on August 23, 2017 when Mr. Abercrombie passe away. It is protected by copyright © and is the property of Riveting Riffs Magazine All Rights Reserved.
This interview may not be reproduced in print or on the internet or through any other means without the written permission of Riveting Riffs Magazine, All Rights Reserved