Interview by Joe Montague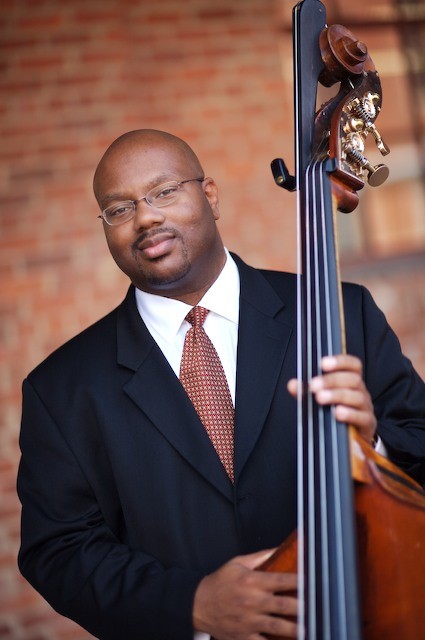 Acoustic bass player John Brown is a phenomenal jazz musician, composer, arranger, bandleader, educator, and one of the most articulate people you will ever encounter. He is creative and thinks outside the box. This year alone he will have released widely divergent recordings, his current album Terms of Art: A Tribute To Art Blakey & The Jazz Messengers, Volume 1 and a still unreleased CD of ballads, with the tentative title, Quiet Time. Brown is also working on a yet to be titled children's CD. The buzz is there might just be a John Brown action figure as part of a promotional package designed to bring jazz to where children live. If all that is not enough to wow you about a guy who is still only in his mid thirties, then you may be interested to note that also included on his resume is a degree from the law school at the University of North Carolina, Chapel Hill, and that on several occasions he has acted on stage (Blues In The Night).
Like most things that pertain to his music, Brown feels a certain calling to reach out to children, and he views that enterprise as merely a stepping-stone to introducing them to the bigger world of jazz music. "There are many ways that we can reach children, and reach them where they live," he says.
Brown says, "The children's project is a compilation of nursery rhymes and children's songs. It is coming together very nicely. It taps into my (desire) to make jazz accessible to people and to reach children. Let them hear jazz when they are babies. These tunes are recognizable, and we have preserved the melodies, so that people can sing along with them and recognize them for what they are. The songs are presented in a jazz setting and arranged in such a way that people will be able to hear some sophisticated approaches to arranging. I have a group that contains trumpet, trombone, saxophone, vibes, guitar, bass and drums, so people are exposed to a jazz ensemble. The children will hear melodies that are familiar to them and (I think) the adults will be attracted to the arrangements, because we didn't really dumb down the music, for lack of a better way of saying it. I think that a lot of times we make the mistake of thinking that to make things accessible to children we have to dumb it down. I would argue that we can make music accessible and still treat people as smart as they are, no matter what their age. It will be a two CD set with nine tracks on each disc"
"On the ballad record, which will be called Quiet Time, there are three original songs, I wrote one, Gabe Evens (pianist) wrote one and Brian Miller (saxophonist) wrote another. There is a Ray Charles tune that people likely haven't heard, because it was just released on a Ray Charles and Count Basie record. There is also a James Taylor tune, that Peggy Lee did, "Don't Let Me Be Lonely Tonight." We actually have more music than will fit on one CD, so there will probably be a follow up to it. My vision for the CD is to create an atmosphere in which people can slow down. Our lives get very busy, we get over involved and don't really take time to rest. I am the number one example of that. It is my view that by playing this music for people, they will take time for their families and themselves. We expect to release (the album) this summer," says Brown, as he describes the record, which once again will feature the same quintet as appeared on Terms of Art.
The children's album and the ballads recording are musical treats the listening public has to look forward to, but right now jazz fans are enjoying Terms of Art, A Tribute to Art Blakey and The Jazz Messengers, Volume I. Brown credits an opportunity that he had to play with post-bop drummer Elvin Jones, as a source of inspiration that turned him on to Blakey's music. It was in studying the techniques of other drummers while preparing for his gigs with Elvin Jones, that Brown came upon Blakey's music.
"I would think, 'I really like the way that Art Blakey does this or plays that. Who knew that all of these cats used to play with Art?' I love listening to Wayne Short. I love listening to Branford (Marsalis) and Wynton (Marsalis) and Chuck Mangione. That made Art's presence a little larger," Brown says reflectively.
Like most musicians who have come up through the ranks of jazz, John Brown remains impressed with the stamp that Art Blakey put on jazz music. "Even though his band frequently changed personnel, there were steady factors in the music and the way that his music was presented. You can tell by his level of seriousness and dedication that he made sure the music swung and felt good. The intensity with which he played, and the standards that he held for all of his bands, really reached out and spoke to me. We all cut our teeth on certain tunes and listened to certain people. Most of the people that we listened to played with Art at one point in time. If I look back, at the things that influenced me in my career, it would be Art Blakey the musician and the Art Blakey organization that had so many people coming through it."
"People have asked, 'Why are you doing these tunes over again? If I want to hear this song I might as well listen to Art play it.' I am not trying to recreate anything that Art Blakey and The Jazz Messengers did. It is a tribute and just like everybody can report on their individual experiences no matter what the topic is, these tunes are intended to be just that. It is a tribute," notes Brown.
"Moanin'," a song written by Bobby Timmons is one of the most widely appreciated tunes that Blakey's bands performed, and therefore it is fitting that Brown included it on his current CD. "Moanin' is one of those tunes that you start playing when you first get into jazz. It is a very soulful, spirited song that is filled with emotion. It is meant to make you feel good and to evoke emotions. When I play "Moanin," I think about the fact I have listened to Art's groups play it and I watched a video of him playing it. It feels so good, and the harmony speaks to the core of people, with the right tempo and the right intent. "Moanin'," is a song (that we included), to bring people back home to the roots of the music," says Brown.
Not all of the songs on Terms of Art, are directly associated with Art Blakey. Brown has included songs which he often refers to as pure, getting to the roots of the music, or reflecting the essence of Blakey's music. One of the tunes that falls into that category is Quincy Jones' "Lady Bop." Brown says that he hopes through his quintet's the listener will sense the blues progression throughout the song, and feel the emotion that was evoked within him as he performed his solo.
Terms of Art also includes the Dizzy Gillespie song, "A Night In Tunisia," a song that Brown discovered when he first started to play jazz. He recalls that the cool opening line was what first drew him in.
You can catch the John Brown Quartet at Artsplosure in Raleigh, North Carolina on May 17th and the John Brown Jazz Orchestra at the Taste of Durham in North Carolina on May 24th.
Hey John, how do I order one of those action figures of you? I have a spot already picked out for it.
Interview by Joe Montague, all rights reserved, protected by copyright © 2007 Return to Our Front Page