We sat down recently and chatted with actor, producer, director and screenwriter John DeLuca about his career, recent projects and his life's journey. That story begins in Buenos Aires, Argentina where he was born and where he grew up, the only son of Italian parents. It took him to Miami, Florida (United States), a few places in Spain, primarily Madrid and Malaga, London, England and Denmark, before he returned to Malaga.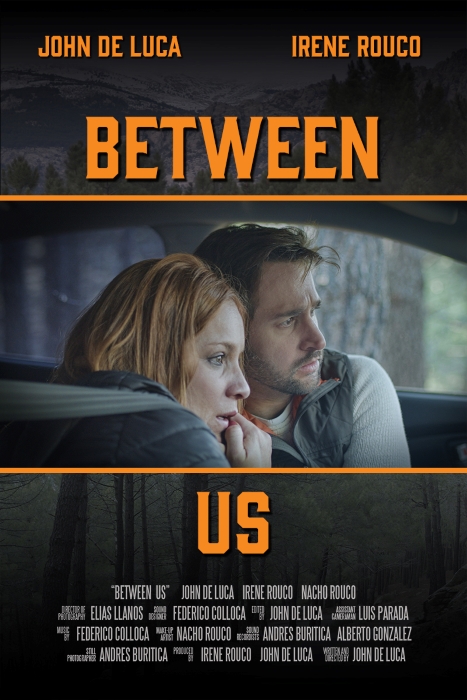 We caught up with John De Luca, after he filmed the four-part miniseries Palomares, was awaiting the release of the feature film NATO 0 (Born 0), in which he has a leading role and after the debut of his short film Entre Nosotros (Between Us) on Amazon Prime. Entre Nosotros was produced by his own film production company First Round Films, in which he partners with David Smith. DeLuca's co-star in Entre Nosotros is Spanish actress and renowned cellist Irene Rouco.
Take us back to when and where it all began John.
"I was born in Buenos Aires, Argentina, and I discovered acting at a very early age in school. I am an only child. My mother worked at a few stores and then when my mother had me, she became a housewife. My dad had auto repair (parts) stores. He used to sell clutches and brakes and other things for cars. I had a normal childhood, nothing big, middle class and in a big city. I learned English from an early age. I think I was three."
He describes himself as an extroverted boy, who chatted a lot and who was very outgoing.
"I was a bit of a problem kid at school. I was smart and sometimes I was the smartass in class. I was expelled a few times. I wasn't violent, but I was always chatting or playing pranks. In the end people said, this kid has a lot of energy and he is always talking. He is out there and playing, so what about acting? They started putting me on stage and in plays and it was the best time of my school years. In the end I thought why not?
I became fascinated with movies. With being an only child in a big city, you go outdoors and play with your friends and when it gets cold and dark you go home, but if you do not have siblings you just revert to television.
We had cable and there were no restrictions unless it was after eleven pm. They played films, as long as they did not show nudity. I watched everything and I became fascinated with movies and series. There was a video store next door, and I became friends with the owner. He gave me discounts and he started teaching me about movies. One thing led to another and I became a film buff. I was crazy about it. I decided to become a filmmaker and a director. Well, what about acting? Maybe I will act, but I want to be a director.
When I was eighteen and studying IT (Information Technology) I met this guy who was was a very, very good pianist. He was a prodigy who was only twenty-four. He won awards. He directed a choir. I met him and I didn't know who he was. We became friends and he said I want to go to Miami. I think I can get a record deal and I have a few contacts there. He was pretty well-known in South America. He said do you want to join me? I said why not? I dropped out of university and I went to Miami when I was only eighteen," he says.
Things did not quite work out the way that John De Luca planned in Miami. After his friend was signed to a recording contract, the friend decided they should go in different directions and at eighteen years of age, John DeLuca was alone living in a city where he did not know anybody else and he did not have any money.
"I got scared and I went to a steakhouse and I became a dishwasher. I worked there for a few weeks. I thought I don't like this, but I have to eat.
I read an ad in the newspaper for actors. I did not have a car or a driver's license and I looked very young for my age. When I was eighteen, I looked like I was twelve. People knew I was not twelve, but I had a baby face and I had hair down to my shoulders. Fashion was not like it is now and when I look at those old photos it was like omg, I can't believe I was wearing those clothes.
It took me three hours to get to the audition and (I was supposed) to be twenty-one. I had to fill out a form and I lied and said I was twenty-one. They believed me and they gave me a script for the part of a tv host. I learned it and then I improvised on camera. They loved me and said we want to sign you to our agency, and this is what we can offer you. You need photographs and you need money to move around.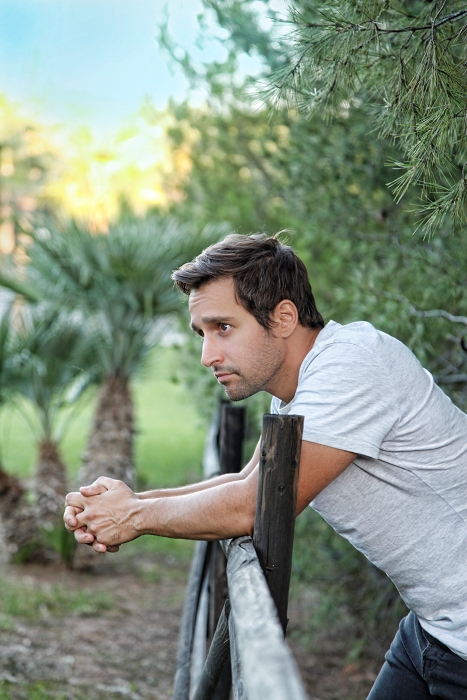 I told them I don't have any money. I am working as a dishwasher and I need to eat. I can't take the rail and buses, because it will take me ages. I can't buy a car, because I don't have the money and I do not have a license. They said step by step. They tried to get me a job in a few clubs and I knew if I took them, they would find out that I wasn't twenty-one years old. I said I am going to come clean; I am not twenty-one, I am eighteen. They said, well listen we still want you and we will give you a shot," says John De Luca.
One thing led to another and, "I did a few music videos as an extra. I also did a few tv shows, Latin tv shows or novellas. I was only working as an extra, so I went back home (to Argentina) and worked in IT for about a year. It was at the time that people were using IRC chats and I made friends with Silvia, whom I am friends with today and she lives in Malaga, Spain. She was an actress, and I was an actor, so she said why don't you come over here and try acting in Europe. I left Buenos Aires for the second time and I went to Malaga. The whole of Spain is full of art. I had a place to stay and they received me with open arms here in Spain. I was happy. I worked at (various) jobs and then exactly one year later I went to work in London (England). I spent ten years in London and studied, while working in the public sector for the government. It was in London that I set up my company First Round Films," he says.
Our conversation drifts back to more recent days and the still to be released feature film Nato 0 (Born Zero), in which John DeLuca has a major role playing a New York City detective named Quint, who is working on string of murders committed by a serial killer. Also, in the film are, Carlos Olalla who plays a criminalogist named Andres, Geraldine Torres as detective Mary Andersen and two other prominent Spanish actors, Lucía Guerrero and Jesús Castro.
"Everybody (who worked on the film) was so humble. I have been lucky enough to work with people who know their beginnings and know their roots and they are very grateful for the opportunity they have been given. If you are humble and you know how to maintain yourself in this industry, I think you can go far. We are very lucky to be doing what we love and to be getting paid for it," he says.
Another one of John De Luca's recent projects was his role as Randy Maydew in the four-episodes series Palomares, which is named for the town in the southern part of Spain near Alameria, in the region of Andalusia, Spain. This part of Andalusia, is known as the Costa Del Sol and it is on the Mediterranean Sea, boasting great beaches.
John De Luca talks about the miniseries, "This is a story that the world has not heard of properly. It involves the United States and Spain in the 1960s. There were four American B52s flying around the coast of the Mediterranean near Alameria. Each of the planes carried a nucelar bomb. For some reason, while they were trying to refuel in the air the four bombs were dropped by mistake off the coast. There was only one eyewitness and his name was Paco. They called him Paco el La Bomba. The United States found out about it immediately and it was like you see in the movies, where we have this problem now and they start making phone calls and flying people over.
My character Randy Maydew is an engineer who works for the government and the airforce. He was the one who designed the parachutes for the bombs. Randy identified the bombs.
The (people) affected had to go to Madrid to be treated for the radiation that was produced by the bombs in the water. No bombs exploded or we would have lost half of Spain. It was a miracle that they did not detonate. There was only this eyewitness named Paco and people interviewed him. Everyone in Spain found out about it. Because the bombs were bordering international waters, Russia found out about it and they sent submarines to locate the bombs and try and steal them. It was madness. It was out there in the news, but it was sixty years ago.
It is a docudrama when you see original people and people trying to explain everything about the bombs. You also see the renactment and it is really well produced.
We didn't actually shoot in Palomares, we shot near that city. We stayed in Murcia, which is near Alameria. There was a girl whose family was from the city and they knew people who got infected with the radiation. They were happy that this was finally going to come out."
Other John De Luca films that he both stars in and which he produced, directed and wrote, that are accessible are the older feature, Glamour Dolls and a new short film Entre Nosotros (Between Us) both of which can be viewed on Amazon Prime. A note to North American audiences, both are also available in the United States and Canada.
"Entre Nosotros (Between Us) is a small project that was shot in Madrid in the Sierras, which are mountains on the outskirts of Madrid. The film is a mixture of talents from different countries. The Director of Photography is Elias Llanos from Ecuador. The film is a fourteen-minute thriller. Elias is the head of a production company. It was a (collaboration) between his production company and my own.
With Entre Nosotros, we had a very small crew, and we were in the middle of nowhere. I knew exactly what I wanted. I knew it was going to be a short film and I knew roughly what it was going to take to do it and I knew the duration of the film. I had everything planned before hand. All I had to do was to watch the takes, correct myself and to give directions to Irene, who was my co-star.
We thought it was going to be a little experiment, but it went on to win awards in Europe and then it got picked up by Amazon. We believe after all of this it has potential (to become a feature film). It is entertaining to watch.
We (Elias Llanos and John De Luca) are trying to develop a series of shorts that we might put together and then the short that gets the most recognition we will develop into a feature," he says.
John De Luca also appears in an episode of producer Jose Louis Moreno's Glow and Darkness, that at the time of the interview was still to be aired.
This interview by Joe Montague published January 25th, 2021 is protected by copyright © and is the property of Riveting Riffs Magazine All Rights Reserved. All photos are the the property of
John De Luca unless otherwise noted and
all are
protected by copyright © All Rights Reserved.
This interview may not be reproduced in print or on the internet or through any other means without the written permission of Riveting Riffs Magazine.