John Pizzarelli and Dear Mr. Sinatra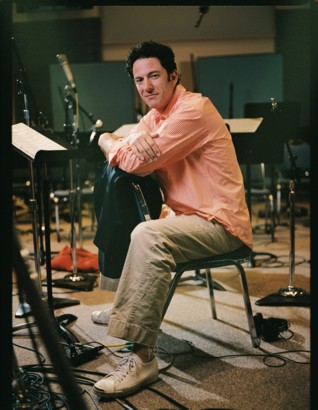 Dear Mr. Sinatra not only pays tribute to some of the greatest songs ever performed during the past century but highlights the remarkable talent of singer/guitarist John Pizzarelli. He teamed up with arranger John Clayton and The John Clayton-Hamilton Jazz Orchestra to provide brilliant interpretations of songs such as "Ring A Ding Ding", "I've Got You Under My Skin", "Nice 'n' Easy" and "If I Had You". These breathless renditions will have you leading your partner to the dance floor.
Pizzarelli isn't merely recording and performing the songs you have heard before but he is giving them a new voice. "I think when I started out I liked the sound of the Nat King Cole Trio and in the beginning they (Pizzarelli's songs) were more cover versions than they were John Pizzarelli versions. I think the Sinatra CD is the best example of my saying, 'Here is what I am going to do and here is how we are going to go about it.' It wasn't like we were covering the songs but we were totally remaking them. I think in the last five, six, seven years I have been really lucky to be able to say this is how I sound and I am going to do these songs without thinking that I am going to do them like Nat King Cole or whoever. I feel more confident now that I am doing songs as John Pizzarelli."
Pizzarelli doesn't really think of himself as someone who revives old tunes. "It has always been around for me and I have always heard that music. Everybody points to a Jazz record of Oscar Peterson from say 1955 or something. Oscar Peterson made a great record with Zoot Sims in the seventies. Zoot made great records right up to the time of his death. I think great Jazz records are still being made," he says.
Continuing with this line of conversation for a moment longer Pizzarelli says, "I had the word revivalist taken out of my bio. (It referred to me as) one of the primary revivalists of the great American songbook and it is just not true. There was only a time period in the seventies where everything (in Jazz) sort of restructured itself. You can have fifteen different versions of "All Of Me" and it is all about the sound of the voice and the way the person arranges the song or a combination of those things."
The singer says one of the things that keep Jazz music interesting is people saying, "I like this song and I am going to do it my way. Pop artists on the fringe of being Jazz artists (such as) Jamie Cullen for example find these tunes and do them their way. People just find ways to interpret it their own way. It is like this wonderful pliable putty that people can do anything that they want with it." He says, "It is all the same thing but everybody has their own handprints and fingerprints on it. That's why it is such an interesting thing. I have heard it (Jazz) all of my life through my father and it is still something that is vibrant day to day."
While growing up Pizzarelli's musical environs were very eclectic. Of course there was his father "Bucky" Pizzarelli who as John Pizzarelli says, "My father would take us to concerts where I would hear him play with Benny Goodman, Clark Terry OR Zoot Sims. I would go to Record Dates or Jingles and watch him play. Then my sisters like the Beatles and all that music of the seventies, Jackson Browne, The Allman Brothers and the Rolling Stones. I was always a James Taylor / Billy Joel kind of guy."
He says of the rainbow of musical colors that highlighted his youthful past, "I never thought of the music that I was listening to as a particular style as opposed to a great moment in time. I just thought, 'Wow George Benson is a great guitar player'.
Frank Weber taught Pizzarelli to play Nat King Cole's "Straighten Up And Fly Right". Weber had recorded a critically acclaimed cover version of the Cole tune. "My father said, 'If you like "Straighten Up And Fly Right" you should get the Nat King Cole Trio records if you can find them," Pizzarelli recalls. "When I found them I was just blown away. I loved the style of the group. I listened to all these songs that I had never heard before and I wanted to learn them. I wanted to learn "Route 66" and the others (because) I just felt they were perfect. I thought they were great Jazz vocal songs," he says.
When you talk with Pizzarelli you get the sense this is a man who was born for the stage. There really could not have been another career. He loves what he is living. "I have always loved performing. I think there is something about the way that music affects people, to sense that response. I think that it has to do with the joy that music brings to people. It is something that has excited me.
I asked him if he took more enjoyment from playing his guitar or singing and he responded, "They are inseparable for me. I don't think about what I am doing. I think if I am playing well on the guitar one night it charges the singing. (Likewise) I feel that if I am in particularly good voice and singing the way that I like to sing it charges the guitar play."
Pizzarelli compares for me the dynamic of playing with his quartet or with a big band. "I like the spontaneity of a quartet. You can't really get that with a big band. We can always play an extra chorus on the fly. When somebody is playing real hot you can let him play a little longer or you can switch endings. You can have the idea that it is a little more spur of the moment."
In contrast he says, "With a big band I think you have to rely on the quality of the arrangements and players. (You have to) trust it. I think that is one of the strengths of what I do with band shows is to get great arrangements from great arrangers. You have to have great arrangements because you are going to be standing up there and playing with them. They are going to have to carry you."
Pizzarelli lists as one of his career highlights the opportunity to perform with his father over the past ten years. "We played so much together that we could go to any room and just destroy it.
Pizzarelli relates to me some of the more humorous things that occur when he plays with his father, "People have come up to my father and said nutty things to him like, 'Your father is a really good singer.' (at this juncture John Pizzarelli laughs) they get all mixed up. He's (his father) going, "I'm the father."
I asked Pizzarelli to reflect upon some of the concerts or setting which he has enjoyed most over the years. He listed the Montreal Jazz Festival, some gigs in Brazil and others in LA. "We have had some pretty amazing moments," he says.
All text protected by copyright and is the property of Riveting Riffs Magazine © All Rights Reserved.
This review published September 29, 2006 by Joe Montague is protected by copyright © and may not be reproduced in print or on the internet or through any other means without the written permission of Riveting Riffs Magazine, All Rights Reserved