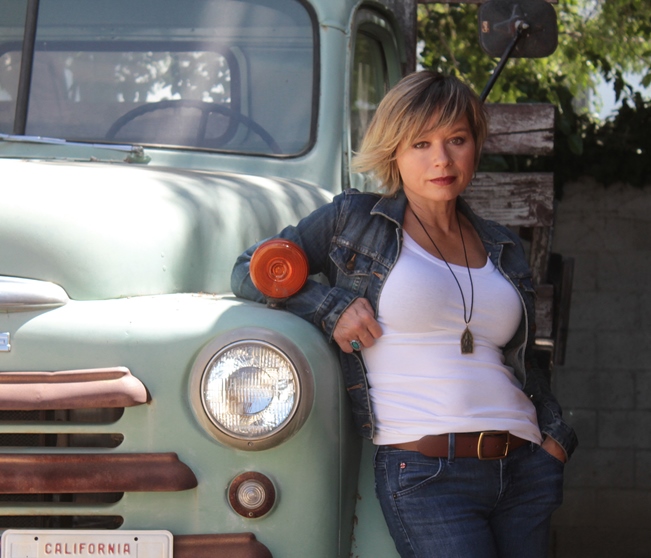 Anderson is the name of a city in Indiana and it also happens to be the name of a very good musical duo of the same name. The duo comprised of Joy Burnworth and Howie Anderson draws its name from both Howie Anderson's last name and the fact that Joy Burnworth grew up in Anderson, Indiana. The American duo boasts a ton of experience and talent, as Burnworth has worked with producers David Foster, Gerry Gallagher (Led Zeppelin, ACDC) and Matt Hyde (Jonny Lang, No Doubt). She has performed at both the Academy Awards and the Emmy Awards and Burnworth has opened for artists such as Buffalo Springfield, Pat Benatar and Juice Newton. Joy Burnworth is also the first call sub for Jefferson Starship. Howie Anderson is the lead guitarist for The Strawberry Alarm Clock and he has worked with Spencer Davis, actor Ben Vereen, Robbie Krieger of the The Doors, Peter & Gordon, Lynyrd Skynyrd's Ed King, Jerry Corbetta (Sugarloaf) and drummer Buddy Miles to name but a few.
Joy Burnworth sat down with us recently and talked about her own career, the duo Anderson and where it all started for her.
"I write all of the lyrics and it all starts with me. I start with the lyrics and I usually have some type of a melody, but sometimes I will not have a melody and Howie will start playing things to give me ideas. I take the lyric and the partial melody and I go to his house and we hash it out. We figure out if it is going to be in 3/4 or in 4/4 and figure out the tempos and all of that. He comes up with the harmony and helps me to take the melody in a different route based on what he is playing," says Burnworth.
Take for instance the Anderson song "Aqua Gardens," a mid-tempo song with a nice easygoing melody that plays like a film, as Joy Burnworth's vocals sets the scenes accompanied by Howie Anderson's sterling guitar playing.
"Aqua Gardens is a place that my mom and I used to walk to and like the song says we walked to the end of Crystal Street. My street ended up in a park. We would walk through the park and we would get to Aqua Gardens, which was a gravel pit that they threw water into. There was a fishing section and there was a swimming section. My mom and I went there almost every day in the summer. We could bring our dog and actually my dog saved my life when I almost drowned. My brother, Bob (who is older) was going out to the diving boards and this was in the day when you could have the high dive at a public place. He went out there to jump off of the diving board and I wanted to follow him. I just kept following him and the next thing I knew there was nothing under my feet and I don't swim. The lifeguard was busy flirting with the gals in the bikinis. I started going under and my dog started barking like a maniac. He was with me. He was off the charts and it got my brother's attention. Bob could see my head going down and he swam back like a crazy man. He was yelling and trying to get the lifeguard's attention and he just got to me in the nick of time. My dog and my brother saved my life.
I loved going there, because I got out of the house and I got to spend time with my mom. It was fun. There was a slide and there were tons of kids. There was a snack shack. Like the song says there were all of the hot rods and every muscle car known to man. All the teenage girls were there and all of the guys were driving by in their hot rods trying to pick them up. It was quite a quintessential time when you would do drive-thrus with people cruising and flirting. It is a lost art. I don't see that anymore with teenagers. I don't see a place where kids hang out, not out here in the suburbs. There might be something in the city. Kids aren't even driving, because they want to text from the backseat, while somebody else drives the car.
Aqua Gardens is long gone. They closed it down. The fishing part was closed down, because of the liability insurance and Aqua Gardens closed down because of the upkeep and you can't have high dives anymore. It was probably just too expensive for the city to keep it up. I can still go by there. The shack is falling apart and there is a gate around where we would swim.
It's nice that the song keeps that alive. I find with the songs that I write, even if it is not a happy song or it is about a bad time in my life, every time that I sing it heals that and it helps me to get through it. I have a better forgiveness and understanding about some of the things that I went through. "Aqua Gardens," is just about fun memories, but it helps to keep it alive," she says.
Anderson TV, a public television entity that is a joint venture of the City of Anderson, Anderson University, Anderson Community Schools and the Anderson Public Library plans on using the song "Aqua Gardens," in its programming.
"Middle of Chaos," grew out of a completely different set of circumstances, the housing market crash of 2007 and the stock market crash of 2008, but this is a song of encouragement, not of despair.
"I wrote "Middle of Chaos," after the crash of 2007, about a year or two later, because I noticed things were not getting any better. It seemed like the black cloud was never going to be lifted. I (thought) this isn't getting any better and people know it. I could feel the heaviness. I wrote it like a 'Me and You,' kind of a thing. We've got to hold on to each other through this, because it is going to try and tear us apart. That is kind of what happened to my husband and me, because of the stress and with the kids and other things that I won't go into. It was weighing on me.
I heard on NPR an interview with a gal and she said it was like there was a constant in the middle of chaos. I thought oh remember that. I wonder if I can do something with that. For the longest time I had three lines. I kept trying over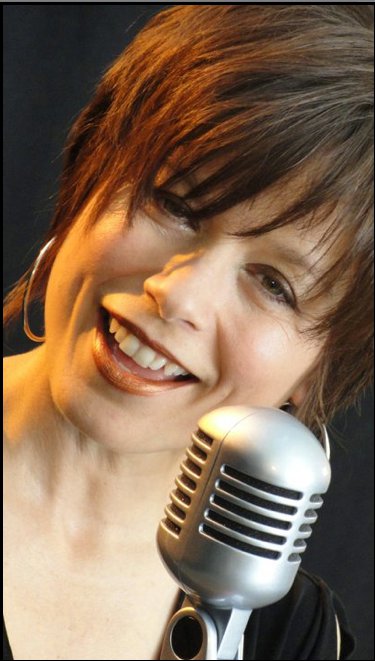 and over and I wouldn't give up on it. I really do think it (talks about) the life and the love that we share. That is what is going to get us through this. Don't let these scoundrels steal everything from everybody. I could write political stuff, but I really felt like it should be more about families," explains Burnworth.
As for the song "One Mistake," it originated with a telephone conversation that Anderson was having with a friend, during a pause in a recording session.
Burnworth relates the story, "He got a call and his friend was going through some tough times. He said I have to take this and I said sure no problem. He got off the phone and he said, he (his friend) is getting a divorce and it is so sad. He is sitting in an airport in Denver. There is a blizzard and he can't get out. He is thinking that what he did was really wrong and he can't take it back. He made this terrible mistake and he can't take it back. I was wow.
Part of it (was inspired) by a song by Shawn Colvin "Shotgun Down the Avalanche." I devoured all of her music. I thought of a big blizzard with a snowstorm and she is by the Rocky Mountains and what happens, an avalanche. I was thinking an avalanche leads to more things, you know how one lie leads to more lies. Howie's friend's whole life tumbled down on him and he lost everything. That is where that song came from."
Joy take us back to where it all began in Anderson, Indiana.
"There was just my brother (and me) and he is actually my half-brother. It was a small family and when I came into the world my dad actually wasn't with us. He was taken to Marion to a hospital. I came into the world with just my mom and shortly after they divorced. He never came home. I would go up to Marion to visit him. There was just my brother, my mother and myself until I was seven. Then my mom remarried and it got crazy. There was a lot of love in the house until I was seven. It was beautiful. My brother took me everywhere and we got along famously. I would annoy him like any sister would, but for the most part I knew all of his friends and he would drag me along and find something for me to do. It was really good and then our lives took a really bad turn when she remarried. That was her fifth husband," she says.
Joy Burnworth recalls, "The first time that I got to sing in front of the school I was in third grade and I did an R&B song called "You Little Trustmaker." Again that was my brother who gave me two 45s, one was Chicago, "Just You and Me," and I told my brother it has the word damn in it and I don't think that I can sing that for the school (she bursts out laughing). So the other song was "You Little Trustmaker," by The Tymes. My grade three teacher Mrs. Wise held auditions and I came and sang. I had this big voice and I was singing with men and (my voice) was deep. Kids don't have a deep voice in the third grade. She said dang I wouldn't have known that voice was in that little person.
When I was to sing in front of the school, my mom decided to take me to the hairdresser and poof up my hair like one of those big bouffants. It was totally over the top. Then she got me a long dress that had French polka dots, red, white and blue. I was dressed very formally and I walked out and all of the kids started laughing at me. I was like what do I do with this? I thought to heck with them and I started singing. When it was over all of those kids who were laughing got up on their feet and started clapping for me. They gave me a standing ovation. They loved it. That was the turning point and I realized wow, this vocal thing can really get you somewhere."
Joy Burnworth's performing did not stop with grade three, because she was also in marching bands in middle school and high school.
"I played saxophone. I remember my friend Kara played the flute and when we would walk to school in the snow I would think why didn't I choose the flute? I had to carry my books and I had to carry this crazy saxophone and she would put her little flute on top of her books and walk to school. I think the sax is cool and it was worth the aggravation.
During the marching season there were far too many woodwinds and a marching band needs to sound big and loud, so they took some of the woodwinds and they put them in the drum line. All the cool people were in the drum line and I was 'pick me.' I carried a bass drum and it was part of a set. It was smaller, but it weighed twice as much as what the big guys were carrying. The marching bass drums are made of lighter material and they had it fitted for someone small like me, but oh my God, I thought what did I get myself into? It was worth it, because all of the guys in the drum line were so cool.
In Indiana marching bands are as serious as basketball and we would practice in August when it was incredibly hot and humid. We would march from nine to noon and then have an hour off and then come back and march from two to five. Then we would go home for dinner and come back and march from seven until nine. I was like geez this is like an Olympic event! I was getting my P.E. (Physical Education) credits in there.
The coolest part was I was the first on the field at a Cincinnati Reds (baseball) game. I walked out first from our drum line. That was mind blowing. It was little old me. I think I was a sophomore in high school. The other great thing that we did was to go to the Kentucky Derby and we did that show too."
In addition to band and playing saxophone, Burnworth also had several musical classes, was in a couple of choirs and then when she started participating in madrigals she dropped band. She also performed in many a cappella concerts.
Burnworth's brother also had a big influence on her musically. He played the organ and performed in plays and musical.
"Bob is almost ten years older than me and he brought me music that he was listening to. I got turned on to all kinds of music. I remember I loved R&B and Jazz and I also loved Rock, especially Progressive Rock. He brought me This Is Niecy, Deniece Williams' record where she is wearing a dress and she matches the background. I thought this is too cool, her dress matches the wallpaper. He got me into music like Zeppelin and Cream and Hendrix, as well as R&B and Jazz," says Burnworth.
Not many fourteen year olds have to make major life altering decisions, but Joy Burnworth did.
"When I was fourteen my brother helped me get a lawyer and I left home. I went to live with my brother, because my step-dad was a horrible person. I was like if you want to do that to my mom and she's signing up for it, fine and dandy, but I'm not going to do that.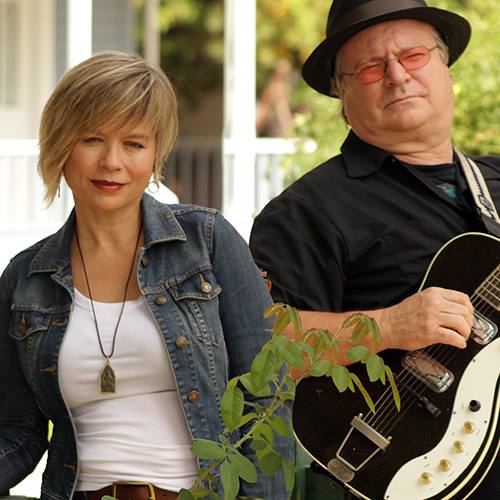 Then General Motors decided to just leave town and people with nineteen years seniority were laid off. Anderson is like the Flint, Michigan of Indiana. I remember they took the car. They took the couch, they took the refrigerator and they took everything (from my brother). They were young and twenty-three. They had a baby and they took me in. I couldn't believe it.
He couldn't get any work other than Kmart, so he moved to Denver to try and get work. They left and I didn't want to leave, because it was towards the end of my junior year and I wanted to spend the last year at my high school. They left me in the hands of these folks who were pretty well off, but they wouldn't let me sing.
I don't think that they really liked what I was listening to (she starts to laugh) and they didn't like the fact that I was singing in a bar, which probably wasn't a great thing (she is barely able to keep herself from laughing again), but I was doing what I loved. I remember calling my mom and I said mom this isn't going to work out here, because they aren't going to let me sing. They want me to be home on the night that I sing, because they decided that was family night. I asked if we could make it a different night and they wouldn't. There was a lot of friction and I was a very strong willed girl," she says.
During Burnworth's sophomore year a new musical partnership and romance dovetailed, "A new kid came into town and his name was Matt Hyde. He is an excellent guitar player and he (became) an excellent producer. He has produced No Doubt and Jonny Lang. We became boyfriend and girlfriend. We did all kinds of music together, so we formed this group. (I sang) and we did some Heart, and a lot of old music from Paul Simon to Led Zeppelin and Buffalo Springfield. There was a place that hired us (she laughs). It was called Wertz's Place. It is not there anymore. It was almost like a barn. We were just these kids and I remember a lot of the regulars who were probably over forty loved us. When we were going on our breaks we couldn't stay in the place, because we were too young. I was sixteen. It was really fun and I learned a lot in those days.
We did a lot of things at school. I remember us doing a Latin version of "Come In From The Rain," which is a Melissa Manchester tune. My friend played saxophone. We played it for the school and I remember my history teacher said afterwards, Joy that was fabulous, but it went over all of their heads. They just didn't get it. You were too sophisticated. That was always kind of my thing, just a little too sophisticated for the crowd. If it was Rock it had to be the experimental Rock, like Rush. I played Led Zeppelin, because I loved Page and I loved the Blues, but more of their experimental music."
While things were blossoming on the musical and romantic fronts, the tyrannical approach of the family she was living with became too overbearing for Joy Burnworth.
"I phoned my mom and I said, I will stay out of Jim, my step-dad's way, but I want to come home for my senior year and I did. I went back home and I stayed out my step-dad's way. I was very busy with singing, so I didn't see him very much and I got through it. I had a job in April, before I graduated and I went to King's Island. It is like the Disney Land of Cincinnati, Ohio. I was in a Country show of all things. I had to audition and dance. It was a lot of fun and I met cool people there," she says.
After high school Joy Burnworth also toured with Taft Attractions performing at large conferences, corporate events and King's Island Christmas shows, as well as touring worldwide with the USO (United Service Organizations) performing for America's military. It was during this period of time that she honed her dancing skills.
"I loved all of the dancing that I learned. It was great. I had taken tap when I was a kid. I just remember my linoleum floor at my apartment was wrecked. I was afraid they would find out that I hadn't danced in quite a while. It all worked out.
I saved up my money and then we did another USO tour, but this time I did it with my boyfriend (Matt Hyde) and we did it as a Rock band," remembers Burnworth.
Hyde eventually moved to Boston to attend Berklee College of Music and after a brief stint in the corporate world, Burnworth joined him in Boston and she also attended Berklee.
"Matt and this other guy started writing songs and we recorded this record, but it was Pop tunes and kind of a George Michael thing. It was late eighties and we were doing these really cool Pop songs," she says.
They started to attract a lot of interest from the west coast, so, "We packed our stuff up, we put it on a train and we took a plane out to L.A. I remember flying over Los Angeles and going what the heck, this town never ends. I had never seen anything like it. We went and stayed with Matt's aunt who lived in the hills of Echo Park. At the top of these hills it was beautiful. It was just above the police academy. The homes were made in the twenties and the King Tut influences were huge. The home looked like an entrance to a pyramid. There was all of this Mexican food and quesadillas and I was what's a quesadilla? It was culture shock (more laughter).
Our band was called Life, Love and Pain and we played clubs. Our first gig was At My Place in Santa Monica, which was a fabulous venue in L.A. Sheryl Crow, had played there and it had all of the good Jazz music.
Eventually, Life, Love and Pain broke up and soon after Hyde and Burnworth also went their separate ways. Along the way there have been some interesting adventures for Joy Burnworth as she began to establish herself as a highly respected singer that today brings a huge vocal impact to the songs that she sings, whether they are her own, songs that she has co-written with Howie Anderson or songs that she covers. The seventy-five dollar a week band gigs have long since disappeared from the rearview mirror. The five nights a week steady gig playing to cassette tracks early in her career is also a distant memory, but it was her diligence in pursuing her singing career and making those early sacrifices that cemented a solid music career for Joy Burnworth.
She can do it all from the original up-tempo Country Rock song "Finish What You Started," to the cover of the Pop tune "California Girls," and the Rihanna hit dance song "Don't Stop the Music," (written by Tawanna Dabney). Joy Burnworth is equally adept at delivering a scintillating performance with Jazz songs like Harold Arlen's "A Sleepin' Bee," (Truman Capote also contributed lyrics) and she romantically coos the Jimmy Van Heusen and Johnny Burke song "Polka Dots and Moonbeams," reminiscent of Sarah Vaughan. Joy Burnworth brings new energy to songs like Kelly Clarkson's "Since You've Been Gone," and Janet Jackson's "Together Again."
Seldom does a singer arrive on the music scene that can perform in numerous genres of music and do it at such a high level. There have also been few times in the history of Riveting Riffs Magazine when we have unabashedly waved the flag of fandom and said this is an artist we completely endorse and believe in, but today we are doing just that with Joy Burnworth.
You can visit the website for Joy Burnworth here and you can listen to her music, both original and cover tunes here.
You can visit the website for Joy Burnworth here and you can listen to her music, both original and cover tunes here.
You can follow Anderson the Joy Burnworth / Howie Anderson on their official Facebook page.
This interview by Joe Montague published May 12th, 2016 is protected by copyright and is the property of Riveting Riffs Magazine © All Rights Reserved. All photos the exclusive property of Joy Burnworth and are protected
by copyright ©, All Rights Reserved
This inteview may not be reproduced in print or on the internet or through any other means without the written permission of Riveting Riffs Magazine, All Rights Reserved, protected by copyright ©