Judy Wexler Lives In Dreams and Shadows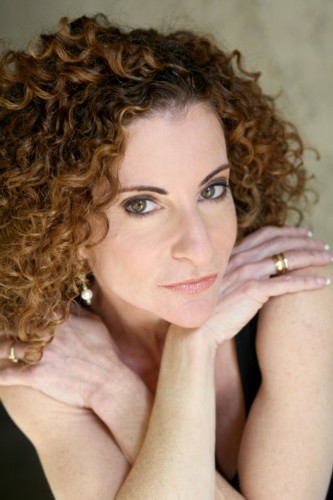 2008 has been a good year for jazz vocalist Judy Wexler as her new CD Dreams & Shadows debuted in the # 2 spot on the National JazzWeek Chart, and the redheaded Californian, has a busy summer schedule, with numerous gigs from north to south along the west coast. Wexler's 2005 debut CD, Easy On The Heart, produced by Barbara Brighton, sent a clear message, that the actress turned singer possessed good musical sensibilities and was capable of delivering big time both in the studio and on stage. For Dreams & Shadows Wexler once again teamed up with Brighton to create an album that taps into some of America's best songwriters, Harold Arlen ("If I Only Had A Brain"), Sonny Rollins ("Pent Up House"), and Blossom Dearie ("Bye Bye Country Boy"). Wexler also illuminates two fabulous songs from the 1960's, the Burt Bacharach/Hal David tune, "One Less Bell To Answer," and Dusty Springfield's hit pop tune, "Spooky." For good measure, she includes the Elvis Costello song, "Almost Blue."
Judy Wexler sat down with Riveting Riffs Magazine recently to discuss Dreams & Shadows. "I like getting into the story of the songs and what they are trying to say, which is (what I did) with "Summer Is Gone," and "Bye Bye Country Boy." The song, "Bye Bye Country Boy," is about a singer who goes out on the road and does country fairs. She travels around and finds herself in a little place. She comes from the big city, but she sees a country bumpkin in the front row looking at her while she is singing. They make a connection and end up having an affair for the week that she is in town singing. It is a bittersweet song, because she has to takeoff and goes back to LA. She is an older woman and he is a young naïve guy. They really hit it off, but there is no future for them, even though (she laughs at this point) they had this fabulous week together. It is really a song about two people who cannot have a future together."
Turning her attention to "Summer Is Gone," Wexler says, "It is really about a young girl who has a summer friend. My interpretation is that their parents go to the same summer vacation place every year, and they have established a friendship as playmates. They look forward to seeing each other and hanging out with each other every summer. As the girl gets older, she realizes that she is in love with this young man. It is the summer when she becomes a woman. She is in love and she realizes how sad she will be to spend the rest of the year without him."
Other tunes such as, "Life's A Lesson (Blue Daniel)," "Almost Blue," and "Photograph," owe in part their inclusion on Dreams & Shadows, to the influence of Barbara Brighton. "We worked on the repertoire a lot, and Barbara suggested them. Barbara and I talked a lot about what would work and blend together, to make a nice sound for the record," says Wexler.
Brighton also proved influential in another way, explains Wexler, "There were certain songs, such as "One Less Bell To Answer," where my tendency, because I am an actress, is to get really into the lyrics, but on that tune Barbara wanted a cool sound, not an emotional sound. She wanted an understated emotional sound. She definitely influenced the tone of that track. It is not as emotional as it probably would have been, if I had done it by myself. It is more (she breaks into laughter) like a quiet despair, not an overly emotive despair. We worked a lot on the attitude and the acting part for the songs."
"I don't remember exactly how I came across that tune ("One Less Bell To Answer"), except I was probably looking through some Burt Bacharach songs and thought that it would be a really cool tune. When it first came out (recorded by The 5th Dimension), I had a different view of it. I thought that it was a really sexist kind of lyric. Now that I am older, I read it with heartache. It is what it is. This guy left her and there is this feeling of expectation; is he ever going to come back?" says Wexler.
I brought "One Less Bell To Answer," to a great pianist, Jeff Colella, with whom I work, here in Los Angeles. He and Alan Pasqua co-arranged this CD. After Jeff arranged "One Less Bell To Answer," we did it live for a while, before deciding to include it on the record, because I like it so much.
Dipping into old pop tunes, albeit good ones, such as the Buddy Buie/James Cobb Jr., Harry Middlebrooks/Mike Shapiro song, "Spooky," may seem a little unorthodox for a singer who also has "If I Only Had A Brain," on her CD, but Wexler explains, "For my live repertoire I have always looked for songs that are off the beaten track. I do a lot of live shows and I really look for material that is different. I see if they can work within a jazz arrangement or in a jazz idiom. I have always looked for material that is not standard fare. One of my purposes for singing is to find material that is not done that much and then share it with an audience."
"With "Spooky," I was purposely looking around for a song to put on the record, which was a pop tune that would fit into a nice jazz arrangement. I was looking for a song with a fun, coy, sexy attitude," she says with a hint of mischief, which mirrors her flirtatious demeanor while singing "Spooky."
Wexler says that "Spooky," arranged by Alan Pasqua, came to light while she was surfing youtube. She came across what she describes as a hilarious and campy video of Dusty Springfield singing "Spooky." She remembered the song from her youth and felt that other people from her generation would also enjoy the song.
Any artist, no matter what their stature, always runs the risk of comparisons when they record a song that has been recorded, and made infamous, by someone as highly respected as the late Dusty Springfield, and so we asked Judy Wexler if that had been her experience with the song "Spooky."
"I thought there would be risks, but in the end there was absolutely no danger, because (she laughs) it doesn't seem as though anyone has made the connection. I thought that there could be, but it turns out there aren't. The vibe and the approach are different, and people really are not drawing those comparisons. I searched and searched, and I could not find anyone else who had recorded "Spooky," which may not be the case, but for me it was like, 'Hardly anyone has done this, except forty years ago," she says.
During the singing of "Pent Up House," Wexler takes us on a whirlwind trip through the daily life of a beleaguered woman who is trying to balance the demands of running a household, while holding onto dreams of a restful vacation. The singer's lightening fast vocals, paced by Alan Pasqua's piano and supported by Derek Oles' bass easily help us imagine being thrust into that hectic scene—or perhaps prompt grim reminders of a lifestyle too many of us seem to lead.
Wexler explains her preparation as she approaches lyrics to a song, "Sometimes when there are a lot of lyrics, you have to get the story, so that you can memorize the lyrics and it will all make sense. Sometimes the lyrics are so arbitrary, that you can substitute one verse for another. Those are the hardest lyrics to memorize, because there is no story. Your brain can't go from one verse to another verse and have it all make sense. "Pent Up House," wasn't that difficult. It was just a matter of saying them (the lyrics) over and over again, until I memorized the lyric, and got the feel of them. Singing it to the melody involved a different layer of learning," she says laughing.
It may be that attention to preparation, borrowed from her experience as an actress, that more than anything else distinguishes Judy Wexler as a jazz vocalist. "I did a lot of internal work, which helps with stories like those in many of these songs, because I can really visualize the place and the person with whom I am talking. It is about applying all of the acting points that I used when I perform on stage. I present a character. When I go into the studio, I try to visualize the scene, what just happened, with whom I am talking, and what this guy looks like. It is all of those things, who, what, where and why, that help me to get into the song. I think it is the same when you are communicating anything, it takes a lot of sense memory and compassion for that person," she says.
Please visit the Judy Wexler website.
Interview by Joe Montague, all rights reserved, protected by copyright © 2008 Return to Our Front Page
This interview is protected by copyright © and may not be reproduced in print or on the internet or through any other means without the written permission of Riveting Riffs Magazine, All Rights Reserved