"With acting you put yourself into a role to tell a story. I like to work on that and to touch the people out there," says our guest at Riveting Riffs Magazine, Julia Helbich, from Germany.
Acting represents just one of the many facets of Julia Helbich's career and education, including, her television hosting in which she has established a noteworthy career, as an interviewer of top athletes, both American and European, she also has an MBA Global Management, an MBA in Business Administration, two bachelor's degrees, one in political science and the other in the arts.
For now, her primary focus is on acting and continuing to interview others.
"It is a tough decision to go to a new road in your career, but that is what you have to do. You have to go a few more steps, to see where it (takes you) because if you don't you will stay in the same place," she says
Finding herself attracted to the arts is not an accident with Julia Helbich.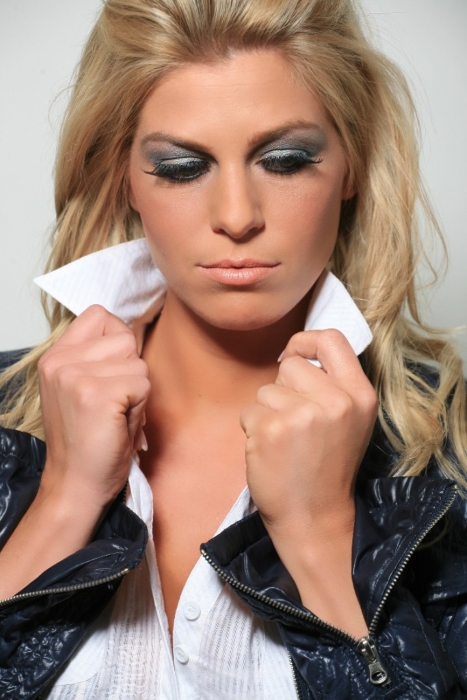 "It is definitely in the family. Let's start with my parents. My dad, Wolfgang Helbich was a very famous conductor and my mom Ortrun Helbich sang in my father's choir. That is how they met! Later on, my mom managed my dad, because he traveled all over the world conducting. He was an amazing conductor and musician. He was a typical musician and conductor who worked late at night. He also composed his own music.
At his funeral there were over 2,000 people from all over the world. He was so appreciated. It was very touching.
My dad was not such a good businessman and that is why my mom took over at one point. We had five kids though, so my mom still had to be a mom. She gave piano lessons and she opened up a music school. With five kids she studied culture and music management and got her master's degree. My dad and my mom were an amazing team," she recalls.
Continuing to talk about her early artistic endeavors, Julia Helbich says, "I started off with singing, I played the violin. I then started with theater.
I guess I always had it in me (to become an actress), but I was afraid and I didn't know where to start. I didn't want to do just an acting school. I also wanted to have the assurance that I was safe. I had that from my parents. I grew up in an artist's family and my parents were always focused on us getting a great education.
I started off very quickly with great roles in Germany (appearing) in pretty big series and movies. That gave me the (confidence) that I do have talent.
One of those series is called Tatort and it is one of the biggest series in Germany. Everybody knows it. It is a little bit like Criminal Minds. I played in that (three times) and it was one of my first roles. One time I had a role when I played a bad agent and I liked that.
Other television and film appearances include, Lügen und andere Wahrheiten and she played a young mother in Haltet die Welt an. She has three films in various stages of production, Islamaphobia in post-production, Torquemada's Curse and I Will…anything that moves, which is in pre-production. Julia Helbich played Henrietta in die Expats and herself in the short film Water.
At the time of our interview Julia Helbich had just completed an audition for a role as a morphine addict.
"That was really (a stretch) for me. How do I play this? I usually do a lot of comedy. It is something I really like to be honest with you. I do like the deep, serious roles too. I worked with my coach for six hours for that role, just to find out who that person is and how she got to this (place). I liked preparing for that character, because I got into the story of who that person was, how she got to this point and how I should play her," she says.
The way that I work as an actress I get really into the character and I ask who is this person? I build my own story, so I can really get into who I am and be able to play them. Everybody brings a little bit of themselves into the characters, but it still should be the characters. It can't just be with you. You need to work it around and build on it."
It is also not surprising that as a host she is attracted to interviewing athletes. She was the only daughter in a family with four sons and she says she played sports like soccer with her
"I did a lot of sports throughout my life, because with four brothers I always had to keep up with them. I did judo and I am always very competitive, because I wanted to show my brothers that I was as good as them or better. That is why still I play soccer with them.
I also played field hockey growing up. I played in a regional league and on the best team in Bremen (where she grew up). When I went to America I switched to basketball and volleyball, because they didn't have a field hockey team. That is how I fell in love with those other sports.
When I went to America, I did the tryouts for basketball and I noticed how much I suck (Editor's Note: In fairness she had never played basketball in Germany). The coach said I definitely had something, talent in me, but he also said you definitely need to practice. He also said I can tell you really never played. I did not want to switch my cool street shoes for ugly sports shoes. They were laughing at me while I was doing the tryouts. I practiced every single day. I was jogging outside. I went to the gym at two in the morning just to work out and to practice. I played only with guys on the street, street basketball to improve my game. Then at some point I started going to the camps in Connecticut. Back in the day that was pretty big. That is how I got my scholarship. I had to prove myself first," she says.
So why did Julia Helbich move from Bremen Germany near Hamburg and to the United States when she was just seventeen years old?
"I have family in America. My cousin lives in Florida and my aunt, her mom lives in Vermont. That is why that coast was my focus to go to, because I wanted to visit her. My first step was to visit my aunt, after my parents said okay. My parents were always (encouraging us) to go to other places, to take the opportunity to see the world. My parents gave us the chance and not many people have that. I have brothers who studied and lived in Brazil, I had another brother who lived in Belgium and a brother who went to school in Egypt. For me it was America.
I fell in love with America and I fell in love with somebody there too. I was definitely at the age when, yay I met the man of my life forever (light laughter), but he was not the man for my life. It was a wonderful time. I was impressed with the Americans and how friendly and nice they were. I wanted to have that chance. I wanted to improve my English, so I could get into college.
I thought back in the day that I was going to be the first woman in the NBA. It didn't happen, but that's okay, at least I had a goal and my dream. The funny thing is when I went to the States, I was supposed to go back with my first boyfriend and he was chickening out. He didn't want to go. I think he was nervous. I was afraid to go, because I was only seventeen. I thought what am I going to do when I switch planes and I get lost? My mom said you can do it. Just believe in yourself and it will be the best experience. We will drop you off at the airport and you will be picked up from the airport. Everything will be fine and people will help you, you can do it. If she wouldn't have put that push on me, I wouldn't have done that. That was a big push in general in life that she was always there, supporting me and believing in me. If I had done that step who knows if I would have had that time in America? Who knows if I would have gone down that path? Who knows if I would have the self-esteem to be in this whole entertainment world?" she says.
Julia Helbich's interviews have been wide ranging from NBA star Dennis Schröder, to Jazz virtuoso guitarist Lee Ritenour, popular German television star Alicia von Rittberg and she has also conducted numerous red-carpet interviews for Hollywood premieres.
The future is bright for Julia Helbich, she is fluent in both English and German and when she speaks English her accent is neutral.
Please take time to visit the website for Julia Helbich and to watch her German and English showreel or her English only showreel here.
#JuliaHelbich #JuliaHelbichActress #JuliaHelbichInterview #RivetingRiffs #RivetingRiffsMagazine #ActressInterview #ActressInterview #FilmInterview #GermanActress #TelevisionActressGermany #FilmActressGermany #WolfgangHelbich
This interview by Joe Montague published March 14th, 2022 is protected by copyright © and is the property of Riveting Riffs Magazine All Rights Reserved. All photos are the the property of
Julia Helbich
unless otherwise noted and
all are
protected by copyright © All Rights Reserved.
This interview may not be reproduced in print or on the internet or through any other means without the written permission of Riveting Riffs Magazine.