From Pop singer to Swedish Country music star and from the small town of Skelleftehamn just a couple of hours from the Arctic Circle to France, back to Sweden and onstage in Nashville with the legendary Time Jumpers and Vince Gill, that just about sums up Karin Risberg's career as a singer, songwriter and guitarist.
Risberg has a 2019 tour planned with her friend Country music singer Cina Samuelson as the duo Honky Tonk Angels, a duo that still performs at times with Kerstin Dahlberg as the trio Three Chicks. The group Three Chicks has been performing together since the 2010 Lida Country Music Festival in Sweden, while Honky Tonk Angels made their debut in September of this year (2018) when they performed at the Sweden Country Music SM.
So where did this all begin for Karin Risberg? Her answer is not surprising, as she continues the long line of outstanding Swedish singers and musicians who have come from small towns and villages throughout the country.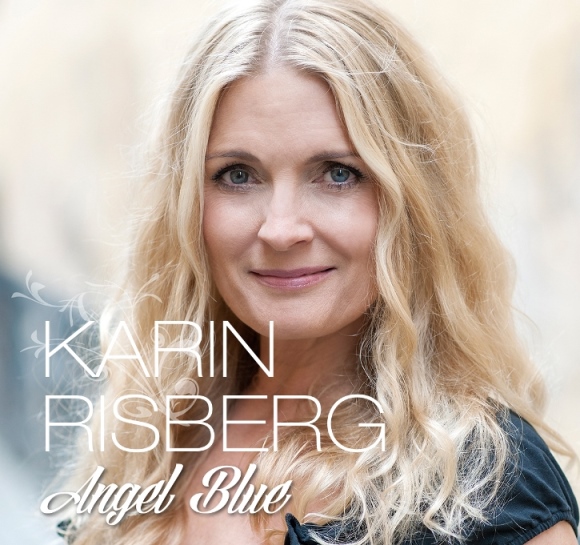 "I was born in a small town called Skelleftehamn and it is in the north of Sweden, eight hundred kilometers north of Stockholm. It is very close to the Arctic Circle. I grew up in a family with my mom and my dad and a little sister. My mom used to sing in the choir and she also sang for me every night when I was going to sleep. She was the only (musical person) in our family. My father always encouraged me. He heard me singing all of the time when I was a little girl. He was proud of me, so he had me sing everywhere that I went with him. They started to pay me with chocolates and things like that. He was a ship broker and he took me onboard all of these big, big boats. I got to sing when I was very little.
We had a youth club in Skelleftehamn and every young kid went there after school. We had a room where we could go and play guitars and sing, so I started to sing with some friends. In Sweden we celebrate something called Lucia (after Saint Lucia and celebrated on December 13 th) and the youth club had a soiree. It is like a show with different kinds of numbers. Some people were speaking and some told jokes or did music. You could do anything you wanted to do. I was singing with my guitarist and it was like a Christmas show. That was the first time that I performed on stage (she was thirteen)," she says with a melodic Swedish accent, and this writer never ceases to be amazed at how well most Swedes speak English.
Skelleftehamn is a long way from the spotlight that shone on Karin Risberg in the early 1980s with her Pop song "Marie Antoinette.
"I started to work with two Swedish guys who were singers and songwriters and they wrote "Marie Antoinette," and we recorded it. It went out in Europe on different charts. In some places it was in the top ten. They love this kind of music in Italy. It was played in discotheques there. They were playing it in Sweden and it was before I was in the competition in Sweden that we call Melodifestivalen. It was my first single to tell everybody who I was. It went pretty well with that song. That was in '85 and '86," she says.
It was at Melodifestivalen singing her song "Stopp Stopp Stanna," that Karin Risberg became someone even more well-known throughout the country. Melodifestivalen is the largest annual music event in Sweden and the winner of the competition represents Sweden in Eurovision the pinnacle music event each year in Europe.
"Melodifestivalen started in the fifties (1959). In the beginning there were ten finalists with one winner and then the winner went to the Eurovision song contest. Everyone in Sweden would be watching the Swedish competitor. Everybody was so excited, because we wanted to win of course.
I was in the competition in 1986. That year there were ten competitors and everybody was making their own videos back in 1986, because MTV was huge at the time. Swedish television thought let's do something crazy and they tried something new. They took some video producers and some TV cameramen and they made videos for the artists. Five of the competitors were going to sing on television live. My song was tied with another girl's song for fifth, but she had more points than I did, so I did not have the opportunity to sing my song on television. I was really sad. I knew I could sing. "Stopp Stopp Stanna," played on the radio in the beginning. A lot of people liked my song. It is kind of a cult song now. People remember it and I sing it when I am in Sweden. When I am in concert I sing it (now) as a Country music version. It is really cool.
Sadly my song and a song by another girl were were the only two left to be number five in the competition, but she had some more points than I did. I never had the opportunity to sing my song live on Swedish television. I was really sad, because of that. I knew I could sing and I knew that I would do well. "Stopp Stopp Stanna," played on the radio in the beginning. A lot of people liked my song. It is kind of a cult song now. People remember it and I sing it when I am in Sweden. When I am in concert I sing it (now) as a Country music version. It is really cool.
I have my own page on Spotify and I put the songs "Marie Antoinette," "Stopp Stopp Stanna," and another song on my Spotify page.
I was in the Melodifestivalen competition one more time in 1991. I was singing in the choir behind one of the artists Maria Rådsten and I think she came in number three (The song was "Whatever Happens.")," says Karin Risberg.
Melodifestivalen was not the first time that Karin Risberg was in a music competition in Stockholm. Although she started to play the guitar when she was thirteen years old after she asked a neighbor girl to teach her, it was not until she was fifteen that Risberg started to sing.
"I was in a band. The community I lived in Skelleftehamn , was really promoting these young kids. There were two guys in this band and they wrote their own songs. Some of the songs were about me and they sang about my boyfriend and me. They did great songs and we became one of the cult bands in Skelleftehamn. The name of the band was Invicta. It was Pop music.
I was in a competition in Skelleftehamn and I won it, then I went to Stockholm to be in the big final. It was so exciting. I remember I was so nervous. I really did my best and I came in number three. I didn't win, but it was pretty good. I did it and I was so proud of myself. My dad took me there, so I was in safe hands. My dad was very proud. That is where it all started," she recalls.
As the 1980s dawned, so did a new chapter in Karin Risberg's music career and she took the stage name Angel Blue.
"That was a very exciting experience for me. I was in France with a group called Europe, a hard Rock music group. There was a French producer, Jacques Morali who was looking for a new (female) singer from Sweden and he wanted to make her a star. I got to see him and he decided to sign me. We did a cover of a song by The Doors, "Light My Fire," which he produced. We went to London to make a video at Limelight Studios. I stayed in France for a couple of months and we did some TV shows. Jacques was also the producer for The Village People. He (became ill) with Aids in the 1980s and he died. I had to go home (to Sweden)," she says.
Going from being a Pop singer to becoming a Country singer is quite a stretch and Karin Risberg explains why and how that happened.
"I started singing Country music while I was growing up. When I was eleven years old my mom, dad and I listened to a radio program that had Swedish artists who sang covers of songs by Jim Reeves, Lynn Anderson, Bobbie Gentry and others. The songs were translated into Swedish, but the songs had the same Country music rhythm and I truly fell in love with the music. It made me into a Country music fan and it led me into singing. I am so thankful for singing about the life stories that come to music. I love Country music, because I love the stories. That is what music is all about," says Karin Risberg.
Continuing she says, "I had my first child in '91. After Melodifestivalen I didn't sing, as I was at home with my baby for maybe one or two years and then Tomas Haglund called me in '94 and he asked me if I wanted to go on a Scandinavian tour with his band. We had some American Country music stars with us. I was in this band for four years. We toured Scandinavia in the summer. We went to all of these Scandinavian Country music festivals. Back in the nineties there were a lot of Country music festivals in Sweden, Norway and Denmark.
I think the audience at the time was younger than they are today, but the older ones are still following Country music. We had Country music clubs here in Sweden. It was so fantastic, because there was so much love. People just loved Country music and everybody was so nice. Country music was big here in Sweden (in the 1990s). People came to the festivals and they came with their big RVs. They were just having a good time listening to Country music and they wore western clothes. It could have been a CEO in a bank who for his vacation went to a Country music festival and put on his western clothes. They knew so much about Country music.
I experienced this, before they started to close down the Country music festivals. I talked to the promoters and they said people just didn't show up and they found something else to do."
Also in the 1990s Karin Risberg was part of the (take a deep breath everybody it doesn't mean what you think it means) the Stockholm Stoner band. It was derived from Risberg's ex-husband Tobbe Stener's last name, which means stone. It was a Country music band and one of their highlights was opening for the American band Toto at Rock the Regatta on the island of Saint Martin in the Caribbean.
Stockholm Stoner was before our time. We did a Country music record with a modern sound. We were played in Europe and in Sweden and there were some charts that listed us. We released an album in 2009. Now this album has been re-rleased in America only. You can't say Stockholm Stoner in America, because Stoner is not a stone. We changed the name to Mats Ronander and the Dusty Runners. The album's name is Would You?
Karin Risberg's current solo album is Angel Blue.
"I had been working with other artists and singing on the records of other artists. I thought that it was time for me to do something, because it had been a long time since I did something for myself. I collected my favorite Country music songs from Robbie Robertson from The Band and I did a Roy Orbison song. I also did a Don Gibson song called "Sea of Heartbreak," (with Tommy Nilson) and that was written by Paul Hampton and Hal David.
I wanted to do "Sea of Heartbreak," so I called Tommy who is an old friend of mine and I asked him if he would like to sing with me and he said of course. We recorded it and I released it last year as a single. When I did the release, I also made a video with Tommy and me. I am very proud of it. It is a good song," she says.
Another song that Risberg recorded for her album Angel Blue is the song "Evangeline," a song that Emmylou Harris originally sang with The Band at The Last Waltz. As a tribute to that moment, Karin Risberg and Magnus Karlsson, lead singer for the band Weeping Willows performed "Evangeline," both in Stockholm and Skelleftehamn. The concerts were arranged by some musician friends of hers from her hometown and who recreated The Last Waltz experience for Swedish audiences.
The album title is obvious, as it is the stage name that Karin Risberg had all those years ago when she was working with Jacques Morali, before his untimely death.
"When I wrote the song "Angel Blue," I was sitting in my apartment thinking what a shame, what a pity that Angel Blue never had her voice heard, so I wrote a song to Angel Blue in the third person. That is my love to Angel Blue," she says.
Now the world is getting to know both Karin Risberg and Angel Blue and Sweden has given us another precious musical gift.
To listen to more of Karin Risberg's music you can go to this link. Although, the dialogue is in Swedish, Karin Risberg sings in English. The music begins at 1:20 of this concert video.
#KarinRisberg #AngelBlue #CountryMusic #SwedishCountryMusic #CinaSamuelson #RivetingRiffsMagazine
This interview by Joe Montague published November 29th, 2018 is protected by copyright © and is the property of Riveting Riffs Magazine All Rights Reserved. All photos and artwork are the the property of Karin Risberg and
all are
protected by copyright © All Rights Reserved.
This interview may not be reproduced in print or on the internet or through any other means without the written permission of Riveting Riffs Magazine, All Rights Reserved