Interview by Joe Montague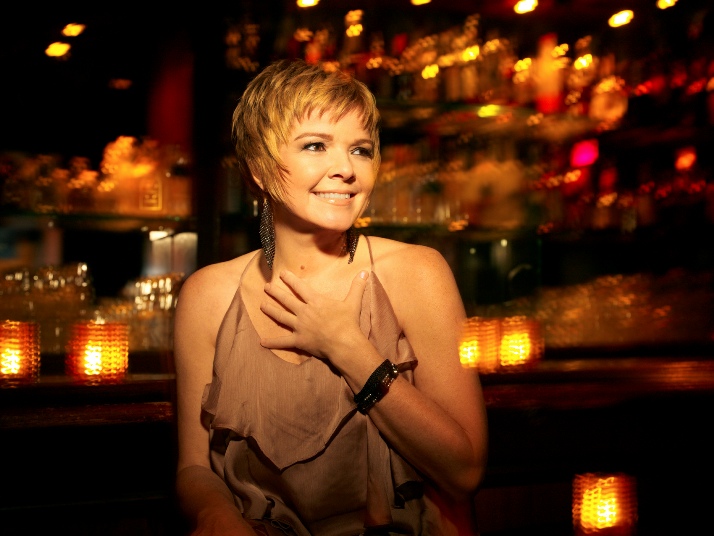 Three-time Grammy Award nominated artist (for Best Jazz Vocal Album), and in our opinion, the words Grammy Award winner should be attached to Karrin Allyson's name, took time to speak to Riveting Riffs Magazine from her home in New York City, while taking one of the few breaks from a heavy touring schedule which sees Ms. Allyson on the road usually two out of every three days of the year. Responding to this writer's question concerning her comfort level with living in New York City, now that she has been there for eleven years, she replied.
"New York does feel like home for me now, but I just bought a house in Massachusetts and it is a retreat, so I go there as often as I can, which is every other month. That feels like home too. I also have about five different places that people kind of claim me, which is nice, when I travel and I work. Minneapolis where my sister and my mom are and I have been playing there for years and years. Another one would be Kansas City, another would be Omaha, and Seattle, because I have been going there for so long, LA, because I have been going there for so long and New York, as well, because I play in New York two or three times each year. I am really lucky. (she laughs as she says) I am a local wherever I go."
Many of the places that Karrin Allyson mentioned as being second homes to her are actually cities in which she has lived at various stages of her life.
"I was born in Kansas, raised in Omaha and I spent time in the Bay Area in Oakland and graduated from high school there. I went back to Omaha and then to Kansas City, Missouri for ten years. I also lived in Minneapolis too. I have not been bouncing around, as I lived in those places for a while, but I think I have gained some great life experiences that way."
When we last spoke to Karrin Allyson, it was in 2006, shortly after she released her beautiful album Footprints, which featured swinging tunes like "All You Need To Say," the sassy "But I Was Cool," and the elegant "Something Worth Waiting For," also known as Dizzy Gillespie's "Con Alma." Footprints garnered Ms. Allyson her second Grammy Award nomination.
Two years later, in 2008, Karrin Allyson toured her album Imagina: Songs of Brasil and one of the venues in which she performed was Dimitriou's Jazz Alley in Seattle, where she left the audience wide-eyed and breathless with her stunning, sometimes sassy, other times sexy and mostly elegant performance of songs such as; "Outono (Stay), performed in Portuguese and she dipped into the songs of Antonio Carlos Jobim, with "Double Rainbow," and " Desafinado."
In 2009, the still relatively young Karrin Allyson released By Request: The Best of Karrin Allyson, a tribute to her success as an artist and the extent to which Jazz fans have embraced her and the songs that she sings.
Early in May of this year, Karrin Allyson is releasing a new album, 'Round Midnight, an introspective look at life more generally and more specifically her personal experiences. To launch the album she will be appearing in Toronto Canada on Jazz FM 91 in a live studio broadcast on May 4th and then performing the next night at the University of Toronto's Convocation Hall. She will also be appearing during the month of May at the Folly Theater in Kansas City, Missouri (7th), Mayne Stage Theater in Chicago (8th), Sculler's Jazz Club in Boston (20th – 21st), another Massachusetts concert, one more in Charleston, South Carolina, before she heads back to New York City for a week of performances at Birdland, beginning on May 31st.
"For this particular project I wanted to display heartache. These are really sad songs. I think that when we lose people that we love, it is cathartic. That happens to all of us and it doesn't necessarily have to be a lover. When that happens it is cathartic to sing and to hear these tunes, but what I most want to emphasize is, these songs are looking forward to a new day. I hope that this late night set feel and the vibe of these selections and their treatments speaks to the listener as well. They are from different periods, "Smile," "'Round Midnight" and "There Is No Such Thing As Love." They could all be considered as standards. "Send In The Clowns," is more current I suppose, and "I'm Always Chasing Rainbows," is the oldest one on there and it is maybe one hundred years old or something like that. It is based on the Chopin piece ("Fantaisie-Impromptu")."
Continuing to talk about "I'm Always Chasing Rainbows," Ms. Allyson notes, "I think that you might find a pretty even number of folks who know about it and those who don't. I think more current jazzers may not know it and I think that the more seasoned ones would. The theme is from Chopin, da, da, da, da (she vocalizes). It is from "Fantaisie-Impromptu," and the composer took that, and there is actually a verse in it, which I didn't include, "at the end of the rainbow there is happiness," (she sings), but I didn't feel like it fit too well. I wanted to put that intro in there and outro if you will. That song I used to play, when I was doing piano bar type of things. Someone asked me to learn it and I got a lot of suggestions from folks that way and I still do, so I put it in my repertoire. That has been hovering about for a long time."
"It seems like "Send In The Clowns," is looking back a bit and "I'm Always Chasing Rainbows," is also looking back a bit (while) feeling a sense of loss, but also feeling a sense of hope. I am a completely positive person, mostly (she laughs) the road will do weird things to you, but it is kind of an old soul perspective I guess. It is heartbreak and heartache and introspective. I always have four or five themes for a project and that I am looking at. On this one, the song list just came together for me," she says.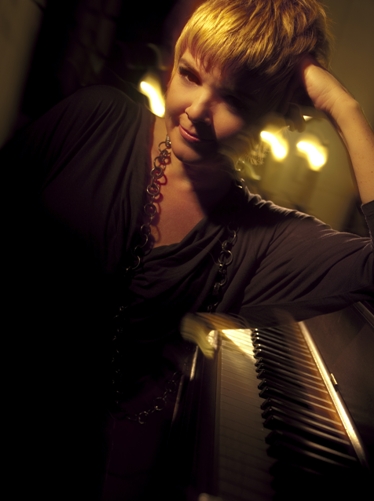 Responding to a question about the contrast between the upbeat Imagina: Songs of Brasil and the new album 'Round Midnight, Karrin Allyson reflects, "It is just going through things in life when that presents itself. Whatever is speaking to me at the time is what I want to do. I was looking back at love and loss and I am looking forward to a new day. I could easily have done something completely different at the time (for instance) if I had chosen all bebop hits or something completely different. It is about diving in whole hearted to whatever theme I am looking at."
The new album marks the first time during Karrin Allyson's career that she is featured playing the piano on every single song. On past albums she has played on some of the songs. The other instrumentalists include; Bob Sheppard on woodwinds, Randy Weinstein playing the harmonica, drummer Matt Wilson, as well as longtime friends, Ed Howard on upright bass and her musical partner for the past twenty years, guitarist Rod Fleeman.
"I love Ed's playing. We have played together on and off for about five years. He was Shirley Horn's last bass player, so you kind of hit the nail on the head there, because that is what she was all about, being emotive and swinging and of course in Shirley's tempo. I love Ed's playing," she says.
"Rod has been with me for over twenty years. He is still based in Kansas City where I met him and I am in New York where I have been for eleven years now. We were just in Florida doing something there and we travel all over the world together. He is my musical partner and he is very versatile stylistically, so we can do something French. We can do something Brazilian, we can do a little bebop here and there, and we can do ballads and Blues. He is very versatile and a great friend," Ms. Allyson says.
"I am playing piano on all of the songs on here and I did almost all of the arrangements. I think that there is one song on here "Send In The Clowns," that my guitarist Rod Fleeman arranged and other ones, aren't really arranged, we are just playing the tune. "I'm Always Chasing Rainbows," tends to lend itself to rhapsodic treatment and the same thing for "Smile," both of those introductions harken back to my classical days. "Sophisticated Lady," and "'Round Midnight," we just played, but most of the arrangements are mine," she explains.
Having played piano for all of the songs on 'Round Midnight, adds a new dimension to Karrin Allyson's performances as well. "It personalizes it. I stand up within the show, about one-half of the time or maybe less. My band has changed and I haven't hired a pianist on the road with me for several years now. I am the main piano player, and I have my guitarist and bass player. We are doing a lot of drummerless things these days too which is nice, but I love great drummers. I think that playing the piano personalizes it. Sometimes it makes it harder for me, because I am dealing with more. I am the rhythm player. In rock bands they have the lead guitarist and the rhythm guitarist and I always say that I am the rhythm pianist. It makes it harder for me in a way, but then again I can lay down grooves that I don't have to describe to someone. I can really focus in on the heart of the tune I guess. I don't mean that it has to be a ballad in that way. I am talking about the grooves and the core of the tune."
Karrin Allyson has her fingerprints on most aspects of her albums, including the mixing, arranging, song selection and the order in which the songs appear, so it is not surprising that she has some very definite reasons as to why she included Duke Ellington's "Sophisticated Lady."
"It is funny how songs go in and out of our consciousness or even popularity at the time, depending on what area of the world that you are in. This song was being mostly played instrumentally. That is the way that I hear it out and about and I don't hear many people singing it anymore. A wonderful gentleman that I have been working with here and there, Steve Nelson, a vibraphonist, when he would play on my gigs, I would ask him to do an instrumental here and there and he would choose that one. One time he said why don't you come up and sing this one time through with us and we will take it out like a big band kind of a thing. I did and it became one of my favorites. It evokes such a great image. It is a great storytelling song and I think really all of these tunes are. In looking back, "Send In The Clowns," is like that, "I'm Always Chasing Rainbows," is like that and "Sophisticated Lady," is like that," she says.
During her performances Karrin Allyson gives a lot of room to her musicians and offstage she gives them a lot of credit too, "This music that we are in, Jazz, is mostly Chamber Music. As a listener I know that I am more drawn in and interested in hearing it, when I feel and see and hear that musicians are interacting with one another and not just in their own little world playing to whatever their muse is. They have to become one organism on stage, but jazz can go in all different directions (also) and I love that about it too, especially the improvisational part of it. When I am singing a tune or I am playing in my band, I don't need somebody just to keep time. I don't need them to be just harmonic geniuses. What I need for them to do is to help me to tell the story and to have some experience within them and to help portray it."
Karrin Allyson is an elegant storyteller and her new album 'Round Midnight is a treasure, yet one that you can easily afford.
Please visit the Karrin Allyson website.
Interview by Joe Montague, all rights reserved, protected by copyright © April 2011 Return to Our Front Page