Interview by Joe Montague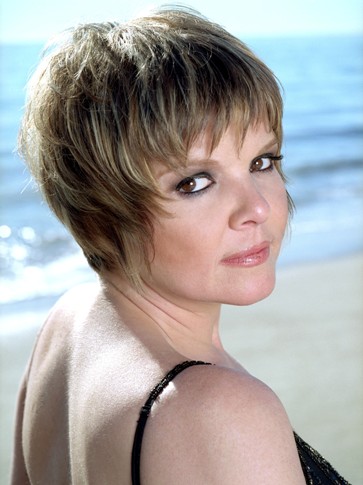 Jazz vocalist, musician, arranger and composer, Karrin Allyson (pronounced Căr in) is one of those artists who can do it all. She can sing sassy, sensually, belt out a standard or coo a romantic love song. When she is not singing at the front of the stage, Allyson approaches the piano with the confident air, expectation, and professionalism that one has come to associate with other jazz greats, such as Diana Krall and Chick Corea. Allyson, who is fluent in French and sings beautifully in Portuguese, has been a bit of a wandering minstrel throughout her life. She was born in Kansas, grew up in Nebraska, has lived in San Francisco and Minneapolis, and now calls New York City home.
I spoke to Allyson during the weekend that she was performing at the infamous and prestigious jazz venue Demirtirou's Jazz Alley, in Seattle, Washington. The week before she had been at an equally highly regarded venue on the west coast, Catalina's located in Hollywood. I entered Jazz Alley about forty-five minutes before Allyson and her band took to the stage, and the full house was already buzzing in anticipation of her first set. The audience was obviously quite familiar with Allyson and her music. In the dimly lit ambience of the dinner club, the singer's backup band which included longtime friend and guitar virtuoso Rod Fleeman opened the set with an instrumental, sans Allyson. Like children, waiting to open their first present on Christmas day the audience was electric waiting for the singer to take the stage.
During our conversation, Allyson had told me what I could look forward to, "You can expect a lot of interaction among the band, a good choice of material, quality music and then sometimes you get the unexpected which is good."
She says, "I don't really consider it a show. I consider it to be four or five musical minds working together up there, and seeing what we come up with on a nightly basis."
She refers to the veteran group of musicians as, "one of my favorite bands, with Steve Nelson on the vibes, Rod Fleeman, the guitarist, Todd Strait on drums, Seattle bassist Jeff Johnson, and with myself on vocals and piano. With the exception of the bassist, the others are featured on the new CD coming out in February."
Again, in reference to the band she allows, "I think that it is a very democratic thing that (occurs) up there. I am the leader, but I do need them to help me tell the story. They have to have a good time. I need all of the musicians to help me tell the story, and to listen very carefully, because we are having a conversation up there. They need big ears, and I need them to have soulfulness in their playing. That is (also) what I try to give back (to them)."
Concerning Fleeman and Strait she says, "I have been playing and recording with them for almost two decades. We know each other very well, and we get along very well." Although Johnson does not travel with her, Allyson relishes the opportunities to have him join her entourage on stage whenever she is in the Seattle area. It is important for Allyson, as one might expect, to have musicians in whom she trusts, and with whom she has longstanding relationships.
Our conversation drifts back momentarily to an earlier reference to her new CD which has a tentative release date in mid February 2008. "It is a Brazilian project. We just gave it a title yesterday. It is called Imagina, Songs of Brazil. The other musicians include Steve Nelson (vibraphone), Rod Fleeman (guitar), Todd Strait (drums), New York bassist David Finck, with Gil Goldstein on piano and accordion. The material ranges from the more familiar (Antonio Carlos) Jobim tunes, to lesser-known songs. We sing some new English lyrics written for some of them, (however) much of the (record) is sung in Portuguese," says Allyson.
Allyson says of her love for Brazilian music, "I think that what gets to me and other folks, are the rhythms, those infectious samba and bossa nova rhythms. Brazilian music is a very large (category). Somebody was saying the other day, it's like eating Chinese food, because there is a ton of different kinds of Chinese food, but we say Chinese food, and we think of only one thing. Brazilian music is not just about samba, and it is not just about bossa nova. I am learning all of the time more about that. The music is layered with beautiful harmonies and beautiful melodies. I love the fact that Brazilian (composers such as) Jobim, are in love with nature, as I am too. His music is always connected to nature in some way."
The night that I attend her performance in Seattle, Allyson easily segues between verses in English and in Portuguese. She just as easily makes the transition from words, to scatting and vocalese. "I have always thought of scatting as just trying to make up another melody to the chord changes. You can take a linear approach or a more harmonic approach. Mine is probably more linear. It is another way for me to get interactive with the band. I am a musician who sings, so I am definitely part of the band. I am a leader, but I am (also) one of them. Vocalese is different than scat. It is singing a distinct melody with possibly a guitarist, horn player or whatever. You want to be in tune and breathing together. You want to sound like one," Allyson explains.
Karrin Allyson says that she draws inspiration from listening to instrumental music, particularly music that has more of an avant-garde flavor to it, although she considers her own approach to music to be more traditional. No two Karrin Allyson performances are exactly the same, and that is something that she and her fellow musicians strive for, to be a little different each time out.
When one takes a look at Allyson's busy itinerary, you wonder where she gets the time to write new arrangements or songs, and to hone her craft. "I try to practice when I can. I think that it is always a balancing act between the business of music and music. It is not an easy road, because it is always a logistical challenge to keep a band on the road, and to work with management, agencies and publicists. Keeping your artistic self as creative as possible is a balancing act," she acknowledges.
Allyson talks about her decision to move to the Big Apple eight years ago, "My sweetie Bill McLaughlin, who is a composer and radio host, and I, loved New York City whenever we would visit. We decided that it was time to make that move. It is not just about music, it is about being exposed to a lot of things there (New York). It was just time for me to move, experience New York City, and pay that high rent (she laughs)."
I am not sure what kind of accommodation Karrin Allyson has in New York City, but when you listen to her music, especially when she is performing live, there is no doubt in your mind, that for just a little while, musically speaking, you are living in the penthouse.
Interview by Joe Montague, all rights reserved, protected by copyright © 2007 Return to Our Front Page