Kathy Kosins New Record Coming This Summer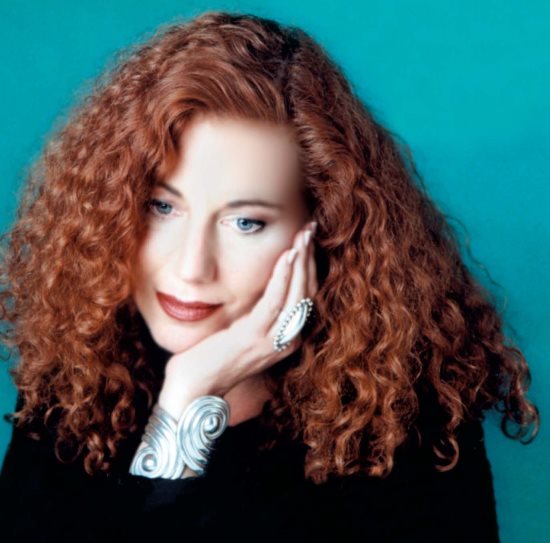 I suppose we should not be surprised that Detroit singer and songwriter Kathy Kosins pursued a career in music, as the granddaughter of Max Kosins and daughter of Harry Kosins the celebrated tailors who built Kosins Clothing Company into worldwide force in the fashion industry, dressing many music icons including, The Four Tops, The Temptations, Marvin Gaye, Smokey Robinson and Berry Gordy. As a child she met Diana Ross and Aretha Franklin and the list is seemingly endless. Max Kosins' clothing gained a worldwide reputation for both his fashion sense and the quality of the clothing.
Today Kathy Kosins is still rubbing shoulders with music icons, as her song "Hershey Kisses," her adaptation of the Johnny Mandel and David Frishberg song "Hershey Bar," originally titled "Little Did I Dream," drew accolades from Johnny Mandel.
"It meant a great deal to me that Johnny Mandel, not only gave me his stamp of approval, it meant even more to me that he actually came with his wife to my performance in Los Angeles and they sat through two hours of it. It was two one hour sets," says Kosins.
Mandel was invited to attend Kathy Kosin's concert in Los Angeles, by film score composer Ian Bernard who also served as Music Director for Rowan & Martin's Laugh-in television show in the late 1960s and early 1970s.
Kosins says, "Apparently he said to Johnny, I would like you and Martha to come to this performance. It was really wonderful to sit down with Johnny Mandel at my concert and I have spoken to him a few times on the phone. He is really a wonderful guy."
Kathy Kosin's album pays homage to and celebrates the music of the women who performed West Coast Cool Jazz and in particular, Anita O'Day, Julie London, June Christy and Chris Connor.
She explains, "West Coast Cool is a type of music that evolved around Los Angeles and San Francisco and in particular at the famous Lighthouse in Hermosa Beach. It evolved pretty much during the 1950s, while Bebop and Hard Bop music was very big in the east coast, the west coast cool is a little less frenetic and it tended to be more arranged and more composition based and then you had people like Gerry Mulligan (baritone saxophone) and Chet Baker (trumpet). It was the Hermosa Beach Lighthouse Café and you had a bass player named Howard Rumsey who put West Coast Cool on the map. I think he was the bass player for Stan Kenton's band and he used to run these big jam sessions. It was just a big movement that was prevalent on the west coast, while on the east coast you had a little more frenetic Bebop Beboppers. You had Charlie Parker and John Coltrane and that type of music going on, but then this thriving Jazz scene also appeared in L.A. and you had people like Mingus and Dexter Gordon, this Howard Rumsey and guys like Henry Mancini, (Dave) Brubeck and Paul Desmond (alto sax). Instead of Charlie Parker it was more Paul Desmond. Bud Shank (alto sax) was part of the West Coast Cool movement. They came up with a record label. They had Blue Note on the east coast and on the west coast the two movements closest to the West Coast Cool were Pacific Jazz and Contemporary. There was a coolness and an arranged composition driven style that was happening in that framework of the West Coast Cool movement. On the east coast you had more improvising and a little harder Bop and Bebop."
This was not the first time that Kathy Kosins has recorded songs made popular by Julie London and June Christy, as her previous album Vintage released in 2005 had some of, what she refers to as obscure June Christy and Julie London tunes.
"I go out of my way to find unhackneyed and little known material, so instead of recording June Christy's "Something Cool," from that same record I recorded a tune called "Look Out Up There." Instead of recording Julie London's "Cry Me A River," I recorded Julie London's "Nice Girls Don't Stay For Breakfast," and also a tune called "Go Slow," that I believe Bobby Troup wrote with Russ Garcia. What drove me to those four women is somehow on a fundamental level I connect with each one of them for different reasons. I have been compared to those women by various record reviewers in the past and for different reasons. Maybe it is because they all have an alto demeanor about them and in that same vocal range. That could be part of it. Chris Connor went out of her way to find unhackneyed songs. She would go to Colony Records and seek out songs that nobody else was doing. In fact, I think she was the only person to record Ornette Coleman's "Lonely Woman." Anita O'Day was feisty and she was rebellious. Instead of wearing the beautiful evening gowns of the day that women would wear when they fronted those big bands, she insisted on wearing band jackets and skirts. She hung with the guys and she was one of the guys when she was with the Kenton Orchestra. She took no prisoners. She was rebellious. I have been thought of and even called that in various bands that I have been in, especially at the beginning of my career when I was working in big band situations. I was always fighting with what the band leader wanted me to do. I wanted to do what I wanted to do and Anita pretty well did the same thing when she was in the Kenton band. He wanted her to do all of these novelty songs and she wanted to swing hard. Kenton didn't really want that.
Julie London had a glamor about her and I am in no way glamorous or a pinup girl like Julie London was. Bobby Troup picked all of the material for her. She was first married to Jack Webb from Dragnet. They would frequent these Jazz clubs. They both were Jazz aficionados. When they got divorced and she ended up with Bobby, he put her career on the map as a singer, (whereas) prior to that she was a film actress. She did commercials and she did movies, she wasn't a singer, but he is the one who brought it out of her and he got her an audition at a place called the 881 Club in Hollywood. The next thing you know her career was on the map and she was held over at that club for a number of weeks. What I identify with Julie are these beautiful, slow, sensual, almost unheard of songs, songs like "Free and Easy," "November Twilight," and songs that I (recorded) on Vintage like "Go Slow," and "Nice Girls Don't Stay For Breakfast." There is just something about her that I gravitated towards.
June Christy, even though you hear her and she seems like mom and apple pie she was really a musician, more than a singer even. I have read interviews with her via Pete Rugolo who was in the Kenton Band (as an arranger and composer) and he became June's arranger when she left the Kenton Band. She would do smaller configurations, quartet and quintet. He said he would put together these very complicated and convoluted arrangements in front of her. He would change tempos and keys and she was right there to it. People have always said about me that Kathy Kosins thinks like a musician in the sense that she does strange things with tunes.
June Christy was the poster child for West Coast Cool, as a singer and when I was putting this record together I wanted to include her on the mix. I included her on Vintage with the tune "Look Out Up There," and on To The Ladies of Cool (I included) "Lullaby In Rhythm," she says.
To The Ladies Of Cool is also a celebration of women songwriters. "(The song) "Kissing Bug," was written by a lady from Detroit, Joya Sherrill who sang with the Ellington band for a little while, so she co-wrote "Kissing Bug," with (Billy) Strayhorn.
Dolores Vicki Silvers who was a Philadelphia housewife wrote "Learnin' The Blues." That was one of seven songs that she published. She was not a household name as a songwriter. Look at how successful that one ended up being even for Sinatra. That was one of his signatures.
There were a handful of (women Jazz) songwriters that we know about. Dorothy Parker wrote "I Wished On The Moon," and she has written some things that Billie Holiday and a few others ended up cutting. She was more of an author. She was a literary woman who happened to write a couple of songs. Then you have the gal who wrote "How High The Moon," but they were few and far between.
The other woman who wrote a song that ended up on this disc, the woman that I can find nothing on, Kitty Malone. I have asked myriads of people, but nobody knows anything about her. The song "Nightbird," is specifically about women and women Jazz singers who stay up all night and who frequented in my mind 52nd Street Jazz clubs. I had to have that song.
I gravitate towards women, if I am not writing the songs. My first two CDs were almost exclusively original. If I am not physically writing the tunes then I am looking for songs that may as well be originals. I found Julie London's, Paul Francis Webster tune "November Twilight," on Julie London's Calendar Girl LP with a different tune for each month. For that album she is posing in a different outfit for each month of the year. She was like a Vargas pinup girl. There was even a song on that that record called "The Thirteenth Month," and when I heard "November Twilight," I went nuts and I said I'm cutting this tune.
Look at "Free and Easy," Bobby Troup wrote the lyric, but it was a Mancini instrumental that he wrote for a Rock 'n' roll, very bad B movie called Rock Pretty Baby and Sal Mineo was in the film. Mancini wrote the music and when Bobby Troup heard the music he wrote a lyric for Julie (London). If you listen to the lyric "Life is a merry, merry go round / try and learn the secret I have found / Free and easy, easy and free / That's the way it's gotta be."
The man who wrote the lyric for "November Twilight," is the very same man who wrote the lyric for "The Shadow Of Your Smile," Paul Francis Webster. It is melancholic and it is poignant.
It is absolutely easy in my mind to create a visual of what these people's lives would have been like outside of that one particular lyric. When I try to put these songs across, it is no different than an actor with lines. I have sold a story to an audience and for me to get inside that story it really helps to look at the lyric on paper, before I even sing a note of it I study it and figure it out from a writer's point of view, from the lyricist's point of view what they were thinking, who that song was written for. Was it from a male point of view or a woman's point of view or their own point of view as if they are staring off into the heavens? When I hear vocalists, any vocalist, I try to determine if they are singing the song or if they literally lived that song and I think the best acting are the ones who have lived those songs. A part of them isn't acting. They are just singing stuff that they have lived, that they've lived through life experiences. I think that is part and parcel of what I try to do when I am picking songs to record. How much does this mean to me? It is not enough if I like the melody or the way the music goes. Lyrically it has to do something for me or I am not going to be sincere about it. I had over twenty-five songs picked out maybe even more (for this album), but I had to narrow it down to the ten that I chose to record for this record."
When Kathy Kosins decided to record her album To The Ladies Of Cool she interpreted the songs through her own experiences and her own musical lens. "I don't like listening to a singer and saying, this one kind of sounds like Billie Holiday or this one sounds like Carmen McRae. I think it is very important to develop one's own sense of style. When you are listening to these songs you do have to listen to the originals. You have to try and learn it from the original, but then what I try to do is to get away from the original as quickly as possible and I just start putting my own spin on it. I think I have always been about my own style too, because I am a songwriter. I'm a singer and I sing multiple styles of music. It doesn't matter if I am singing Jazz or Pop or R&B. I like the fact that over the years people have told me that I don't sound like anybody and I take that as a compliment. I sound like myself. I try to sound like me."
Kathy Kosins also has a musical presentation titled Rhapsody In Boop that celebrates, and she makes clear is not an impersonation of the music that went into the Betty Boop cartoons of the 1930s. Her concert is a multimedia presentation that includes vintage film clips, cartoon cels and a PowerPoint presentation. She performs the music of Cab Calloway, Don Redman, Fats Waller, Louis Armstrong and Duke Ellington, to name a few. She also takes time to talk about the Fleischer brothers who created Betty Boop. Her performances for Rhapsody In Boop are with a big band.
This summer (2013) Kathy Kosins will be releasing a new record on Mahogany Jazz records.
Kathy Kosins is one of two vocalists appearing on the Detroit Memphis Experience EP, the other being singer Darryl Johnson. The R&B tunes were recorded in Nashville and the EP also features bassist Tim Smith, guitarist Roddy Smith, drummer / percussionist Tommy Wells, Tim Gordon (woodwinds) and Doug Moffet (woodwinds).
"The idea was that this band would come in and record the music of composers and musicians who came out of Detroit, Memphis and Nashville idioms of the 1960s, some '70s and some '50s. You had things like Little Willie John and you had things that came out of Motown and Stax. You have people like Big Maybelle, Clyde McPhatter, Rosco Gordon and Charlie McCoy. These (songs) were all by either composers or musicians that came out of that genre. There are thousands of writers. We are just now beginning this. We did a test run of an EP, which was manufactured in both stereo and mono. I can't even begin to tell you how many writers and performers came out of this genre and this timeframe. It has been released all over the country and it is a six song or seven song EP. I cut just a little bit. I cut "Lonely Teardrops," which was written by Jackie Wilson and I also cut "Let's Straighten It Out," as a duet with another singer in the band, a guy named Darryl Johnson. It's being test marketed in radio in Blues, R&B and even some of the Jazz stations that have Blues and R&B programs and they are spinning this thing. The band is in Nashville and I am probably going to go down there sometime this summer to cut some more (songs) with them. I am going to (record) some Denise LaSalle material. It is in its infancy stage and it is just getting its feet in the baby pool. We will see where it goes. It is a lot of fun," she says.
If all of that is not enough, Kathy Kosins is a very accomplish abstract artist, painting on canvas. Her work is sold at her concerts and hangs in performance halls where her concerts are held, often for an entire month before she arrives. Kathy Kosins also conducts workshops and clinics for both music and art at colleges and universities across America.
Please visit the website for Kathy Kosins
Interviewed by Joe Montague, April 2013 Bottom Photo by Jon Tamkin, protected by copyright ©, All Rights Reserved
This interview is protected by copyright © and may not be reproduced in print or on the internet or through any other means without the written permission of Riveting Riffs Magazine, All Rights Reserved