You know the song "Da Ya Think I'm Sexy," from when Rod Stewart recorded it on his 1978 album Blondes Have More Fun, but you have never heard it played like this before. Saxophonist, arranger and composer Katja Rieckermann and TMTQ turn in a stunning dance version of the song, with new vocals by Sir Rod Stewart. Rieckermann who toured with Stewart for fourteen years and during that time she began her solo career, which to date has produced three albums, the self-titled Katja (2007), Horn Star (2010) and Never Stand Still (2015). Katja Rieckermann has performed with a diverse group of artists, which include, Carole King, Brooks and Dunn, David Foster, Mary J. Blige, Al Green and Jeff Goldblum.
Katja Rieckerman first started thinking of recording "Da Ya Think I'm Sexy," "about two and one-half years ago. Originally it was going to be an instrumental version of "Da Ya Think I'm Sexy?" and it was going to be very close to the original with the tempo and the vibe of it. I wrote a couple of horn sections for it and we recorded it.
I sent it to Rod for approval and said what do you think? I am thinking about releasing this version. Do you like it? He wrote back, yes I love it. How about I sing on it? I was like wow! That is crazy. Of course, that would be fantastic. He ended up singing over the original track that I sent to him.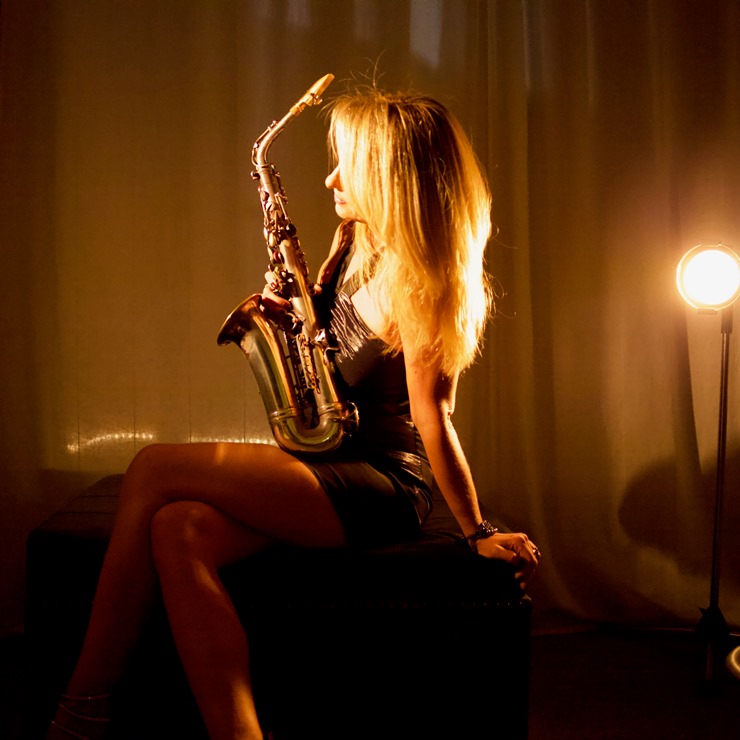 I thought now I have these newly recorded vocals of Rod and it is too close to sounding like the original, so I should do something super hip and new.
I contacted award winning composer and arranger Sandi Strmljan who produced my second solo album Horn Star. He suggested doing a remix version and involved Tim Brettschneider (TMTQ). They sped it up and turned it into a dance track.
I am really surprised at how much people love it. Rod Stewart has been so generous already with all of this. He has been unbelievable and I cannot thank him enough for what he has done for me. He is amazing. The response has been really great. People like the music and the video. I am super happy," says Katja Rieckermann.
We wondered if perhaps there is a risk in covering a song that once topped the charts in America, England and Australia.
"Of course, there is a huge risk. Rod has so many fans and so many followers and this style of music that we went for, which is Dance really has nothing to do with what Rod is all about. It is completely different. I didn't know if the Rod Stewart fans would like this, but they seem to embrace it really well," she says.
Earlier this fall (2019) Katja Rieckermann went to Germany to visit her family and friends and to promote the new single. She was interviewed by numerous media including a television station.
The new single release is not the only recent major event in Katja Rieckermann's career, as she turned author and published the book 101 Soulful Funk Licks.
She explains, "Jeffrey and I started a project for Big Fish Audio called Dig It, which is basically a sample library. It was supposed to be a seventies construction kit. We would deliver everything from drums, bass, keyboards, organs, horn section and saxophones. If anybody was a composer and was looking for something in that line they could purchase the project and use any of the samples in there and call them their own.
Having said that, while I was working on it I thought it would be cool as a bonus file to give people saxophone licks, so they can create their own saxophone solos. I started collecting licks that were in the style of that era like seventies Blues solos and funk licks, for instance like Maceo Parker or David Sanborn.
Big Fish Audio ended up not using those solo licks in their project. Here I was with all of these licks collected and that I had written out. I thought maybe I should write a book, because there aren't many books that have that kind of thing. Most of the saxophone books with licks are based on Jazz and they are a lot more complicated licks, so I thought it would be a good idea. It might be a niche. I just needed to design the book and then release it. This friend of mine did that and then he released the book on Amazon. This book is good for all levels of players."
So how did this all begin? We could tell you that Katja Rieckermann popped out of the womb ready to play the saxophone, but her destiny in music took a rather circuitous route.
"I was born in Luebeck (Germany), but I actually grew up in Bad Schwartau, which is an even smaller city of 20,000 people and it is about ten minutes away from Luebeck. Luebeck is very close to the Baltic Sea and Bad Schwartau is in the middle of that. I grew up going to the beach all of the time. My parents always had a yacht. During our summers we would be at the beach or we would take the boat and go to places nearby with our boat. It was pretty awesome. Our house was very close to a forest and I spent a lot of time there. I also did a lot of horseback riding. There was a lot of nature and I spent a lot of time on my bicycle. I did stuff like waterskiing or swimming in the sea or stuff like that. I did not grow up being a city girl. I think I lived more of a country life.
I wanted to start playing the saxophone when I was twelve. I loved music and especially the saxophone, but my parents didn't want me to play music. It was also because of my brother Ralph who became a successful musician. He played bass for The Scorpions for about twelve years. He is a little bit older than me and he was playing guitar at the time. Ralph was rebellious as a teenager and my parents thought if you did music you become rebellious, so they didn't want me to become like that. They didn't want me to play an instrument and they didn't support it. That is why I didn't pick it up until I moved out.
I moved to Paris when I was nineteen and it was right after I finished school. It was totally and definitely a big culture shock. I was there for a year and I studied French. When I came back I moved to Hamburg and I lived there for ten years. That is when I started to play the saxophone. Before that I hadn't done anything in music. I hadn't played an instrument before and I had no musical knowledge.
I never really studied music at university like people would think. I just took lessons and I practiced a lot. I tried to sound like David Sanborn (she laughs lightly), which never happened. I used to bite my lip until it was bleeding, because I was trying to play the high notes (she laughs again). People always want you to read music and they give you Charlie Parker solos to learn. I did what everybody else who was playing the saxophone was doing, playing Charlie Parker and John Coltrane. I listened to those solos, transcribed them and learned them. I tried to sound like them. I realized quite early that I was never going to become a great Jazz player. I love Jazz and I like to play Jazz, but I am not a Bebop player. That was never my thing. It was too difficult for me, with all of those chord changes done super-fast. I never focused on being a great sight reader. I read music, but if it is super-fast and if there are lots of sharps or flats I have to look at it slowly at first and then I can play it.
I bought my first alto saxophone, it is a Selmer Mark VI silver plated in Cologne and I still play it today. I took a train to Cologne twenty-five years ago to buy it.
The next big move in Katja Rieckermann's life came in 1997 when she decided to move to Los Angeles.
"My brother had already lived here and my parents had bought a house in the Hollywood Hills because they also wanted to spend a lot of time in Los Angeles. I was teaching saxophone in Hamburg at the time. I was in a relationship with a guy and that fell apart in the summer of '97. I needed to get away and I thought I should go and visit LA and see what the house my family now owns is all about. When I came here my brother ended up taking me to the Baked Potato a lot and it was where all of these great musicians were jamming Steve Lukather would show up, people from Guns N' Roses. I would introduce myself and say I was visiting from Germany. I would ask if I could sit in with them. They would say sure. They were impressed with me and they said come back anytime. My relationship (in Germany) was over and I was on my own. I didn't like teaching that much and teaching was not what I wanted to do for the rest of my life. I enjoyed it, but I wanted to do cooler and bigger things. I decided I was going to move to LA.
I went back home to Hamburg, I sold everything that I owned and I moved here one month later. It was a very sudden decision, but I had a place to stay, because we had the house here," says Katja Rieckermann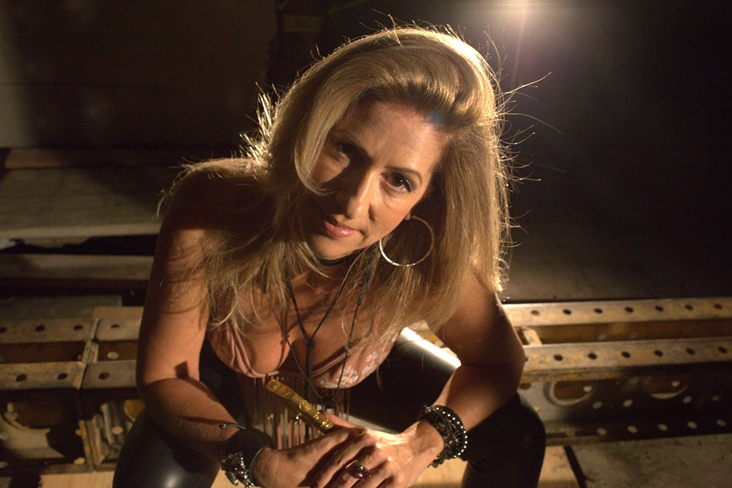 As for her transition to Los Angeles she says, "I didn't know many people in the beginning, as you can imagine. I just focused on practicing a lot. I would practice all day long. My saxophone was my best friend, so I have always had company. At night I would just find clubs where live bands were playing and I would go out with my saxophone. I would go up to the band, introduce myself and say I play the saxophone. Could I sit in with you guys? That is what I did for years, so I ended up meeting tons and tons of people and made friends."
It was in Los Angeles that the Rod Stewart connection came about.
"It happened in 2001 right before September 11. When I met Carmine Rojas who was the musical director for Rod Stewart, he knew who I was already and he said oh you are a saxophone player, right? He said it is too bad I didn't know you two weeks ago, because I just had to hire a female saxophone player for Rod Stewart's band. Then he said just in case things don't work out with that other girl, give me your information, so I did. Two weeks later I got a call from him and he said we have been rehearsing with this girl for five days and Rod didn't really like her and it didn't work out with her. Can you come in for an audition tomorrow? I said sure.
Carmine came by I think it was five on a Thursday evening and he dropped off a disc with the live recording of five songs for me to learn overnight.
Oh my god I practiced all night. There wasn't any sheet music and I had to learn the songs by heart. I was super nervous. I couldn't sleep. I practiced for hours. The next morning I went in for the audition I didn't really care that much, because I didn't think I was going to get this gig anyway.
To me it was like, I am not going to get this gig. I ended up getting it, so I think that was the best attitude to have. I went in with no expectations. When I was auditioning for him and I was standing in the middle of this rehearsal room with everybody looking at me, (including) Rod and his wife Penny, who were standing behind the mixing board. When I played my solo on "Some Guys Have All the Luck," I closed my eyes and when I opened up my eyes I saw Rod and Penny behind the mixing board and both of them had their thumbs up. That was probably the most special moment of my life.
I found out (I got the gig) right after the audition. After I played three songs they said okay you've got the gig! Carmine took me to the side and he said that is the good news. The bad news is we aren't going to rehearse anymore, because we rehearsed with that other girl for five days. We are loading out everything from the rehearsal space today, so you have to learn the whole show by yourself. You will have to do the first gig without any rehearsals. We are going to be on tour for two months, so you have to organize your life. It was a lot, but I managed to do it," she recalls.
Thinking about those fourteen years touring with Rod Stewart, Katja Rieckermann says, "Rod has been so generous and amazing to me throughout all of those years and he was always super supportive. I was the first one in the band to release my own solo record. When I released my first album in 2007 called Katja we were out on tour. He was so proud and so nice. He said if you want you can sell the records at merchandising. Bring it on tour. When we were on tour I had a lot of solos with Rod at the time. After one of my solos he would take my CD cover and he would put it up on the big screen and he would tell people that I had just released my own solo record. It is available at merch, please go and buy it. He has always been super, super supportive and really generous."
She also shares a side of Rod Stewart that not many people get to see, how well he treated her and others in the band, "I think there were a couple of birthday parties that he organized for me. There was one time when we were in Australia and another time when we were in Uruguay. He would always do stuff like that and take us out for dinner. When we were in Uruguay he personally picked a gift for me. He got me a leather coat and a super cool scarf on my birthday. It was super, super sweet."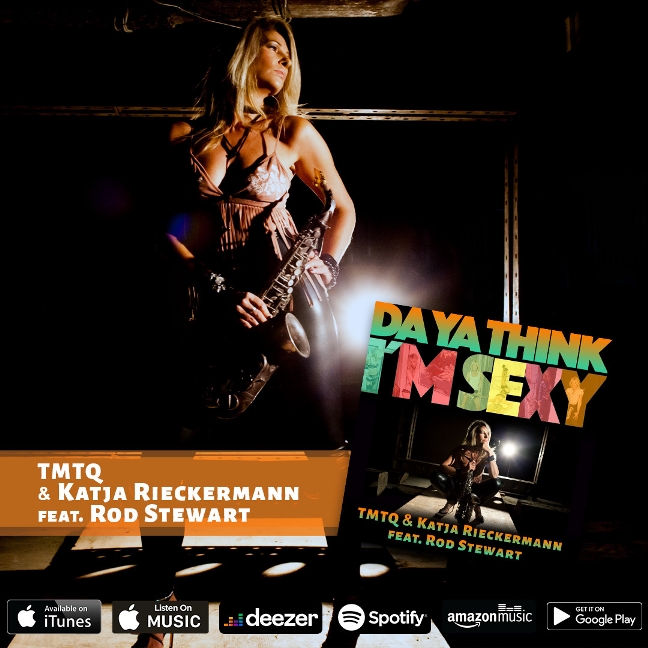 For a moment we talk about the rewards and challenges of long tours, especially during the fourteen years she toured with Rod Stewart.
"It is difficult and touring is not for everybody. It gets lonely at times, because you are in a different city or a different country all of the time. When I was on tour I lived in this bubble and I wasn't in touch with my friends at home that much. Some people might be different, but I would go into this touring mode. When it is lobby call you have to be there at the right time. Don't be late for anything. You have to stay focused, be professional and always show up. Touring can be tiring too, especially when you are on a tour bus. I don't sleep very well on a tour bus. If you have to take a lot of flights, flying can be exhausting. I had a great time and I wouldn't have wanted to miss it. I got to see the world. Usually we got to travel really nicely and we stayed in nice hotels. We were very blessed," she says.
As for the future, Katja Rieckermann says she would like to take her own band on tour and that was the plan in 2015 when touring with Rod Stewart came to an end. She had been doing gigs with her band in the Los Angeles area, with an eye on doing the same in other countries.
"…but that didn't work out, because I was working with a manager who screwed me over. It took me a while to recover from that and now I am looking for a new manager and a new booking agent to book some gigs," she says.
As for the type of music that Katja Rieckermann listens to for enjoyment she says, "I am "Old Skool." I like music of the seventies and I love the eighties too. I have very eclectic tastes. I love Jazz, but I also like Rock and Roll and Funk. I love Soul music. I don't really listen to contemporary music that much."
Her love for the era of music that she alluded to is borne out on the third of the three Katja Rieckermann solo albums, Never Stand Still.
"It is the (music of) the seventies and Motown. I love that stuff. Of course I love anything that has horns on it. Tower of Power is one of my favorite bands of all-time and I was very pleased to open up for them twice this year. As a matter of fact just before you called Tom Politzer the solo saxophone player for Tower of Power sent me a text message and said hey are you opening up for us again tonight? I didn't know anything about that. Apparently, they are playing here in the area and they were wondering if I was opening up for them again. Unfortunately, because I didn't know about it so I didn't plan to do that this time," she says.
Part of the video (for "Da Ya' Think I'm Sexy"), was shot at the Saban theater when I opened up for Tower of Power last January (2019).
Visit Amazon to purchase your copy of 101 Soulful Funk Licks and while you are there or on another of your favorite online stores purchase Katja Rieckermann's version of the song "Da Ya' Think I'm Sexy."
As for our experience leading up the time of our conversation with Katja Rieckermann and during our conversation one could not ask for a more gracious individual to interview and she was very generous with her time. We already knew she was a fabulous musician, but now we also know she is also a pretty special woman.
Please take time to visit the website for Katja Rieckermann.
All photos by: Paul Gervasi and are protected by copyright © All Rights Reserved
#KatjaRieckermannSaxophonist #DaYaThinkImSexy #RodStewart #TMTQ #SoulfulFunkLicks #RivetingRiffsMagazine #RivetingRiffs
This interview by Joe Montague published November 18th, 2019 is protected by copyright © and is the property of Riveting Riffs Magazine All Rights Reserved. All photos and artwork are the the property of Katja Rieckermann and
all are
protected by copyright © All Rights Reserved.
This interview may not be reproduced in print or on the internet or through any other means without the written permission of Riveting Riffs Magazine, All Rights Reserved