Recently Riveting Riffs Magazine sat down with Colombian film, television and theater actress Kika Child, very popular in Colombia, but who for the last (never ask a woman her age!) has made New York City her home. To describe Kika Child as a peaceful human rights activist would be more than accurate. Throughout the COVID-19 pandemic and during the unrest that has enveloped much of the United States she has been translating the Governor's and the mayor's press conferences from English into Spanish.
Kika Child, we should point out, in addition to being a wonderful actress is also a trained translator.
"When the pandemic hit in March I was already working in the courts, with attorneys, physicians, within the medical and entertainment (fields). Mostly though, I was focused on writing my television series. I also was cast to star in a play in Washington, but when the pandemic hit everyone stopped working and the courts closed.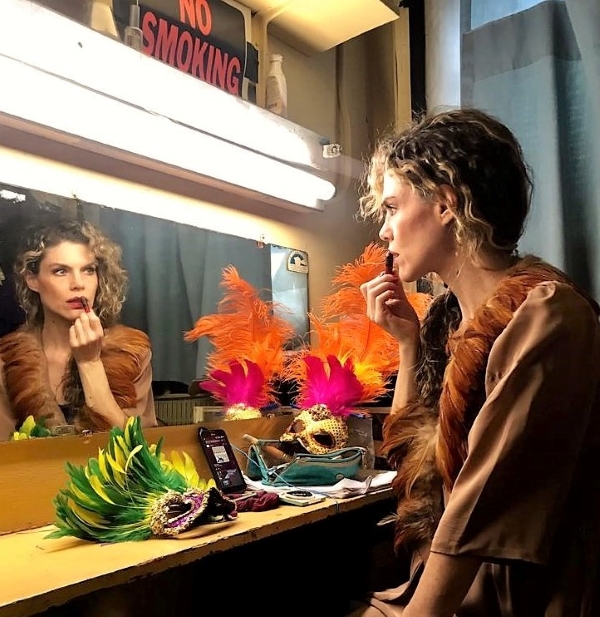 I couldn't travel to Colombia to go and be of service, which is what I wanted to do. I wanted to be there for my parents. Colombia has stricter rules right now than the U.S., but they don't have the financial help that people in the U.S. receive.
Because I stayed in New York I was wondering what to do with my life. Everyone was hit with shock and (experienced) trauma. I was praying and meditating, asking what should I do with my life?
One day when I woke up, I went in front of the computer and I started recording Governor Cuomo's briefing. I have a producer here, because of the television show that we are developing and I was telling him how the story that I am writing did not make sense, because the world (living through) a tragedy right now. We came up with the idea to translate the briefings and I have someone in Colombia who edits the videos.
I was doing it kind of for fun and to see if I could reach people. I have good friends here who gave me the contacts of news channels and the mayor's office and the governor's office. I haven't stopped in the last four months. My mom sent me an article that was written by the president of the news of a major Hispanic channel here. He was complaining how millions of migrants, most of whom are Hispanic and account for eighteen percent of the population of the United States, do not speak the language and that is unfortunate. They are used to interpretation services. I added that to my proposal and then I tried to negotiate with one of these channels. I think the idea was a little bit before my time, because no one really knew how to implement it.
I just kept recording them and then you noticed and other people noticed. The idea is that we get (the translation) out to as many people as possible. A major Hispanic journalist in the U.S. was saying that journalists were translating the briefings into Spanish and that they should not be doing that, because they are not interpreters. This was at the peak when people were dying in the hospitals and nobody could come and help them. Nobody could talk to them in their language and everything was just chaos. I kept pushing and calling the mayor's office and calling the Governor's association. I called everyone and offered a service that I think is simple. Let's all pitch in and give people a live translation of what the Governor is saying.
I am still recording and investing my own money, because I know someday somebody will say let's put it on this platform. In the (interim) I put it on Facebook and wherever, so Hispanics can see (and listen). The reason I focus on the briefings is because this is what the local government is saying. You get a summary in the news and you get a summary in the newspaper. They update information from one day to another and sometimes within one day. Sometimes the information changes, how to wear a mask. Do you wear one or don't you?
Here in New York the hardest hit were African Americans, mostly in the Bronx. The Bronx has 34 percent of the affected population of New York (as of late May). There is one specific neighborhood in the Bronx and (it has the highest rate) of infection. Most Hispanics here live in poverty and they are undocumented. First, they do not have Wi-Fi and if they do, they don't have broadband, so how can you reach them. I have talked to senators and council members and everyone loves the idea (of the translation services). At one point I was about to give up, but I can't give up. I have to do what I have to do. Hopefully someone will say, let's start with Spanish, but then let's add Russian and Chinese and Arabic and the main languages. New York has 800 languages. This is an immigrant city by nature," explains Kika Child.
Let's make our way back to your career Kika, a few minutes ago you were telling us about the play that you were cast in.
"There is a Hispanic theater in Washington called Gala Theater and the play is called La Tía Julia y el Escribidor (Aunt Julia and the Scriptwriter) and it is one of the classics in South America. It was written by Mario Vargas Llosa. He was a huge Peruvian writer and Pulitzer Prize winner and he was a beautiful novelist. The play was produced here at the Spanish Repertory Theater probably 10 years ago. It is the same theater that produces Donna Flor and her Two Husbands that I have been in since 2012, but right now we are on a break.
These Latin American classics are very difficult to adapt. They are very long and they have a lot of magical realism and there is a duo of a writer and a director. The writer is Caridad Svitch and the director is José Zayas. They have produced a bunch of these Latin American classics. We are going to go to Washington next year and put it up in the beautiful theater. God willing that we will all be alive next year. It is a true story about how he (the main character) met his first wife Julia who was also his aunt. They met in the fifties and they fell in love," she says.
In 2019 Kika Child appeared in the film Making the Day, which is tentatively scheduled for release in the fall (2020) and she talks about that experience, "It is a fun movie. The director Michael Canzoniero is so much fun. He takes a long time to produce his films and this one was started five years ago. It is about an aging character actor who needs to have his film produced. His wife died and this is his tribute to her. It talks about the adventures and tragedies (associated with) producing a film. He finds a girl who is so desperate to play the lead that she starts helping him to find the money. Michael does really good and edgy films. He works a lot with Dan Fogler (actor who plays Tony Guest). He likes to cast the same people in his films.
Michael (originally) invited me to see the last day of shooting. That was the closing day, two years ago. Then he asked me to come that day and to act in the film. I got there without knowing what part I was going to play or without a script, until two hours before. It was improvised, but he works a lot like that and does wonderful movies. I have never done that. You have to learn your lines. I just went and it was a huge production. There were a hundred people in this big warehouse.
I kept bugging the assistant, when are you going to give me the script and what is my role. They gave me the script. It was a small role with only two scenes, but it was so much fun. I had to learn it on the spot. The funny thing is he did that with a lot of actors. There are a lot of cameos in the film."
Kika Child has also been cast in the horror film The Girl Inside, which is in pre-production.
"This is a film that a friend of mine has been writing and it is also on standstill. Who knows what is going to happen with the industry? They are trying to reinvent and survive, but the industry will (eventually) come back to where it was. A lot of projects take a long time," she says.
We asked Kika Child to take us back to where this all began, back in Colombia.
"I was in high school and I went to France. I went to France, because (she laughs) I was failing high school in Colombia. I am a good student, but I am very undisciplined. It was the only way to get me through high school. I went and I worked as a nanny. First, I went to the south of France. The student exchange did not work and all I wanted to do was to start acting. When I moved to France, I was eighteen and I was staying with my uncle. He is a painter and on the first floor of his studio was a theater group called Ophelia. I was completely mesmerized, and I wanted to study with Ophelia. 1 started with that group in Paris and when I was still eighteen, I ended up moving back to Colombia.
My mom comes from a family of artists, so she knew how hard it can be to have a life in the arts. She told me to study and to get a real profession please.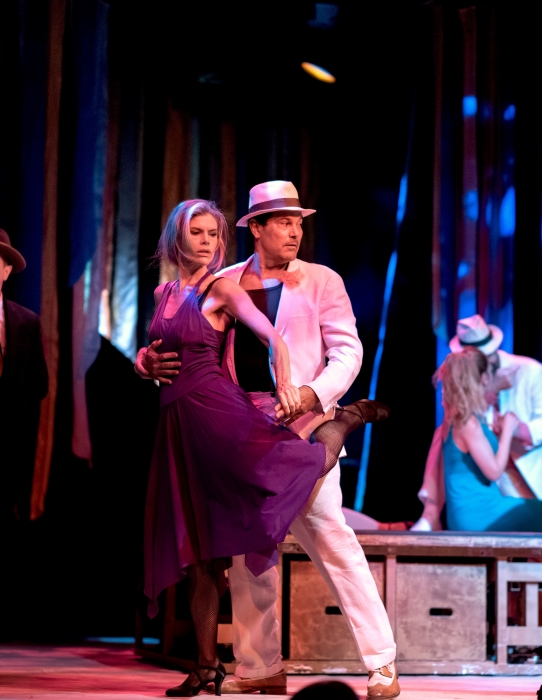 I went to college and studied social communications. I was very independent, and I moved out by myself. In 1989 I found a job as a hostess in a restaurant in Bogota. At the restaurant I met someone, and we were talking about acting, so he invited me to a casting. I was cast in a short film. It was about this girl and (for context) it was during the '90s in Colombia, so everything revolved around violence, the mafia and other kinds of stories. To protect her (the character) boyfriend she kills a guy and then she ends up in jail. For my first short film, it was with a really professional cast of celebrities. I was lucky. I had a vision and with the contacts I had in Bogota I was lucky. I also worked really hard.
Now I am at the age (she laughs) when younger actors come to me (for advice) and I always tell them if you have a vision and a dream you have to go for it.
I also met someone else at the same restaurant and (I ended up) auditioning for a TV show. I was a rebel, I quit college and I was cast in this TV series. It was a prime time show at 6 pm for young people. It took place in a boarding house for young students and my character became a drug addict. I was always signing autographs and stuff and kids on the street would come to me. My (character's name) was Lulu and they would come to me and they would say Lulu are you really doing drugs? I was like nooo! I took advantage of that to give them a (positive) message.
Very soon I met a boyfriend whose family was about to move back to Argentina. Now we are in 1990 and I was young and a rebel. They invited me to move with them to Argentina. I had signed with one of the major channels in Colombia. I was going to be the lead in one of their sitcoms, but I was in love and I didn't care, so I called them, and I canceled my contract. Years later I called them, and I apologized. The director forgave me.
When I moved to Argentina little did, I know that my boyfriend's father was a very big filmmaker. Life always led me because I had that vision, dream and I am a hard worker. This film is called Gatica, the Monkey. I love telling the story, because this was the most awaited film, fifteen years. The director Leonardo Favio the father of my ex-boyfriend was one of the greatest singers. Julio Iglesias used to call Leonardo Favio and ask him to record him. He wanted him to be one of his mentors. Leonardo was one of the big stars in Latin America, as a singer and as a filmmaker. In the eighties during the dictatorships in Argentina they moved and went into exile. They lived in Mexico and then in Colombia and that is when I met his son. When we moved to Argentina it was his return to cinema. It was an incredible film and it was like magic. It was the biography of one of the biggest boxers in Argentina. It was a huge production. Argentina has a huge industry. I played his first wife. He had three wives. He was a player, a womanizer and a drunk. He died when he was drunk, and he was running to a bus. The bus hit him.
The film was beautiful to shoot and afterwards it received a lot of accolades and it received an Oscar nomination. The director Leonardo Favio was in Spain receiving the Goya for that film (editor's note: The Goya is Spain's most prestigious cinematic honor) and he called home and he said I am sorry, but I am going to withdraw Gatica the Monkey from the Academy Awards. My mother-in-law and I were already planning our dresses. It was competing with the one that Penelope Cruz did, Belle Epoque with director Fernando Trueba. The year was 1993. He said I want to withdraw the film, because I do not want to work in Hollywood," she says and explains that the director withdrew the film, as a protest concerning a scandal that was taking place in the film industry at the time.
Leonardo Favio passed away in November of 2012 after a lengthy illness.
As for her decision to move to the United States from Colombia Kika Child says, "Things were so unsettled in Colombia in the late nineties and there was a lot of violence, so it triggered my desire to move to the U.S. I found a tenant for my apartment and I sold my car. I got rid of everything. I thought I preferred to be a waitress in New York where nobody knows me than continuing to live there. That is why I moved here. I literally came with two suitcases and little money. I was a waitress here for seven years. I kept on getting offers from TV in Colombia. They said can you be here on Monday? You can have the lead in a show? I said I am sorry I can't.
Many things have changed in Colombia and new people have come in. There are new producers and young people. They know who I am. My friends who never left are the ones who are getting the roles. If I want to work in Colombia, I know I would have to go and stay a season. That is still my desire, because that is where my family is.
After waitressing here for seven years I read that a friend of mine was going to direct a play, Donna Flor and Her Two Husbands at the Spanish Repertory Theater. I was perfect for the role, because of my age. I was not cast, but he invited me to the premiere of the play in 2008. Then I was cast for a play called House of the Spirits in 2009. It went on for two years and it was a Latin American classic. It was a beautiful experience. The play was beautifully written and directed, but it was very difficult to adapt magic realism.
I stayed with the ensemble of the Spanish Rep. In 2012 I entered Donna Flor and Her Two Husbands as an understudy. My friend left the play and I have been doing it ever since."
Kika Child is also a founding member of the Tabula Rasa NYC Theater and Performance Lab and we asked her to enlighten us concerning what this is all about.
"Tabula Rasa NYC Theater and Performance Lab originated in 2012. Ramiro Sandoval is another Colombian actor and director and he broke off from his other troupe. He wanted to build something that was a little more experimental. It started with a show based on the Greek tragedy Clitemnestra, but the play was called There Was Fire. I did not end up doing that show, because my partner at that time was very sick and I had to take care of him. There is always something you know (light laughter). The play was successful, and it went to a lot of festivals. I have continued with them.
Tabula Rasa has now joined with a peace project in South Korea. He is also an activist and he fights for peace in Colombia or wherever. There is an agreement with South Korea for him to go there and (conduct) workshops.
With Ramiro Sandoval you start with the workshops and the actors feed off of each other and that is where the ideas are born."
And these days, "Right now filming has stopped. I had an accident four years ago and I had to stop acting for a year. I moved back to Colombia and my family took care of me, while I recovered. I was on a roll, before the accident. It was a bad year in 2016, even Brad and Angelina got divorced (some light laughter). Then I came back to New York and little by little I got back onto my feet. I went back to the Spanish Rep and they gave me my role in the play back," she says.
Our conversation has now come full circle and the pandemic sweeps America, there is civil unrest and the state of the theater, television and film industries is uncertain. As Kika Child would say there is always something.
Please take time to visit Kika Child's official Facebook page and you can follow Kika on Instagram here. you can follow her translation of important events in New York City on her YouTube channel.
#KikaChildActress #KikaChild #RivetingRiffs #RivetingRiffsMagazine #NYCActress #ActrizColombiana #ActrizTeatro #TheaterActress #ActrizCine #FilmActress #TelevisionActress #RamiroSandoval #SpanishRepertoryTheater #TabulaRasa #LeonardoFavio
This interview by Joe Montague published July 7th, 2020 is protected by copyright © and is the property of Riveting Riffs Magazine All Rights Reserved. All photos are the the property of
Kika Child unless otherwise noted and
all are
protected by copyright © All Rights Reserved.
This interview may not be reproduced in print or on the internet or through any other means without the written permission of Riveting Riffs Magazine.