Fresh from performing as a futuristic computer from the year 2100 who is named after the Greek goddess of earth Gaia IA 01, and who sends a message back to today to warn others about a pending environmental apocalypse unless we change our ways, Hungarian actress, choreographer and dancer Kincső Nóra Pethő sat down for a conversation with Riveting Riffs Magazine, over Skype.
Obviously, only the Gaia part is taken from the Greek goddess, as Kincső Nóra Pethő explains, "I am like a computer program from the future who becomes a real person by the end of this 70-minute show. It was called Heroes of the Future and it was part of Planet Budapest 2021. There were about fifty actors and actresses working on this project, which was intended to raise the interest of kids for protecting the environment. For one week (in early December) the program ran from morning until evening. It was a wonderful experience to see how enthusiastic the kids were! I felt great about contributing to such a good goal!"
Continuing she says, "We talk to the children about how in the year 2100 there is not enough air, and the environment has been destroyed. (The message is) they have to be conscious of what they are doing in the present in 2021.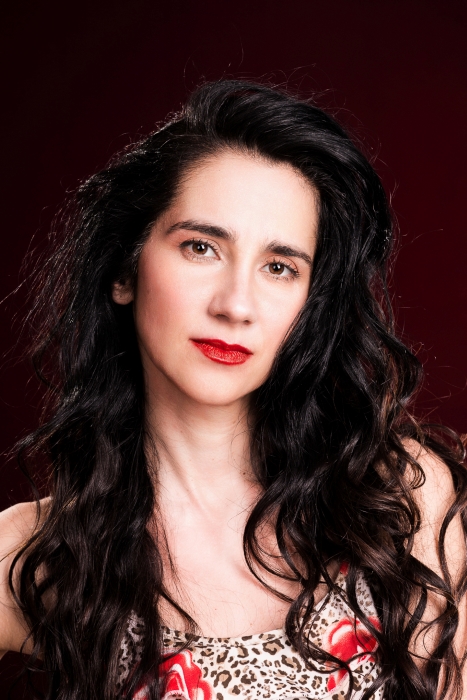 When we had some rehearsal groups and I could see a small guy, who was ten years old and he wore glasses. I was sitting in a box and at first, they could only hear my voice. They could not see me. I could see the boy talking to the other kids. We wanted it to be personal and to not feel like a program, but that someone was talking to them. I (as the computer) said to him you in the glasses, don't talk to your partner, because I am saying important things to you. It was so funny, because now he wanted to know who was speaking to him and where she was. The others were laughing like crazy, so I know they enjoyed it.
After that the children stepped into separate rooms and they were given data. At one point they met a guy who believed the whole world could be bought and sold.
The children went from room to room and at one point Gaia said you are not being successful enough and you have to be more conscious, so you can find a way out (of the environmental crisis). After they completed a test, they were told they did a good job and I (as Gaia) reminded them that they have to be conscious to do this in the present, so they can have a better future."
Despite the many challenges that COVID-19 has presented for the arts community at large, Kincső Nóra Pethő has managed to stay busy. We have no doubt that when international borders become more fluid and the film and television industry returns to pre-pandemic norms, she will be gracing cinema screens and streaming productions, following on the heels of her 2018 performance in Red Sparrow, acting opposite Jennifer Lawrence, as an evil Russian interrogator.
When you get to know Kincső Nóra Pethő offscreen, it is actually quite shocking to see her in the Red Sparrow role.
She drew rave reviews from the director Francis Lawrence who said that she was fantastic and how happy he was with her performance. He punctuated those remarks by saying she did such a great job as the interrogator.
The trailer that was also broadcast during the Super Bowl that year, traditionally the largest television audience in North America each year, also featured just three people Jennifer Lawrence, Joel Edgerton and Kincső Nóra Pethő.
Nothing remarkable stood out for her during the casting process, "I wasn't even sure what role I was doing. I just got this part of the script and I didn't know anything about the movie. I did one of the scenes. There were two I was in, but it looks like one. I may have been told that my partner would be Jennifer Lawrence. I didn't really pay attention and I don't know why. I got the part and the script had the same two scenes that are in the movie.
I don't remember if the audition went well or not, and then the casting director called me and said that I was chosen among the five or six others who were English. They couldn't do the (Russian) accent. It wasn't hard for me, because I learned Russian.
When I was chosen, I was really happy, but I wasn't aware of the importance of the film at that time. I went for the dress rehearsal and we did things step by step. At one point I was there on the set with Jennifer Lawrence and (she laughs and says facetiously) with no stress at all. I really liked Francis Lawrence (the director) a lot, he is such a nice man.
When I was doing the Russian accent Francis Lawrence said do less with your face, no eyebrows, nothing. I think this is the reason it became so good. This is why people say they are so scared of me. They tell me they didn't realize it was me."
The conversation segues from evil interrogator to a role she was once cast in as a woman who wails over the loss of her teenage daughter and rests for a moment with her short film, Kamikaze, which Riveting Riffs Magazine has been lucky enough to preview and we predict will be a hit on the festival circuit.
"This short film is very close to my heart and partly because it was shot together with my boyfriend, Ákos Barnóczky. It is important to both of us. The other reason that it is important to me is it is the first time I was an angel on screen. It is a twenty-six-minute short film. It was a process for me. It is about a woman who has a secret and she wants to hide the secret.
I don't really want to tell the story, because we want to bring the film to festivals. I want the public to be surprised.
We have another producer whose name should appear (in the credits), but at the same time another institution gave us money and they have some reasons, which are not logical and I don't understand (why they object). It took half of a year for our letters to get through to them and I don't know why they aren't answering. All we want to do is to put the name of the producer (in the credits) and he is the one who gave us a lot of money to bring this film to festivals. This institute doesn't have the knowledge how to do that. The producer is an expert and we want him to bring the film to festivals. Right now, we are working on that to happen," she says.
In October (2021) Kincső Nóra Pethő performed at the National Dance Theater in Budapest with the Fresco Dance Theater.
"We were really happy that at last we were able to present the show (previously we could not) because of COVID. It was to be on stage last spring. There is no story to it, but it is called Fresco, because there is a funny story behind it. We have a rehearsal room for this Indian Classical dance theater and this summer the choreographer who is also the leader and director of the stage decided to renovate the rehearsal room. One day when I wasn't there, they started renovating the ceiling and they found frescos. There were three different beautiful frescos. After discovering these frescos, the choreographer started looking for frescoes of different Indian gods.
The dancers from time to time stand in front of the "frescos" in the pose as if they were sculptures, then come to life, start to move, dance and go back to the pose of the god, frozen. It is very beautiful and classical. We have dancers appear like frescos, sculptures and statues. They move out and then they move back and then comes the other dancer.
I have a solo that is very special and at one point there is a white light and I start to dance as though I was painting and the flowers start to appear on stage through the use of a computer program, similar to CGI. It looks like I am (painting) these flowers," she says.
Kincső Nóra Pethő has come a long way from the small Hungarian town near the Austrian village, where she grew up.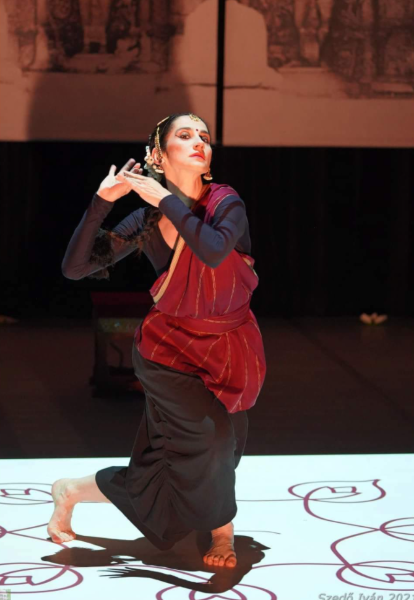 "We didn't have a theater at that time and there were only ballroom and Latin dances, but the dance group there was internationally famous. I was an only child. There were doctors, engineers and teachers in my family, but no artists. Only my grandfather who died, before I was born and who lived in west Hungary was said to be a very artistic person. He could sing, play the piano and he led the choir at church. He could also draw and do Hungarian folk dances.
The first time I was on stage as a dancer it was a polka. I was the smallest child and there were two lines. I was the last one in the line. I was eight or nine years old and that is my first memory as a dancer. I also remember when I was standing in front of a lot of kids and teachers and (reciting) a poem at the end of the school year. It was about our happiness that we were going on vacation. When I was a kid in our first flat, we had a bigger room and I remember pushing the sofas outside of the room, so I had enough space on the floor. I put on some music and I started singing and dancing as if I was on stage.
I have an English teacher diploma, because I promised my parents I would get a normal education, before I became crazy and became an artist.
Because of the English teacher diploma, I got a scholarship to Brighton, England. This was also the year I decided I wanted to change (my focus). I was far enough from my normal life and Hungary to be able to decide and change. At the time we didn't have cell phones, so I could only phone my parents once each week. I was writing a lot, thinking about my life and what I wanted to do. That year helped me to change and to (pursue) theater and the arts.
At Brighton I did a diploma in European studies. I studied European politics, culture and films.
I decided to become a professional in the arts when I was in England, in Brighton. That was when I was conscious enough to decide what to do."
Our conversation moves back to more recent years and the twenty-minute short film Anti-Feminist. She says, "The story is about a woman who is fighting for women's rights, but it is set in modern times. She gets elected and she is invited to a party, which resembles the party attended by Tom Cruise's character in Eyes Wide Shut. (The main character) starts to walk around and she finds different characters. It is a nice building, but we are not sure where we are. I play a psychiatrist who was a very strict character and not a nice one (she laughs).
At the end of the film, she wakes up in her room, so it appears to be a dream. She doesn't know how she got home. She finds a letter that tells her to be careful. She realizes she shouldn't act so extremely and she should be more considerate in how she treats people and things like that. There is this twist in the story, which is why we say Anti-Feminist.
Other theatrical, film and television productions that have Kincső Nóra Pethő fingerprints on them include, serving as the assistant choreographer for Blade Runner: 2049, the choreographer for the stage production of The Scarlet Pimpernel, and appearing in the television series Alienist and Marco Polo.
She talks about the latter two series, "I was so glad I got to meet Daniel Brühl (on the Alienist), because he is such a great guy and actor. He also speaks Hungarian in the series and it was for quite a long time. I adored him for that, because our language is really hard to learn. I played a character called the angry woman.
(We share a joke at this juncture about some of her characters scaring me.) I don't know why, but on stage I usually make people laugh, but on film they think I should be angry or wailing. In the film in which I had to wail, I had to cry for three minutes.
We have a very famous television series (in Hungary) and it is similar to Friends in the U.S. I was a character in that series for about a year. I played a serious, very dark woman who was in a sect. She was full of sorrow. I was very famous for that character. Once I went to the bakery and I could see in the woman's eyes she wasn't sure if she should say something or not. At one point she said your smile is nice and you look so much nicer than on television!
For Marco Polo, I was a cathedral nun with Gabriel Byrne who was playing Pope Gregory X and I remember that, because he is a very nice guy. It wasn't as big of a job as Red Sparrow, but it was bigger than the angry woman. It was filmed in Hungary."
As for some of the several projects she has in pre-production, Kincső Nóra Pethő says, "The one I am really excited about came after Red Sparrow and that was the moment when I felt Red Sparrow could bring me opportunities. One director from Oregon, Simon King asked me if I would read his script and that is the Romanian Incident. We talked a lot and I got excited. It is like an Agathe Christie story. I have a very good character, but (again) it is not a positive one (she laughs). My character is a Hungarian woman. We were supposed to shoot that film in February 2021 in Romania. We already had contracts, the places to shoot the film and we had the money, but some sponsors withdrew their money. Right now, I am not sure what will happen, but it is the one I am most excited about.
There is also 1000: The Sword in the Stone, which is also in pre-production. That takes place in the Middle Ages and I will play a gypsy and it is a big part.
Please visit the website for Kincső Nóra Pethő and you can also follow her on Instagram.
#Kincső Nóra Pethő #RedSparrow #HungarianActress #RivetingRiffs #RivetingRiffsMagazine #ActressInterview #ChoreographerInterview #FilmInterview #EntrevistaPelicula #EntrevistaBailarina #EntrevistaActriz #EuropeanActress #ActressEurope #ActressTrilingual
This interview by Joe Montague published December 12th, 2021 is protected by copyright © and is the property of Riveting Riffs Magazine All Rights Reserved. All photos are the the property of
Kincső Nóra Pethő
unless otherwise noted and
all are
protected by copyright © All Rights Reserved.
This interview may not be reproduced in print or on the internet or through any other means without the written permission of Riveting Riffs Magazine.