Singer - Songwriter Kirsten Proffit is a Lone Ranger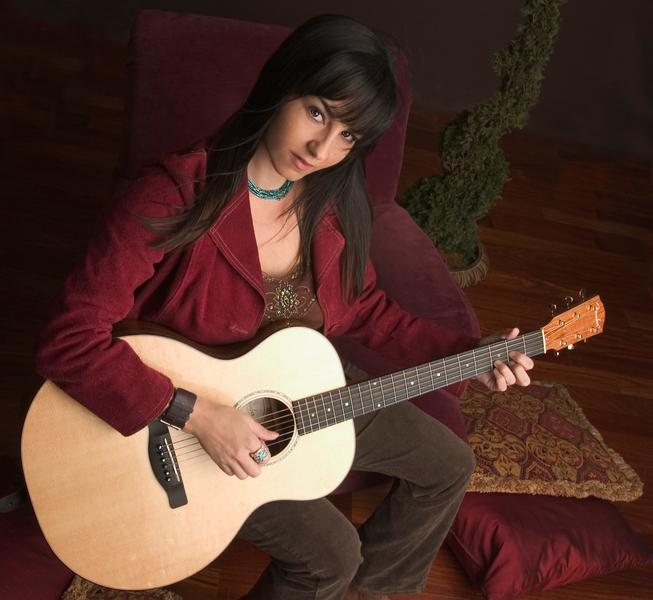 Kirsten Proffit's vocals are hauntingly beautiful on the song she wrote, "Break Your Heart," a song yet to be released, but it can be heard on her reverbnation website. Her friend, sometimes co-writer Steve Berns plays a Brian Setzer signature Gretsch guitar and Proffit accompanies herself with a Gretsch Electromatic guitar. Her voice is rich and emotive. The vibe is Americana and earthy. Throughout her career Proffit has demonstrated that she is a versatile artist whose songwriting palette and vocals have many colors. "Wanderlust," from her My Devotion album released in 2012, features Kirsten Proffit playing a Guild acoustic guitar and the lyrics flow like a well written poem, as her vocals are subtle and pretty, matching the stripped down instrumentals. "Wanderlust is introduced by Mark Christian's electric guitar which emulates the sound of a theremin, although that was not by intent.
"Mark Christian does this really neat thing on his Telecaster where he does volume swells, while playing the slide and it sounds like a theremin. We also overlapped a couple of the tracks, so you can't make out exactly what is going on," says Kirsten Proffit.
The easy flowing "California," also from the new album features the singer-songwriter playing her Guild guitar, while Mark Christian plays the dobro giving the song a Roots like vibe contrasted with a light Pop influenced vocal. The harmonica is used sparingly and to great effect for a song that is mellow and reflective.
"I wrote the song "California," when I moved away. You wake up every morning when you have moved from a place that you love and that you had a bittersweet relationship with and you ask, where am I and you have to talk yourself down off the ledge. Oh wait, I'm here and this is where I belong right now. I had to talk myself through it sometimes, because I was gone and I missed my home. I felt like I was in a good place, because it was a beautiful place and it was healthy for me to be there. It was love – hate, push and pull. At the same time, I had to get away and there were moments when it was so beautiful to be away and I was happy. The song is sort of a love song for California. It was more of a breakup love song for California and everything that it meant to me at the time. It represented a lot of hurt," she explains (Kirsten Proffit moved back to California in 2011).
In the very competitive market of having songs placed in television shows and in films, Kirsten Proffit has done exceptionally well. Just a small sampling of where her songs have appeared, includes Friday Night Lights, Dawson's Creek, Smallville, over 1,000 times her music has been used on the Tonight Show with Jay Leno and her songs appear on the DVD soundtracks for Felicity and Party of Five. Martin Short selected three of her songs for his feature film Jiminy Glick in Lalawood.
We spoke to Kirsten Proffit the night after she performed as one of the three members of the all-girl group Calico The Band, also comprised of two incredibly gifted singers – songwriters Manda Mosher and Jaime Wyatt, all of whom hail from Los Angeles.
"It was our first show with Calico The Band and it was just more than I thought it would be. The first time of anything is always a little awkward, but it was just wonderful. The girls are just such good musicians and their personalities on stage are…everybody pulled their weight plus. It was really, really fun. You don't always get that in a first performance, you are always still trying to find your way around and we didn't have that. It was really super fun. I think everybody liked it," she says.
Upon her return to California, Proffit who punctuates her conversation with superlatives says, "I started getting really interested in all of these different females that I saw around town. I really liked Manda and I went to a couple of her shows. I just watched her, followed her around and I thought she was really good. She is really honest with the delivery of her music and everything. I really liked her and she was playing with a lot of people that I knew (then with tongue firmly planted in cheek she says) maybe she thought I was a stalker (she laughs)."
Kirsten Proffit already knew Jaime Wyatt as she had invited Wyatt to join the band she put together in October of 2011.
"Jaime and I bonded and formed a friendship. I just have so much respect for her. She is this beautiful artist, this beautiful person and a lovely human being in every way," she says.
Kirsten Proffit an Orange County Music Award winner and who has been nominated numerous times for other Orange County Music Awards and Manda Mosher who has been the recipient of twenty-two Los Angeles Music Awards, landed on the same gig at the House of Blues in Los Angeles one evening. They performed one song together, Lucinda Williams' "Change The Locks," and the audience response was so phenomenal that it planted a seed in their minds about future endeavors together.
Kirsten Proffit recalls that night, "As we were breaking down our gear, she (Manda Mosher) said to me, 'I have been watching your career and everything and I am glad I met you. You are sort of a lone ranger like me.' I thought that is an interesting way to look at it, because neither of us are part of any cliques in town. We are both independent and we do our own thing. We forge ahead. I don't get locked in with (cliques). I feel if you are part of a clique you are never going to be any better than the clique. I try to keep my head above the water and stay above the fray."
She mentioned the lone ranger thing and I went home and thought about it and I came up with a song idea with a really pretty melody and beautiful chorus. The song goes, "It's true that I'm guilty of going it alone / These boots are wearing heavy as I'm longing for home / The stars on the horizon are calling me again / I stand accused, I'm a lone ranger just like you." That's the way the chorus goes. I wrote a verse and one chorus and I called the girls… no I facebooked messaged them both together so they could see the thread. I said okay guys you don't know each other, but we have all heard of each other and we have all kind of crossed paths. I have this idea for a song called "Lone Ranger," because of what Manda said. How about we all get together and we write it and record it. We did and it was so easy to do. It practically wrote itself. The girls came up with some beautiful verses. I got so excited about it and I thought I could do this every day. This is just fun. We recorded it and I was thinking, why don't we start a side project, but I didn't want to be the big mouth to begin it and to push somebody. They just took it upon themselves (she starts to laugh). I was so happy that they wanted to do it just as badly as I did. The songs just started flowing and it has been easy to write these really strong songs."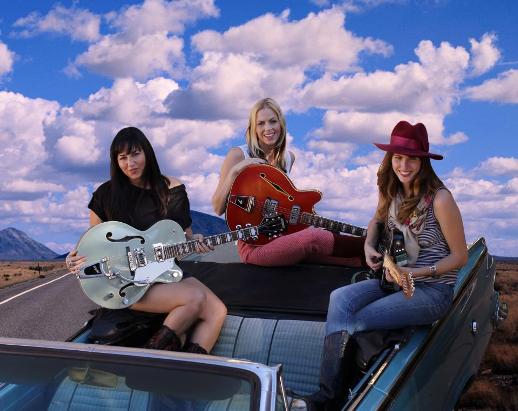 Recently, Calico The Band recorded the "Lone Ranger," and the song sends a strong signal as to how good this band is going to be.
"We are all sort of lone rangers in a way and we all have been out there doing our thing. When we compare stories they are so similar in the way that we have approached the business. It is funny, because we all have different strengths. All of us have put our feet into the water in different areas of the music biz. When we combine our accomplishments, our knowledge and our connections, it is pretty amazing. It is pretty cool.
We are doing a version of "I am Just A Poor Wayfaring Stranger." It is a public domain Folk song (editor's note: thought to originate in the early 19th century), but we wrote our own version of it. It is very much an O Brother Where Art Thou kind of a slow moving, trudging along, syrupy, swampy, really cool harmonies song and everybody sings a verse. It is a tale of woe and looking for the end of life on earth and hoping to get to heaven sort of thing. It is fun and I am having a blast.
The music (of Calico The Band) is really interesting, because we have these three-part vocal harmonies going on. We also have a lot of different instrumentation for each song. Manda plays the dobro on a couple of songs, I will play the mandolin, we will tie a tambourine to our feet and stuff like that (she laughs) to help keep the rhythm. We all play the guitar, so there is a lot of interesting stuff happening and I think everybody likes the flow," she says.
We wondered if a band led by women and completely comprised of women empowers and motivates other women. "I totally think so. It is so cool, because women love it and women support it. It is exciting for women. The girl peer group that I have has come out in droves in support of what we are doing. Our manager, who is a woman, is so excited about what we are doing. (She encourages us) You can book our own gigs, you don't need a guy to run your sound and you know what the heck you are doing with your careers. It is extremely empowering. Anytime a woman steps up and says, 'I'm going to do this and I am doing it great,' and regardless of if I am a female or a male, I am going to be the best that I can be, I think that it is definitely empowering to women."
Calico The Band will not supplant the solo careers of Kirsten Proffit, Manda Mosher and Jaime Wyatt. "I love playing with these girls and I am definitely always going to write. I am going to write forever and there is no reason to not be involved in the creation of studio productions. I love producing other bands and I love working with other girl songwriters and helping them to make something great for themselves and this is just another step on the road. I am just going to explore it for all that it is worth. I think that it has a lot of potential and I will ride it out as long as we can ride it," she says.
Kirsten Proffit was born in Santa Cruz California, the oldest of three children. "We (her family) had instruments everywhere and we were central coastal Californians. If you can imagine what that means, it is very laid back, very artistic and it can be a somewhat flakey existence. My brother and sister are both very musical. They are really beautiful people. We traveled and we had a house in southern California in Fullerton and we had family in Santa Cruz, so we were kind of back and forth during most of my childhood. We traveled overseas somewhat. My dad had a side business (she laughs). He had a little contraband sort of thing going on with some connections in Spain. I think my parents just liked to travel. They had a boat that they lived on and we would go with them and we would soak up the culture. There was a lot of darkness to the period, because it wasn't a happy life. Looking back at it now, it was oh that was kind of interesting. This was when I was up to about age ten. We always lived in California, but we traveled to Spain and we just lived there for months at a time.
We always had instruments out and we just played whatever when we were kids. Do you know how when that is just how your life is and you do not realize that it is any different than anyone else's life? There we were and there were instruments everywhere. I remember being four years old and there was an autoharp and I learned how to play "Three Blind Mice," on it. My mom played guitar, saxophone and piano. There was lots of music in my life all of the time and it was a really important thing. I know that a lot of people say that, but it was the only thing that I had for a long time and it made me feel connected to the world. That is how I learned how to sing. My mom really loved Joni Mitchell and she had all of the Joni Mitchell records. I would just sit and listen and listen and listen. I would sing along and I would try to make my voice do the things that she (Joni Mitchell) could do with her voice. I cannot remember (a time) when I wasn't consumed with music, and always pursuing anything that I could learn about it. I have always been impressed with amazing musicians and I love to learn from them. Still today I love singing with people who are good and just trying to soak up anything that I can from them.
Although Kirsten Proffit has written songs, while seated at her piano, she prefers to write using her guitar and she considers it to be the first serious instrument that she took up. "The guitar really spoke to me and you can play all of these rhythms with it. I just like the sound and the earthiness of it. I love really, solid, beautiful melodies along with rhythms. I didn't really get serious about the guitar until I was about twenty-one or twenty-two. It goes back to what I was saying earlier, when you are doing something all of the time, you don't really think it is different than anybody else, because it is your natural thing to do. I didn't think that I had anything special, but I do now. I appreciate my gifts and I am thankful for them. I try to develop them all of the time and I try to make my craft better. I strive, but at the time I didn't realize that everybody isn't like me. I never really had dreams of grandeur. I just thought this is what we all do, we all play instruments."
Kirsten Proffit's first album was self-titled and originally recorded on two inch tape at Grandmaster Recorders studio on North Cahuenga Boulevard in Hollywood. The album was to be released on a small label however, the label folded before the CD came out. Proffit released it herself in 2003.
She recalls, "By then I had met a bunch of people and I had been playing a few shows and things like that and getting my feet wet. One of my friends took me to a manager. He was a big wig and one of the typical (expletive) managers (she laughs) that you meet in Hollywood. He was like I can do this. I can get her a record deal, blah blah blah. We took my demos and we shopped and shopped and shopped and we couldn't make anything happen. I spent about a year goofing around with him, until I realized that I felt so badly about myself, because I am a dark haired brunette and I look more like the girl next door than a sultry blond.
My manager would bring me these photos of these blond bombshell types and say this is our competition and I would say I didn't realize it is a beauty contest or otherwise I would have taken some different steps here. I thought that I was supposed to be writing a song, so pretty much I quit him. I floated around and I entertained ideas from different management companies and different labels and things like that. Finally I met a really good songwriter and producer with a wonderful studio. He is a very well kept secret in Hollywood. His name is Bruce Witkin. He is a good friend of mine and we are kindred souls. We decided to make Lucky Girl together (her second record). Then Broken Arrow Records (Ani DiFranco, Jonatha Brooke, Charlie Hunter Quartet), an indie label with really good distribution picked it up. I had a great time working with Bruce and he is the kind of producer who produces the music for the song. It was so fun to be involved and I learned so much from him. He never told me what to do, he always cared about my opinion and he always made my opinion very important in the room. I learned to be bold and I learned to say what I thought the song needed boldly and with confidence."
Lucky Girl has some very poignant songs such as "Marilyn," a song about not being lonely anymore and finding love. Some songs on the album are drawn from events and people in Kirsten Proffit's life, such as the song "Kissing Love Goodbye."
I wrote "Kissing Love Goodbye," because I had a girlfriend who was in a terrible relationship and she would not leave. I was counseling her (while she was in this) dangerous relationship. She kept telling me that she loved him and I said you need to love yourself. I said this guy promised you everything and he is not following through on his promises. I wrote "Kissing Love Goodbye," with that inspiration. I guess when you talk to somebody over and over again about the same thing it eventually has to become a song. It becomes programming. I eventually ended up sneaking my friend away in the middle of the night and putting her on a plane to Indiana to be with her family," she says.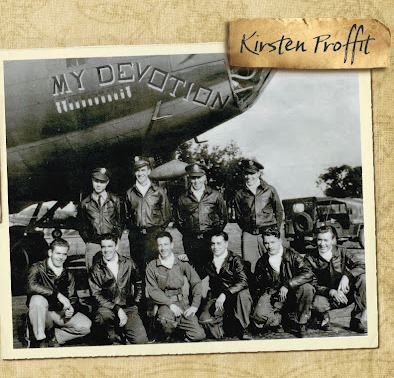 Then there are songs like "Girlfriend Potential," also from the Lucky Girl album. "I wrote that song and I had the chorus in my mind, because this man who shall remain nameless, whom I could not stand working with, this producer, was so crude and every single time that I would come to the studio, he would tell me about all of his female conquests. He was such a pig and then he would say it like this, oh yes, I was with blah blah blah girl this week, but she's not girlfriend potential and I would say (her voice becomes sarcastic) oh she is beneath you. Then I was in the studio with a friend of mine named Rick Neigher who is a very cool producer (editor's note: as well as sound engineer and songwriter). He was one of the first guys to work with Alanis Morissette (has also worked with Melanie Doane, Tommy Emmanuel, John Mellencamp, The Go-Go's, Sass Jordan). We were sitting together, laughing about the story and we wrote the song together, based upon our conversation about the other producer," she recalls.
Michael Woodrum produced the current album My Devotion and longtime friend Kirsten Proffit and multi-instrumentalist (guitar, dobro, banjo, mandolin) Mark Christian was asked to join them in the studio. The album became a tribute to Kirsten Proffit's grandfather with whom she was very close. The cover of the album has a photo of him and the flight crew of the World War II B-17 aircraft, My Devotion, for which he was the tail gunner. One of the songs on the album "Flood and Fire," is based on a conversation that she had with her grandfather.
"He was like a father to me and he is a hero in my life. He and I had this conversation about what happens after you go from this life. He would say here Kirsten, sit down and have some coffee with me. We would sit down and we would talk about the afterlife together. He has passed on now and he died of Lou Gehrig's disease. He was an amazing man. I wanted to write that song and I wanted to use all of the roots instruments. I always knew how much he loved that and how he loved the banjo. He loved music so much. He loved all sorts of instruments. I figured this record is going to be for him. I ended up forming that whole idea around him and we did all of that artwork. All of the pictures on the back are all of my family. They are my grandpa's sisters and brothers, in their uniforms, with their wives. The picture on the actual CD is of him leaning on the tail gun of his airplane," she says.
Please visit the website for Kirsten Proffit and the website for Calico The Band.
This interview is dedicated to the memory of Maurice Carlson, the grandfather of Kirsten Proffit
Interviewed by Joe Montague
Photos courtesy of Kirsten Proffit, protected by copyright © All Rights Reserved
This interview is protected by copyright © and may not be reproduced in print or on the internet or through any other means without the written permission of Riveting Riffs Magazine, All Rights Reserved