Interview by Joe Montague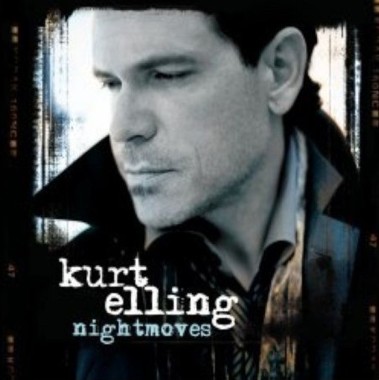 Recently I had an opportunity to speak on the phone with jazz vocalist Kurt Elling while he was in the midst of a tour. When one reads an interview with Elling it would be easy to misconstrue his candor as bordering on pompous, because the reader does not have the advantage of listening to the inflection of his voice as he weighs his words carefully while answering a question. Elling is a man who cares deeply about his craft, and despite a Grammy Award nomination and being acknowledged as one of the top male vocalists, he is continually striving to set a higher standard of excellence. If in doing so he inspires others to enhance the quality of their own jazz music, then Elling sincerely believes he is just fulfilling his commitment to the art.
It is not surprising then that Elling says concerning his current CD Night Moves, "I have a number of intentions; I want to be respectful of the history of this music. I want also to use my point of view to bring something new to it."
In response to my question as to what he hopes his listeners gain from Night Moves, Elling's wit shows, "I want to impress upon them that they didn't waste their money (he laughs). You want to leave them with 'Wow, I am glad I bought that!' I want them to feel that they are hearing the future a little bit, or perhaps better put, (something) that is arriving just on time. I hope they hear the integrity of what I am going for, and I hope that they are hearing a fluid, transparent and direct experience that speaks to them."
Elling assembled a great cast of musicians for Night Moves including guitarist John Pizzarelli. "John Pizzarelli and I are forming what I think will be a really lasting friendship. He is the sweetest guy that you are ever going to meet. He is wildly talented and has a really fun time with his audience. I really like his spirit, his sensibility and the way that he approaches being dedicated to the music. It was as much fun and games to have him on this record. I tend to take myself pretty seriously and I get to balance that out a little bit (with John). To have John happen by was a good idea," says Elling.
Night Moves also reunites tenor saxophonist Bob Mintzer and Elling. "Bob Mintzer and I have been working together on and off for a number of years now. I have been on two or three of his records and he has done some of the arrangements for my compositions on my records. Mintzer is a great player and has an incredible gift for things. He is one of the respected guys that I like to have around," Elling says.
Bass player Christian McBride adds depth to Night Moves and was a natural choice once again because of the familiarity between the two artists. Elling tells me, "I had been looking for an opportunity to get together with Christian for a while. We had done a couple of live things together and had a great time. That is really what it comes down to, when you are making decisions like this (who to have on the record)." Elling says that when he and McBride had previously played together they just had a lot of fun and that was a key to the decision to invite McBride to join him for Night Moves.
Songs such as the title track from the album Night Moves achieve a full orchestral ambience due to the contributions of numerous other musicians including, pianist Lawrence Hobgood, Rob Amster (bass), Willie Jones III (drums / percussion), Rob Mounsey (electric piano / keyboards), guitarist Guilherme Monteiro, Romero Lumbambo (guitar), The Escher String Quartet and harmonica players Howard Levy and Gregoire Maret,
With his selection of music for Night Moves, Elling pays tribute to past jazz masters like tenor saxophonist Dexter Gordon and Duke Ellington ("I Like The Sunrise") as well as Keith Jarrett ("Leaving Again" / "In The Wee Small Hours Of The Morning"). "Where Are You" is based on Gordon's phrasing of the melody for his 1962 original composition "Go." The song "Body And Soul" takes its cue from Gordon's improvised melody of the 1976 recording for "Homecoming- Live At The Village Vanguard". The new lyrics were written by Elling.
Concerning his fondness for Dexter Gordon's music, Elling says, "The actual sound of it (Gordon's music) is just so generous. It is just a luxurious tenor saxophone sound, and I like tenor saxophone playing anyway. I like the languid way in which he approaches improvisation."
Elling talks about the popular jazz tune "Body And Soul" penned in 1930 by Edward Heyman, Robert Sour, Frank Eyton and Johnny Green, "The song "Body And Soul" has a very long history for jazz people (such as) Lester Young and Coleman Hawkins (recorded in 1939 on Bluebird). Eddie Jefferson wrote a very famous lyric to it, which was later transposed and performed by the Manhattan Transfer. I listened for a number of years to numerous Dexter Gordon recordings of "Body And Soul," and I loved the tune. He recorded it probably in nine or ten different settings. I couldn't figure out for the life of me what new experience I could bring to it until my daughter was born, then I understood that I could move it from a song about love or intimate love to a song that answers the questions (about love)."
"The reason that I get drawn to a piece of music is because it sounds really good and because I want to sing it. What drew me to write my very first lyric was a wish to have something more beautiful and more fully as a listener. If I work hard enough, the inspiration is right and I can actually get it together then I have a platform in which to do so," he says.
"Every time that I go in to make a record, I have a certain hope and goal in mind, and that is to best myself. (I want) to make something happen that I have never made happen before or that anyone else has made happen before," Elling says.
"There is a little bit of risk every time I put lyrics to music, that I will step over the line as far as somebody else is concerned. The best way for me (to make sure) that I do not cross over the line is (to approach the music) with love, care, a high level of professionalism and quality. I also try to make a statement on all of my records. I try to say, 'Hey this is where it is, this is where the future is. This is where I hear it is going. What do you guys think? It is to get the word out and to show that it doesn't have to be the same old same old just because I am a singer," says Elling.
In recent years, the jazz scene has been blessed with many outstanding female jazz vocalists, but there has been a dearth of their male counterparts. I asked Elling to hypothesize about the reasons for this situation existing and whether or not that has created an even larger opportunity for someone such as himself. He responded with, "There are is a list of reasons why we do not have as many male singers at this point. There are not as many people being engaged in music at a young age, being involved in church choirs, school choirs and having the opportunity to be involved in (similar) ways. Another reason is the appearance of rock and roll and popular music. Long ago, it (music) moved away from a swinging time feel. That (popular music) is where the money is, the girls are and the interest of society lies. That is where the glamour is and you do not have the same natural pull where everybody's attention is drawn to jazz at a time when it is most critical in grade school and high school."
"Does that represent a bigger opportunity for me? I suppose on a relative scale it does. Within the jazz community, it probably doesn't hurt, but there are always singers who are coming around. Dianne Reeves has a healthy career as does Diana Krall. There are plenty of women that we could name that pick up the slack. We are talking about more of a business concern (in response to my question) then an artistic concern," Elling says.
Where does Kurt Elling see himself in terms of the bigger music scene? "I think that I am an obvious and natural voice in tradition. I hope that I point the way to what the future of that tradition is about. I am a professional communicator and that means that I want to be in front of as large an audience as is possible. I want to get the news across to them (the audience) not only about the quality of the tradition, but what is happening in the world, my reflection on some of the possibilities of our being here, and reflect upon some of the realities of the human condition. I want to move people and lift them up. I want to remind them of the noble creatures that they truly are, but sometimes scold them a little bit for being lazy. I think those are all natural things that any jazz musician of quality is doing these days. I do not think that is anything that is unique to me."
Interview by Joe Montague, all rights reserved, protected by copyright © November 2006 Return to Our Front Page