Actress and singer Laura Blossom, may be someone you have not heard of yet, but you soon will, because she is superbly talented in both of her career choices and although we have not yet had a chance to watch her dance, we understand that she is also an accomplished dancer. If we were casting a musical, whether on stage or in film, we would have her in our cell phone as someone to present to the producers and directors.
Laura Blossom is what many would consider to be a late bloomer when it comes to acting.
"I started acting when I was twenty years old. My uncle, Balbino Lacosta, is an actor in Madrid and I often went to the theater to see him. He was the only (person in the arts) in my family. My grandmother and my mother played piano, but as a hobby," says Laura Blossom.
She explains another factor that led to her pursuing a career in the arts, "There was an acting course at the university where I was studying art history and I thought why not and I loved the course."
Laura Blossom grew up in Zaragoza, the capital of the autonomous region of Aragon located in northeast Spain. The city is located between Madrid and Barcelona.
"It is a big city, but not as big as Madrid. There are theaters there, but I had to move to Madrid, because in Zaragoza you can't live from art and from acting, because there aren't enough opportunities," she explains.
She says, "I started to sing when I was five years old and at the same time my parents paid for me to take piano lessons. I loved that. I then took a music course and it was the best experience of my life. I was in music courses for eleven years.
When I was ten years old, I started studying ballet in a school near my home. I studied for twelve years and then I broke my leg when I was practicing. Two or three years later I was watching musical theater dancing and I thought it was so beautiful, so I decided to learn.
I was eleven years old when I first performed for an audience. For the music course I was in we played a concert and we sang. It was really fun and I liked that. It was in the principal auditorium. There were a lot of people, family, friends and others. The feeling was special. It was amazing."
When we suggest to Laura Blossom that she is one of those rare triple threats, an actress, dancer and singer (and keep reading and you will read more about this talented young woman), she says, "It is so necessary if you want to work in a musical."
She got to realize that dream a few years ago when she performed in the musical stage production of Mary Poppins.
"It was my first musical and it was really amazing. It was so special, because I really like the movie Mary Poppins and we played the musical just like the movie. We played in a lot of theaters in Spain and I really learned a lot. It was a challenge, because some songs were very difficult to sing and to dance at the same time.
I was about to perform in a cabaret musical in 2020, but then COVID started, so we couldn't continue. When it was revived, I was involved with another project," she explains.
Other artistic ventures in recent months have included, "A few months ago I performed at the Microteatro por Dinero as an actress and the director of this theater talked to me about a festival. It (consists) of micro concerts at the Microteatro por Dinero. My best friend, Edgar del Prado, is a really good guitarist and I said we have to perform together someday. We presented this show twice more already.
The rooms in a bigger (venue) become little rooms for fifteen minutes of theater. Right here you have the audiences and you can see their faces. It is very intimate. You have to repeat the shows seven times in an afternoon. It is very good for training. Ten years ago the microteatros in Spain were the pioneers. It is really interesting, because you can watch two or three shows, because they are only fifteen minutes and you can have fun with your friends.
Laura Blossom turned her attention to directing in 2021 and it was not the first time she had done so. She directed Un Marido de Ida y Vuelta at Teatro de las Aguas in Madrid.
"After working in theater for five years in Madrid and finding it very hard to work, I decided to create my own theater company, so I can perform when I want and direct and act. If I want to be on a stage that depends on me. My theater company is called Icarus Actores.
Un Marido de Ida y Vuelta is a comedy by Enrique Jardiel Poncela, who is a very famous Spanish writer. I wanted to direct a comedy, because during this time with COVID and all of these crises, people want to go to the theater to forget their problems. They want to laugh and have fun. I directed this play with another theater company and then I decided I wanted to direct it again (Editor's note: She won an award for directing the play the first time).
This play is very funny and familiar and in Spain everybody knows Enrique Jardiel Poncela, so it makes it very easy to sell tickets. I didn't act in this play, I just directed.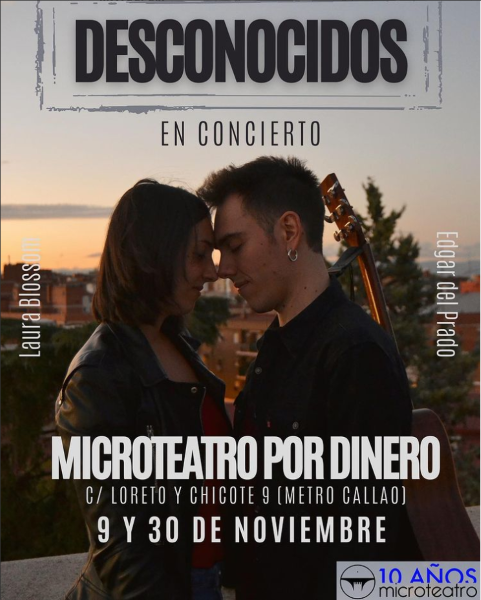 We wondered about what adjustments Laura Blossom needs to make when she takes on the role of the director versus being the actress.
"It is easier for me as a director than it is for me to act. When I watch my actors, I have a lot of ideas and I see the result that I want to achieve. I like to direct my actors with a lot of details like what does your character want to achieve or to hear this emotion you have to play it (this way) or your character is saying this, but he is thinking a different way. You apply psychology to acting. You do not only direct, but you have to design the set, you have to do the (advertising) and you have to take pictures of the play. You have to talk to the theater. When you are starting, you are new and you don't have a lot of money, you have to do it all. It is very complicated, but I love it. I like to create something with my bare hands. The people work hard and they trust you. It is beautiful.
We were lucky, because there was this friend (who helped with a lot of the costs)," she says.
Laura Blossom hopes one day to direct on one of Spain's bigger stages and for those who have not visited Madrid, the city has a theater district that rivals Broadway.
Her uncle Balbino Lacosta was once again a major influence in her life when it came to directing, "My uncle is my main mentor and when I had an audition he directed me, so I learned to direct from him. It was very important for me. He is an amazing actor and an amazing director. He works very hard."
"I would love to do that, to act and sing in a musical. When I sing the songs from musicals it like my heart flies," she says.
Recently, (December 2021), Laura Blossom appeared in the role of Uma, in Samuel Beckett's Waiting for Godot.
"We performed for three days and we sold out each time. The audiences enjoyed the stories and lives of the characters. My character is a woman who tells a story about her and her little child, but the child is invisible. My character can see him, but nobody else can. The play was performed at Umbral de Primavera, in the Lavapies quarter of Madrid, Laura Blossom says.
"I have also been in commercials. Acting in commercials is very easy, you just have to be natural. It is fun and amazing, she says.
When she is not acting, directing or in concert, Laura Blossom is a big fan of the Spanish series Valeria, now streaming on Netflix.
"I did a course with the director of Valeria, Imma Torrente. She was recording the second season of Valeria when I studied with her. It was very interesting to learn from people who are working at the same time and who are in the field.
I like the character that Paula Malia plays in Valeria, because I think it is far from who she is. I like when an actor creates a character that is so different that she transforms into a different person.
When I was young and I watched series, I would think I hate the bad guy, but then when you watch an interview with the actor you think, oh he is so nice.
I like the series because there is an evolution in the characters and it is both for the characters and for the actors. I also like the evolution of the story. I look at the techniques used by the actors and the director and I find it is interesting. I learn from that.
I like that in Valeria the main characters are women, because usually the heroes in television shows are men. I also like that Valeria talks about real stuff that you (encounter) in life, so I connect with the themes that they talk about," she says.
As for the final inspiration for Laura Blossom to pursue a career in the arts it happened one night while singing the song "New York, New York," at a hotel in Zaragoza, after she had translated the lyrics to Spanish and changed the name of the city to Madrid.
"I told my family and friends that I was going to Madrid and that I wanted to live for art," she recalls.
You can follow Laura Blossom on her official Instagram page here.
LauraBlossomActriz #ActricesEspanola #IcarusActores #RivetingRiffs #RivetingRiffsMagazine #Enrique Jardiel Poncela #MicroTeatro #
This interview by Joe Montague published January 9th, 2022 is protected by copyright © and is the property of Riveting Riffs Magazine All Rights Reserved. All photos are the the property of
the producers of Laura Blossom unless otherwise noted and
all are
protected by copyright © All Rights Reserved.
This interview may not be reproduced in print or on the internet or through any other means without the written permission of Riveting Riffs Magazine.