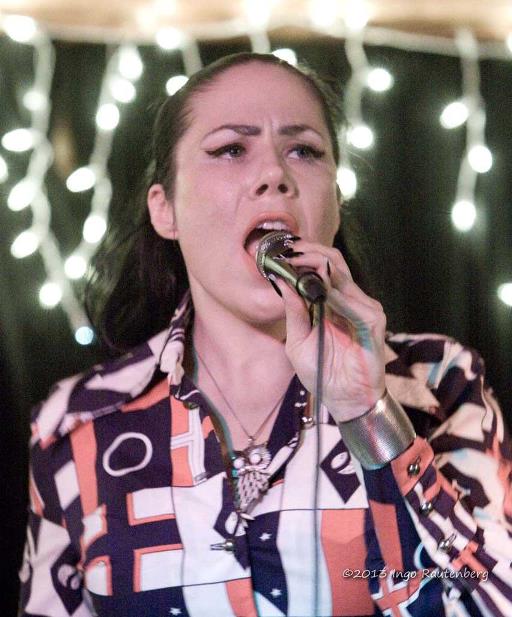 Riveting Riffs Magazine had the opportunity to sit in on a Laura Rain and the Caesars gig, when we visited the Detroit area during the last week of June and it was on the recommendation of Mary McGuire of the stellar band The Blood Sisters that we checked out the dynamic singer-songwriter. Rain is a powerful vocalist who is reminiscent of some of the best R&B / Soul / Funk singers to grace the airwaves and a stage. Her soulful vocals remind one of Aretha Franklin, her Bluesy inflections bring to mind Etta James, she has some of Chaka Khan's funk and she owns the stage like Millie Jackson only minus the coarse language.
Sitting outside in Birmingham, Michigan, a suburb of Detroit, on a sunny Sunday afternoon and talking to Laura Rain, she has a quiet demeanor and ponders this writer's questions thoughtfully before answering. She laughs easily and often, a warm laughter that is genuine and comes from deep within. In some ways she is the antithesis of the wailing, yelping and at times foot stomping dynamo we had witnessed twelve hours earlier and on stage a few blocks away.
She laughs lightly and says, "I don't know, I don't know where that comes from (her stage persona). It's that part of me that creative force. It is an artistic display. It is a powerful force and connection that just occurs and the better that the band gets and the more that I work with certain people the better that I become it is just more connected and stronger."
Although, Laura Rain's band is comprised of keyboardist Phil Hale, drummer Ron Pangborn, both excellent musicians, it is the chemistry between guitarist George Friend and Rain that defines the onstage performance and the music's groove. While performing they appear to energize one another. (Editor's note: for the gig we sat in on Darryl Pierce was the drummer)
"I hired him (George Friend) on a fluke. I hired him (when I had) no other musicians. I jump right into things, get the gig first and then worry about the music. Just get the gig, that's the hardest part. (She laughs) I talked my way into this gig and someone canceled on me. They sent me a text message at 11:30 at night, my rehearsal space is flooded and I can't make it. While he is text messaging me on my phone, George is sending me a Facebook message, 'Hey I am really going to come and try and check out your show.' He sent me a couple of messages. I didn't know him, I knew of him as a guitarist. We were missing each other in travels for all of these years that I have been performing. When I came back from L.A. the first time, he went out there and when I went out there the second time, he had just come back from being out there for ten years. Again, we missed each other. I said don't come and see the show, I will pay you, come and do the show (she laughs). We talked for…they had to kick us out (of the venue) and he sent me a message the next day or two days after and he said I am one hundred percent dedicated to your project. He said you have the voice that I have been looking for, for years. You have everything that I need to perform. I am with you one hundred percent. People say to us all of the time, you guys feed off of each other. Something is just there and I don't know how to explain it. It is natural. He is a real Blues guitarist. He is the real deal. He has finesse and elegance to his playing. He plays the guitar like a man. He is very elegant and classy. It's there. He's not shouting at you. It's not the tremolo bar," says Laura Rain.
On her new album Electrified, released this summer (2013) Hale also plays bass and organ, while the solid horn section consists of saxophonist Johnny Evans, trumpeter James O'Donnell and trombonist John Paxton. Rick Beamon also guests on drums and percussion.
"Before I came back (to Detroit) the second time, I had written about twenty songs and two of them are on the record, "Lonely," and "Bus Stop," which I had written partially. I think that is it. Everything else was like automatic writing. George would play and I would just start singing. We would have the mics set up in the kitchen and we would be sitting there talking and all of a sudden the song would come about. "This Old House," was written at about four in the morning and when I was singing it, it almost brought me to tears. These are…especially the songs that I wrote with him, these are the best songs that I have ever written and I can't wait until I do another record," she says.
"This Old House," has a Blues foundation with some Funk and R&B mixed in, excellent vocals, a juicy organ groove and good guitar playing.
Laura Rain describes the song as, "an old song, but it has R&B undertones. It has a lot of different things in there and it is a more complex song. There are different changes that aren't typically in Blues. The song was written about the hard state of circumstances for some people and the things that they cause in their lives and that they don't understand," she says.
Rain was once quoted as saying that she found it challenging to write a straight ahead Blues song, because there is so much Funk in her.
Laughing at the reminder, she says, "I think that was "Electrified," (the title song), but George said, you can't write a straight…and I said oh ya' let's do this. George dared me. When we got together our mission was to do a Blues record. I have been trying to do a Blues record for seventeen years. I have tried other things. If you are going to be an entertainer for your life span and you are going to be a performer / singer, you have to go with something that is classic and that stands true. If you aren't going to be a Pop star you have to be a solid branch. Finally, we get together and I start singing all of this stuff that isn't Blues and I thought you know what, this is me and all of these elements are what I do. I don't want to do just one segment. I don't want to do twelve shuffles. All of it stems from the same thing, it is Soul music. Soul music is raw. You can put whatever label you want on it, but we're going to do this music and I think that it does have elements of all of that. I like all of that. I like the Blues tunes, I like the Funk. It is all Soul music to me. It is all just Soul singing.
I am attracted to highly rhythmic singers. Aretha Franklin would play beautifully and on the tapes where she is playing in church and singing, there is an unbelievable amount of soul and rhythm and she is just dialed (she laughs). My fans I think range from about forty to eighty. The peak, I think is about sixty-seven or seventy.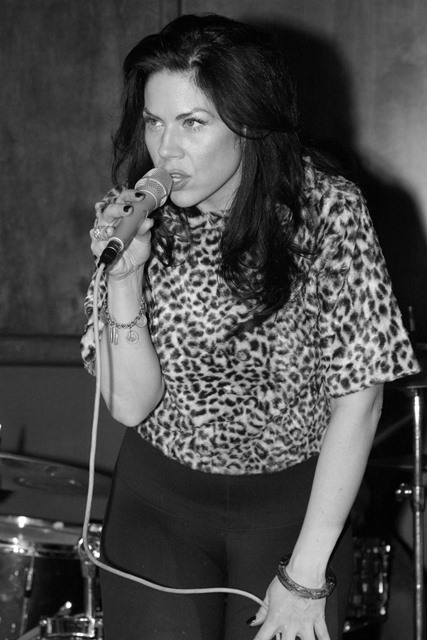 We play a kind of Dirty Memphis Soul. It is Detroit Blues, but there are elements of Memphis Soul, like "My Love," that feels like old Soul Memphis. It wasn't intentional; it is just with the players that we have, it is what we created. I think a lot of it (this type of music) is rooted in the church, so it has this singing out, Gospel, Soul."
During her performance Laura Rain at several junctures demonstrated her ability to hold a note and to hang on a phrase or word for what seems like forever. This was evident when she sang the highly danceable "Sunset."
"I think that has come about in the last year or so and I just started doing that. I think it is just a lot of years of breath support and proper…I am Classically trained, but there are a lot of things that I don't do that are proper, but I can get away with them, because I take care of myself. It just kind of came about. I think I just thought about it one day and then I just started doing it. I wonder if I can hold this note longer and then it just got longer and longer (she starts laughing a lot). I have held them longer (in reference to the performance that we saw)," she says.
As for the wails she incorporates with her vocals and our wondering out loud if perhaps Little Richard is in there somewhere, she replies, " Someone is in there dancing around (she smiles). I feel connected and I am tapped in. There is a force inside of me coming out. It is a positive source and a divine connection. (she starts to laugh louder) It is kind of a cathartic performance. It is like James Brown, we are going to groove and we are going to have fun and you should go home feeling better than when you came. It should be a joyful, cleansing experience for the people who want to come. We are raising the vibration and making you feel good. That is what you are supposed to do. Of course I like the old style of shows and I am in a time warp. I really don't listen to any current music and I wear all vintage clothes most of the time. I do my own thing and it is my way of trying to make people feel good and the transfer of enthusiasm, yelps, growls and screams are transfers of enthusiasm (and now she is really laughing). I hope it works. I want to give you some good food to go home with and make you feel warm. Hopefully, I made you feel good. I feel like I need to make somebody feel good and to help somebody. My yelps and screams make somebody feel good. When you have a funky beat, you can talk about something more serious and you can try to get a message across with a funky beat…Stevie Wonder. After it is already in their bones and they have been grooving on it for a couple of days they have already raised the level of consciousness in their brain and maybe feel better and have exuded some more positive energy to somebody else and made them feel good by listening to the funky beats.
As for some of the other songs on the album, "I think we wrote "Four Long Years," "No Good Love," "My Love," and "Sunset," the ideas, in about two days. This was an afternoon bender on a Sunday (she laughs). We started early in the day. We just woke up doing music. It was around this time last year that we wrote those songs. "Four Long Years," is one of those songs that came about. It is lamenting about a relationship or past that is no longer, but you wish you could make things better. I write these songs and it is like throwing a bomb. I told somebody that when we finished this record I went okay throw this grenade and see if it is a dud, if it blows up, I don't know what is going on. People definitely respond to "Sunset." I'm amazed, because everywhere that we go, people stop. Everybody stops and turns around," she says.
Laura Rain grew up in the suburbs of Detroit with a mother who listened to Funk and a father who listened to Opera. She was an only child who spent her summers in Chicago where her mother's side of the family lived.
"As soon as I can remember, I would be listening for the beats and it would just drive me crazy. At five (years old) I was writing my own songs and the whole scene of how I was going to be performing in front of a large audience, singing and dancing. I would create my own costumes and I would parade around the neighborhood at four and five years old in some crazy avant-garde outfit. I think I just figured out how to do it (more laughter). My first performance was in the fourth grade talent show and I sang "Every Breath You Take," by The Police a cappella. I was always singing. In preschool I was singing and pretending I was in a soap opera with all of the drama and everything. It was always, always there.
I was allowed to be more artistic and I felt more comfortable. Musically, I think my mother used to take me everywhere. She would take me to Eastern Market off of Russell and Winder. It has changed now, but it's great. It is an open farmers market. There were always street performers. I was just mesmerized by the culture and then going on the Boblo boat downtown on the Detroit River and they would either have a live band or a DJ. There were festivals. I was drawn to the music at my core. I had to be there. I felt it very strongly.
I discovered Aretha Franklin at fifteen, I think it was the Beatles first and then Zeppelin, then Aretha Franklin, then Patti Labelle. No it was Chaka Khan first, Donna Summer…Her (Chaka Khan) music was so funky. My mother would be going to school in a '78 Chrysler Cordoba, which was gorgeous. I think it had the eight track. It may have had the eight track or the cassette. We would be playing "Ain't Nobody," or "I Feel For You," or "Tell Me Something Good." I never get enough, I still listen to all of her records all of the time. She (Chaka Khan) is one of my absolute favorites," she recalls.
Although, she studied interior design and she was trained Classically as a Verdi soprano singer, Funky, Soul and R&B music were like magnets that would not let Laura Rain go.
"I think I was sitting in at clubs when I was fifteen or sixteen, sneaking into bars singing (in Detroit). I would go in and sit in. I went and sat in one night at Moby Dicks in Dearborn (Michigan) with a very good friend of mine Howard Glazer who I didn't know at the time. It just spiraled from there and I worked with him for six or eight months and then I did something else. There was a whole onslaught of different things," she recalls.
By the time she was twenty years old Laura Rain was performing four and five nights a week in Detroit music venues, prior to her two stints in Los Angeles where she sat in on gigs at The Baked Potato (Studio City) and other venues during her first ninth month sojourn and the next time she moved to Santa Clarita, California for two years and she was successful in booking gigs at numerous venues.
"I have been singing forever, but this is the first time that I've stepped out and said, here I am, take a look, good or bad," she says.
In the next six months Laura Rain hopes to be back in the studio to record an EP and she is gearing up to tour again.
You can listen to Laura Rain's music here.
Top Photo by Ingo Rautenberg, protected by copyright © All Rights Reserved. Photos protected by copyright © All Rights Reserved. Interview by Joe Montague, June 2013
This interview is protected by copyright © and may not be reproduced in print or on the internet or through any other means without the written permission of Riveting Riffs Magazine, All Rights Reserved