Legally Blonde Has So Many Outstanding Performances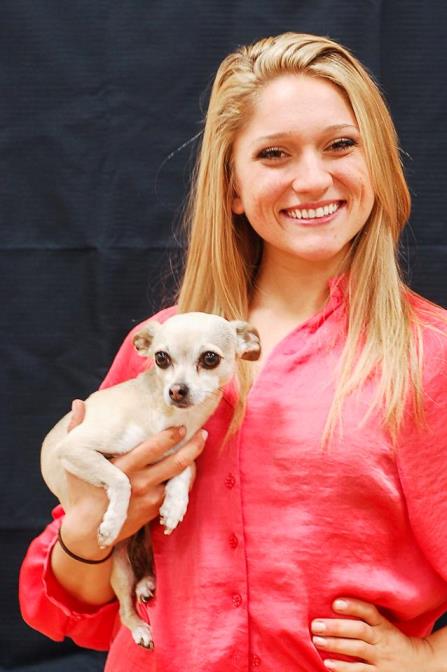 The musical Legally Blonde, as presented by the Clarkson Music Theatre opened on Friday November 17th and once again Canada's longest continuing operating music theatre company put on an outstanding performance with Emilie Westbrook in the lead role as Elle Woods. The musical is produced by Rita Ferguson, Christine McMahon and Nick Forrow, with musical direction by Jenny Pearce and the artistic director and choreographer is Renee Beiforte. Legally Blonde, which is being staged at Meadowvale Theatre in Mississauga, Canada was presented for three nights on the opening weekend and will also run November 21,22,23,24.
As with any production of this size it is simply impossible to give individual credit to all of the cast members, so we shall focus on just a few of the actors and say that there is not one weak member of this cast. Renee Beiforte did an excellent job with the dance numbers and the cast members were up to the task. The live orchestra did a good job, as they always do. We do not want to serve up any spoilers for those who are not familiar with Legally Blonde, but we will say this the highlight of the show comes in Act Two during a court room scene when the cast sings "Gay or European." This was a spectacular performance that would rival any major production, in any city and on any stage. The singing was good, the actors were tremendous and the energy level was high.
Legally Blonde centers about Elle Woods whose boyfriend Warner Huntington III breaks up with her on the eve of his departure to attend Harvard University, because in his mind and the mind of his family, she simply is not good enough for him. Elle decides she is going to get her man back by attending Harvard as well, and she gains admission through a rather unorthodox fashion. Upon her arrival at Harvard Elle encounters two individuals who will have a profound effect upon her life, the snooty Vivienne Kensington who now has her perfectly manicured nails deeply embedded into Warner's heart and Emmett Forrest, Professor Callahan's aid and he also becomes Elle's tutor. One of Canada's best young actresses Alana Bostock is cast in the role of Vivienne and the evolution in Bostock's acting in recent years is evident in this production, as she simply owns the stage when she is acting. Casting directors ought to have Bostock on speed dial on their cell phones. There are not enough superlatives in the English language to describe the performance of Neil Salinas as Emmett Forrest. This is the best stage performance we have witnessed by a man in a very long time. His feelings of frustration with Elle are never overstated and he authentically portrays the gradual transformation from she's attractive to feelings of genuine love. Emilie Westbrook also serves up a commanding performance and she leaves absolutely no doubt as to who the central character is in Legally Blonde. We particularly liked Westbrook's singing of "So Much Better," the closing song for Act One.
Although, Nick Petroff was fine in the role of Warner Huntington III his character is really a combination of a wimp and a bastard and does not lend itself to commanding performances. On the other hand Professor Callahan is a slime bucket, womanizing jerk and we hope you take this as a compliment Derek Faulconer, but by the time night was over everybody in the theatre hated you.
Honorable mentions go to Ray Chaaya as Kyle the UPS Guy, what a performance! In a limited role, Chaaya had the audience eagerly anticipating his next appearance on stage. This man knows how to communicate comedy with both his body language and his diction. Heidi Cykfo, as Paulette Bonafonte, the salon owner, is hilarious. She eventually becomes the heartthrob for Kyle, whom we are sure had more than a few women in the audience thinking gee I wish the UPS guy who comes to our office looked like him. We would like to see what these two actors can do in even more prominent roles in future comedic productions.
Oh and let's not forget the performances of Princess as Bruiser and Zoey as Rufus the two dog characters in the play. You too were very well behaved.
Take a bow all of the members of the Clarkson Music Theater for another fabulous performance.
All text protected by copyright and is the property of Riveting Riffs Magazine © All Rights Reserved. Photo is the property of Clarkson Music Theatre and is protected by copyright ©, All Rights Reserved
This review by Joe Montague is protected by copyright © and may not be reproduced in print or on the internet or through any other means without the written permission of Riveting Riffs Magazine, All Rights Reserved