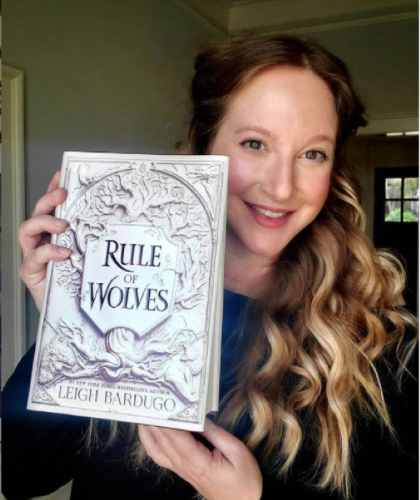 The suspension of disbelief is a phrase that I have become well acquainted with in recent years. Whether it applies to a novel, a film or some other form of art, it refers the artist's ability for a moment in time to cause us to believe something is possible that are senses tell us otherwise cannot be true. Many people became familiar with the Netflix series Shadow and Bone adapted from the novels Shadow and Bone and Six of Crows by New York Times Best Selling author Leigh Bardugo. Many more people, like this writer, became immersed in the sequel novels written as duologies, their titles, Siege and Storm, Ruin and Rising, Crooked Kingdom, King of Scars and Rule of Wolves.
At first when I read the novels, I became critical to a degree of the situation teenagers who eventually evolved into early twenties adults were thrust into. I thought things like, well that would not be how a teenager would think or react. I was skeptical of the blend of the old-world ideas and the emerging of technology that did not seem to align itself with the world in which the characters live. Enter suspension of disbelief. It ceased to matter to me, because just like the fictional drug parem that became an enemy of the people, Leigh Bardugo's character development became something I could not step away from.
Leigh Bardugo's characters offer something for every corner of our diverse society, the LGBTQ community in all of its many colors, every person no matter their ethnicity and color of skin, and the author presents women of strength in various societies who would seek to deny them of that. The cruelty of war is examined, the denial of human rights is exposed, the loss of love, the betrayal of love, avarice in its ugliest forms are on full display, as is compassion in the warmest and most meaningful ways. Small science how is it to be used and what lines should never be crossed?
The ending of Crooked Kingdom caused me to shed some tears, but of happiness, and I shared in the grieving of the characters in King of Scars and Rule of Wolves. Hope, apprehension, fear and suspicion are emotions that leap to the forefront, at least for this reader. Ahh, you say, but these are just characters in fictional novels. They are not real! That my friends is the suspension of disbelief. We know there are no heartrenders, healers, fabricators, tidemakers, squallers, inferni etc., but are we so sure? We know that the kingdoms and lands of Kerch, Shu Han, Ravka, Fjerda and Novyi Zem do not exist, but did they once? Stories of mythical gods, similar, but with different names exist in such diverse cultures as that of Greece, Roman and in Norse mythology and yet in ancient times it is probable those parts of the world did not even know of the existence of each other and stories of lost cities such as Atlantis, but others too, exist in ancient societies separated by thousands of kilometers. Are the Grisha so different than the ancient mythological gods?
Yes, Leigh Bardugo has written an excellent series of novels introducing us to characters who are believable than not, such as Zoya Nazalensky, Nikolai Lantsov, Alina Starkov, The Darkling, David Kostyk, Kaz Brekker, Jesper Fahey, Nina Zenik, Genya Safin, Inej Ghafa, Malyen Oretsev and no doubt we forgot someone's favorite character. Their conversations are believable and often I found myself laughing aloud.
Whether Leigh Bardugo's novels bend the reader towards the suspension of disbelief or the author keeps that flicker of hope alive in us that for all of our human frailty, for all the mistakes that we have made, for all the suffering that so many of endured that the forgiveness, the willingness to move on, the kindness and the romantic love that crosses ethnic boundaries, caste structure and gender and that meets with acceptance is the future that still awaits us. Maybe in the end it is not the suspension of disbelief, as much as it is the belief in something better and the endless quest to build a better future for all.
Postscript: One gets the distinct feeling that Rule of Wolves is not the last we have heard from the Grishaverse.
Please visit the Leigh Bardugo website here or you can follow Leigh Bardugo on her official Instagram account.
#LeighBardugo #ShadowAndBone #SixOfCrows #NetflixSeries #RivetingRiffs #RivetingRiffsMagazine #CrookedKingdom #FantasyNovelReviews #SiegeAndStorm #KingOfScars #AlinaStarkov #Grishaverse #RuleOfWolves #TheDarkling #RuinAndRising
This review by Joe Montague published September 1st, 2021 is protected by copyright © and is the property of Riveting Riffs Magazine All Rights Reserved. All photos are the the property of
Amelie Blake unless otherwise noted and
all are
protected by copyright © All Rights Reserved.
This interview may not be reproduced in print or on the internet or through any other means without the written permission of Riveting Riffs Magazine.