Interview by Joe Montague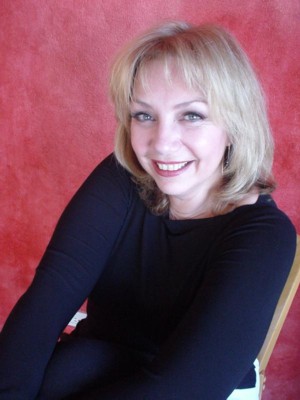 "They have to own the words, get acquainted with the words, inhabit the words, and add character to the words. You have to be able to deliver the words in such a way, that you hit somebody with those words, so that they feel something really deeply," says jazz vocalist and educator, Linda Ciofalo, who late this year released her second CD Sun Set. She was responding to my question concerning what she feels is important for her to impart to the voice students that she teaches.
In light of Ciofalo's remarks, it is therefore easy to understand why she delivered such a powerful and emotive performance when she recorded the songs for Sun Set. She colors the song "The Last Day Of Summer," with melancholy shades, paints a dreamy mural of subtle romanticism for "Love Is Stronger Far Than We," and serves up a smoky cover of "Comes Love." Ciofalo is also able to draw upon a vast musical vocabulary that includes jazz, pop and classical influences, which in part explains how songs such as Madonna's "La Isla Bonita," two Beatles' tunes, "I'll Follow The Sun," (Paul McCartney) and "Here Comes The Sun," (George Harrison), found their way onto Sun Set, with new arrangements written by Ciofalo and her pianist John di Martino. The album also includes more traditional songs such as Rodgers and Hammerstein's "Oh What A Beautiful Morning," and the Richard Rodgers / Lorenz Hart tune, "You Took Advantage of Me."
Sun Set is Ciofalo's first project since her debut CD Take The High Road was released in 2000, when she was emerging from a career as a pop singer. She talks about that experience, "I did Take The High Road to get myself established as a jazz bandleader, and it (coincided) with my starting to head up a combo. It pretty well served as a demo for what I could do, so I could get gigs."
"My second CD was (the culmination) of eight years of thinking about all the influences that I had experienced. (At one time), I had thought about doing different tribute albums to (a variety) of composers and lyricists. All of that went through my head," says Ciofalo.
The New York City native who grew up in Brooklyn, and later in Queens, talks about her approach to familiar tunes, "I recorded "Oh What A Beautiful Morning," in an unorthodox way. I did it in 5/4. People loved that I did that. From there I started thinking about how the day goes, from the beginning to sunset. I had done some of the songs over the years, but before I went into the studio, I got together with John di Martino, who helped me with the arranging. I had some of the ideas, and he helped put it on paper for me."
One of the more daunting challenges was to create a new arrangement for "You Took Advantage of Me," a song in which the primary instruments are Ciofalo's voice and Matt Wilson's drums. "I love the bare quality and the rawness of just the drums, without the voice, because both of those can be done without any amplification. Having just the drums and the voice goes back to the ancient times. You need two very musical people to pull that off, and I had a really good musical drummer. I would have him play, and then I would motion to the band, not to come in yet. I would continue with it (the song), ahead of the tune, up to the chorus, and then I would bring the band in. That was a little risky, but when we were doing it in the studio the guys were going, 'Ya' it sounds good. Be brave.' While we were doing (the song) the engineer was up and dancing around (she laughs). I said maybe we should layer it and stick in a bass or something, but they said no it was cool, and to just leave it (the way it was). That was risky, because not too many people do (just) drums and voice," notes Ciofalo.
It goes without saying that to record a Beatles' song has inherent risks, but to record two Beatles' songs on the same album is really putting yourself out there. Ciofalo acknowledges the risks, "I think there is (a risk), but that is what Miles (Davis) did, (take a tune and do it differently). That is what jazz is to me. You take the tune, listen to it a hundred or a thousand times, and then you start hearing little things inside of it that you may want to pull out. That is your job as an artist, to shake things up, and to make people look at things in a different way."
After singing with pop bands, Ciofalo decided to get some more voice training at the Juilliard School, noted for its excellent teachers and the caliber of musicians and singers that it turns out. "I thought that I could use some more technique. While singing with the pop bands, I had to simulate a lot of the artists who were out there. At club gigs, they expect you to sound like Whitney Houston, Madonna and all of those people. I was losing some of my classical background, so I went to Juilliard to get those chops back," she says.
"After Juilliard (and being a pop singer), I went into the big band arena. That was a whole different style of singing. I didn't know what a big band chart was, until they put one in front of me, and I didn't know how to read it. They told me to just try to sing something that was like a standard, so I sang "Mean To Me." That is how I got that gig. I beat out three hundred people, and I was shocked when I got the phone call to do it. Then I had a lot of homework to do," Ciofalo recalls.
In preparation for her big band debut Ciofalo listened to recordings by Ella Fitzgerald and Frank Sinatra, to whom she refers as, "two of the greatest teachers a jazz singer could have." She was also influenced by instrumentalists such as Stan Getz, Louis Armstrong and Houston Person.
There have been some, hmm, how shall we say, interesting moments during Ciofalo's career. The singer often played with the big band for daytime gigs, and sometimes it was not possible to find a babysitter for her twin boys who at the time were two years old Mom came up with the ingenious solution of having them hide behind the stands that shielded the musicians' legs from the audience. Ciofalo thinks that given those experiences, it is not difficult to connect the dots as to why her son's began playing horns at a young age.
Even Ciofalo refers to the story behind her winding up on stage with Les Paul, in 2001, as a "strange story." "My husband has a Les Paul guitar, and I said to him that he should go down to the Iridium to have Les Paul autograph it. My husband didn't have any interest in doing that. I was star struck by Les Paul and thought he was a genius. I told my husband that I was going to take the guitar down to have Les Paul autograph it (she laughs). When I got there, I met another jazz vocalist who knew the person that owned the Iridium. She told the owner that I sang and I was (invited) back to the green room to meet Les Paul. This was just insane. I went down there and met him. He was a sweetheart. I had some flyers about an upcoming performance, in the guitar case and he was looking at them. He asked if that was me and if I sang. He asked me to go up on stage with him to sing a couple of tunes, and he told me that he wanted me to come back again. I did, and that is how I ended up singing at the Iridium with him."
One gets the feeling in listening to Sun Set, and the air of confidence, but not cockiness that is reflected in Linda Ciofalo's voice as she talks about her career, that there are numerous other big stages awaiting her.
Interview by Joe Montague, all rights reserved, protected by copyright © 2008 Return to Our Front Page