You would be hard-pressed to find an iconic music figure with whom violinist, arranger, composer and singer Lisa Dondlinger has not performed with and / or recorded with during the course of her career. To name drop for a moment, Lisa Dondlinger has performed and / or recorded with Lady Gaga, John Legend, Andrea Bocelli, Beyoncé, Stevie Wonder, Rihanna and Tony Bennett. That is barely scratching the surface of her musical resume. Perhaps you have seen her appear as a soloist or concertmaster on the Grammy Awards, American Idol, The American Music Awards, The Voice, The Ellen Show, The Tonight Show or The Academy Awards, Dancing with the Stars, The Emmy Awards and the Latin Grammy Awards.
The former Miss America beauty pageant contestant who represented the state of Iowa (Miss Iowa) sat down with Riveting Riffs Magazine recently to talk about her current album Movies & The Masters, as well as her career.
In talking about her album Dondlinger says, "I have always heard melodies together in my head and I know that sounds really weird, but I always hear things that lend themselves to something else. One of the things on the album that I am the most proud of and sounds the most weird is I was hearing Stravinsky's Firebird Suite and especially two of the movements Infernal Dance (Of King Kashchei) and the Finale. I was trying to figure out what could go with them? What would sound really cool with them? The thing I came up with was Jai Ho from Slumdog Millionaire. It is definitely a Pop tune (originally recorded for the movie by Sukhvinder Singh, Mahalaxmi Iyer and Vijay Prakash). The Pussycat Dolls recorded it (as well). It is definitely a Pop dance song. I was working with Chad Rehmann who was the co arranger with me on two-thirds of the pieces. Then Herman Jackson, Natalie Cadét and Raul Ferrando each arranged one tune with me.
At first he thought I was crazy and he was not interested at all in putting Stravinsky with that tune. I kept sending him clips of how I heard the melodies coming together. He got it and it ended up being possibly my favorite thing on the album, especially live, because when I do it with the orchestras it is the big finale of the show.
My goal for the album was to reach audiences that maybe didn't even know that they loved Classical music and they just knew that they liked good music. I wanted to present the violin at a very high level and I wanted to show with all of the arrangements what the violin can do only with more styles. Did you know the violin can do this?
With that big number being Bollywood and a dance number the violin is like the shining star of it. When the audience is standing up in an orchestra concert and dancing with me that is the best thing that I could have ever hoped for. In that moment I knew that everything I was trying to do with that album had come to fruition. I reached all audience members, every age group, every nationality and (different) styles of music. They loved it. I was really proud of that. I feel that the goal of the album is really coming through."
Continuing she says, "I was looking for what my voice was going to be in music and the legacy that I wanted to start leading as a solo artist. For my whole life I have loved Classical music and film music, but I don't want to just do what everybody else has already done. There are thousands of violinists who are fantastic with just the Classical repertoire and have done it beautifully. I wanted to do something a little bit different. What can I do that is outside of the box?
My goal is to be on the Pop series for orchestras. Because we have multimedia, a lot of the times we will show some of my videos during (the performance). I do a lot of costume changes, so that it feels more like a show. I am moving around and I wear a wireless mic pack for the violin, so I can dance around. I also can go into the audience.
We created this whole multimedia thing. We have a marching band that comes down the aisles (she laughs lightly). It is definitely best suited for a big concert hall with an orchestra."
We are thinking this album must have been quite the undertaking.
Lisa Dondlinger agrees, "With each project that you take on if you knew how much work it was going to be in the beginning maybe you wouldn't do it. When you go to record an album for the first time you have no idea how hard that is going to be, but then when it is done it feels really great. When I decided to do the live show and do the live orchestration that was even more work than I could ever have imagined. I feel leading up to this point in my life that is the hardest that I have ever worked on. Just putting that whole show together and being able to say I have an album, I have a live orchestra show that I created it feels pretty amazing. I think very few (artists); especially violinists have gone to all of that trouble of creating an entire orchestra show without a record label. That feels pretty good."
If there are orchestras that would like to book Lisa Dondlinger for a concert they can contact her through her website.
My next big thing is to get an agent who books orchestral soloists. I am finding out that is a really big area and unless you have someone that people know and trust it is difficult to get into it. They usually go through the people that they know and trust already. That is my goal for the next few months is to find an agent who will help me.
I had incredible feedback from the first performance and I look forward to performing the program again during the 2019-20 orchestra season," she says.
Lisa Dondlinger's journey began in Des Moines, Iowa, the only child, an adopted child in her family. Do not mess with the Dondlinger family however, because while the immediate family was small the extended family was quite the opposite.
"My mom had twelve brothers and sisters and my dad had three, but they all had lots of kids. I had lots of cousins and lots of aunts and uncles. My grandmother had thirteen children and that was with my grandfather being away to World War II for a couple of years, so there probably would have been one more if he had not been away. They lived on a farm in Iowa. They were super poor, but they had food and things like that, because of the farm.
My mother was the oldest of the kids, so she is very motherly," says Dondlinger.
Her parents were not musically inclined and she says, "That is why I always joke with them that I must have been this crazy, weird kid, because I am completely different than them, which worked out really well. They don't want to be in the spotlight at all, but they are super supportive of me. They definitely encouraged me to do whatever I needed to do musically. The difference was that they saw my musical talents, but they didn't know what to do. I was lucky that I had a public school teacher who talked to them about getting me into private lessons. That is the one thing they would not have known what to do with me.
In the Iowa school system back then they would bring instruments to the third grade (students) and you had a choice of whatever you wanted to learn. I picked the violin. At first they put us into group lessons. The teacher noticed that I learned everything immediately and I would be standing there for the rest of the time. She told my parents that I was learning really quickly and that it would probably be more appropriate for me to take private lessons instead of standing around the whole time. That way I could move at my own pace. I was in fourth grade when I started (private lessons)."
Lisa Dondlinger's first solo performance actually predates her lessons, "I was four years old and I was in preschool. I had planned the song "You Light Up My Life," and I learned it on my own to surprise my mom at a Christmas show. She had no idea that I was working on it. That was my first time singing solo. I sang first (before I played the violin). In church I did tons of singing.
I was super lucky, because my church music program was much more than just a choir. We learned theory from a really young age. We learned solfege, harmonies, ear training and all of that stuff right away. I started the violin at what was considered to be a late age for most professionals, because some people start at three or four. However, because I already had so much theory, knew how to read music and I had been singing for so long I had a concept of what I wanted the violin to sound like. I think I sounded better than most beginners, because I already knew the sound.
I continued in private lessons and I had choirs and all that other stuff all through high school. We did all state and those kinds of things and then in my junior year a teacher from the University of Iowa knew about me and he invited me to start studying with him. Another girl and I would car pool and our parents would drive us up and we would take lessons on the weekends with the teacher from the University of Iowa. I was in all of the youth symphonies during the week and in show choirs and dancing."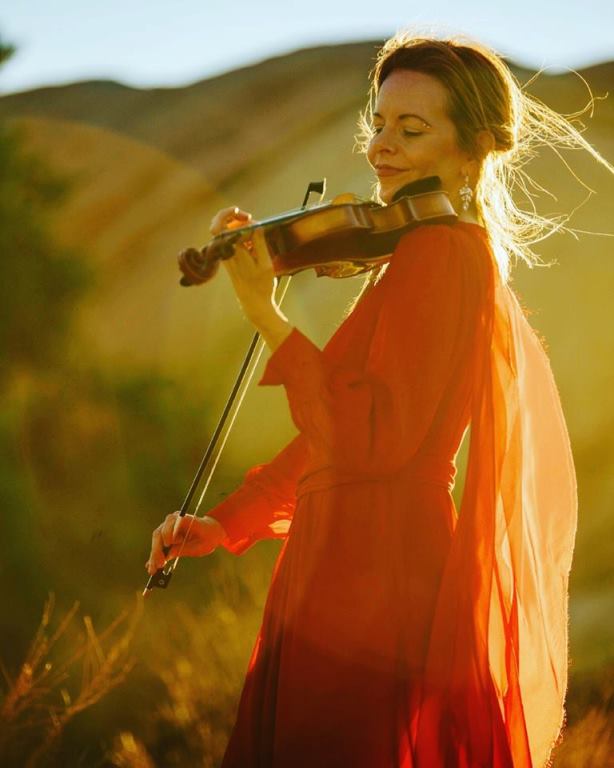 Nobody can ever say that Lisa Dondlinger's listening environment had a direct bearing on how she evolved as a violinist and we are saying this with a smile. Her parents listened to the music of The Oakridge Boys and her father in particular loved the music of Anne Murray.
"They also had some funny records like the "One Eyed Purple People Eater." (She laughs lightly)
(When I was older) I used to go to dance clubs a lot and I used to wear earplugs. Sometimes people would make fun of me, but I really didn't care. It is my livelihood, so I have always been really protective. It has paid off, because I have started to see other people in my generation have problems with (their hearing). You have to be really protective all of the time," she says.
Seguing back to the violin, Lisa Dondlinger says, "I was offered a full scholarship to go to (the University of) Iowa and I did my undergrad there. That is when I started having my first singing private lessons. I had mostly been in choirs and show choirs until then. In my sophomore year there were big changes for me with the violin, because my teacher wanted me to start practicing more intensely. I went to some really intense summer programs and it was my first chance to hear people from all over the country and how high the level was. Hilary Hahn who is a very well-known Classical violinist was at camp with me. I thought if this is the level that is out there I need to get a little more serious.
For the next couple of years I really buckled down and I started practicing for a few hours a day of really quality time. I auditioned for my Master's degree at Indiana University. I went there for two years and I completed my Master's degree. It was during that time that I started hearing about pageants. I won the Bill Riley's Iowa State Fair Talent Show. In Iowa it was an institution. I went every year, while growing up, but I had never seen a violinist do it, so I didn't think it was something that I could do. The year previous, a friend of mine who is a flutist won and I thought wow, if she could win, maybe a violinist could. I remember going to a small county fair at first, because you had to qualify by winning a county fair. There were over one hundred people there to audition and none of them were violinists. They were all dancers and singers.
When they first started calling I remember saying no every time and I said that is not what I am interested in. I am a serious musician and I am good at grades and all of that stuff. They said don't you understand that is exactly what we do we give scholarship money for school. Eventually, they convinced me it was a good idea and I ended up winning Ms. Iowa, so when I graduated I was debt free. I had scholarships from the schools and anything the schools didn't cover my Miss America scholarships did. It was a really cool thing.
The biggest eye opening thing about the Miss America system was how hard you have to work. You just see what is on TV. You have the interview, but you don't see any of that on TV. You don't see the community service work. You don't see the hard work that goes into the talent (part) and into the fitness, so you think maybe it is not as difficult as it is. It is so much work, so much work.
The other girls in the pageant were similar to me, they were very driven and they were very academically oriented. They were very good with interview skills and intelligent. Those were all surprises along the way for me. I worked really hard. You don't know if you were going to win, but I left no stone unturned. I won the interview portion, I won the talent portion, I won community service and I won academic. I pretty much knew when I won all of the (parts) of the competition that I had a good shot, but you never know. I kept hoping and I kept believing. It was super exciting when I was crowned.
I think the thing that was so exciting was it brought me closer to my family. My (parents) and my extended family were supportive, even though they didn't identify with Classical violin, but everyone knows the Miss America pageant. My cousins would be at school and they could tell their friends, oh my cousin is Miss Iowa or my aunts and uncles would say my niece is Miss Iowa. My grandmother would say my granddaughter is Miss Iowa. That kind of stuff was really cool for me and to be more connected with my family, while doing something that they could all really understand and love.
Some of my cousins said their friends didn't believe them and it was before social media, so you couldn't just write on their Facebook wall. Sometimes I would call them and they would realize it really was me or I would get a newspaper clipping and show them."
Following the beauty pageants the next few years were busy times for Lisa Dondlinger and marked the beginning of her professional career, as a musician.
"There were enough things that I had lined up for myself that they lasted for two years. There were solos with orchestras and speaking engagements. I was at a crossroads, as to what I was going to do next. I auditioned for a couple of orchestras around the country. I won some jobs. When I was growing up I wanted to be in an orchestra, but once I won the jobs it hit me that I wasn't going to be using all of the gifts that I really needed to use. Rather than taking one of those jobs, I auditioned for the Henry Mancini Institute, a summer program in Los Angeles. It was a different kind of music program, because it introduced you to improvisation, film scores, Pop music and just a whole different array. It really spoke to me at the time, because I was branching out. When I gave up my title (Miss Iowa) one of the things that I did was a piece that was Vivaldi, but done in a different way with a Rock music background and with dancers. I felt like that was my real calling.
I decided to stay (in Los Angeles) and to see if I could make a go of it. You can do that when you are young, you are not married yet and you do not have kids or anything. On my most difficult days I would ask for a sign. Should I stay here? Can I keep going? Some little thing would happen, some kind of a spark and I would think okay, I can stick it out a little longer. I can do this. Here I am eighteen years later and I am still here," she says.
The word overnight success is overused and belies the hard work that many people put in to achieve their dreams.
"Nothing happens overnight. Everybody's path is really different and it depends on who you meet and who chooses to take you under their wing and help you. Unfortunately, I didn't really have anybody take me under their wing. Most people, especially women were not happy that I moved here. When I first started I wanted to play the violin so I took some orchestra auditions out here, which I won and that is how I first got noticed. If you win an audition, obviously you must be able to play something. That is how I first started getting the word out. The Henry Mancini Institute had an alumni orchestra. We got to do some really cool concerts like playing with Tony Bennett, playing with Stevie Wonder and playing with Take 6 and I was the concert master. I would have solo opportunities and people would hear me and then the word of mouth is the most important thing in LA. When you do get an opportunity you make the most of that.
One of my favorite stories is when I was playing with Tony Bennett. We were playing the song "Smile," and there was a big violin solo in the middle. Afterwards, I knew when he was supposed to come back in and he didn't and I was deathly afraid that I had done something wrong and that I had screwed him up or something. I talked to his music director afterwards and he said no he was just so mesmerized by you that he didn't come in. It was such a beautiful moment for me, to be on stage with Tony Bennett. He was listening and he was captivated enough that it took him into a different space for a few moments. He gracefully came in a few moments later. It was a really cool moment for me.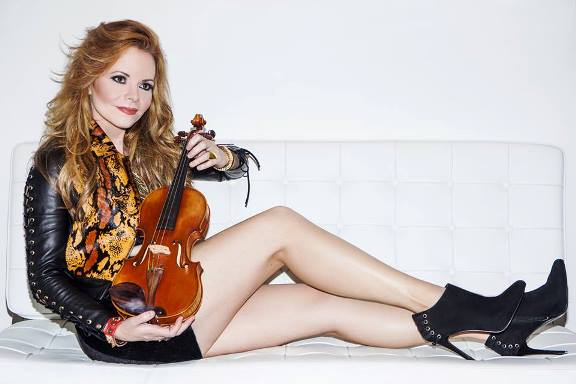 I think that was the big thing that I was always ready when the opportunities arose and I made the most of them, as word spread little by little.
I moved out here finally in 2002. My TV stuff started in 2007 and that was the big turning point. I had gotten a few movie things leading up to that. (After that) I was on the radar of American Idol music director Rickey Minor and his contractor. It really changed everything, because once you start working in the TV world other people see you on TV and they think of you, so you are given other opportunities. It was a really good fit for me," she says.
As for special moments, Lisa Dondlinger says, "There are a lot that I can think of. The Tony Bennett one is obviously special. The very first TV special that I ever did was the Academy of Country Music Awards with Martina McBride. I used to sing her songs and I still do. I think she has a phenomenal voice. I remember being on stage, while waiting for the TV break to be over and my lip started quivering. I wasn't crying and I wasn't nervous. I was so happy that I literally could not control my lip. It was one of those moments that told me this is what I was supposed to be doing. For me TV is the coolest thing, because you have a live audience and I love live performances. You also know that there are millions of people around the world are watching you at that very moment and I thrive on that kind of pressure. I remember that moment was really huge for me.
I had the opportunity to play solo on American Idol twice. The first time I was pregnant with my son (Tristan). I was four months pregnant and I wasn't showing yet. I remember (She smiles) thinking how cool it was with all of the experiences my baby had, while still inside of me and I was doing TV. He was on stage (Tristan) with me for the American Idol finale. We were performing with KISS. There were pyrotechnics and everybody was protective of me to make sure that I was safe. I was on stage with Aretha Franklin at the Hollywood Bowl with him, as well. He got to do a lot of cool things, before he even knew what he was doing (light laughter)."
We talked about all the tremendous artists with whom Lisa Dondlinger has performed, but she still offered up this, "There are two that I really want to (perform with), Justin Timberlake and Bruno Mars. I don't think that Bruno Mars has used strings on anything yet, but Justin certainly has."
What often gets overlooked is the fact that Lisa Dondlinger is also a good singer.
"It is true (that her singing is overlooked). Growing up it depends on when you knew me, because growing up everybody who knew me through high school and college definitely knows that I sing and that is not even a question. When I competed in the pageants, all of those people knew.
When I moved to LA I continued studying with some coaches out here, especially to change my style a little bit. The violin picked up more and you have to focus on something. I have not performed in LA as much on voice, as I did on violin. I put a video out on Facebook of a song I learned. I recorded it that day and I got so many (good) comments that I knew I had to start singing more. Friends knew that I sang, but they did not know what I sounded like. That is definitely what I want to get into more for future projects. I want to build my own home studio, so I can record. I have ideas all of the time for things that I should do. Because I don't have a home studio yet, I don't get them out there as much as I should," she says.
Lisa Dondlinger, in addition to her regular concerts, also puts on special pre-concerts for autistic children and she talks about why, "My son is on the autism spectrum. I understand as a parent how difficult it can sometimes be to bring children to a concert and especially orchestra concerts. Parents are afraid that the children might make a sound and someone will give them a dirty look. These kids can't control that and they need to make sounds and they need to get up and move, so they aren't normally welcome at orchestra concerts. What I do is to give a shorter version of the concert ahead of time and we try to make it free for special needs families. The last time we did it we had a local instrument company set up instruments, so the kids could try whatever instruments they wanted. I have them dressed as superheroes and they are called Super T concerts. I have tee shirts that go with them.
When the families first came in they all sit at the back and near the exits. I am really comfortable with the audience and I talk to them throughout the show. I tell the story behind how each piece was created, so they feel more connected. I tell them they can sit in the front row or in the middle. You can make sounds and you can dance. Nothing is going to stop me from playing. I am not going to lose focus, just because somebody else makes a sound or somebody moves. I am the perfect person to get these kinds of concerts going. It just doesn't bother me. There are kids dressed up like superheroes. The families can relax and they don't have to worry if their child is going to cause some kind of embarrassment. It is so wonderful and successful. It is such a great thing. Wherever I go the Super T component is a part of it. It can morph and it can change depending on what that community wants to do."
Riveting Riffs Magazine thinks Lisa Dondlinger is a pretty special Super Hero too, so next time you see someone carrying a violin and wearing a Super T shirt, it just might be her.
Lisa do you have any final thoughts?
"What has always driven me is I have so many goals and sometimes people will see certain things that I have done and they will think that I have made it. That doesn't really exist to me, because you always have to continue doing stuff to keep making it. You can't just rest on what you've done. I am super thankful for all that I have done. What do I need to still do? What is the next thing? That is why I recorded the album, because I felt like I am so fortunate and I have performed with so many amazing artists and (I thought) what am I doing to leave a legacy," she says.
Please visit the website for Lisa Dondlinger.
You can listen to one of the songs from Lisa Dondlinger's album here. Return to Our Front Page
#LisaDondlinger #MoviesAndTheMasters #LisaDondlingerViolin #LisaDondlingerSinger #LisaDondlingerConcertMaster #RivetingRiffsMagazine
This interview by Joe Montague published July 17th, 2019 is protected by copyright © and is the property of Riveting Riffs Magazine All Rights Reserved. All photos and artwork are the the property of Lisa Dondlinger
unless otherwise noted
and all are
protected by copyright © All Rights Reserved.
This interview may not be reproduced in print or on the internet or through any other means without the written permission of Riveting Riffs Magazine, All Rights Reserved