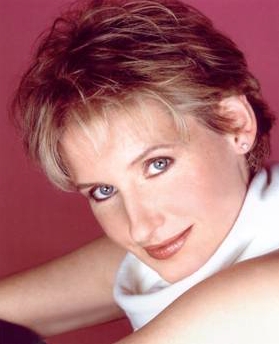 It is not often that you get to interview some of the world's favorite fantasy characters, Grizabella, the glamour cat from the Broadway musical Cats, the animated Anastasia, or Princess Jasmine from The Return of Jafar and Aladdin and the King of Thieves, but recently the very gifted Broadway actress and singer Liz Callaway took time out from her performances in France and in the United States, to talk to Riveting Riffs Magazine. Callaway spent the better part of five years as part of the cast for the Broadway production of Cats and she provided the singing voice for Meg Ryan's Anastasia, as well as providing the vocals for Princess Jasmine. Callaway also appeared in the original casts for the Broadway productions of Miss Saigon, The Three Musketeers and The Look of Love and she was nominated for a prestigious Tony Award for her role in Baby. Liz Callaway received a Drama Desk nomination for her performance in the Off-Broadway production of The Spitfire Grill and she has appeared in numerous other Off-Broadway productions, including; No Way to Treat a Lady, Marry Me a Little and Godspell. Although, she is approaching iconic stature as a stage actress and singer, Liz Callaway remains grateful for the opportunities which have come her way, including her part in the Follies in Concert at the Lincoln Center.
Liz Callaway, who grew up in Chicago, reflects upon how she started down this path to what many would refer to as stardom, even though, she might be too modest to frame it in those words, "When I was in high school, I would go to New York by myself, when I was fifteen and sixteen years old. I would stay in a cheap little hotel so I could see shows and I would go to the half price booth. The fact that my parents let me do that….(she bursts out laughing) They would not have let Ann (her sister Ann Callaway) do that, because Ann would have got into trouble. She would have been like, 'Oh what's this, a jazz club? I'm going to go here.' I was very careful and very street smart, at a very young age and I don't know why. That is just sort of who I was. In some ways I was sort of mature for my years, but in some ways not at all. I was realistic about things."
"I was eighteen when Ann and I moved to New York City and when moved, I knew that I had potential, but I was very raw and I needed a lot of work. I made a goal to get into a chorus of an Off-Broadway musical in three years. (she laughs again) First of all, I didn't realize that Off-Broadway shows don't have choruses, then I ended up doing much better, much sooner, than I expected. After a year I was cast in Merrily We Roll Along (Stephen Sondheim). I didn't have crazy high expectations at first. I felt like I had talent and I knew that it would take time and it would take work. I have been very fortunate to have a very interesting career (which includes an Emmy Award for a children's program, as well as a MAC Award for Sibling Revelry with her sister Ann). For me, doing Merrily We Roll Along, was the ideal first show experiences, because it wasn't successful. I got to work with great people and I was a huge Stephen Sondheim fan, so that was incredible, but we previewed for two months and we went through all of these changes. It was a show that was very troubled, although, by the time that we opened, I thought that it was wonderful. I still think that it is a great score, but it didn't get great reviews and it closed after two weeks. It was devastating, but that is what this business is. If my first Broadway show was successful like Wicked or something, then I would have nowhere to go but down, and I would have gone, 'This is the way that it always is.' I was pretty much a realist anyway and I was just thrilled to be cast. I wasn't all that starry eyed. I knew that there were problems with the show and that maybe it wouldn't be successful," says Callaway.
Callaway notes that there were many benefits to working in Merrily We Roll Along, despite the show's lack of success. Those benefits included the opportunity to work with great writers and directors and being able to absorb the whole process as they made changes to the production. She says that the experience matured her and helped her to understand that (in her words) it is a crapshoot when you do a show, as the critics may love it or they may not love it.
In contrast, Callaway recalls another production in which she appeared, "In '85 (September 6th,7th) there was a two night concert version of Follies In Concert and it (starred) Carol Burnett, Lee Remick, Many Patinkin, George Hearn and Barbara Cook (also Betty Comden, Adolph Green, Liliane Montevecchi, Elaine Stritch, Phyllis Newman, Licia Albanese) at Avery Fisher Hall (Lincoln Center) and (we had) a full orchestra. We recorded it and it got great reviews. The audience response was unlike anything that I have done since. Frank Rich of the New York Times gave it this incredible review after the fact, and then it was over. I went 'Ah, that's what it is like to be in a hit, to have that feeling of ah that's it, and it was over in two nights.' I thought this is my career. This is the life, with so many ups and downs. You get used to it and it helps, because you have to be thick skinned."
Now in her late forties, and with her son Nicholas in college, Liz Callaway finds herself in the position of being the standard by which young, up and coming stage actresses and singers measure themselves. "It is very humbling and very flattering, and you want to live up to that. It means a lot, especially when I meet young people and they say 'I grew up listening to this,' or 'I want to sound like you.' Anyone that I ever teach, I say to them, you want to be you. The one thing that I will say about myself is I don't think that there is anyone like me, for better or for worse. There's a lot that I can't do. I'm not great at everything, but I think that I am unique and I don't sound like anyone else. I don't think that I sing like anybody else and I embrace that and that is what I always tell people that they should do. It is wonderful to be inspired by someone, but don't try to be like them. When you are young, you want to be like everyone else and then when you are older, you realize the opposite that you don't want to be like anyone else and it is better to be unique. I do feel a great responsibility to do a great show."