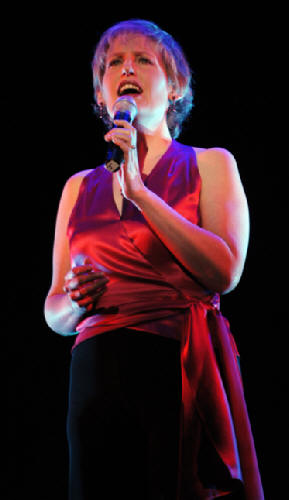 With her new album Passage of Time, Callaway demonstrates both her eclectic taste in music and her ability to interpret music drawn from many genres, much as she did with her 2001 release The Beat Goes On, which featured songs such as; the Sonny Bono title track, Laura Nyro's "Wedding Bell Blues," Pete Seeger's "Where Have All The Flowers Gone?" and Jimmy Webb's "MacArthur Park." For the album Passage of Time, Liz Callaway covered the Lennon and McCartney tune "Eleanor Rigby," Burt Bacharach and Hal David's "Raindrops Keep Fallin' On My Head," "Make Someone Happy," (Jule Styne, Betty Comden / Adolph Green)"Memory," which she performed in Cats and she recorded a duet with Ann Callaway, "That's The Way I've Always Heard It Should Be," written by Carly Simon and Jacob Brackman.
"When I talked to Tommy Krasker my producer he was interested in having me sing songs that reflected where I was in my life, as opposed to a theme, (such as) all movie music or all this, and just choosing songs that I wanted to sing. In the last few years, I made a list of songs that I felt I was too young to sing, because in my mind, even though I am in my late forties, my voice is very youthful sounding. I thought, I would never sing "Being Alive" (Stephen Sondheim). I would never sing "Patterns," the song from Baby that was done by the older character, the middle age woman. It never crossed my mind to sing something like that. I made a list of songs for which I felt I was too young in my warped sense of myself or that I would be afraid to sing. Afraid isn't quite the right word, but it was more like, 'oh gee I don't know if I would tackle that song, because I don't know if I have what it takes emotionally, to sing that song.' Some of the songs on the CD are kind of that. They are more personal and more of me embracing my age and embracing my experience," says Callaway.
"The last six months with losing my father (John Callaway a broadcast journalist) and then with my son going off to college, it has been quite a time, and so you have a lot to sing about and you have a lot of deep feelings. Some of the songs on the CD sort of reflect that. "Secret of Life," is a wonderful philosophy and it is a song that I had heard someone do on a James Taylor special. My process for choosing songs for a recording is I sing a million songs and I record them, and then I listen back to get a sense of if I would want to hear it again. Sometimes a song that you love to perform and that you love to do live isn't necessarily something that you would want to record or that you would want to hear. I didn't decide to call the album Passage of Time based on "Secret of Life," until pretty far along. In fact, I recorded half the CD first then several months later I did the second half and "Secret of Life," was in the second half. "Passage of Time," is a lyric in "Secret of Life." It just sort of worked," she says.
"It has been seven years in between my CDs (Anywhere I Wander –Liz Callaway Sings Frank Loesser, 2003) and just trying to choose the material was killing me. I am very indecisive in general, when there are so many choices for something. I have a very hard time making up my mind and I felt a huge pressure for this album to be something special. I am very proud of the CDs that I have done and I love recording. I absolutely love it. I think for anyone, it is like, how do I do the next one? I felt a great deal of pressure for this to be a really good CD, but at the same time, to make it something that I wanted it to be and not try to appeal to the masses. I wanted it to have meaning for people," says Liz Callaway.
Twenty-seven different musicians performed on Passage of Time, several of them playing more than one instrument, under the musical direction of Alex Rybeck, contributing to a very full sound that presents the listener with the opportunity to partake in a live experience.
"There are a number of songs on the CD that are smaller, four or five pieces, but there is nothing like singing with an orchestra. I just came back from Paris where I was singing with an eighty piece orchestra, but without using that many players, (on Passage of Time) there is a beautiful full sound. There are certain songs that we felt would be emotionally enhanced with a bigger orchestration. I know how lucky I am, because it would be much easier and less expensive to do something with just a piano or just a few pieces. I was very fortunate to have some of the songs be fuller. The orchestrations were so magnificent," says Callaway, while noting gratefully that numerous investors were involved, making it possible for this project to be completed, including several individuals.
"In the past, I have done some albums, when you record to a trio and then you add musicians afterwards, but with this (album) everything was sung live, with all of the musicians there (in the studio). Tommy Krasker my producer feels very strongly that it inspires a different performance when you are all in a room together. I agree. It was more pressure, because we had to do it quickly. We did six songs on one day and seven songs on another day. For the most part they were first and second takes. I usually find that your first instincts in recording are your best. The thing that I have learned about recording is that you want the performance; you don't want to be perfect. Hopefully you have a great performance and it is perfect, but it is the emotion and the performance that it is more important than everything being absolutely pinpoint perfect, which is why I wouldn't want to spend a month on a song, because you take the whole life out of it, if you become too technical. (This album) is more organic and it is more in the moment. I think that when you are talking about music that people will have more of an emotional reaction to, that is more important," says Callaway.
Interview by Joe Montague, all rights reserved, protected by copyright © Feburary 1st, 2010 Return to Our Front Page