Magda Salinas was just about to conclude her five week run in the play Y gritamos sorpresa! (So We Shout Surprise!), directed and written by Sara Palomo and presented in Madrid, Spain, when she took time from her busy schedule to talk to Riveting Riffs Magazine. She also had a recurring role as Doncella during the third and fourth seasons of the very popular Spanish television series Gran Hotel. In addition she has appeared in other Spanish television shows and the web series Entre amigos. At the time of our conversation Magda Salinas was also writing a one-woman play.
Just like in North America where some of the most iconic actors, actresses and music legends began their lives far from the centers for the film, television and music worlds, in Spain it is not uncommon to find that actresses such as Magda Salinas grew up far from what now is considered the hub for film and television production in Spain, the city of Madrid.
Let's take a journey to Almeria, a city more than one thousand years old located in the southeast of Spain in the region known as Andalusia and where life began for Magda Salinas.
She talks about life in Almeria, a city with a population approaching 200,000, one she describes as being sunny and with a large coastline. Almeria has beaches, the desert, mountains, so we have everything.
"My father was married and he had four kids, but his wife died. Then he married my mom. After seven years they had my sister and then twenty-three months later they had me. I am the youngest of six siblings. My oldest brother is twenty years older.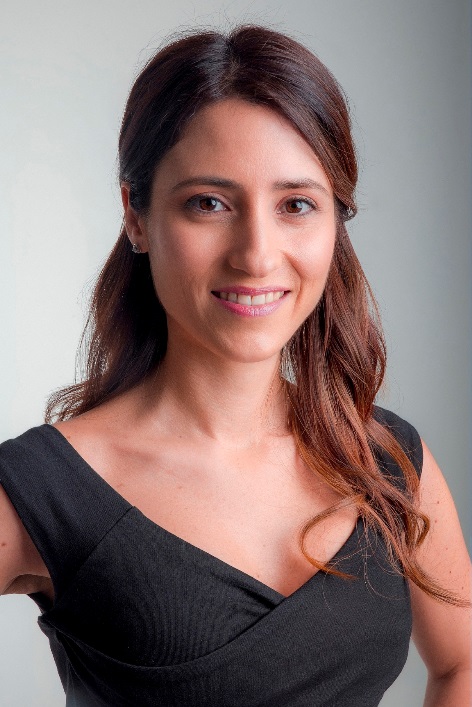 Almeria used to be very empty concerning the arts. A long time ago they used to film a lot of movies over there. We have a mini Hollywood in the desert. It is a western town where they used to shoot movies in the sixties and seventies, but now it is a theme park," she says.
Magda Salina's first interests as a child were in music.
"This is crazy, but I think everything started when I had a friend at school when I was eight or nine years old. She said, I'm going to piano classes and she asked if I wanted to go with her. I said I would love to and when I told my mom she said, oh you want to do that? My mom said okay why not? If you want to do that, let's go. I started classes when I was nine and when I turned ten my teacher said well guys you can go to the conservatory. She said go there and take a test and then you can try to get in.
I said why not, but I was not very thrilled. I said, I don't mind. I took the test and it was funny, because we were older. Usually people start when they are eight, but we were ten. We got the maximum score on the test. We thought it was so cool, but they didn't have a spot (for us), because we were older. We couldn't take classes in the conservatory, but then my mom said let me try to apply for a trumpet for you, because there are plenty of spots. I tried the trumpet for six months and then my mom said, somebody told me you could change and go for the flute and you can take flute classes. I said okay I like the flute more than the trumpet. My mother thought if you are in the conservatory already then you could move from the trumpet to the piano and it would be easier. I was good with the trumpet, but I didn't like it. I started with the flute, but it was the last three months of the course. The flute teacher said instead of going to the first or second year, you can go (directly) to the third year.
For me it was not so difficult. The teacher was impressed, because for the first part of the classes they only take one part of the flute and how to blow. Then he said I needed to take the whole instrument. I took the entire flute and he started teaching me the fingers and all of that and he said okay you have got it. That summer I took classes every week, once a week and at home I would play every day. The musician's life is super hard. I started at the third grade and afterwards he wanted me to take the test to go to the fifth grade. I got sick and I couldn't, so I took the fourth and then fifth. I studied until the eighth grade.
I still play the flute and I am working on a theater play (at the time of the interview) and I have to play the flute. I am so thrilled. When I studied at university I couldn't play and I stopped. I also liked to sing a lot."
Magda Salina's interest in acting came from another source, "When I started watching Spanish television shows I was more interested in seeing "the making of" the behind the scenes more than the shows. I thought I want to do that and it looks super fun. I told my mom that I wanted to study that and I wanted to act. She was yeah, yeah you will grow up and then you will change your mind. I didn't change my mind.
I told my mom I wanted to go to dance classes, so I studied dance. I knew that I had to sing, to dance and to know music if I was going to study acting. Here in Spain to go to the official school and if you want an acting degree you have to do all of that. You study acting, you have literature and voice. You also have music, singing and dancing. We study direction, production and makeup. It is a four year program. We take everything that you need to know about your career."
Continuing to tell us about her childhood she says, "I took dance classes and I was still going to my music classes.
My father's sister was a singer. She didn't continue her career, because she had to make a choice between her boyfriend and her singing and she chose him. She did however win a singing contest and she was really good. My other aunt used to dance with my uncle and they won a lot of dance contests.
My first performance (before an audience) was Christmas theater and it was the The Three Wise Queens. In Spanish the three wise men is (referred to) as kings. We say magic kings. In this case we were three girls, so it was three wise women or three wise queens. I was maybe eleven. It was in church.
Then when I turned fourteen my mom found out about a theater course they have in my hometown at the city hall. It was for people who lived in Almeria. I loved it. At the end of the year we did a performance.
When we created that performance we were with teachers who were professionals. I loved the teacher. She was my first acting teacher and she was super nice. That was the first one that I really remember well and I have a program that they made with our pictures. It probably was terrible, but for me it was the best thing. It was cool, but it was weird, because it was the same story told by twelve different characters. It wasn't a play when you have a conflict. It was different characters talking about something that happened that they saw or somebody told them about. Most of it was monologues and the actors talked to the audience.
I played two characters. One was a young lady who was very alive and very funny and for the other one I was a policewoman and there was a scene with a thief.
I was fifteen when it (concluded) and there were still two more years, before I could study acting, so I kept taking a lot of dance courses. There were very specific ones taught by very famous dancers. I also continued with my music classes. I was just waiting for the time to go (to university). When I was seventeen it was time for me to go (to study acting), but my dad didn't want me to do that. My father said no that is not what you are going to do. I picked something different to study, because I wanted to do what my parents wanted me to do. (Looking back) I would have made a different decision if it was now.
I thought I like languages and I am good at English and I am good at French. By that time I had a good level of French, but not now. When I went to the United States I stopped talking French. I think it was because I started talking English and everytime that I tried to talk in French I ended up talking in English. It was weird. Now I can understand it and read it, but I cannot talk. I went to Madrid for one year to study translation and interpretation."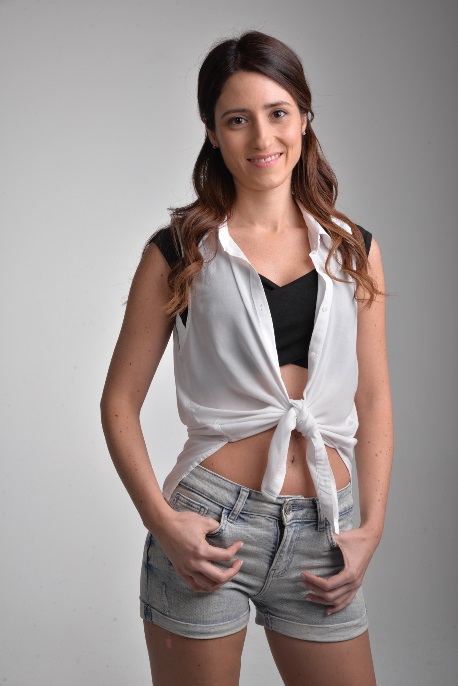 There are things that you notice immediately about Magda Salinas and were evident long before out conversation, as we had corresponded for a few months. She is very articulate in English and in fact in many ways she has a better grasp of English than a lot of people who claim it as their native language. You also are impressed with her sharp mind, thoughtful insight about film, television and theater in all of its forms, as well as life in general.
As for her ability to speak English so well she says, "When I was little we were taught English in school when we were eight years old, but I started when I was four or something, as soon as I could write and read. I started studying English at an academy. My mom said that it was something that was not negotiable. You have to go and you have to study English and that is it. There is no discussion. At the academy they only taught vocabulary and then they said and now we will draw. When I was six my mom said now you are going to the other academy and this one is going to be tough. It was tough. I got there and sat down and the teacher said you have to do what I am writing on the blackboard. It was ten sentences that we had to translate and I had no idea, because I didn't know any grammar. I only knew vocabulary. It was tough in the beginning, but then it became easy. You just had to study what they said with verbs a lot. Every day we had a test of verbs. We used to translate sentences every day and we would talk (in English) in class.
When I started studying the English classes at school I pretty much got bored with them. When I was little it was weird that I knew all of this English, because when I was in middle school the teacher didn't know as much English as I did. Sometimes I corrected her and she was thinking oh my god this girl! Now they start studying English from the time children are three years old or four years old. My nephew he is three and he went to an English daycare."
The conversation segues back to Magda Salinas' pursuit of an acting career. She tells us about her next stop.
The name of the school I studied at in Málaga is Escuela Superior de Arte Dramático (ESAD) de Málaga (In English: The Superior Schoolf of Dramatic Arts of Malaga) (Editor's note others who have attended the same school ar Antonio Banderas (well-known to North American audiences), Maggie Civantos (Ondas Award for National Television Best Actress in Fiction), Belen Cuesta Llamas (nominated in the past for Goya Awards for Best New Actress and Best Supporting Actress, recipient of the Ondas Award for National Television for Best Actress in Fiction) and Maria Barranco who was the recipient of a Goya Award for Best Supporting Actress).
Escuela Superior de Arte Dramático (ESAD) de Málaga is the same as the university, but because they are arts studies they do not do it at university here in Spain. That is the fight that we have."
Magda Salinas' first acting role came during the final year of her four year program at Escuela Superior de Arte Dramático (ESAD) de Málaga and it was working with what some might describe as an avant-garde theater company in Malaga.
"The play was created from a theater laboratory. This guy took some techniques from people who created different theater techniques. We (practiced) movement with our bodies and it was choreographed, but it was not dance. Then we put the text with the movement, but it didn't make sense. We glued it together. It was super weird. Not everybody could understand that theater. The only thing you needed to understand was what the characters were going through. What we were saying and the way that we were saying it didn't make sense, but you could see what was going on," she says.
Upon graduating she moved to Madrid, because she said there are many more opportunities in Madrid for an actress, as it is a big city. Magda Salina's also wanted to get her Master's Degree, which she did and her focus was on acting in front of a camera. Shortly after moving to Madrid she auditioned for a role in a children's musical and she landed the part.
"After I was in the children's musical and after I received my Master's Degree I got a small part in a play that was in the same theater. Then I started making a lot of short films and working in television. I started getting calls for small parts. I got the part as one of the characters in Gran Hotel. In the beginning they called me for a character with a story and a conflict and all of that, but they changed it and I had a recurring role. I was supposed to be in season two, but they cut it, but I appeared in season three and four. I thought after this I would have a chance to get something else," she says.
Gran Hotel created by Ramon Campos and starring Yon Gonzalez, who is kind of the modern day Clark Gable of Spanish film, television and Netflix series and also starring the incredibly talented actress Amaia Salamanca was broadcast on television in numerous countries around the world, including the United States under the name Grand Hotel. In Spain the series ran for four seasons starting in 2011.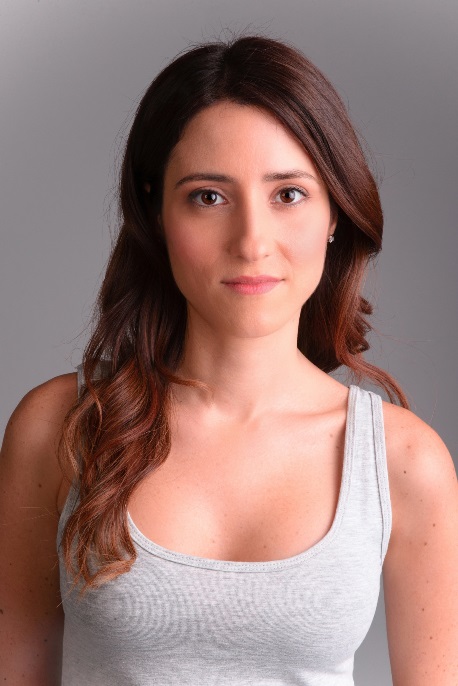 Magda Salinas continues, "After Gran Hotel, I looked for a job, any kind of job, but I didn't have a lot of experience, only as an actress, so it was hard to find a job because my resume was filled only with acting credits.
(Editor's note: During this period of time Spain had not yet become the dynamic hub for television, film and streaming production that it is today. Also unemployment in the mainstream workforce was extremely high and at one time reached 28 %.)
Following the lead of a friend of hers, Magda Salinas interviewed with eighteen families in the United States as an au pair, before she found one that was a good fit. This would provide her with the opportunity to attend an acting school in America.
"Finally I found my family and it was great they lived in Brooklyn. I could go to any acting school in Manhattan and they were awesome. We had an interview on Skype and everything was perfect. On October 21, 2013 I went to New York and I stayed there for one year. I started going to auditions and I got a call back for a musical in New York. It was crazy. I didn't get the role obviously.
After a while I was a little overwhelmed, because I worked a lot with the kids and then I would go to the auditions. I didn't understand, because it is very different. In the United States you go to the audition and you read and over here in Spain when you go to the audition you have to know all of the (lines). You have to do it already. I didn't understand and I would go and I had already memorized the (character). I said I can do it and they would say okay, whatever you want. I didn't know how to just read it, because English is not my native language. I thought this was not helping me to live my experience (in America) so I am going to stop doing this. I just did what I wanted to do in the city and after being there for six months I had already improved my English. I then applied for acting classes at HB Studio (Herbert Berghof Studio). I wanted to take a specific course in the third year and I had to audition, because I didn't want to do the first or second year. I was admitted to the third year. I wanted to work on a scene and that is what I did. I studied for four months with Austin Pendleton and it was great. He wrote a recommendation letter for me," she says.
Some of the alumni who have studied at HB Studio include, Jeff Bridges, Robert De Niro, Whoopi Goldberg, Hal Holbrook, Jessica Lange, Barbra Streisand, Sarah Jessica Parker, Al Pacino and Sigourney Weaver.
While Magda Salinas was in the United States and after she finished her stay in New York City, she took the opportunity to travel for a few months throughout the country. She also took classes in Los Angeles at the New York Film Academy in Hollywood. She then returned to Spain.
"I stayed in Almeria for a few months and it was terrible, because I was depressed. Can you imagine one year living in the United States and then travelling around the United States and you go back to Almeria, a small town and you don't have anything to do. I was like okay I should look for a job and I don't know what to do here," recalls Magda Salinas.
She became involved in a relatively new development on the theater landscape called microtheater and directed one play in Madrid.
She teamed up with director and screenwriter Sara Palomo for the web series Entre Amigos that was produced in the style of a television show. The show was created in 2013 and 2014 and can still be viewed on Youtube. This is the same Sara Palomo with whom she just finished performing in her play Y gritamos sorpresa! (So We Shout Surprise!) in Madrid.
"I was in this play, because I worked with Sara before and she called me and said Magda I have a play that has already been on stage for two seasons in Madrid in two theaters. I have a character that I think you can do. I couldn't do it in the beginning and then when I called her afterwards she had another actress. Later she called me and said the actress was no longer available. She asked me if I could please do it. I had a shooting for another film and I moved it so I could do the play.
The play is about a group of four friends and they are waiting for the fifth friend, because she had gone abroad, but now she is coming back and the five of them are meeting for the first time in a long, long time. In my case the character has money, she likes jewelry. She is married and she has two kids and they are twins. She has a very big house and she is always doing everything that she is supposed to do. She is in her wife / mom role. She has known her friends since they were all little and they are all different and they think differently. They do not think that they should do what the wives were supposed to do in the old society. She is kind of comfortable with the position that she has both about money and social life. It is a comedy," she explains.
Recently with her friend and actress Mar Paris they produced and acted in a short film. She talks about that experience, "Mar Paris came here to Madrid, because she received an invitation to a presentation at a short film festival (sponsored by) ABC, which is a newspaper. When we went to this presentation we thought we could do something and we could try to do it here for the festival. I told her I have an idea, which is very simple. The next day in the morning we went to the royal palace and we recorded it."
Magda Salinas edited the film and at the time of the interview it had received the fourth most views in the competition and garnered a lot of positive feedback.
What is next for Magda Salinas?
"I am also creating and rehearsing a play out of a theater laboratory, and I am also playing the flute. In December we are performing a microtheater play called Woman In Love and we expect to make it longer afterwards, so we can sell it as a regular and longer play," she says.
Magda Salinas is still a young actress and a she is a good actress. She has received some of the best training both in Spain and in America and Riveting Riffs Magazine wants to go on record as saying we think you are going to be reading and hearing a lot of good things about her in the future.
Please visit the website for Magda Salinas
#MagdaSalinasActress #MagdaSalinasActriz #ActrizesCineEsapna #ActrizesEspanola #RivetingRiffsMagazine #RivetingRiffs
This interview by Joe Montague published November 11th, 2019 is protected by copyright © and is the property of Riveting Riffs Magazine All Rights Reserved. All photos and artwork are the the property of Magda Salinas unless otherwise noted and
all are
protected by copyright © All Rights Reserved.
This interview may not be reproduced in print or on the internet or through any other means without the written permission of Riveting Riffs Magazine, All Rights Reserved