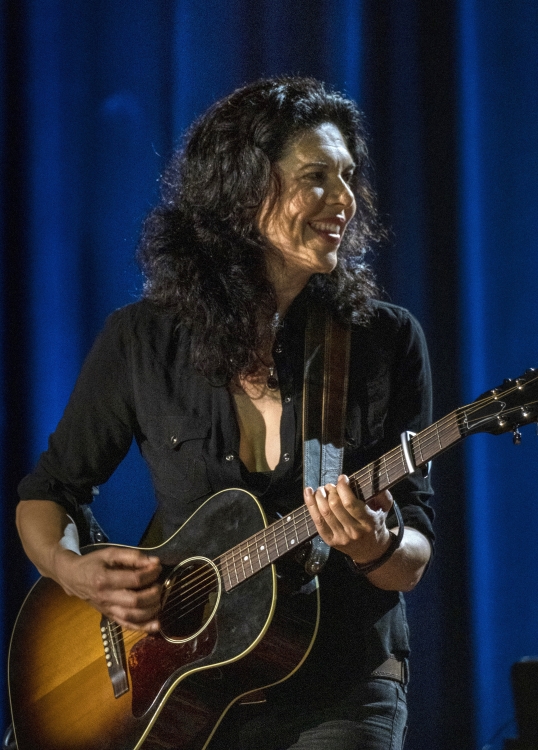 Maia Sharp's new album Mercy Rising takes the listener from the highs, of the beautiful, seductive and romantic "You'll Know Who Knows You," which may be the ultimate love song of this century, to the reflective and picturesque "Things to Fix," about a relationship that has ended. The former, burns with passion, mixed with 'I want you and nobody else,' and the latter uses the metaphor of fixing broken and worn things in a house for what the individual failed to address in the relationship, that perhaps would have made a difference. The words, "What I should have said / And what I should have done / Ya' I keep skipping over number one / On my list of things to fix," will take anybody who has been in that moment back there again.
The person in "Things to Fix," stands in contrast to "John Q Lonely," from Maia Sharp's 2008 album Echo, and he was also dealing with a relationship that had come to an end.
She explains, "It shows that I have been doing it long enough that we can compare the end of a relationship thirteen years ago compared to the end of a relationship now.
"John Q Lonely," is just a crab and his reaction to being hurt is just takes his football and he is going home. He is not going to play this game anymore. He closes himself off. His reaction is to pout. If love didn't like me then I'm not going to like love.
"Things to Fix," is a pretty different mindset. It is open and she is aware enough to see that there is something at the very top of my list that I'm avoiding, but the crux of the song is procrastination. It is when you have something in front of you that you should really be prioritizing. All of a sudden, the screw in the doorknob is the most important thing, because you will do anything to distract yourself from the most important thing you should be working on.
The biggest difference between the songs is "John Q Lonely," was a title that I had, and I brought it to my co-writer Mark Addison who I had been writing with on and off since my first album. It was from a phrase that we liked, and we created a character. "Things to Fix," is real. I moved to Nashville at the end of 2019, and I found my place a couple of months later. Anytime you move into a new house there is always something. There are little things that…as cool as the previous owners were, there are always little things.
My marriage of twenty-one years ended in 2018, so I came here as a single person. There were things I said to her that I wish I hadn't and things that I didn't say that I wish I had. Since then, I have had the opportunity to write those things. We are really, really close and there is a ton of love there and there always will be. At the time I came here, and I thought well I don't know how to fix that yet, so I am going to paint this room and I am going to clean the baseboard. I occupied hours of my time on the house things. The song is more literal than you might suspect.
I had the first verse and the concept of the title. A wonderful songwriter, Noah Guthrie, who lives in South Carolina was coming through Nashville and a mutual friend hooked us up. He has a great voice with kind of a folky slant and a little bit of Country, but Willie Nelson style Country and I played him the song and he loved it, so we finished it. I knew it was some things to fix, but I wasn't sure what the punch line was. I had the verse list of things to fix, the drawer and the window, but I didn't know the punchline. We found the last line in the chorus together, "I keep skipping over number one." We were like, got it! Cool! That's it! What was even more fun was thinking of more things to fix for the second verse."
What strikes one about the song "Things to Fix," is how it plays before the listener in cinematic fashion. You walk through the house, you see oh yes, over there is the drawer that needs fixing and what is wrong with that window? We wondered where that ability comes from.
"I don't know, it would have to be who I listen to. There must be an influence like that. The first songwriter I ever listened to was my dad, Randy Sharp who is a wonderful craftsman. His music was around all the time and it was very observant, thoughtful, and layered. When I was growing up there was Bonnie Raitt, Paul Simon, Ricky Lee Jones, Joni Mitchell, and Jackson Browne. There is always another layer to them too. There is always a little sidebar serving of something.
I am mostly introverted, so I tend to be quiet, and I listen more than I talk. Writing let's you really think about it and boil it down and present it exactly the way you want to present it. There is probably a little perfectionism in there too. I don't want to speak off of the cuff, I want to really prepare it, before I present," she says. (Editor's note: Randy Sharp has won three Grammy Awards and a small sampling of artists who recorded his music includes, Edgar Winter, Reba McEntire, Kathy Mattea, Clay Walker)
As for the first song we mentioned, "You'll Know Who Knows You," it is romantic, tasteful seduction and steamy, but at the heart of the song is the expression of I want you and when tonight is over and the sun rises, I will have unveiled my soul to you, and you will understand just how much I love you.
Stepping back for a moment to Randy Sharp, we wondered how much influence he was and her mother, Sharon who was a singer turned university professor were upon her Maia Sharp's decision to pursue a career in music.
"I felt like I was always going to do something in music. I can't even think of an event or some epiphany. I didn't know what I was going to do in music, but I was obsessed with music. I needed to find out which side of music and what I was going to do with it.
I think the thing my parents really gave me is they showed me that music can be a viable career. Yes, you can chase a dream and it can be your job. It doesn't have to be just the hobby on the side. They proved that. They also were in no position to tell me to go and get a real job, because there they were. I had their support. I got really lucky on the parent side. They are really awesome. Dad was also always there to advise. He never pushed anything on me, but if I asked him a question he would take as long as I needed. He showed me around the studio. He taught me how to use a reel to reel and then the ADAC, how the patch bay works and now we are going over to software. I remember Session 8 was our first software. (She laughs and says) You could only do eight tracks," Maia Sharp recalls.
For the album Mercy Rising, Maia Sharp acted as her own producer.
"I started recording in 2019. I had just moved to Nashville at the beginning of that year, and I was getting settled into my new place. My first call was to Joshua Grange who is a freakishly talented electric guitar and steel player. He has a wonderful studio here in Nashville called Resistor. I asked him if he was available and if the studio was available. I had been coming to Nashville for about twenty years, so I had a list of musicians that I had worked with and because it is Nashville all of them are top shelf. I knew I was going to find some really great players.
Josh offered up that he had just worked with a drummer and a bass player that work together a lot and he said that the three of them locked in right away. The idea that Josh, who I trust said he likes them and the opportunity to eliminate the question, yes, I know I am going to have great players, but are they going to play great together, knowing that he saw that happen already, I went and hired the musicians that he referred me to. It was Ross McReynolds on the drums and Will Honaker on bass.
At the end of '19, I got that last little window of time when I was able to track this album with humans in a room and in real time. We could work through it and we could try different things and then I took all those files back to my place and finished it up. I did all the vocals here, did all the acoustic guitars, piano, Wurlitzer, so I could be off the clock. I could take as long as I needed to, and I could look for whatever little sonic signature that I felt each of the songs needed. I got some of them in the tracking sessions for sure, but there is always some little flavor that I have to find, and it tends to take me a while. The luxury of being in my own space as long as I need to be is pretty awesome. Half of it was real humans in a room and the other half of it was me alone in the cave," she says.
Things went along fine until, three months later and she contracted COVID-19.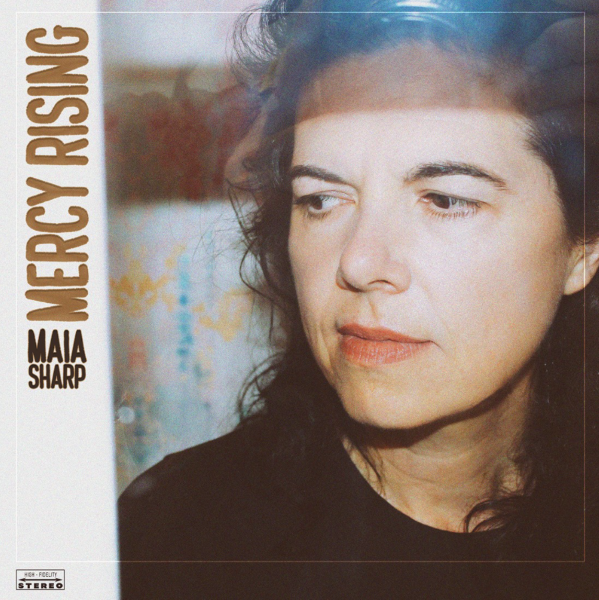 "I did not have an easy road of it. It came with pneumonia for me. It was during the early days of the pandemic, March of 2020. I think I will tell you the precursor to it. A tornado came through my neighborhood in Nashville, which was a new neighborhood to me, and tornadoes are new to me. I was raised in Los Angeles and I speak earthquake. I don't know what to do (for tornadoes). I know you get as low as you can in your house, so that was a scary night. The week following the tornado, which came through on March second of 2020, everybody was doing a benefit show for those who didn't have the money to fix their homes after the tornado. We were gathering more often and more concentrated than usual. It was early March when we had heard of COVID and we know it was out there and we really didn't know (much else). Nobody was wearing a mask. We were hugging it out and saying are you okay friend, yeah, hug, hug. There was more contact that week.
On March 10th I woke up with what I though was a sinus infection and it turned into pneumonia. They finally tested me and two weeks later I got another part of it. That is how long it took to get the test results back. During the two weeks that I was waiting for the result, it was the most scared I had ever been about my health. It was really hard to believe, I had no energy, I didn't even go to bed, I just stayed on the couch and slept. It was rough. After the pneumonia was on its way out and I was through the really scary part, it took another two weeks just to have a conversation without having to hack up a lung. It lingered for a while. I had a couple of aftershocks like crashing fatigue days, anxiety spikes and headaches. It hung around for a while.
Having said all of that, experiencing a tornado and having the scariest health event that I have had made me appreciate everything more, which came in handy in a big way for the year that would follow. It was very challenging to pivot and figure out how I was going to make a living now. All my shows were cancelled, and I couldn't see my friends. All of that was hard, but I always had in the back of my mind that I was standing upright, I was healthy, and I made it through the tornado. The fundamental side of am I okay, was yes, I am okay. I can make it through this," says Maia Sharp.
The eighth track on the album, "Junkyard Dog," has a bite to it.
"That was written, with Gabe Dixon and Park Chisolm, before I was thinking of my next solo album. I was still living in Los Angeles and I just had that seed of an idea. "I feel like a junkyard dog and I am here protecting something you don't really care about. Our love is just like a pile of old tires." I came in with just that. I had a writing session with Gabe and Park and I specifically saved that seed of an idea for them, because they are both great players. Gabe is the B3 player for the Tedeschi Trucks Band and Park is just a great electric guitar player. They both have a bluesy, swampy side to them, so (I thought) we have to go full swamp on this thing.
It was one of those on the album, as a favorite song that was just kind of waiting and that when it came time to do another solo album, I wanted to do it. The album was split between songs that I was feeling at the time and songs that were written to get what I was feeling out of me into the world," she says.
Well, that provides us with a nice segue, so Maia are your songs like pages in your life.
"Yes, but until this album, it is in the way that you just said. It was in an indirect way. I can hear the influences, the inspiration, I can hear the production choices and what I was prioritizing at the time. They are all snapshots. It all makes sense to me that record was made in 1997 and that record was made in 2000 and that one in 2003. They are showing me the subtleties of where I was in my life, in my career, with my confidence level and with my perfectionist versus humanity and the ratio of that. This record is the truest and it is the one that word for word, lyrical, historically accurate lines of what my life has been the last two years. I am thankful for that. Seeing those hard, true things, helped me to get past a lot of them. The record itself ended up being a therapy. I see the reflection or snapshots in all the other ones, but this one is just like a slap in the face, because it is so obvious. I think I am more loyal to the truth now and I don't know if it is a growing up thing.
I have been writing with an organization called Songwriting With Soldiers for the last four years and I have been changed by just being in a room when soldiers or veterans and / or their family members are sharing stories with me. They are real, raw, and powerful. It is their realness, how changed the person sharing the story can be, then the person who hears those stories thought that they were alone and finds out that they are not. I have really come around to the power of sharing a true thing.
I have experienced a lot of changes and there have been a lot of things to write about during the last two years, but also, I want to write about real life stuff. I guess it was fortunate or unfortunate, depending on how you want to look at it that I had a lot of real life things to write about for this album," Maia Sharp says reflectively.
The ninth song on the album is one that many people can relate to, "Not Your Friend." The title might suggest something quite different from how the song unfolds.
Laughing Maia Sharp says, "This is a real one too. It is about having feelings for your friend that your friend may or may not welcome. It is about that moment when you finally decide the risk is worth it and anything would be better than where you are now. It is about the torture of being close to someone that you want to be closer to. It is palpable and nobody is saying anything, but now it is time to say something. Hopefully, it doesn't blow up in your face. Hopefully, they stick around, but you can't help yourself. It is like a volcano and it is coming out.
"Not Just Friends," was originally on a Roscoe & Etta album, with her duo partner, at the time, Anna Schulze and it was not a single, so it didn't get the attention I thought it should. It is such an unapologetically sinister song. I know you think I am your friend, but I really want you to unbutton your shirt one more button. I just wanted to give it (the song) one more swing. It has its second life on my solo album," she says, making clear however, that this song does not have a predatory tone to it.
Maia Sharp's album, Mercy Rising, released on May 7th is a very good album, from a top drawer singer and songwriter and a fabulous person.
You can follow Maia Sharp on her official Instagram account here.
Middle Photo by John Partipilo
#MaiaSharp #MaiaSharpMusic #MaiaSharpAlbum #RivetingRiffs #RivetingRiffsMagazine #MercyRising #MusicInterview #MaiaSharpMusica #EntrevistaMusica #MercyRisingAlbum
This interview by Joe Montague published May 13th, 2021 is protected by copyright © and is the property of Riveting Riffs Magazine All Rights Reserved. All photos and artwork are the the property of
Maia Sharp unless otherwise noted and
all are
protected by copyright © All Rights Reserved.
This interview may not be reproduced in print or on the internet or through any other means without the written permission of Riveting Riffs Magazine.