Manda Mosher Reflects Upon Tom Petty, the City of Clowns & Calico the Band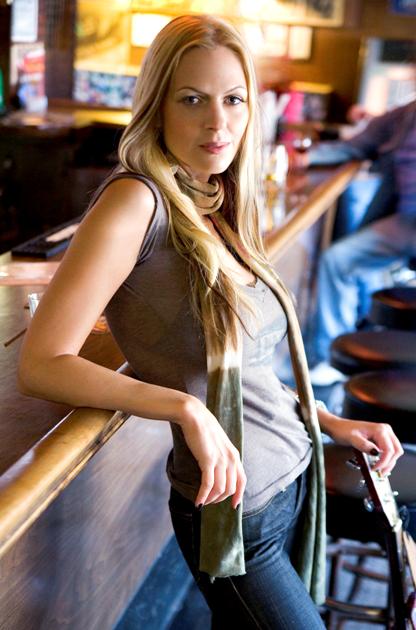 When Manda Mosher graduated to junior high school after spending several years in her elementary school choir, she was told that she could not be in the choir in her new school, because her voice was not strong enough. Her music aspirations could have ended tragically that day instead, she grew up, shortened her name to Manda Mosher and became a talented singer-songwriter.
Manda Mosher now reflects upon that experience, "It kind of broke my heart at that point. I couldn't go into choir and I had already started writing and playing guitar, so I decided to take private guitar lessons," she recalls.
Being denied participation in the junior high choir could have been devastating, but Manda Mosher, years later, would year after year be honored at the LA Music Awards for honors such as, Best Female Artist of the Year, Best National Touring Artist, Pop Single of the Year for her song "Wash It All Away," and Rock Single of the Year with the song "Mister Madness." Three years ago, Manda Mosher also appeared on Craig Ferguson's popular late night show.
Manda Mosher, whose family has been in Los Angeles since the mid-1800s, had always been around music, during her childhood years. Her father Bob Mosher played a Flamenco guitar and her grandfather, also named Bob Mosher played the piano and ukulele. Her great-grandmother had played the piano and that piano sat in Manda Mosher's parent's home and so she began to tinker on the Steinway. She learned how to play her grandfather's ukulele and when she was physically big enough she learned how to play her father's Flamenco guitars.
Where did this all begin? "I started out in a brother and sister band, as a rhythm guitar player and when they (the brother and sister) moved away I was forced into being the lead singer for the band, because there wasn't anyone else around. I think I must have been twelve. This is so embarrassing the band was called the Hydraulic Snowmen. I did not pick that name, because I came in originally as the rhythm guitar player, so they picked it and I just had to live with it. I didn't like it (she laughs).
The precocious twelve years old also wrote her first song that year. "It was called "Leave My Heart Alone," and it was, "Why don't you leave my heart alone / Don't keep me waiting by the phone / Leave my heart alone." It was about my first boyfriend who was fifteen and he would steal his parent's car at night to come and see me, but beyond that it was just the telephone and we didn't have cell phones back then. Remember, we just had the phone in your house and we didn't have voicemail. There wasn't any email or anything like that and my mom told me that you aren't supposed to call boys, so I would just wait for him to call. Instead of going out and doing something, I would just wait in the house by the phone and hope that he would call. It was a tortuous thing," she says.
At fifteen years of age Manda Mosher became the lead singer for the band Crossroads and she says that unlike the Hydraulic Snowmen, she did have something to do with the naming of this band.
"The music (of the Hydraulic Snowmen and Crossroads) was Rock with acoustic influences. With the Hydraulic Snowmen, we were mostly doing covers and a few original tunes that weren't mine. I brought some Blues and Country influences into Crossroads. I was also playing electric guitar and lead guitar and the Rock stuff was starting to come in too. Crossroads morphed into more of a Rock thing.
During her early teen years, Manda Mosher figures it was sometime between when she was thirteen and fifteen years old that her grandmother on her mother's side of the family made a phone call to Manda's mother to inquire about a band that wanted to use the Wilshire Ebell Theatre, where she was president, to do a video shoot.
"She said to my mom, 'There is this Rock band that wants to shoot a music video here and I don't know about this, because I don't want anyone to trash the place,' and my mom said, 'What Rock band is it?' and she said, 'The Traveling Wilburys and my mom was like 'Oh My God, that's Dylan, Petty, George Harrison,' and she said, 'It will be fine, don't worry about them trashing it.' Once she knew it was going to happen, my mom made sure that she took me out of school and she took me down to it. Then I got to meet them. It was during the filming of the "Wilbury Twist." John Candy was in it, Whoopi Goldberg was there and Woody Harrelson was there," she says.
Manda Mosher recalls that day, "I was standing behind the soundboard, while they were doing playback. Tom Petty was the one whom I was really fixated on and for some reason he was my favorite Wilbury. Do you know when you get that heart pounding thing? I went up to the soundboard guy and I said, I have to meet him. Can you tell me when it will be a good time? He said just hang out here and I will let you know when. I said okay. They had a break and he said, go now and I said okay. My heart was pounding and I walked up to him and he had his back turned to me, his guitar strung on him and he was pulling cigarettes out of his back pocket. I said, 'Excuse me Mr. Petty,' and he turned around and he said yes, with this big smile and I said, 'I am a big fan of yours and I spread my arms really large.' He laughed and he said, 'Actually, you are one of my littler ones. I said, 'I've got this band and we are playing your songs and there is this drum part (in one of the songs) and we can't figure it out, because it sounds like it is more than one drummer.' He said, 'We overdubbed the toms on that.' I said, 'Okay, that makes sense.' I said I brought some stuff and I asked him if he could sign them and he said okay. I brought a poster and a Tom Petty songbook and then he took it back to all of the guys and he had everybody sign it. I didn't know who Jeff Lynne was, but he brought Jeff Lynne out and George Harrison and Bob Dylan signed it for me. Bob was smoking pot and he had this growly looking face on him. He looked over at me and he said something…I don't remember (her voice gets stronger) he growled. It was cool though. I saw Bob Dylan in concert last night and that's what he does, he growls when he sings. Petty gave me advice, if you love playing, don't ever stop. That I carried with me and I have always carried with me."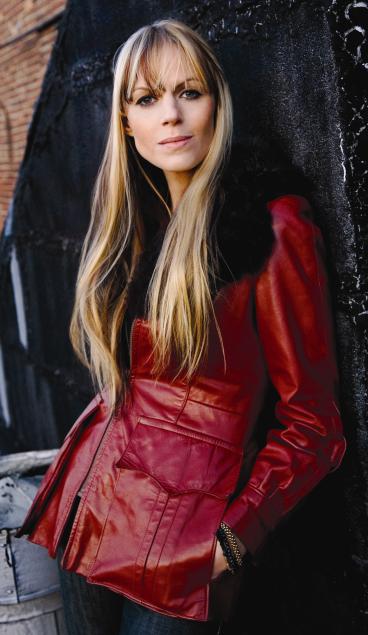 Meeting Tom Petty under such favorable experiences made an impression upon Manda Mosher's life. "Being kind, generous and grateful with your time is important, I think, because there is nothing worse than having someone who is your hero and then you meet them and they are mean or they are short with you or they don't have time for you. That's just a terrible feeling, because it crushes your hopes. I had the fortunate opportunity to meet Tom Petty again a little over a month and one-half ago and he was just as cool as when I met him as when I was a kid, which has me being a fan and appreciating his work. I think that it is very important to be generous, because fans carry you."
"After leaving (the band) Crossroads I was in (the band) Cheyenne. Our bass player was Cheyenne Indian and he was a lot older than I was. He was thirty-five and I was about fifteen or sixteen and I think our drummer was thirty-six or thirty-seven. I was playing with two older guys and we brought some really cool, Native American sounds into what we were doing and I would wear feathers. We rehearsed out in Barstow (a city in the San Bernardino County, California). Our bass player lived out in the (Mojave) Desert and it was a really far drive. I am talking like an hour and fifteen minutes or an hour and one-half. We would go up there and we would write music around the campfire. We had a stage set up that overlooked the Lucerne Valley and we would just crank our amps up and play. That was a great time," she says.
After Cheyenne, she formed the three-piece Amanda Mosher Band, while she was still in high school. It consisted of Manda on vocals and lead guitar and she had a bass player and a drummer.
Fast forward to 2012 and Manda Mosher says, "I have a new band called Calico The Band and that is something that hit me by surprise. The band has two incredible female singers – songwriters (in addition to Manda) and we have all joined forces. It is almost like our own version of The Traveling Wilburys. There is a girl named Kirsten Proffit and another girl named Jaime Wyatt. They are phenomenal and we have all had similar levels of success and now we are coming together to make a little super group. I am so excited about this project, I can't even tell you. We are thinking this is going to be the project that makes us.
(When I was younger) I was inspired by Pat Benatar, Joan Jett, The Bangles, Susanna Hoffs, Lita Ford and Belinda Carlisle. Lita Ford just blew me away with that "Kiss Me Deadly," what the hell. It was like whoa, who is this. The stronger female singers who had, almost a masculine energy behind them, I thought were cool.
(About Calico the Band), "We are doing three-part harmonies. Gosh, I haven't had a chance to do that, especially since they wouldn't let me go to choir (she laughs). Now we are getting the harmonies out. They are really strong guitar players, these girls. Holy Moly, we are a little team now, so we have the momentum of all of us together and it is very exciting. We already have some pretty exciting stuff booked, that I can't talk about, but in the next couple of months, it will start showing up."
In 2009 Manda Mosher released her debut album Everything You Need, opening with "Lay Me Down," an acoustic Rock song, with Ms. Mosher's sensual, alto vocals backed by strong drumbeats. Other highlight songs from the album are the relationship song "It Can't Be Wrong," and the up-tempo "One True Love."
Manda Mosher prefers the original recording of "One True Love," over the more stripped down version that was remixed for the 2010 EP City of Clowns, at her label's request. "The original recording is just a super happy, driving down the road in a convertible, sitting next to the person that you love, proclaiming your love for them song. It has that kind of a feeling to it and that's why I wanted the convertible car, the Oldsmobile in the video. To me that's a driving top down song, a celebration and really happy. That's how that song feels to me. Another recording of it will happen sometime, but I think we missed the mark on the remix and I really didn't want that to come out, but it did. (editor's note: the video was shot with the original recording)
Manda Mosher is not shy about voicing her opinions concerning the city of Los Angeles. "It's like Hotel California. It's that same sentiment, you can check out anytime, but you can never leave. I think that's what the Eagles were talking about. Los Angeles really reflects whatever you are looking for, so if you are looking for success, you can find it, if you are looking for darkness you can find it, if you are looking for drugs you can find it, if you are looking for excess, if you are looking for generosity you can find it. Everything is here, but there is a desperate undercurrent. People come here to make it and they come here to climb the ladder. A lot of injuries happen in that process to everybody and there is collateral damage to everybody. It can really damage you if you are not careful and I have had different periods of time when I have had to be real careful, because I have navigated this down since I was born here. You see a lot of shiny objects that you grab for and sometimes the shiny object is covered in barbed wire and you don't know it. It is kind of like the hard knocks in this city. I see people come in and out, in and out and trying to get what they can, just like the people who came out here to mine for gold originally. Now they are just trying to mine careers, with little regard for the land sometimes. When you are living here and you are a native, it can make you angry, when you see that happening. You can get really angry at the folks coming in, who are just trying to use and abuse it."
Her views of the city became the inspiration for the title song for the EP City of Clowns. "Ya' and that was me renaming the city, instead of The City of Angels. That was me when I had a lot of anger. At the time, I had put my first record out and I was on my first record deal, my first publishing deal and success was just beginning for me really. During that time, between the first record and the EP I was just disgusted at some of the characters that were coming at me and that I had to deal with. I sat down with my songwriting partner and I had just come back from who knows what and I said, "City of Angels my ass. It is the City Of Clowns." We were laughing and then we wrote the song about different characters that we run into. A clown was a good metaphor for it, because although a clown is painted up to look happy, underneath there's….you will see these clowns and (some of them) are really drunks or who knows. I like that metaphor, "Welcome to the City of Clowns / Where you can hide your frown / Where it all goes down / Welcome to the city." It is a darker song with more aggression in it and I don't play it much anymore, but it certainly is still true."
The song "City Of Clowns," features some spectacular electric keys that emulate an organ, courtesy of Art Labriola, before he plays what Manda Mosher describes as, "that really creepy toy piano (she laughs) at the end. It was sitting there in the studio, looking very clown like (laughing again)," she says.
Manda Mosher's versatility as a singer-songwriter comes to the forefront with her song "The Only One," from City of Clowns, which she describes as, "a really sweet, Appalachian, Country Rock tune. It has that true Appalachian vibe, with that little intro part in there. I think we all have a yearning to have a partner in life, a partner who also chooses you. You choose them, but they choose you too. They choose you back. It is really telling someone, 'Tell me that I am the only one.' You really want to hear that. Sometimes you just want to hear it. It is asking for somebody to profess how they feel or give you that security that you feel that you need. You know that they're not going to leave you or they are not going to run around and that you are their number one. It is a request for that. I think that is a universal thing that everybody can relate to, wanting to have that."
The EP City of Clowns also features a cover of Bruce Springsteen's "State Trooper," and the 7:03 rendition of the song features some bluesy harmonica by Shaky Dave Pollack and a stunning vocal performance by Manda Mosher.
"A friend of mine gave me a copy of Nebraska. When I heard Springsteen's Nebraska album, it completely changed my opinion on so many things. I always liked Bruce Springsteen, Americana Rock, an American Rock guy, obviously iconic, writing songs for the working class man. (However) the overproduction on his early music lost me. When I was given the Nebraska album I fell in love with the starkness, the howling on it and the desperateness in it. He recorded it on a four-track cassette, which I thought was the coolest thing ever. Once I got to "State Trooper," I felt that I completely understood what that song meant. On the highway, it's late, it's dark and you're tired. You are just trying to get home to your family and your loved ones. It's raining and the last thing you want is to get stopped by the police. It's like this haunting, the devil's on your trail kind of a thing. I really connected with that song. I felt like on the Nebraska record he made them (the songs) for us to have fun with. I took the challenge with "State Trooper." Then with my loving the Blues, we made a seven minute version of it and that particular song got picked up on Blues radio, even with the length that it is at. We considered cutting it down to five minutes, but I made the comment, let's just leave it, if they love it they'll play it and they did. I really dig on that tune," she says.
We are really digging on Manda Mosher's music and we think you will too. Please visit the Manda Mosher website. Return To Our Front Page.
Interviewed by Joe Montague October 2012
Photos by John Halpern, protected by copyright © All Rights Reserved
This interview is protected by copyright © and may not be reproduced in print or on the internet or through any other means without the written permission of Riveting Riffs Magazine, All Rights Reserved