Although Mandy Barnett made a name for herself portraying the legendary Country music singer Patsy Cline in the musical Always…Patsy Cline, her new album Strange Conversation showcases in splendid fashion her versatility as an artist, as she easily transitions into other genres. The album opens with Blues singer Mable John's "More Lovin'," and Barnett turns up the heat right away with a sultry vocal performance that will have you tapping your toes, nodding your head and moving your shoulders. The song is a duet with Arnold McCuller and the two singers complement each other well.
It becomes immediately apparent on this album that the producers Marco Giovino (Norah Jones, Robert Plant, and Patty Griffin) and Doug Lancio (Gretchen Peters, John Hiatt, and Patty Griffin) ensured that Mandy Barnett was accompanied by musicians who understood that their role was to compliment Barnett. They become the perfect dance partners with Mandy Barnett leading the way and like any truly great performance you find yourself caught up in the moment. Tom West's organ sets the mood, Viktor Krauss is on bass, Giovino keeps beat on drums and Lancio is the guitarist. Grammy Award winning sound engineer Gord Hammond from The Nuthouse studio in Sheffield, Alabama does a superb job.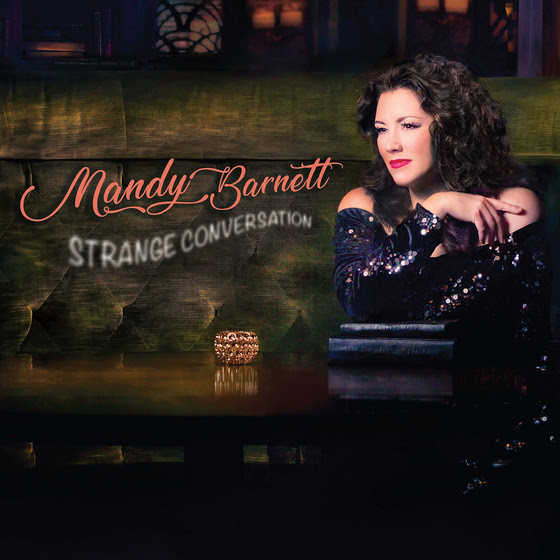 Released on Dame Records, Mandy Barnett's own label and distributed by Thirty Tigers, Strange Conversation is a collection of songs that is a "must have" for anyone who truly appreciates well thought out song selections that showcase a singer and make you sit up and go "wow."
In 1962 The Tams released the song "It's All Right (You're Just In Love)," and Barnett puts her own stamp on the tune, as she brings it back to life with a new arrangement and a stunning classic R&B performance.
It feels like you just stepped into a time machine and you find yourself in the midst of an era when R&B ruled the day. Barnett's phrasing is impeccable and you want to join in the conversation when she sings, "Come on tell me about this feeling now / I hear the birds are singing / I hear the church bells ringing," and the response is sung back to her by Ann and Regina McCrary, "It's All Right you're just in love." Sign us up for concert tickets! Mandy Barnett is the real deal! The McCrary sisters are incredibly gifted singers as well and Brandon Young provides falsetto background vocals. Rudy Copeland takes over the organ for this song, while Tom West slides over to the piano.
Mandy Barnett says she had a lot of fun recording "It's All Right (You're Just In Love)," "The first time I heard it I thought I have just got to record this and figure out an arrangement, because I didn't want to do it just like The Tams. We wanted to bring our own thing to it. I instantly fell in love with that song. That song gave me an idea of what to do next.
The McCrary sisters were incredible. They put their touch on it and it was just what we needed. Brandon Young is at the very end doing some of the falsetto stuff.
Tom played the pump organ (on this song) and Rudy played B3 (on some other songs). Rudy had played for many years with Solomon Burke and he really brought the tracks up to a whole different level. It brought a lot of authenticity to the sound. I have never recorded anything with a pump organ before. It sets the mood for every song that it is on. We also had a Wurlitzer on some of the songs and a little bit of piano here and there, but not very much."
Barnett did not know the musicians on this album very well and some of them she did not know at all prior to this recording, she explains, "That was really the whole point in doing this. I wanted to work with people I had never worked with before.
The musicians bring different things out in you and you bring different things out in the musicians. That is the great thing about working with good musicians that you don't necessarily work with all of the time.
I've had a band together for many years and we have done a lot of great things, but they would have brought something totally different to this and it wouldn't have worked as well, because we know each other too well and it is too predictable."
The other big change for Mandy Barnett when it came to recording a new album was the decision to move away from a genre where she is highly revered Classic Country, "I have spent the majority of my career portraying Patsy Cline in the musical Always… Patsy Cline. That is what got me started. That set the tone for many years and it is something that I enjoyed doing. I have worked with some of the most legendary singers, musicians and songwriters of all-time and that was very gratifying for me to be able to do that. Unfortunately, it is a narrow market and as time goes on and you have done the same thing for a while you start thinking about your other influences and genres that you want to tap into, because you want to grow as an artist. I just thought I really wanted to do something different this time.
When I first started talking to Marco I wanted to know what his idea was of a good song. We all have our ideas of what we think would be (a good song). You can't believe all of the Patsy Cline sound-alike songs that I get sent on a daily basis (she laughs). I wanted to make sure that he was going to bring some interesting things to the table that I wouldn't necessarily think about or artists I wasn't necessarily aware of. He started sending tons of songs. That gave me an idea of who he was and I started to feel really comfortable, because I realized that the songs he was sending to me were not only great songs, but they were different and they were also songs that I could hear myself singing. They definitely struck a chord with me and we went through hundreds of songs over about a year. "It's Alright (You're Just In Love)," was the first song that I picked and "A Cowboy's Work," was second. Everything else fell into place once I had those two songs," she says.
"A Cowboy's Work Is Never Done," a song written by Sonny Bono and recorded by Sonny & Cher is quite an alternative direction for Barnett, as it is a Rock duet with John Hiatt and adds credence to the thought that this collection of songs sung by Mandy Barnett do not belong in small clubs, but she belongs in very big venues on very large stages, hopefully accompanied by these musicians or their equal.
Barnett talks about the decision to cover the Sonny & Cher song, "It is like anything, it just struck me when I heard it and I thought this song is just so cool. I love singing Rock and I have not had a lot of opportunities to do so. I did back in high school, but since I moved to Nashville I have been doing Classic Country. I thought I am really going to be able to show a different side of myself recording not only that song, but the rest of the songs."
Mandy Barnett vocalizes the original melody for the Howard Greenfield / Neil Sedaka song, "My World Keeps Slipping Away," which she recorded for Strange Conversation, "It was a bouncy "Calendar Girl," kind of a thing."
For the Barnett rendition of the song a new arrangement was created.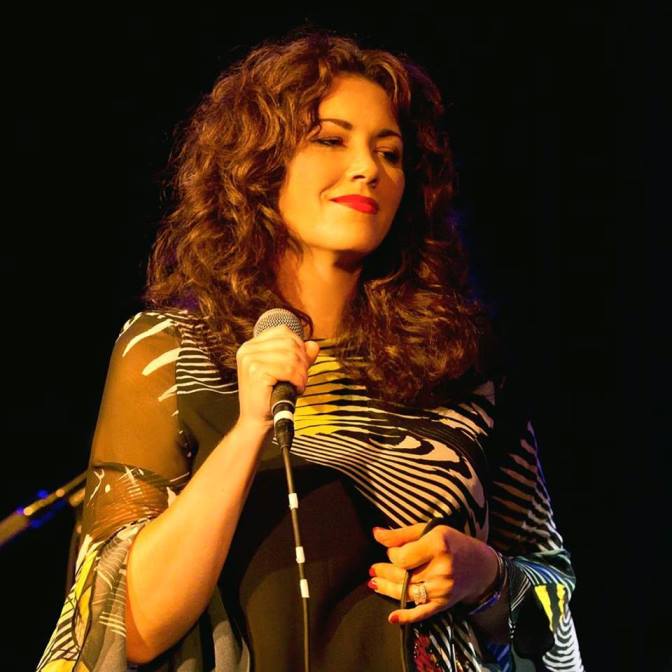 "Neil Sedaka is so great and I am such a big fan of his singing, his writing and of him as a person. He sent this song to me a couple of years ago and I don't think it had ever been a single, but he thought that I would sing this song (well). I sent it Marco and he heard it slowed down (in his mind) and I wasn't all that sure about that, because I liked the original. I liked the beat of the original. I had to try it and wrap my head around it, because I was so used to hearing it the way that Neil had done it. Then I realized this way was going to work great. It is a lot more sorrowful and sad when you slow it down.
Neil discovered me twenty years ago and he called me. That is how I know him. That was such a wonderful surprise, because I have always been a fan of his. I was first introduced to him through "Bad Blood," (a song recorded and written by Neil Sedaka and written with Phil Cody), but then I went on to discover his earlier stuff and all of the great songs he wrote for Connie Francis and The Carpenters. He is a lovely person too, on top of being so talented," she says.
Hold on tight, because Mandy Barnett gets the place rocking with the Lee Hazlewood song, "The Fool."
"We wanted a Rockabilly song. It just adds a different color. All of these songs fit well together. They are different, but it is funny how they all came together even though they are different styles. I had the song in my back pocket for quite a while. Seymour Stein sent this song to me. I tried to record it out in LA and it didn't work out that great, so I am glad I got to revisit it in Muscle Shoals with these guys," says Barnett.
Dennis Brennan does is good on the harmonica and Peter Parcek joins Doug Lancio on guitars.
It seems a long time ago that Mandy Barnett was born and grew up in the small town of Crossville, Tennessee located halfway between Nashville and the Smoky Mountains in Eastern Tennessee.
Mandy Barnett recalls the first time she sang in front of a group of people, "I was five years old and I sang a Gospel song during an Easter program at church. My aunt was the Sunday school teacher, so she knew that I could sing and she wanted all of the children to sing the song "Because He Lives." All of the kids were going to sing the song and then she got this idea that I should sing the verses. I didn't really want to, because I was really shy, so after much persuasion, begging and pleading I finally agreed to do it. From then on I started singing in church, but I was so shy I would stand with my back to the audience. I have really struggled with (being shy). I am not really a ham. I wish that I could say that I am, but I'm not. It is always something that I have struggled with. I have always been a bit of an introvert."
As for how she overcame her shyness she says, "By just doing it. It helped so much in getting validation and I also took drama in high school. One of the first things our drama teacher had us do was to recite an erotic poem in front of the class. That's going to get you over that hump and I was well okay. I felt pretty liberated after that. Doing things like that loosened me up over the years and throwing myself into uncomfortable situations, while doing the best I could."
It was when she was eight years old that her mother brought home some Patsy Cline music.
"I fell in love with her voice and I loved the production. Looking back the thing I was really drawn to was her emotion and the vulnerability in her voice. It melted me," she says.
Fast forward a number of years and Mandy Barnett won a contest that landed her a role singing at Dollywood and a recording session in Nashville.
"They had a week long contest with kids and adults. They had a kids division, but I ended up winning the adults awards and so I worked at Dollywood for a couple of years. I met Dolly and all of the family. I was playing with a professional band. Suzy Bogguss worked there and we shared a dressing room. She hadn't been signed yet. All of those experiences have helped me over the years," Barnett says.
Universal Records signed Mandy Barnett to an artist development deal when she was twelve years old and her mother would drive her back and forth between Crossville and Nashville on the weekends for recording sessions. When she turned seventeen she moved on her own to Nashville.
She recalls, "Oh God (the adjustment) was awful. It was absolutely awful. I had no idea how to take care of myself. Every mistake I could make I did. I wrote hot checks all over town. I had no friends. I would go to the Phillips 66 and hang out with the cashier, because I was lonely. I chain smoked and I ate pizza every day. I was a mess! At seventeen I was still a baby and it was so hard on my mother. I remember when I was driving away she was standing on the porch and I know that she felt torn about letting me go. I wanted to go. I had a record deal at the time and it is what I always wanted to do.
I lived so far out in the country in Crossville and it was very rural. There was no opportunity for me there. My parents had just gotten a divorce. It was time for (my mother) to find her way after the divorce and it was time for me to get started doing whatever it is that I was going to do. I was just basically doing demos on the weekends for the record label and nothing was being released. I thought maybe if I can get to Nashville and be there. After I moved to Nashville and got settled in they (the record label) dropped me. That was another reason why I was flailing around trying to figure out what to do, because my whole purpose had been taken away from me.
When you are young you really have on rose colored glasses and you think, well I've got this so everything is going to be fine! That was a very big dose of reality. My mother had always helped me. The thing with my mother is she loved me and she believed in me. She felt like if she didn't bring opportunities to the table for me then she wasn't doing right by me. She felt like she had to get me in front of people who would hear me. Ultimately she was the one who got the record deal for me early on. It was just her tenacity that moved things forward. I would never have been a singer if it hadn't been for her."
In 1994 a shy Mandy Barnett shows up for an audition for a musical and it changed her life.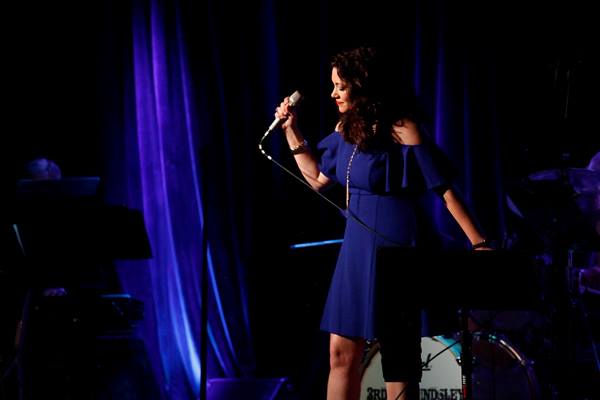 "I was still shy, but I also had some fire in my belly, because of getting dropped. I think when something like that happens you start hustling. You can get complacent when things are too comfortable.
I got a call early one morning from someone in Crossville, because they had read in the paper that there were auditions for some Patsy Cline show. I just assumed it was something at the Opry Land theme park. At the time I was not singing at all and I really needed to get back to singing. I phoned them and they said I needed an 8 x 10 photo, resume and sheet music or karaoke music and to just show up. I did not really have any of those things. An old friend of mine had taken a picture of me standing in a cemetery smoking a cigarette, so I put that in my purse for my headshot. I scribbled down on a piece of paper formerly of Capitol Records and I put on the only dress that I had. I went to a record store in a mall and I asked them if they had any Patsy Cline karaoke and they said all of the Patsy Cline impersonators had cleaned them out. They had one cassette of more obscure tunes. I went through the songs and I decided I would sing a song called, "Someday You Will Want Me to Want You," because everyone else was singing (songs like) "I Fall to Pieces," and "Crazy." I was number 109 th in line and I just stayed there all day. It took me the majority of the day to even find out why I was there. I was also one of the few people there who was not dressed up like Patsy Cline. Everyone had on wigs and cowgirl outfits or cocktail dresses and I thought what in hell. What is this?
I went into the bathroom and some girl was standing in front of the mirror going (she does an exaggerated mimic from a Patsy Cline song and then she starts to laugh). I thought I know I sound better than you, but you look a lot better than I do. I don't know what they are looking for and I don't know why I am here.
Finally, I sat down with this girl and she told me what the audition was for. It was for a brand new musical (Always…Patsy Cline) (to be presented at) the Ryman Auditorium and it was going to be playing for six months.
At the very end of the day I was the only person there. They asked me what size of shoe I wore and I thought that was a good sign. The director said whatever we decide we just want you to know that we think you are wonderful. I thought if you think I am wonderful and if I am walking out with you, why can't you tell me something now? I had to wait for two weeks.
They called me and they told me that I had the part. I was thrilled, absolutely thrilled. That is how I got off to the races.
It was great and I don't want anyone to ever think that I regret that, because it really was a wonderful thing to do and I enjoyed it," says Barnett.
As for how the new repertoire has been received Mandy Barnett says, "Some people love it and embrace it and then there are some people who are just Classic Country and that is all they are going to want to hear, so they may not be as into it. You have to do different things and try different things. It is not like I am shutting the door on Country. I still play the Grand Ole Opry and I still do plenty of Classic Country. I probably always will. That will always be a part of me, but I have decided that moving forward in my life that if I want to make a Rock record, I will. If I want to make a Blues Record I will. If I want to make a Gospel record I will. There is nothing holding me back. I am not on a major label. I don't have some A&R guy or gal breathing down my neck and telling me what to do. I reckon (she starts to laugh) I will just do what I want."
Mandy Barnett's instincts seem to be on a par with her stellar vocals. Strange Conversation is an album worth picking up. Please visit the Mandy Barnett website.
#MandyBarnett #StrangeConversation #Doug Lancio #JohnHiatt #RivetingRiffsMagazine #TheTams
This interview by Joe Montague published November 18th, 2018 is protected by copyright © and is the property of Riveting Riffs Magazine All Rights Reserved. All photos and artwork are the the property of Mandy Barnett and
all are
protected by copyright © All Rights Reserved.
This interview may not be reproduced in print or on the internet or through any other means without the written permission of Riveting Riffs Magazine, All Rights Reserved