Mara New has accomplished much during her lifetime and in a lot of areas that those of you are reading this may not even know about. You may recognize the name Mara New as a Los Angeles film, stage and television actress or you may know her for the philanthropic work that she has done over the years. Throughout her lifetime she has been a model, was the driving force behind a 2004 fashion show in Los Angeles that highlighted the clothing of emerging, but not yet well-known fashion designers. She was a member of the dance ensemble at the Roger Hazel American Dance and Musical Theater Company in Australia. Mara New is also fluent in Italian, English, French and Spanish. In collaboration with her husband Ron New, Mara produced an album for highly respected Blues and Jazz singer Barbara Morrison, as well as the husband and wife team were the executive producers of a musical about the life of Blues singer Big "Mama" Thornton that was staged at the Stella Adler Theater in Hollywood. In 2004 Ms. New was also the recipient of an award that acknowledged her as being one of the most influential women in the city of Los Angeles.
The pretty and personable Italian actress born Mara Beltrami in Milan, Italy spent some of her teenage years in France and later moved to Australia, before she moved to Canada for five years, during which time she also hosted a radio show. The first two moves were due to her father's work building hospitals. Then the final moved happened, the one to Los Angeles.
Mara New explains, "I went to L.A., because when I was in Canada I was working for the Italian Canadian Club and I went to Hamilton Place where there was a Liberace show. I went to see the show and at that time he had a young tenor Marco Valenti who was singing like Mario Lanza, Italian medleys and so I said maybe it would be good to have Marco come and play at the club. We could raise money for the club, because it was a nonprofit. I went backstage and I met Seymour Heller the manager of Liberace and he said why don't you join us for dinner and it was already eleven o'clock at night, so I said sure. I said wow I am going to dinner with these people and then I got introduced to Marco and his wife Patricia.
When I decided to book Marco for the club I was talking to Ron (New) in Los Angeles who was handling Marco's bookings and Ron is the brother of Marco's wife. She was the matchmaker. Anyway, by meeting Marco Valenti's wife who was touring with him and with Liberace's show I got myself a husband. That's why I came to L.A. I didn't want to stay in Canada anymore. My dad wasn't happy that I ran away from home, so I could be in show business. My dad said why are you staying there (in Canada) when at home (in Australia) you have everything. You are not married and this and that kind of stuff, so to keep peace in the family I went back to Australia, but on my way back I stopped in Los Angeles overnight to spend time with Marco and Pat and that is when I met Ron who is Pat's brother. When I saw him for the first time I said this is my escape from Australia and I need to get back to him.
Liberace was happy, because he said at least I made a perfect marriage, well not perfect, he said that he was responsible for the marriage."
Before we talk about some of Mara New's recent appearances in films, let's go back to where it all started. The Beltrami family was known for its excellence in the fashion industry for many generations.
"It goes back many generations to the late 1800s. The story is that my great-grandparents, my great-grandfather actually were a shoemaker in Italy. In those days between 1850 and 1900 and even in the early 1920s, everything had to be handmade even the shoes. I remember when my grandfather would have people come over to his shop and people were putting two pairs of socks on and putting their foot down on the floor and he would draw the footprint that would make the size of the shoe. It was so funny when I saw people putting two pairs of socks on and doing the shoe print. They were making shoes and of course the leather was excellent and everything was handmade.
In the early 1920s they evolved into making clothes. They were making really, really beautiful leather goods. Now I have become a raw vegan, so I don't wear any fur, I don't wear any (things made from animals). Everything was so exquisitely done. I still have pieces from the old collection.
Unfortunately, in Italy families are like shoes they say the tighter they are the more they hurt, so when your relatives are closer to you the more they hurt. Italian families they hold grudges for centuries and they pass them on from generation to generation. My grandfather went a different way and my grandfather didn't want to follow-up in the business, but the family still did. By now all of the shops are closed and it is a different style and a different generation. The children want to do something else. They still manufacture for other designers.
When I first moved to Australia I made all of my clothes. I didn't buy anything and I was making dresses, pant suits with the help of my mom, when I was in my early twenties."
Ms. New talks about her moves both with and without the Beltrami family, "This is the longest that I have ever been in a place (Los Angeles). At that time I didn't like it, because you don't have your friends and you are moving from house to house. Looking back now I really welcomed the experience. It was fantastic. You make new friends as well.
When I was in France, my dad was a builder. He was building hospitals and he was building one in nearby Monaco, so we moved there when I was fifteen, until the project was finished. I lived in France for two years and I went to school there. We went to Australia when I was seventeen.
When I was in school, I was good in art and each school in Italy often has competitions, so they send their best students out for mathematics or art or for competitions and the best win a prize. At that particular time I did a painting competition for my school in Sanremo by the French border, down by Monaco and Monte Carlo on the Italian Rivera. When I did that competition one of the judges was Hula Dio and at that time she was well-known. She was the painter and the official portrait painter for the royal family of Monaco. She took me under her wing and she said Mara I think that you should come with me and learn from me. I liked the idea. Through her I met Picasso. I met him twice.
I started to do bas relief. Bas relief is a form of sculpture on a panel and where the images come out. She was doing the huge marble and the clay panels for entry ways of apartment buildings. She wanted me to work with her on these bas relief panels, but unfortunately my dad…you know Italian fathers you know how they are. He didn't want to leave me behind with her, while they were on their way to Australia. After two years (in France) we moved to Australia. That was so sad, because I wanted to stay behind. I was talented enough, but he wouldn't allow me to stay. I had to go."
While in Australia Mara New attended Griffith University and obtained a degree in architectural design. It was also while living in Australia that she suffered an accident that altered her life and put an end to a promising modeling career. She told that story to Merrie Lynn Ross and it is captured in a chapter of Ross' book Bounce Off the Walls and Land On Your Feet.
Ms. New relates the story of how in her home in Australia at the time they did not have hot water for showers or baths and this contributed to a terrible accident.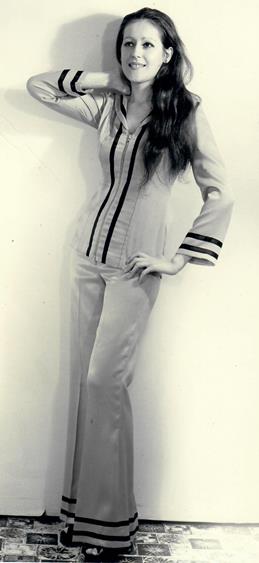 "I boiled the water, because I wanted to take a hot bath. I had stayed home to finish a painting for the church. They wanted me to do a panel and I said okay. My mother said Mara you should go to school and I said no no, I have to finish this for the church. I stayed home and after I finished the painting. I was bringing a hot pot of water up the stairs (for a bath) and the big pot fell and the water splashed on me. I was very quick on reflexes and I covered my face, but it burned my arm and my face. The face got better, but the arm was affected and that's what killed my modeling career, so I couldn't do anymore modeling.
I have very primitive photos of modeling from Australia in those days. They are so funny with bellbottoms.
I liked acting, but my dad wouldn't allow me to act, so that is why I left and I fled to Canada when I was twenty-one. I was in Canada for almost five years," she says.
As for Mara New's acting career she seems to have a lot on the go these days, as she recently had a role in the yet to be released film In Embryo, in which her husband Ron New also appears.
When asked teasingly about whom this Ron New guy is, she laughs and says, "I don't know. He is an unknown actor and I am thinking of hiring him. He did steal the spotlight in the movie believe it or not. He played the Don and my husband. They rented my house for the film, because they liked the way that it looked. They asked Ron to play Jerry this old mafia guy and Ron likes to play the piano, so his piano playing was in it as well. We had the entire cast and crew doing this scene and we shot for two days. He was really good. He looked good on screen and we went to a pre-screening and he's a charmer. They all like him. My part was smaller than his.
In Embryo is a story of a lone rider. Sean White (played by Ross McCall) used to be a drug dealer and he was trapped in a world of sleazy bags and easy women, but then he meets this girl (Lilly) and she didn't know that he was hooked on drugs. It is kind of complicated. My role is Sofia.
Sofia is the wife of the Don, but she is actually holding the reigns to it. She's the money lady and the one who traffics the money for the drug deals. You can see in the movie that there are drugs being passed and they are passing the money on. Ross McCall who plays Shawn White the lone rider and drug dealer is the one who comes and gets the drugs from us.
Ulrich Thomsen (the Danish director) is a well-known actor as well. He has been in so many movies, including James Bond (The World Is Not Enough – 1999, he played Sasha Davidov). He is doing a series here in the United States and it is called Banshee. In Embryo is his first time as a director (in America).
We just had a private screening for the cast and crew a couple of months ago. In Embryo will be released this year for sure."
The film Damnable is still in the pre-production stage, but Mara New has been cast in Robert Mountjoy's film. Mountjoy wrote the script, is the director and he is a supervising producer on the production and Mara New is also a co-producer. It is not the first Robert Mountjoy film that Mara New has appeared in, as she also played the part of Layla Abendale in the film Contest, which Ms. New also co-produced.
"I really like Robert Mountjoy's writing. He is a very good writer. I like the way that he puts things together. He is really good.
Damnable is about a corrupt legal firm whose founder has the police on his payroll. He is trying to gain complete power by trying to eliminate the mob boss who originally was his friend. The lawyer runs a secret illuminati underground organization. There are twists and turns and you really don't know which way the movie is going. There is an attorney named Leonard and he is the one who tries to control the banking and he also tries to control the mafia. He has the help of a good cop and of a corrupted cop who are working together.
I played the mafia lady. You can see me with guns and playing roulette in the illegal gambling house.
There is no such thing as a bad part and a good part, but they have not been big roles. I do it for love and for when I need it. I don't go on auditions, so everything is by word of mouth and who you know in Hollywood. I have been fortunate enough to know the right people at the right time. Maybe, that's why my portfolio is not that big, because I am limited, as I don't like auditions and I refuse to go.
You don't really know how good you are until you are given a great script and a great director."
Mara New plays the part of Jane Walter in the film Night Walk. Jane is the wife of Jude played by Eric Roberts, in a movie with several producers including Ms. New's friend Tatyana Bulgakova and Aziz Tazi from Morocco who also serves as the director. Veteran actors Richard Tyson, Tommy "Tiny" Lister, Louis Mandylor and Patrick Kilpatrick also appear in Night Walk.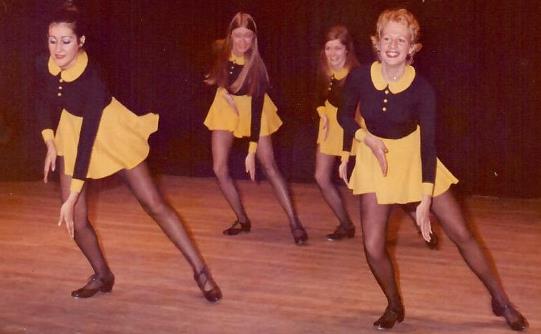 "The film is about an American atheist who is wrongfully imprisoned. Eric Roberts plays the corrupted lawyer and I am his corrupted wife. It is a spiritual journey led by Muslims inmates, including those with terrorist links (Editor's note: The film's official synopsis states lead by Muslim inmates, from the moderate convert to terror-linked fundamentalists). It is kind of complicated. A lot of it is shot in Morocco. I didn't go to Morocco. Tatyana is originally from Morocco and she has a production company called 360 Films. It is a very intense movie and good for today," says Ms. New.
Three Days of Hamlet filmed in 2010, may be one of Mara New's more significant film accomplishments, as she and her husband Ron joined a team of producers, which also included director Alex Hyde-White. The film which is a fantasy documentary that utilizes a staged reading of Hamlet, filmed over three days, the final day before a live audience, to explore both Shakespeare's play, as well as familial relationships.
In a July 2012 interview with Riveting Riffs Magazine's journalist (at that time) Susan Ferrari Alex Hyde White said, "Being able to play the part (of Hamlet) was long an ambition of mine, in the right context. To be able to do it in the sense of putting together a film project, and then having the advent of reality TV, having that element to it (became the context)."
In addition to White the film boasts a cast featuring iconic actors Richard Chamberlain (as Polonius) and Stefanie Powers (as Gert). Iva Haspberger portrays Ophelia.
"Three Days of Hamlet was wonderful. We won three awards and it is being used as a teaching tool for the Shakespearean program at certain universities throughout the United States and we got distribution in Canada as well. Right now it is on Amazon and you can buy it online. It is doing very well. (Editor's note: The three awards were all for Best Documentary at these three film festivals, International Family Film Festival, Hollywood, 2012, L-Dub at Lake Worth, Florida in 2012 and the Eugene International Film Festival in Oregon)
As a producer it makes me feel good (that the film is being used as an instructional tool), because it (demonstrates) the trust that I had and how comfortable I was in working with Alex Hyde-White. He was the brain behind all of this. He always said every actor before he dies should play Hamlet and that is what he did in this film," says Mara New.
You can follow Mara New's career by following her on her official Facebook page and you can visit her website here.
This interview by Joe Montague published March 13th, 2016 is protected by copyright and is the property of Riveting Riffs Magazine © All Rights Reserved. photos courtesy of Mara New and are
protected by copyright ©, All Rights Reserved
This interview may not be reproduced in print or on the internet or through any other means without the written permission of Riveting Riffs Magazine, All Rights Reserved