Danish Singer-Songwriter Maria Montell From Bossa For My Baby to Now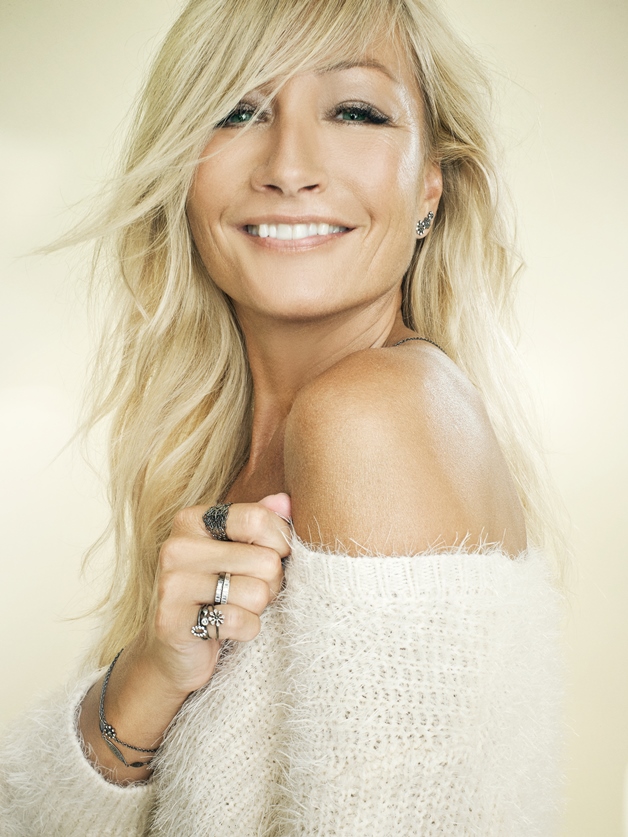 Danish singer, songwriter and children's author Maria Montell has been a star in Denmark, she had an international hit with her song, "Di Da Di," and toured in more than twenty countries in support of the song and the album Svært At Være Gudinde released in 1996. She also hosted a show that was broadcast on television in Argentina. Maria Montell has recorded in Danish and in English and her music has swept across the musical landscape from Pop to Bossa Nova. Montell sat down with us to discuss her current album Nu (In English Now), released in 2014, and to reflect upon her career, her three children and her husband, filmmaker Thomas Villum Jensen.
Nu is the first album that Maria Montell has released since her 2005 record Bossa For My Baby.
She explains why, "I needed to do projects that did not involve me going out so much on stage. I did some music for movies and I did some projects for other artists. I felt like I could be creative at home, make music at home and let others go out. I could be more mom."
"I made a whole album (in 2013) for a very famous Danish singer called Dorthe Kollo who was a very big artist in Germany. She sold a lot of albums and she was having kind of a comeback album. I was assigned to listen to all of the stories from her life and then to write songs for her. We then recorded with a band and later we had a symphony orchestra on the album as well. It was like old time Jazz and a little Bossa. It was an old school sound that I like myself. She (Kollo) is sixty-six (years old).
It was a fun project and I was writing songs for a woman who is nearly my mother's age. She had a long career and she had several men. She had a very adventuresome life. She can fly a little plane. She had a very exciting life and these talk sessions with her and writing songs for her, it was meaningful for her to sing the songs. It was a nice project. It was recorded in Danish and then a German lyricist has been translating it.
I have also been writing some songs for movies and my husband is a film director, so I have been working with him. I made some soundtracks and some music for his movies. It has been very comfortable for both of us working together. My husband is Thomas Villum Jensen," says Montell.
As for what Maria Montell likes best about her album Nu (Now) she says, "I think that it is very Now (she laughs). I wrote the songs and then I recorded them, but it is really about my life as it is now. I have worked with Douglas Carr (producer / composer, Ace of Base, Acqua) who also wrote some songs with Tamara Champlin, but this album I did with a Swedish producer named Gunnar Norden who has worked with Lisa Ekdahl who is very big in Sweden. He can play all sorts of instruments. When I came with the songs, it was the songs that I wrote that decided where (we would) go (on the album). There are different ways of working and you can also sit by the computer, like I did a lot with Douglas with bits and pieces that make it very tight and over produced. This way it was just like the songs and the feelings. It flowed more and it just felt natural and very good," she says.
Gunnar Norden also played guitar and arranged the horns and the violin for the record. Montell employed the services of both Swedish and Danish musicians, the latter being instrumentalists who have performed with Montell during her concerts.
Montell makes the point that for as much as is possible she tries to make her albums personal. "I did an English album called Think Positive (2002). There was a lot of thought about making it a hit. If you go to Sweden and you contact some of those guys they want to make hits of course. It is a very big industry in Sweden and they are very successful. They succeeded with a lot with Pop hits, so if you want to do that, sometimes it is nice, just to say we have to make a hit album, so let's do that. When you co-write with others, it is not totally personal, you have to compromise of course when you write with others. Most of the Think Positive album was not totally mine, there were other souls in it. This album is totally personal, because it is totally me. The first three albums that I did are very me.
When I had the hit "Di Da Di, (And So the Story Goes)," suddenly people were Wow! We want to do some more hits with her. Suddenly there were a lot of chefs and cooks coming in. Actually, I was okay, well, let's try that. Sometimes the personality gets a little bit lost in it I think."
Maria Montell giggles at my attempt to correctly pronounce in Danish the name of one of her singles from her current album. The song title is "Trykker På Stop."
"Trykker På Stop," is one of the first songs that I wrote on this album. It is about pushing the stop button in life, because life is going so quick and so fast. You can see it when you have kids, you can see how fast life goes. My husband and I were going through a financial crisis here in Denmark. The whole world had a financial crisis and suddenly on the way up, we bought a lot of shit. We bought a lot of materialistic things. We had a lot of things. When you get all of these things you have to run very fast. You have kids and suddenly you have to pay for schools and things and suddenly you don't sleep at night and you wake up. You have responsibility for other people and you aren't alone anymore. This song is about make it stop now, because I just want to go back to basic. It is, let's get rid of all of this shit that we have. Let's pause and breathe again. It is like the wheel that keeps going around. It is about losing yourself and also there is a verse in the song that says, let's invite some people in, let's open up our doors and let's celebrate a little more," she says.
Maria Montell also recorded the music video "Jeg Løber Hjemmefra (I Am Running Away From Home)," with her husband Thomas directing it.
She talks about what inspired the song, "I am running away from home, because being a mom with small kids, you don't really know yourself anymore. You feel like you lost yourself in being a mom, in being practical and in being the one who is the chauffeur or the captain on board on the ship, while being a mom. Sometimes you just want to throw everything away and you just want to run away from home. Sometimes you do that and you don't know where to go. It is about being a mom and you don't know yourself anymore, because you came a little away from yourself."
"Jeg Løber Hjemmefra (I Am Running Away From Home)," was not the first time that Maria Montell's husband Thomas directed one of her music videos. In 2009, she wrote the song "Bang Bang Boogie," for his film At World's End and they decided to shoot a separate and fun music video to promote the film.
"It was a teaser and the soundtrack for the movie. The guy in the music video is the guy who has the head role in the movie. It was (filmed) in the south of France and at a very legendary hotel in Cannes. It was a lot of fun and we recorded it one day very early. We just recorded and recorded and it was nice," she says.
As for whether or not being a mom provides her with a different perspective concerning her music career, Montell says, "I think so. First of all I feel that I am closer to what it is worth. I don't think so much about how people see me. I am really into everything has to feel good and not (feeling that I have) to please everyone. I think that I got better at not pleasing everybody, as I got kids, because it has to be very important if you do something. The lyrics (are influenced), because I see the world differently of course and I am not so important anymore. We say we don't look into your belly so much. There are more important things to take care of. (My perspective) is more mature of course and I see things differently."
Montell says it was her first album Jeg Er Her For Dig, released in 1994, when she was twenty-four years old, which gave her the main push that resulted in her reaching stardom on the Danish music scene. She either wrote or co-wrote all eleven songs on the record and two of the songs were the most played songs on national radio in Denmark.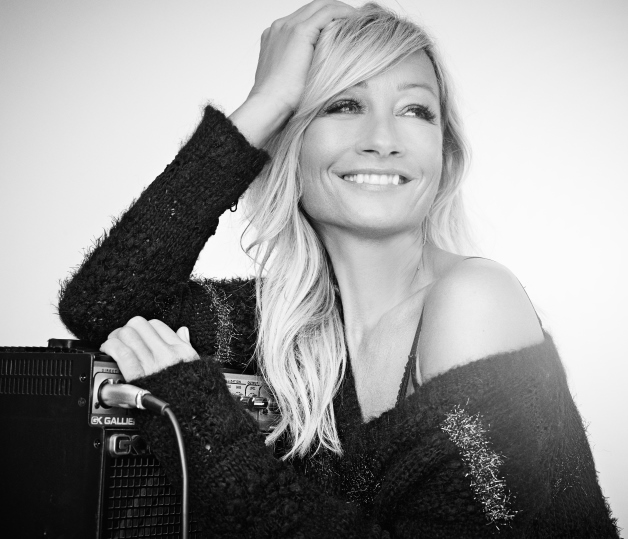 "It was my debut album that made people say, who is this? Then I was nominated for a Grammy and I had a radio prize. When I did my second album, it was the song "Di Da Di, (And So The Story Goes)," and I went to twenty countries. I was on the charts. I went to # 1. I traveled with that record for two years. It was out in Asia and South America. A Chinese singer Coco Lee also did "Di Da Di," and it sold two million copies.
When asked if she received good royalty checks for the Asian success of "Di Da Di," she says, "Well it is in China you know," and then she laughs. In other words she didn't see any royalty checks or at best, very little money from the Coco Lee cover.
"I think my publisher was making some deals. I don't know what he did. Also it is this jungle when you are traveling and playing and you need people to take care of this and that. You can't actually know what is happening. I would just say, okay, we will do that. My schedule is full, you take care of that and I will take care of this. I went to Shanghai and I heard my song in the airport and I heard the song in the elevator and I heard the bands playing my song. It is still going," she says.
For some music fans the release of Maria Montell's 2005 Jazz album Bossa For My Baby, after a very successful Pop career came as a surprise.
"My father played the clarinet and I grew up with Jazz music and Bossa music Brazilian style. I think it (Bossa For My Baby) is some kind of look back on my childhood and with the things that I grew up with. I didn't grow up with Rock or Pop, it was Jazz and Bossa. It was the kind of record that I always wanted to do and it made me go back in time with these songs. It was nostalgic for me to make that record. The record company just gave me free hands and when I came with the record, they said 'Oh shit Maria, this is not a Pop album and there are a lot of chords in it.' I did this with the most respected pianist in Denmark, Thomas Clausen (Dexter Gordon, Stan Getz, Chet Baker, Lee Konitz) and he has been playing with all the big Jazz names since he was sixteen. Now he is seventy, but he is very famous in Denmark. They (the music label) were just like, okay, what is this? I thought what can I say? I just had my first baby and I was pregnant when I did the album and I don't give a flying shit. I just want to make this album, because I think this is the right thing to do," she says.
As for the name of the album Bossa For My Baby, Montell explains, "I recorded it when I was in my eighth month of pregnancy and then I mixed the album when my son was just born. When I was tucking him in when he had to go to sleep and I sang those songs. He was so calm. He grew up with these songs and every time I sang these songs he would get a relaxed smile on his face. Now he is ten years old, but I can see now that he thinks, mmm this is nice."
In recent years, Maria Montell has also authored two children's books and she takes time to talk about them.
"The first one is called Drengen, der Havde Alt (The Boy Who Got Everything) (2007). Many years ago I dated the Crown Prince in Denmark and I saw the whole upper-class and how miserable people can be when they have too many things. Maybe the parents are not home or they do not have a lot of time for the kids and the kids just get money. You can find that everywhere that people have money and they are running fast to get the money and they forget that they have children. It is a story about this little guy who has everything and the only thing that he doesn't have is the nearness of his parents or any nearness. It is about that. He meets a guy who has a family and they are just doing nature stuff. They are close and they have good conversations and all of those nice and healthy things. He finds himself in this family. It is a very nice story. I was rewarded very highly and I was in front of the biggest Danish newspaper that called me the new talent of children's books.
After that book, I also wrote another story about a girl, Prinsesser Spiller Ikke Fodbold (Princess Don't Play Football) (2008). It is about a girl who is a boy girl (tomboy) who wants to play football. She has a very snobbish mom and she is going to do a lot of things that she doesn't want to do. She just wants to play football with the guys. It is also a nice story.
If I have something really important to say (she laughs lightly) then I think I will do it again (write more children's books). It is very nice. When you write a book you can't go out and play afterwards with that. You can't go out on stage with a book. It is a lonely thing, but it is also nice I think," says Maria Montell.
Montell displays her sense of humor when talking about hosting a television program a few years ago.
"I had several (opportunities) to host a program, but the one that I did was in Argentina, in Buenos Aires. It was a Nordic program that was collaboration between Norway, Sweden and Denmark. I was the host of the program and I lived in Buenos Aires for one month, as I was recording every day. It was a big, big show and it was fun.
My husband had to take care of the kids. I had only two kids then. I actually found out the last week that I was in Buenos Aires that I was pregnant with my third kid. I phoned my husband at home and he was just fed up with kids (by then) and on Skype I showed him that little thing and I said, I am pregnant again. He didn't say anything and he was totally numb. He was just like what? He was, as long as the baby does not have black hair, because (she bursts out laughing) we are totally blonde in my family and also my kids are totally blonde. It could be fun if something totally different came out. I showed him that it was a blonde baby (she laughs). It (going to Argentina) was fun and it was a little bit like running away from home," she says.
Between raising a family, writing songs, recording albums, hosting a television program, Maria Montell still found time to give back to the world and other people.
"Yes I did. If you have the opportunity and people are looking up to you then you can make a good example. I was involved with a water project in Africa for three years and we made a documentary. We were collecting money in Denmark and we built some water holes in East Africa. I have been with the Red Cross in areas where they didn't have any water and they didn't have clean water. Many children die of waterborne diseases. I have been making this documentary film to show the people in Denmark what we are doing and that help is going the right way and where specifically the money they gave went to. I went to television and I talked about it and they saw the programs (the charity work) that they did. It has been very exciting and I have been out in areas of Africa where no white man has been. It was also very exciting and I feel very privileged to have been there," she says.
Please visit the Maria Montell website.
(Note for those who do not read Danish use your web browser's translation feature)
This interview by Joe Montague published October 12th, 2014 is protected by copyright and is the property of Riveting Riffs Magazine © All Rights Reserved. Photos courtesy of Maria Montell
and are protected by copyright ©, All Rights Reserved
This review may not be reproduced in print or on the internet or through any other means without the written permission of Riveting Riffs Magazine, All Rights Reserved