A.R. Gurney's play Love Letters opens in Solingen, Germany on May 26th and it stars German actors Marina Welsch and Michael Lesch, with Lesch also directing the play. The play originally was staged Off Broadway in New York City and starred Kathleen Turner and John Rubinstein in 1989 and Love Letters was a finalist for the Pulitzer Prize for Drama. The story is told through letters that were written by the characters, Andrew Makepeace Ladd III and Melissa Gardner to each other throughout their lives. The response for tickets has been so great that an additional performance was added at Theater Kammerspielchen on Sunday May 29th. Welsch and Lesch also have plans to present Love Letters in several other German cities during the autumn of 2016.
Just prior to the opening of the play in Solingen, the warm and thoughtful Marina Welsch took a few minutes to sit down with Riveting Riffs Magazine to discuss the play, the art gallery that she owns and her life and career.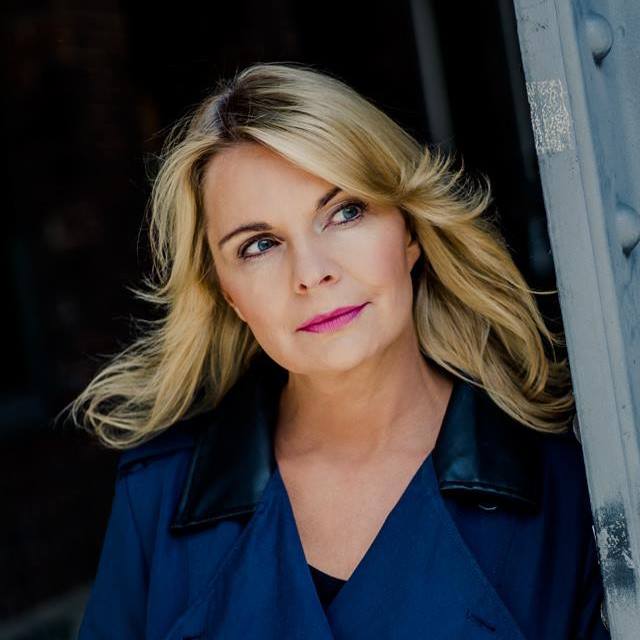 As for staging Love Letters in Germany, Welsch explains, "It was my idea. Christina, Michael's wife, was my former acting agent years ago and at the time he was still very busy doing TV serials. He is quite well-known in Germany. When I changed my agency and I lost track of Christina, but when I opened my gallery in September (2015), she went there and meanwhile Michael had returned to Solingen, which was his family's home years ago. Christina and I talked about what Michael was doing and what I was doing. I always dreamt of having a literature salon, something pure, theater work at home and reading something very intimate. I asked him if he was interested in doing Love Letters. At first I felt that we might do it at their house and then I thought we might do it at my gallery. Since the feedback was so great we couldn't do it at home. I talked to a theater contact that I had worked with already. Michael said that he always wanted to do Love Letters and we rehearsed it over and over again, usually with a good meal, because Christina is a good cook. I agreed (to do the play) before I knew she was a good cook, so this is a very nice (benefit)."
The presentation of Love Letters in Germany has been condensed from its original fifty letters.
"Michael minimized it without compromising it. There is a lot of stuff in (the original play) that you don't really need and I think now it is a very good extract of the very best. Michael directed the whole thing and together we have (come up with) very good ideas. We wanted to add a little value at some point, especially at the ending. There will be a little twist at the end that will make this play a little bit more intense.
Melissa (Gardner) is a girl from a very rich background, but from a very broke family situation with her parents drinking and not caring about her very much. All she really has is money in her background and Andrew always calls himself Andrew Makepeace Ladd III. He comes from modest conditions and a modest family, but he has great ambitions. He really develops himself and he has a good career. She goes down and down and she finally breaks down. She is a drinker and she is a painter, which made it so interesting. The only thing that she could really do well is painting. Somehow she lost track, because she had nothing to rely on. Her family never supported her and her mother always told her what to do. It's strange. The more that they write (to each other) the more that they reveal about themselves and that is the moment that they are open to each other. It is how they find their way to each other. Obviously they are meant for each other, but they never really get together. What is really tragic about the whole thing is Andrew and Melissa are so meant for each other and they had a little sexual affair twice. The first time it didn't work out at all and the second time it was like a super nova.
Still Andrew's career seemed to be more important (than Melissa) and so she started drinking and she lost contact with her family. They did not want to see her again. His wife was just bread and butter, but she wasn't his love. She was a perfect match for family and friends from the outside, but the more that you look at it from the inside, not everything is shiny. There are many, many problems that he tried to hide. It is interesting, because there are many insights and it is like life itself. Sometimes you look at other people's lives and you think oh what a great life. How green is their grass and everything is perfect, the children are well raised and everything is fine. They love each other. The closer that you look the more insight you get and you think oh my God, there is nothing the way that I expected it to be.
You get to know them (Andy and Melissa) through letters. Michael made a super ending and it is very impactful.
We (Michael and I) both sit on our chairs and we never ever throughout the play look at each other. We just look straight. He is very introverted and he reads to himself. I (Melissa) am really outgoing and looking into the audience, while talking to myself (during) the first part. In the second part I get more depressed.
I watched it on YouTube and saw Shirley MacLaine do Love Letters and Charlene Tilton from Dallas doing it. What I didn't like about those (performances) is that they made fun of themselves, while they read the letters and they were a little bit flirty. They really didn't get the idea and it never affects you at any time.
When Mr. Gurney wrote the play the characters never ever looked at each other. They are lovers, but they are not in the same room. They speak what they write, so you get the understanding. When I read my letters it is so powerful.
During two newspaper interviews lately I said it is like a Tango. A Tango is a promise that you make although you know you will never fulfill what you promised, because it is the idea of how could it have been? It is something that never happens, only with words and with thoughts, but never physically. It is an idea. I think that many people have this longing within themselves and they carry it with them. We think maybe I should have done this or maybe I should have chosen this or I shouldn't have chosen that, I shouldn't have married or yes I should have married or I should have taken this job or I shouldn't have taken this job. Sometimes there are so many regrets, because often they don't follow their own ideas, but they follow the ideas of others. This makes them so unhappy and then they give in, because they think, oh no, I am too old and I can't change. I have come too far and now I can't change anything. These regrets I think most people carry them with them. There are only a few that are really, really happy, very few I must say," says Marina Welsch.
As for the extra performance that has been added for Solingen, Welsch certainly has a challenging day ahead of her and she explains why, "I have to be at a tennis match the whole day for my team. I have to play singles and doubles and then hurry, hurry, hurry to the theater. It is worth it and I think I can handle it for one day. If you play so much tennis what happens afterwards is you get really, really tired. You have four hours of intense sports, you have a drink, you eat something and by the time that you go home you could fall asleep immediately. Sunday I have to push myself to the theater. It is always exciting no matter what and it is always fun to perform in front of people. I think this gives you the extra push and adrenaline and that leads me through."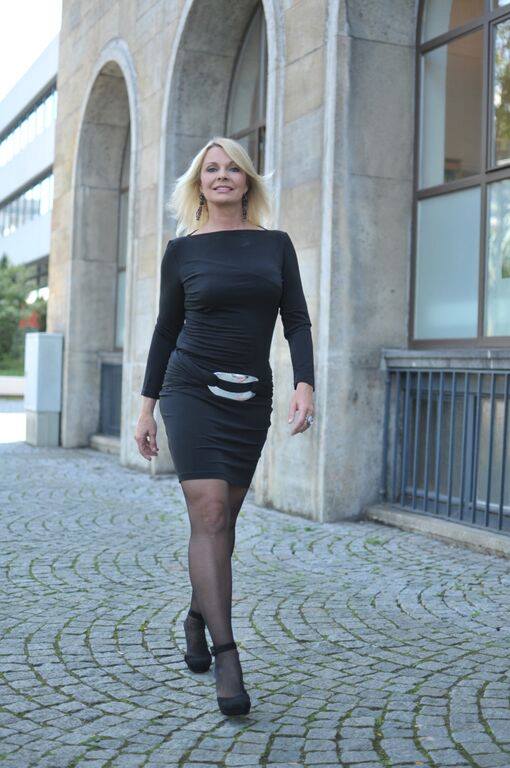 As for her gallery, Welsch Arts she says, "It opened the 18th of September last year (2015). It is very difficult (to open an art gallery). I have these two hearts beating in my chest and two souls within me. I wanted a place where I could have more stylish living and my art and to make my life more beautiful. I was looking for quite some years to find the right place and then I found this house. I bought this house, the whole house is mine, and well it's mine and the bank's. (She is laughing) We are partners. I said at this stage of my life, if I don't do it now, I probably will never ever do it. I bought this house, which was very expensive and I was redoing it for over a year. I bought it in 2014 and it had to be perfect. I thought if I do it, it should be nice, so I can put my hallmark to it or you can at least see my hallmark. This is what I did. It was something that was on my life's to do list. I just did it. I had no clue of opening a business and I still don't probably. I'm an artist. I keep doing it and I like it so far.
It is all of my art except for some sculptures. At first I was thinking of showing different artists, but it is too complex with the insurance. It doesn't make sense. I will just show my own art, with a little furniture and these kinds of things. It is my showroom. The only things that I might want to exhibit would be photography or sculptures or something like that. For painting I want to show my own work."
For her paintings Welsch uses, "mostly acrylic and oils. I use all kinds of stuff. I use not clay, but some kind copper and gold and this real precious ingredient. The picture has value just because of the material. I have some small paintings, but most of them are one or two square meters.
I started with painting. (While) I lived in Bucharest, (working as the creative director for a large American advertising agency). I developed more and more my own technique, which means I paint with fingers, while I listen to the music of Maria Callas. I produce sculptures on canvas. You look at them and they change the quality of the picture, everything is different and they shine differently with different lights. People are quite impressed. I always wanted to have my own place where I could exhibit them and not be dependent on others.
Marina Welsch studied painting under Hermann Nitsch at the Städel School in Frankfurt. She spent two years painting still art, "because he said that my art is too beautiful. He didn't like that.
I have a feeling that some people invent something and the stranger the better, just to get their publicity. They do something completely nuts, because everybody will write about that. It is not because they feel it, but it is because they feel that is what they have to do. I would rather be somebody who sees beautiful things and who touches people in a different, amazing and optimistic way and not in a destructive, disturbing, destroying kind of way. I like to make people slightly happier, but I don't paint flowers, I paint the gods and the humanity in gods. It is something that we have to strive for or something that touches us. I consider myself to be a neosymbolist. I think reality is so full of tragic and disturbing things that we have to have something to hold on to, otherwise we will not survive. Friedrich Nietzsche once said, "We have art so we may not perish by the truth."
We asked Marina Welsch to help us to see her gallery through the eyes of a first time visitor.
"They would experience a fantastic place, spacious. It is big enough. Altogether it has 180 square meters. It has a 130 square meters for the showroom and 50 square meters for my studio to work in. There is a grand piano, two stairs and there is even a courtyard, so you can go outside, which is unusual for a regular shop. It is very stylish and a combination between art and decoration. It impresses and everybody who enters the place says wow! Even people who have a different taste they say wow. I think I would maybe say wow."
Marina Welsch was born in Frankfurt, Germany, with parents that she describes as 'rather normal,' and she grew up in nearby Wiesbaden, one of Germany's wealthier cities.
She says of her parents, "They weren't very rich and they weren't poor, but they were something in between. They were middle class people. My brother at the age of 25 had this very difficult accident that left him paralyzed and he sits in a wheelchair. When this happened it made me think that I was the only creative person in the family. Since I was born I had to do things, perform and paint. My family is completely different. I think that I am the black sheep or the white sheep, I don't know.
During my school time (as a child) I could have done acting and I was even recommended by many teachers, but I found it was too basic. I lost interest very fast. I always wanted to make something bigger than life and if you look at my art there are very expensive colors in them like bronze, gold and real copper. I always wanted to do something monumental.
In school I wasn't the best pupil and I was easily bored. I even jumped over a whole class (in America we would call it skipping a grade), because I was very good, very smart. I got bored easily. For me it was important first to be someone and to be like a sponge that absorbs everything that you see in life. I couldn't have really given something (as an actor) at the age of ten or sixteen. I didn't know anything. I was a child and a teenager and I hadn't seen much or felt much. I hadn't learned so much. It happened later with the accident to my brother, my stay in Romania, my jobs and the things that I did, (such as) my acting training in the U.S. It was all of these kinds of things that contributed to the person that I am. Then I could give something back and I was the fully absorbed sponge. (Before) what could I have possibly given to the world, nothing. This is the way that I saw it at least.
Acting was there all of my life and I always wanted to become an actress. I was twenty-four when I had this acting opportunity from a school and I was a Creative Director at the age of twenty-nine. I couldn't afford the (acting school) and my parents wanted me to do something real. My parents told me before you do anything you better have a bread and butter job. I had to do all kinds of things.
I was a language correspondent, I studied marketing communications and I used to work in Bucharest, Romania for two years for a big American advertising agency where I was the Creative Director. I had to do all kinds of things, but it is like a virus if you have the scent of acting or the artwork, it was always like I had to hearts living in my chest. I felt like twins, one part of me wanted to do acting and the other part of me wanted to do painting and I wanted to do something real first.
I have a big file with all of my certificates that I did in my life. I wanted to become a complete person before something else. Then since I did everything that was expected I thought okay now I can do the nice things. I fulfilled what other people expected of me, my parents and now I could do what I wanted to do. I was also financially a bit more independent. I had some money to do things and to afford things.
This is why everything started a little late in my life. On the other hand it is good, because I don't feel so burned out like most people. Some by the age of thirty are already worn out. It is a hard business. For artists in general it is so difficult. There are so many people and there are so many connections that you have to have, you have to know the right people, you have to please the right people and I have never been a people pleaser all of my life. I always wanted to be a straightforward individual, authentic, generous and straight. I never wanted to pretend to be somebody else just to please people. I wanted to do a good job all of the way through, which makes it sometimes a bit difficult."
As for her acting career she says, "My very first acting role was when I did some private acting in the U.S. I went to the New York Film Academy. I also took master classes with Bernard Hiller, MK Lewis and (I attended) the Mallorca Film Academy some years back. (In addition), I did a master class with Tom DiCillo."
Marina Welsch describes her first acting job as, "something very stupid. It was a court show in Germany. It wasn't very good quality and it was on television. If you haven't done anything then you have to start from scratch and you take what you can get. Then you get more and more. I did these kinds of afternoon shows. They were small daily scripted reality soaps. It was just so you can get experience and you can learn something. I started so late. Most people had already given up on acting when I started. Some people looked at me like, boy is she crazy. I always had the feeling of no regrets. I said if not now then when?"
Things improved as far as Marina Welsch's acting opportunities were concerned and she landed a role in, "a film called Schwarznull and in English it would mean Black Zero. It was very dark and it was a cinema movie. It is a very apocalyptic movie. The film fits very well in our times. It is about people who have so many debts. The man is a good manager and he loses his job. The woman is always shopping, doing sports and looking good and then he comes home and says I lost my job. Everything goes down and the bank starts asking for the loans (to be repaid). The spirit goes down down down. Everything goes down and everything collapses in this movie.
We shot (the film) over many days and I had one of the lead roles. I was the wife of the man who lost his job. I was busy with only shopping and taking care of my body. She is the only one who survives this movie. There are so many different side stories and they all lead together somehow. I was the wife of the guy who loses his job and we lost everything.
We try to rob a bank, because we don't see any other (way out), but to rob a bank. Then everything goes wrong, because my neighbor is a police officer and he recognizes me. There is a real show down and it is a real intense movie. This was the biggest role that I had to play in those days.
My most exciting role was in Breathful (as Buddy Rich). (Editor's note: no connection to the drummer). Funny enough the director of Breathful was Daryush Shokof. He just asked me again if I could play Buddy Rich again in Breathful 2. The interesting thing about this movie is it is an all women cast. There are no men in this movie. It is a gangster comedy. It is so funny and interesting."
Early in life Welsch was both inspired and intrigued by people such as Elvis and Romy Schneider.
She says, "They gave so much to the people, but deep inside they were so unhappy it seems. I was always fascinated by their charisma and their appearance. Their lives ended at basically the same age, around forty. (Elvis was 42 and Romy Schneider was 44) The young Elvis was so intense. It was the way that he performed things and he was very popular. Now there are people who are famous and popular, but they don't know anything.
Romy Schneider is I think the most beautiful woman that I ever saw. It was her vulnerability and her deepness when you look at her. She really touched me and I am always impressed by people who have the ability to touch someone, to really get them and to make them shiver in one way or the other."
If you are a casting director or producer and you are reading this, Marina Welsch is fluent in both German and English still has some things on her acting bucket list. For instance she would jump at the opportunity to combine her love for acting with another passion, playing tennis.
She also says, "I would like to be an investigator or something like that (in a film or television role). I am a little clever and smart. I would give it some intensity and some coolness that I think some middle aged women have. It is an advantage that these women have over younger women, that they have lived something and they have experiences. You are relaxed in a way. I would like to play the role more relaxed, but still intense. I think that would be a good combination and I would like that. Let's see what comes up."
You can visit Marina Welsch's acting website here and you can visit the website for Welsch Arts here. You can also view Marina Welsch's acting show reel here.
Middle Photo by Winfried Schroder and bottom Photo by Jennifer
Többen
This interview by Joe Montague published May 23rd, 2016 is protected by copyright and is the property of Riveting Riffs Magazine © All Rights Reserved. All photos the exclusive property of Marina Welsch and are protected
by copyright ©, All Rights Reserved
This inteview may not be reproduced in print or on the internet or through any other means without the written permission of Riveting Riffs Magazine, All Rights Reserved, protected by copyright ©