Mark Rapp Returns Home and Finds His Groove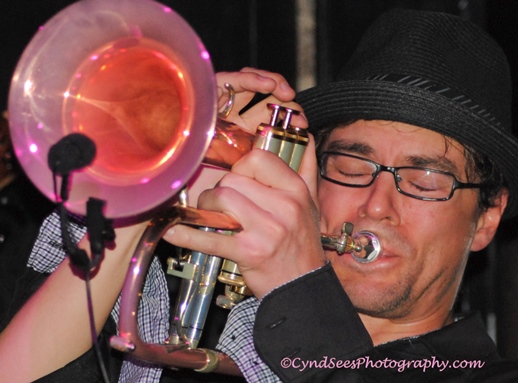 About an hour before the Psycho Jazz Contingency performed their first set in mid-February at Pearlz a new music venue in Columbia, South Carolina, the bandleader, Jazz trumpeter, arranger and composer Mark Rapp took time to talk to us about his career, music and travels. Rapp moved back to South Carolina a little over one year ago, after spending time refining his artistry in New Orleans, New York City and Geneva, Switzerland.
"Psycho Jazz Contingency is a new project that I started in Columbia. I have been back here for a little over a year. I have been getting plugged into the local scene and to my pleasant surprise there are some world class amazing musicians here. It is incredible and I should not be surprised by it, as everywhere that I have traveled there are amazing musicians. I grew up in South Carolina, but I didn't expect such a strong Jazz scene in Columbia. I knew there would be little pockets, a couple of guys playing, but I didn't realize there would be cats here that would be really dealing and really playing. I have been getting into circles and sitting in with a bunch of bands. I started getting gigs offered to me and then other players would call me to substitute for their regular gigs around the city," says Mark Rapp.
We should point out that this is not a story about boy returns home, because he lost his way along the path to becoming a musician to be reckoned with. The situation is quite the contrary, as Mark Rapp has played sold out shows in such highly regarded establishments as New York City's Blue Note, San Francisco's Yoshi's and Blues Alley in Washington, D.C. He has also performed at the JVC Newport Jazz Festival, Dizzy's Club Coca-Cola at the Lincoln Center and several European venues. He has also been heralded by the highly respected DownBeat Magazine as one of the Jazz musicians to keep an eye on.
"I had a strong desire to express the music that I enjoy and my artistic vision and that was the onus and the genesis of putting the Psycho Jazz Contingency together," he says.
Rapp says that the Psycho Jazz Contingency was inspired by The Song Project, another of his ensembles. "We take any song that we like, no matter what genre, it can be Country, Heavy Metal, Rock, Rap or classic Jazz and we reinterpret it and play it in our own fashion. Psycho Jazz Contingency is a way for me to get things happening on a local level and to have a fun project that I am doing on a weekly basis. TSP is much more of a special project thing. TSP will do a weeklong tour in California, but that can take months to book. You go out and do it, but then there is months of dead space, (before) you go out and do a festival. This is a way for me to keep things going and to feed my artistic soul. The Psycho Jazz Contingency is made up of the best musicians around here. They can stand on their own against anyone from New York to Europe to wherever. They are great, absolutely great. We play everything, Madonna, The Cure, Bill Evans, Miles Davis to Radiohead."
As for what we would hear on this evening, "We just had Mardi Gras and Valentine's Day, so I was actually thinking of starting with "My Funny Valentine," and being inspired by Miles Davis' 1964 version of "My Funny Valentine," which is a little adventurous and exploratory. That is the spirit of the Psycho Jazz Contingency. It is approaching each and every song (in the manner in which) Miles approached "Bitches Brew," but not nearly as cacophonous, bombastic or crazy, but in that spirit of being open, free and adventurous. For example the very first gig that Psycho Jazz did, we opened with John Coltrane's composition entitled "Africa." Weeks later I listened back to an MP3 and we played that tune for thirty minutes. One song for thirty minutes straight! It was like John Coltrane used to do, he would play a song for forty-five minutes. With that stretch, we easily went to five different places, so there were five different songs presented within this one context. That is the idea, to really be free as improvisers and to be as melodic as possible at all times, to be as expressive as you can be and to be in the moment at all times, but to do so with authenticity, intelligence, with sophistication and with passion."
While the music business went through a bit of a lull the past few years, Mark Rapp has been busier than ever. In 2011 he was one of the artists featured on Disney's album Everyone Wants To Be A Cat.
"My band The Mark Rapp Group in on the closing track. Other artists on this record were Dave Brubeck, Roy Hargrove, Esperanza Spalding, the Bad Plus and Joshua Redman. It was an all-star cast. One of the producers of this record produced my debut record and his name is Jason Oliane. Part of the concept of this record was to pair established artists with up and coming artists. He called me and a handful of other up and comers and that are less known, along with the established artists. We went in and recorded. I guess I am really the unknown guy on the record, so I'm really lucky and fortunate to have made the record. We did "Circle of Life," which is Elton John from The Lion King. Ironically it was our least rehearsed tune that we came in to record," he recalls.
Rapp teamed up with tenor / alto saxophonist, flutist, composer and arranger Don Braden to record Braden – Rapp The Strayhorn Project. Also appearing on the album are Grammy nominated pianist Gerald Clayton and vocalist Sachal Vasandani. In some cases Braden and Rapp altered the arrangements and the melodies.
"The Strayhorn Estate, which is the family of Billy Strayhorn, loved the record and it was great to have their support. We contributed three or four arrangements each. Don contributed three or four, Sachal a handful, Gerald a few and I did four. The idea was to take the classic Billy Strayhorn repertoire and to arrange it in our style and for who we are as musicians at this given time and then to express those tunes within the context of 2011. For example I did "Isfahan," which is traditionally played as a ballad. Everybody knows it as a beautiful ballad. I did it as this McCoy Tyner aggressive, modern, straight ahead thing and (we received positive reviews), but a lot of the reviewers hated that I changed that tune so much. I took that as a sign that I am doing something right. If these critics do not like what I am doing then that means I am doing something right. The Strayhorn Estate loved it. They loved that tune, because it was so dramatically different. I think it was his nephew who said (to me) that is the exact spirit of how Billy lived, always trying to do something, new, innovative and ahead of his time. He said Billy would have loved it and I said thank you," he says.
While he was living in Geneva, Switzerland in 2011 Mark Rapp recorded the album Good Eats, a tribute to saxophonist Lou Donaldson. He collaborated with two musicians with whom he had played in New York City and who were now living in Europe, Hammond B3 organist Joe Kaplowitz who was living in Croatia and drummer Klemens Marktl who had moved to Austria. Don Braden played tenor saxophone and alto flute and Ahmad Mansour was the guitarist, while of course Rapp played the trumpet, the coronet and the didgeridoo.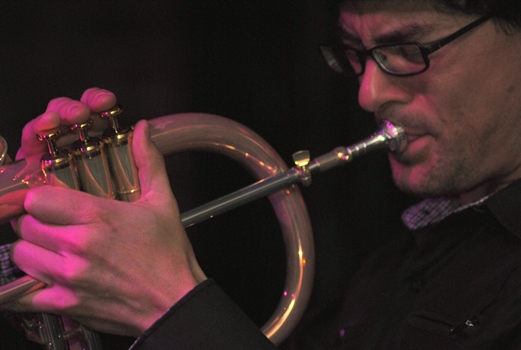 "On one track I played this coronet that I had saved from a restaurant wall during my time in New Orleans. That was fun and it was like poetic justice for the coronet to be recorded again after fifteen years and after being crucified to a restaurant wall. It is nice to play a horn like that," he says.

Rapp says that the title of the album Good Eats is derived from two sources, "One is kind of tawdry and sexual, because Lou Donaldson is a dirty old man and if you look at his record covers there are a lot of sexual innuendos on his covers. A more safe and PG version is I am a huge fan of the show on the Food Network called Good Eats and Dalton Brown is the host. I thought that it would be fun to put the two together. It was also a mixing pot of all of these different influences from New Orleans, the guys from New York and now in being in Europe. It was a big melting pot of flavors and half the record was new arrangements. One half of the record was á la Strayhorn and the other half of the record we tried to pay homage to Lou Donaldson. We played in that classic Boogaloo style.

The album was recorded with Don Braden remaining in the United States. He recorded in New Jersey and then emailed his parts to Mark Rapp in Switzerland.

"When we recorded, we left spots for him to record. It came out sounding great and he really took his time with it. He learned what they rhythm section was doing so he could interact with us. It came out sounding organic and like he was there in the moment," says Rapp.

Reinterpreting the music of Lou Donaldson for the most part, came easily to Rapp and company and he credits that to the musicians and most of the tunes were boogaloos, which he says tend to have simpler melodies.

"There was only one tune that was kind of tricky and it was called "Spaceman Twist," which has a fast running line, which took a few minutes for me to get under my fingers," says Rapp.

Reflecting upon the places he has lived and his evolution as a musician, composer and arranger, Mark Rapp says, "In New Orleans, I was young, I was in college and I was a Jazzhead. I was very dogmatic about what Jazz was supposed to be and what it meant. If it wasn't straight ahead, then it wasn't music. I moved to New York and I grew up a little bit and I opened my ears a lot more. I redefined what music really is. Music isn't about how many sharp nines or how many flat nines you can play or if it is a particular rhythm or if there is a particular scale that you lean on. It is about intention, emotional expression and about connecting with other life forms on this planet. It is definitely intellectual, it is Jazz. It is America's Classical music, but it's also music of love, sadness, joy and pain. The greatest artists that we love and that are timeless are those artists who hit you on those emotional levels and that is over and beyond anything that is intellectual. That's just raw, life, soulfulness. New York taught me some of that, but New York also taught me the seriousness of studying, practicing and getting your ass kicked and how to come back from that (he laughs). New York is so oversaturated and everybody can play their ass off. There are thousands of trumpet players and if you heard them individually you would think they are the most amazing trumpet player on the planet. The next night you hear five other guys who are equally amazing. It is absolutely incredible, humbling and sobering. It can very easily be depressing if you don't turn it into an encouragement or a drive for yourself to do better. My first year in New York freaked me out so much that I couldn't play my trumpet. I was intimidated about everything to do with New York. I grew up in South Carolina in the Bible belt and then I moved to New Orleans, which was sin city, but on a completely relaxed spectrum when I was playing gigs until five or six o'clock in the morning and sleeping in until two or three o'clock in the afternoon. It was a whole different lifestyle and then I moved to New York and it is just the exact opposite. Oh My God, it's intense. You have to walk fast, just walking to the grocery store you have to be on point. "

Now Mark Rapp has come full circle and he has returned home to South Carolina where the pace is a more laid back than New York City, more familiar than Geneva, Switzerland and in a part of the country that also enjoys a rich heritage in music.

Please visit Mark Rapp's website.

Please return to the Riveting Riffs Magazine Front Page.

Interview by Joe Montague, Photos by Cyndee Kaule protected by copyright

© All Rights Reserved

This interview is protected by copyright © and may not be reproduced in print or on the internet or through any other means without the written permission of Riveting Riffs Magazine, All Rights Reserved