The Costa Blanca coast in southeast Spain is famous for many reasons and soon it may become well-known for being the place where actress, singer, dancer and screenwriter Marta Bascuñana grew up. Fluent in Spanish and English, tall, with a supermodel's face and build and blessed with enormous talent as an actress, she is a casting director's dream. She can have a commanding presence in a scene, while still possessing the sensibility to be more demure when filling a lesser role. Whereas in bygone days taller actresses often were overlooked for roles they easily had the talent to warrant their being cast for them, actresses such as Geena Davis, Brooke Shields, Uma Thurman, Nicole Kidman, Rebecca Romijn and Gal Gadot, long ago vanquished those oversights. Talent always triumphs and for Marta Bascuñana her time is now.
She sat down with Riveting Riffs Magazine recently on the eve of recording a commercial for an NGO and discussed her theater and film career.
"There were not any actors and actresses in my family. I am the first. Since the time I was a little girl I loved watching classical films on TV, theater that were shown on television and films like Gone with the Wind that I would watch whenever I had the chance.
I loved reading a lot when I was a child. That love for reading grew naturally, as it was also one of her mother's great interests and her brother would often bring home books for her from the library. She loved the stories she was told by both of her parents and her grandmother. She also hints at being perhaps inspired by an uncle who was both a journalist and a television producer.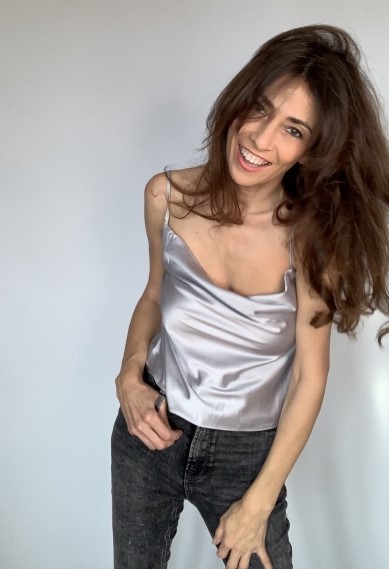 "We also used to go to the plays that took place next to our home in Torrevieja and I decided to be an actress at five years old while I saw one of those plays. I played at theater, pretending to be that actress who was performing the play that day. I loved creating new stories and writing them alone and with friends. I recorded video and audio tapes with our own news and other magazines with a cousin, during the summer holidays.

I liked volunteering for singing and acting roles during Spanish and literature classes. I also loved to dance and play guitar.

I was twelve years of age when I had my first acting role and that was at the Theater of Torrevieja," she says, while once again explaining that she had a voracious appetite for books.

After moving to Madrid, as an adult, Marta Bascuñana studied acting with Alicia Hermida and Jaime Losada at the La Barraca school. She later studied film at La Central de Cine. Marta Bascuñana is what in North America is often referred to as a triple threat, as she acts, sings and dances. She was trained in dance and as a singer at SCAENA Carmen Roche Dance School under the tutelage of Victor Ullate Roche, Nicolás Ibáñez, Ana Ponce, Silvia Vidal, Lorena García and Laura Rodríguez. We mentioned that she is also a screenwriter and she has taken courses in script writing and filmmaking.

"My first professional role in theater was for an adaptation that a colleague of mine, from La Barraca, David Z. Vaquero and I made from Dorothy Parker's stories. I had a twenty-minute comical monologue at the beginning of the play.

When the curtain opened and I was there alone, with the audience and there was only silence the atmosphere in the theater was beautiful. I loved the connection with the audience, and they enjoyed the monologue. Each time they laughed it was a gift to us.

The first film I was in, was directed by Jordal Le Fou and it was called Oncidium Bifolium, mi Orquídea favorita

.

It is a fabulous experience when you do an audition, and the director calls you to tell you that the role is yours. So many actors and actresses receive many (rejections) throughout their careers and when a yes comes it is an explosion of happiness!

I have really enjoyed all of the films and plays that I have been in. (For instance), I as Cleo in Las Hermanas de Búfalo Bill with my colleague Leticia Álvarez de Perea. The play was written by Martínez Mediero and we had a lot of fun. Alicia Hermida provided good direction for our roles. This was an adaptation we made from the play written by Manuel Martínez Mediero. We had a lot of fun playing these roles of two sisters that were in a moment of almost freedom," she says.

Marta Bascuñana says, "The most challenging thing for me as an actress are the plays when I had to dance, sing and act, at the same time, but I love to do that, because I love musical theater. Actors and actresses have to always be ready for many disciplines.

In MIGUEL for example it was a challenge to play the role of Josefina Manresa as she was an actual person and not a fictional character. It was a very interesting and lovely role to play.

I always start preparing each role as it is, a new beginning, with an open mind, a lot of passion and collecting as much information as possible.

For example, for the role of Josefina Manresa in MIGUEL the live show includes music, the poems of Miguel Hernández, and his work in cinema, theater and plastic art. I read many poems by Miguel Hernández, I visited places where Miguel and his wife Josefina Manresa lived, and we also shot a short film called Volverás a mi huerto y a mi higuera. Pasión por un poeta in Orihuela (Alicante). For the film we visited the home of Miguel Hernández in Orihuela. I also studied photos of them and watched videos of Miguel and Josefina, so I would know more deeply their personalities and the love they felt for one another. I did an in-depth analysis of the monologues included in the show and I rehearsed with the director, the musicians and the soprano.

I believe that the key is work, work and work and being prepared always for any role."

She pauses, before continuing to talk about the musical The Adventures of Tom Sawyer, which was staged in Spain in 2015 – 16, in which she played three different characters, Becky Thatcher, Aunt Polly and Muff Potter, necessitating frequent and quick costume changes.

"It was presented different Spanish cities such as, Madrid, Sevilla, Albacete and Coslada. The director Borja provides us with very useful directions for this play, as well as, The Prince and the Pauper, which I was also in and played six characters. It was very funny and interesting to work with him and with all of the team," she says.

We wondered how someone from Spain, would prepare for a play, The Adventures of Tom Sawyer, considering it is based on the works of American author Mark Twain and was written a century and one-half ago, set in a time and a culture that even most Americans today would find foreign to them.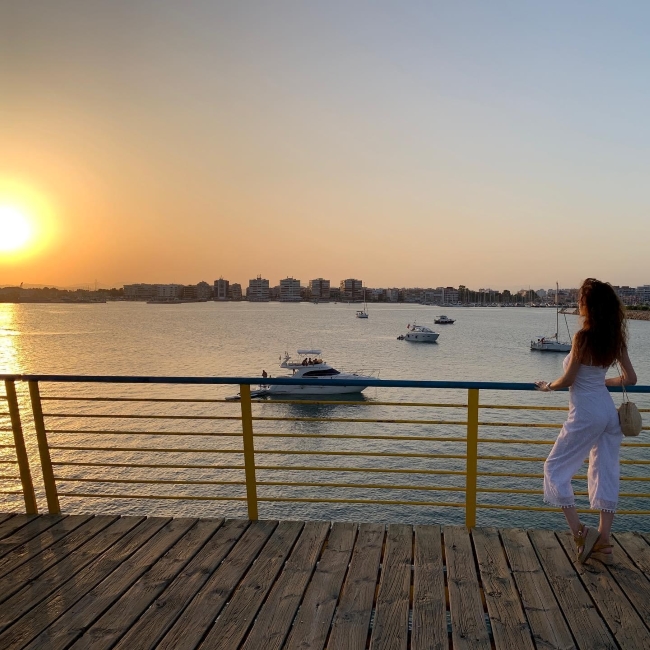 "I was so lucky because I visited the Mississippi River the year before the play, was presented. I was in Saint Louis. These are two wonderful universal books, so the most important thing is the human values included in these stories, friendship, honesty and freedom. We worked out the story in that (context).
The play was presented in English and I loved that too. There was a person that was in charge of the English pronunciation (dialect coach), Carles Cuevas. The director and Carles indicated what they were looking for from each scene and role. Borja Rodríguez gave us specific instructions regarding the way we should speak and so we could get the attention of the audience, while performing a top-quality play.
This was a play and not a musical, even though we sang the songs that were written for the play. It was an adaptation presented by Borja Rodriguez, not the Broadway version," says Marta Bascuñana
In the film Nadie es perfecto (Nobody is Perfect), Marta Bascuñana portrays an English teacher and there is a powerful scene written by Mario Schöendorff from CENTRAL DE CINE, especially for the two of us, Aser García Rada. It was created from improvisation roles we made for that purpose. We were directed by Carles Vila (we are sworn to secrecy concerning the scene).
My character was fun to play and she has a clear objective and nobody and no thing will stop her.
It was filmed in a pub in Madrid in 2014," she says.
Like most arts and culture productions, in the world, whether they be film, television, theater, music or other forms of artistic expression, the production MIGUEL, ground to a halt with the advent of COVID-19 in the spring of 2000.
"MIGUEL was being presented with Asociación Cultural Lux Aeterna, with Rafael Lozano as the music director, Rafael Bascuñana is the scene director, Susanna Vardanyan and Camerata Universal Music performed the live music, plastic art was by Paco Sáez and Rafael Bascuñana. It is a live show that includes poetry, live music, cinema, theater and plastic art, but as with many other shows it was cancelled, because of the pandemic situation. Hopefully, we can resume presenting it in Spain and in New York in 2 years," explains Marta Bascuñana.
Although, some aspects of the creative world may have come to a standstill, Marta Bascuñana has continued to create, turning her attention to screenwriting, "During the pandemic lockdown I wrote, directed and interpreted some short films. One of them Lo que la pandemia ha unido or What the Pandemic has Joined, was the winner for short film in the e-talent competition, Roockiebox. The award consists of screening the winner in numerous cinemas and in different cities. It will be screened when the pandemic allows for it. The synopsis is, a woman falls in love with a man that she has seen in a live social network during the lockdown period and she decides to test her time machine to meet with the man, before the period of confinement.
Some of the other short films, which I have written, directed and interpreted and which also have been selected for film festivals include, Cita a ciegas en COVID-19 (Blind Date in COVID-19. My colleague Cárlos Álvarez was in the role of Javier. It was selected for the FIBAC festival. The film is about a woman who is alone at home during the confinement. She has a very special online blind date."
Marta Bascuñana has experienced an explosion of creativity this year, as she has written directed, recorded, edited and acted in numerous short films, including, El momento es ahora (The Time is Now), with music by Rafael Lozano Prior, a film dedicated to all of the workers who have provided help during the pandemic and to the anonymous people confined to their homes. There is Siempre (Always) dedicated to the culture sector and Té Verde or Green Tea, a fictional piece. There is an interesting sounding horror film called Espejo or Mirror that was written by Geovanny Reyes, about the possible changes experienced by people during the pandemic. Volver a saludar (Greeting Again) was selected for the Rueda con Rueda Festival and she appears in the film, as a journalist.
What is ahead for Marta Bascuñana?
"I love interpretation and creativity in all its forms. I am passionate about theater and cinema always captivates me. The warmth and excitement that the audience gives you during the performance are indescribable.
Now, I really would like to play a role in a film or TV series, and I would like to also continue performing theater plays, of course.
The great challenge for us, as actors, actresses, directors, culture professionals in general is to be able to earn our living from our passion and now it is more difficult indeed. Culture is essential for society. We all as a society should take care of artists and culture to ensure a better present and future," she says.
Please visit the website for Marta Bascuñana.
#MartaBascunanaActriz #MartaBascunanaGuionista #RivetingRiffs #RivetingRiffsMagazine #ActricesEspanola #ActricesCine #ActricesTeatro #ActricesInglesEspanola #ActricesAlta #ActrizModelo
This interview by Joe Montague published December 30th, 2020 is protected by copyright © and is the property of Riveting Riffs Magazine All Rights Reserved. All photos are the the property of
Marta Bascuñana unless otherwise noted and
all are
protected by copyright © All Rights Reserved.
This interview may not be reproduced in print or on the internet or through any other means without the written permission of Riveting Riffs Magazine.