Matt Sorum is known to music fans as one of the best drummers on the rock scene, because he is a former member of Guns N' Roses and The Cult and he is the drummer for his current band Velvet Revolver. That however only begins to scratch the surface of this multi-instrumentalist and multi-faceted man, who it was our pleasure to interview recently. Matt Sorum as we discovered, plays other instruments and sings, and he is a noted producer, likes to design and he has had and will again in the future have, an exciting fashion line that he developed. Sorum along with his partner Lanny Cordola founded the philanthropic project named Global Sound Lodge and he is also a member of the musical project Camp Freddy. In addition to all of that, he put into place the various pieces of the puzzle, in terms of management, marketing, publicity and development of the band Darling Stilettos, which has as one of its members, Sorum's girlfriend Ace Harper. During our interview with Matt Sorum, we discovered a man who is relaxed, at peace with the world, is well spoken, personable and genuinely loves the direction that his life is taking right now.
Matt Sorum agrees that he is enjoying the way his life is unfolding, "Ya', why not? The general public, probably want to pigeon hole you more than you want to pigeon hole yourself. I think it is like that for any artist, any actor, painter or otherwise. You get a style that people latch onto and people expect you to come out with that every time. I am lucky, because if I was a singer, I would kind of have to be a certain way, but I am a drummer and I am musician, so I can really do whatever I want and it doesn't have to be my mainstay, because I will still do Velvet Revolver. I can call that my day job I guess and the rest of it will be all of the stuff that I feel I want to do. That's the beauty of it."
On March 19th Sourm is taking part in a benefit concert for the David Lynch Foundation. Filmmaker Lynch established the foundation so that children, particularly in the school system can be taught transcendental mediation, because scientific research has demonstrated that this type of meditation can create a state of restful alertness in an individual. On the David Lynch Foundation website the filmmaker expresses his concern that so many children today live in fear and that it impedes their ability to learn. Becoming involved in this benefit concert is far from being merely a photo op for Sorum, but instead it dovetails nicely with his own initiatives, such as Global Sound Lodge
"We started this project with music for humanitarian efforts. We just released our first song called "Hands Together," for Haiti, after the earthquake. We are going over to Tibet in about a month to make some music with (the people there). Global Sound Lodge is a worldwide project and we are interested in Burma, Uganda, and Afghanistan. There is a lot of stuff happening in the world. We are going to start a musical project with songs based on different ideas that we have to help with those causes. Jason Rothberg heard about it and he knew what we were up to, so he thought it would be cool to do some work with his charity and his foundation, then he introduced us to the David Lynch Foundation, which is very much into transcendental meditation. It is trying to get the message out to the world about meditation and they have brought it to prisons, schools and other places around the world. It is a very peaceful movement. They have done concerts before, which have involved Ringo Starr, Paul McCartney and Donovan. This event March 19th at the El Rey Theater is going to benefit the David Lynch Foundation. We are going to come up and play a couple of songs with Donovan; there will be Lanny (Cordola) and myself. I play guitar on this gig, I do play drums but on this particular gig I am going to play guitar and sing. We wrote this song called "Hands Together," and Donovan wants to do that and then we are going to do one of his songs," explains Sorum.
As for his own initiative, Global Sound Lodge, Matt Sorum says, "We would like to go around the world, play with different musicians and film it, and do different albums with real musicians, a little bit like Peter Gabriel's Real World. What we would like to do with the money is to start schools around the world that teach music to kids. Scientists have said that education number one and musical education as well, down the line will change the entire thought process, so as they (the children) grow up and they become adults it will change the infrastructure of these countries, whether they are political problems or they are war torn (countries). That is what we are interested in, getting to the kids with instruments and giving them a guitar, when they might not even have seen one before. I am in touch with people in Burma and there are kids in these refugee camps. I don't know if you have heard of Skateistan, but this guy took skateboards over to Afghanistan and he taught boys how to skate. They had never even seen a skateboard and the girls wanted to skate too, but the boys started pushing them around, because that is part of their upbringing that girls aren't allowed to do much there. The guys from Skateistan were saying don't do that, let the girls skate too. It is more about equality and education and everyone being treated the same. The whole vibe is anyone from an inner city kid to a kid in Afghanistan. If there is nothing fun or interesting for them to do and if they can't find something that really shapes their lives, a lot of them go into bad elements. If they are an inner city kid they join a gang or if they are in Afghanistan they join the Taliban. A lot of them are brought into Uganda and a lot of them are taken as slaves. The problem is they get into the wrong situation and the next thing that you know they are in the army or whatever.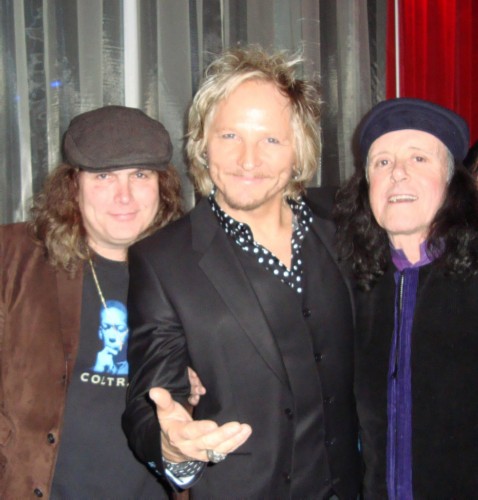 With Global Sound Lodge, we just want to go out there and bring music to the masses and to try and help the best that we can. We are trying to get in with these organizations which see our vision. David Lynch really loves it and Donovan really loves it. Donovan is going to help us with our songs and he is going to come over here and we are going to record with him. The idea is to make records and we want to do some festivals, because the media doesn't pay attention to a lot of these issues that are going on in the world. You didn't hear about Uganda until it was too late. There were 100,000 people killed and why is that? The American government doesn't have any vested interest there, so why do they care? It doesn't have anything to do with oil. It's not on CNN, because CNN doesn't want to cover it. There is no value there. Why are there 200,000 refugees in Burma? Barely anyone knows Aung San Suu Kyi is the Prime Minister of Burma and she has been put in jail by the military (she is actually now out of jail, but her movements and communications with those outside of Burma are extremely restricted). It all comes down to money and that is the shame about it.
We just want to go out there and do what we can to help. As I am getting a little bit older, these things come to me and I have to listen. It has happened organically and the trip to Tibet is going to be really crazy. I am bringing Tommy Lee (Motley Crue) with me. We are going to play drums with all of these different monks from all over. I am at a point in my life where I have played rock and roll all of my life and I have had a very good career, but I want to check out what everyone else is doing in the rest of the world. I want to get different musical ideas, so that is what I am doing."
One of the bigger acts that Matt Sorum is producing right now is the all-girl rock band Darling Stilettos, a group that is as much about presenting an image of sexy women, as it is about the music, however once you get past the obvious you start to discover that the musical vibes are pretty good too. Originally, Sorum toured with the band and performed as the DJ, in addition to being their manager, but after putting together a management and marketing team, he turned his attention solely to producing Darling Stilettos.
"We created this project (Darling Stilettos) as a really fun, entertaining, rock and roll lifestyle entity. We did Vegas, The Palms and the Hilton and the big Elvis Room that Elvis used to play. Darling Stilettos is really exciting and it is a really fun project. It is completely different than your average rock and roll band. It is more elaborate than that with the costumes. The tracks are all mixed by Chris Lord-Alge who worked with Green Day and all the big records which are on the radio (Creed, Third Eye Blind, David Bowie, Dave Matthews Band, Stone Temple Pilots). He is a good friend of mine. He loves the project. Jerry Greenberg is involved and he is the one who signed Abba and Genesis. I have Jeff Stein involved who did (directed) The Kids Are All Right (2010-starring Mark Ruffalo and Julianne Moore). I have a lot of good people around the group. I want to protect it from getting caught up in a typical record company kind of a thing. We are being very careful about what we do, because we want to keep it the way that it is. We don't have to sell out to be a pop group or any of that kind of thing. We have a certain idea of what it is. We are trying to keep the vision," he says.
Sorum also produces Camp Freddy, a project that he describes as a fun band that he put together with guitarist Dave Navarro who plays in Jane's Addiction and who also was part of the Red Hot Chili Peppers.
Talking about Camp Freddy, Sorum says, "That's a band that I put together about five years ago. We had our own radio show, until the station went under. We put that together in a fun way to get away from the corporate structure of the music business. It happened organically, where a bunch of guys got together and played covers. I don't want to call it a corporate band, but we started getting hired for a lot of events like Sony PlayStation, because people wanted to see their heroes playing great songs. We have had people like Steven Tyler, Ozzie Osborne and Billy Idol sing with us, (as well as) Lou Reed, Lisa Marie Presley, and you name it. On Wednesday night we played the Global Green Party with James Cameron and we just played at the Avalon. We had Billy Gibbons, Juliette Lewis and Mark McGrath. We get together, put a set together and we play covers. We have gone all over the place doing it. We have played a lot in New York, Vegas and Chicago and that has turned into quite a cool little sideline thing, because it doesn't take a lot of time and it is basically gig to gig. We have a lot of fun with that one."
As for others whom Matt Sorum has produced, "I produced POE and I had a top ten hit with her. POE's description of her music is it is more trip-hop, but I am known as a rock musician, because those are the bands that I played as a drummer in, and musically that is what I became known for, but as for my background, I was classically trained and I come from being in an orchestra. I play other instruments, the piano and guitar, and I am a singer, so as a producer, I pretty well tackle everything. I am really into vocals and harmonies and on the Guns N' Roses albums I sung most of the harmonies. I came up with the thirds and the fifths. My forte is more musical than just being a drummer. I have done six film scores, which I am really into and I plan on doing a couple more. I have done a lot of TV work and a lot of things for ESPN. I have done a little bit of everything. I have my own recording studio and I have had Billy Gibbons and Billy Idol out here. I just did an album with Macy Gray and I just played on her record. I am working with Paul Oakenfold right now. I am very interested in other music and people just don't know me from that (perspective). I recorded a song with POE which is actually a big band piece, on which I used Tony Bennett's drummer and I used strings and horns. I played with the Buddy Rich Orchestra, but that is not as well known and that is the thing. The things that we are doing with the Global Sound Lodge are going to be very eclectic and I think that people are going to be very surprised, because it will be more world music than it will be rock and roll. The most rock and roll track is the one with Slash on it, but we wrote that specifically, because we were trying to get Tom Petty to sing it. Donovan wants to sing it now. It is a little mellower than rock, but it is a little more along the lines of Dead Can Dance."
What may not be as well known to music fans is Matt Sorum's interest in fashion and design. Two years ago he developed and launched a fashion line with an upscale shop in Los Angeles, however due to the economy the line is dormant and the shop is closed for now, but he is planning to revive both, once the economy is a little bit healthier.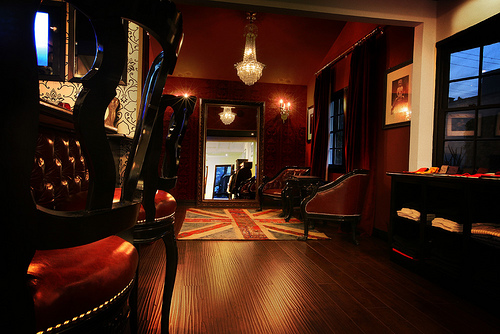 He explains why he has taken a hiatus from the fashion business, "The day after I opened it, I picked up the New York Times and it said the retail business is going to go down, whatever percentage that it said, 50% or 70% and I looked at the paper and I said, 'Oh my God.' I had investors ready to come in. I had spent my own money and I developed the line Sorum NOCE (Nothing Original Comes Easy) with an Italian designer. There was a lot of stuff that I really liked and I thought there was a niche missing in the fashion world (for rock and roll artists). You would see these models holding guitars and I thought, "That is kind of weird, what do they know about rock and roll?' What's the connection? Why can't we do this the other way around? I thought can't we let the guy who has lived the lifestyle, do it from his perspective. I went back and I looked at stuff that I really liked from the Rolling Stones and the Kinks and I created a style and the clothes around that. I had a shop with a lot of custom work and I started getting quite a few clients. I dressed everybody from Billy Idol to Marilyn Manson, to country guys. I dressed Brooks and Dunn and Kenny Chesney and Britney Spears came in to get leather pants. I don't think that I could have got in at a tougher time. I weathered the storm for about a year and then it started being a little bit mentally draining and I pulled out, but I plan on making a comeback. I enjoyed it but the timing was wrong. The clothes aren't available right now." (You can however view the fashion line and photos of the shop here.)
Continuing to talk about the Sorum NOCE venture, he says, "For me it was about trying something else and tackling it as a challenge. I can't say that I failed, because I didn't fail, but my stuff was very expensive. I had custom made suits that were $3,000. People aren't going out looking for $3,000 suits everyday, especially in LA. If I had been in New York or London it might have been a different story. The other thing that I was trying to do was to get the men to dress a little bit better. If you look at seventies rock and roll or even with the actors, it seemed to be more of an era with class. Even when you watch shows like Mad Men, everyone was always cool and they were always in a suit with a cool tie. Somewhere along the line, a suit became a bad thing to wear, like it was horrible or stuffy. I built the shop myself. I am very into designs. I picked out the wallpaper, I picked out the leather for the chairs and I designed them. I did the floors, the colors and everything. I have done a couple of houses as well. I designed them and sold them. I love that. It is something that I have always dabbled in. I enjoy it. I think that it comes from traveling, from seeing architecture and staying in nice places, experiencing nice wine and nice food. It becomes part of what you have lived in."
(http://www.davidlynchfoundation.org/why/overcoming-classroom-stress.html)
Top Photo: Matt Sourum (R), Lanny Cordova (L), Middle Photo: Left to Right Lanny Cordova, Matt Sorum, Donovan, photos courtesy of Matt Sorum, protected by copyright
©, all rights reserved
This interview by Joe Montague published March 5, 2010, and is protected by copyright © and is the property of Riveting Riffs Magazine All Rights Reserved. All photos are the the property of Matt Sorum as noted unless otherwise indicated and all are
protected by copyright © All Rights Reserved.
This interview may not be reproduced in print or on the internet or through any other means without the written permission of Riveting Riffs Magazine, All Rights Reserved