Music historians, fans of the Doo Wop era and the period in which R&B and Beach Music began to emerge, do not need an introduction to the music of Maurice Williams and the Zodiacs, for songs such as "Little Darlin'," first recorded by and written by Maurice Williams, the hit song "Stay," and "May I," are songs to which generations of music fans have sung along. After fifty years as a recording and performing singer – songwriter, Maurice Williams is attracting a lot of attention again, this time with his new album Maurice Williams and the Zodiacs 50 years… The trade mark falsettos, which put songs such as "Stay," at the top of the charts in the 1960s and also made it a hit song years later, for Frankie Valli and the Four Seasons, are back once again. In 1960, Shane Gaston was serving up the falsetto vocals and on the new album it is the late Fred Mangum who provided the falsetto vocals. The combination of Maurice Williams's vocals and Fred Mangum are pure magic.
Williams remembers how it all started, "I started singing in church and then I went to the high school glee club. Our director said, 'Have you guys ever thought about singing Pop songs?" We said we thought about it, but we never did anything and the director said we ought to form a Pop group. I could play piano, one guy could play guitar, another could play bass and we added some drums and I came up with The Royal Charms (for the name of the group). We started winning talent shows and we won one at the local high school. Then there were some guys from the University of South Carolina that started booking us for the university and we were there every other week (he laughs). From there we just went, went, went.
We went to Nashville when I was sixteen. We would hear WLAC radio from Nashville every night and when I started writing, I said, my songs sound just as good as what I am listening to on the radio and I decided to call over there to Nashboro Records, because Nashboro Records was their sponsor. I talked to Ernie Young the owner and he asked the group to come to an audition for a recording contract (with another of his labels Excello). He liked the song "Little Darlin,'" and he liked everything that we did. He said why don't you play "Little Darlin'" for us. This other guy who sang lead on it, William Massey wasn't there, but they said to me, you wrote it and you taught it to him, so you sing it. I did and he (Ernie Young) fell in love with it. He decided to change it up some and made it into a Calypso."
When Maurice Williams started thinking about recording a new album he decided to include the story of the trip to Nashville in his new recording of the song "Little Darlin'" and he renamed it "Little Darlin' / The Beginning," and it features a narrative, the trade mark melody, Fred Mangum's falsetto and a rap. That may sound like a potpourri of elements, but the song works very well and it gives listeners just another reason to fall in love with the music of Maurice Williams and the Zodiacs.
"I am writing a book and the song "Little Darlin' / The Beginning," is a takeoff of the book. I decided to put a little rap thing in it. I just came up with what I was writing in the book and at the beginning of the book I start with Nashville, says Williams, chuckling.
Before the song "Little Darlin," was released Ernie Young changed the name of the group from the Royal Charms.
"He liked flowers. You may recall that there was The Marigolds and he had them also. They recorded over there and Ernie Young named them The Marigolds and he named us The Gladiolas. We did not care what he called us, because we just wanted to make a record that is all," says Maurice Williams.
Eventually the group would leave Excello Records, but as Maurice Williams has said many times over the years, he remains grateful to Ernie Young for giving him his start in music and for not taking advantage of him. It was on Young's advice that Williams let a Canadian group The Diamonds record "Little Darlin," because he had left Williams with the publishing rights to the song and he had told him that it would make him a lot of money.
The group would undergo yet another name change. "When the contract was up with Ernie, we decided to go more national, because he only distributed in the southeast. We were in West Virginia getting our car fixed, because the station wagon had broken down and we were in this dealership and there was this car called the Zodiac. My bass player Robert Gore saw the car and suggested we think of the name Zodiacs and we liked it, because it was completely different. It was a European car (U.K – Ford). Then our manager said, 'We will call you Maurice Williams and the Zodiacs and then you do not have to worry about your name anymore. The original guys were William Massey (tenor / baritone vocals, trumpet), Norman Wade (bass), Earl Gainey (tenor and guitarist), Willie Jones (baritone), myself, Mac Badskins was on drums, Calvin McKinnie (saxophone) and Harold Alexander (saxophone). That was it for a long time," says Williams.
Williams recalls the year 1960, "We made a lot of records on local labels around home and none of them worked and they were being produced by the same two guys from Lancashire High School who produced the talent show. They (recorded) "Stay," and they took "Stay," to New York, with some more songs and they shopped them up there. "Stay," is my signature song. Shane Gaston sang the falsetto. When I wrote it, I originally sang it, but when we recorded it, I said we need somebody, because I don't have a good falsetto. I heard Shane Gaston sing in Charlotte and when I went to Charlotte I got him to audition with the group, to sing it and to record it with us. He said he would do it and then he joined the group."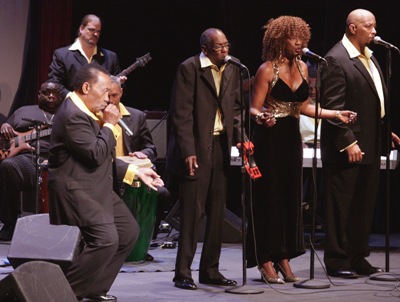 When asked about Fred Mangum who provides the falsetto vocals for this record, Williams replies, "He was something else, he was something else. I met him at a studio here in Charlotte, at Studio East where he was doing a lot of backup work. I told Tim Eaton the owner of the studio that I was looking for a singer and he said, 'I've got a guy for you.' I listened to him and the rest is history, because he blew me away. Everybody loved him and he was just wonderful. He had asthma and that took him out of here (he passed away). When we did the Doo Wop shows, he was excited about meeting the rest of the groups on the shows, like The Five Satins whom he had heard on records, but he had never met them before. He was really excited and they all fell in love with Freddy. It was just beautiful. He was one beautiful guy."
In 1960 "Stay," was released by Herald Records out of New York City, and the label provided the group with national distribution. "Stay," topped the Billboard Hot 100 chart on November 21st. Over the next year, Herald Records released two more songs by Maurice Williams and the Zodiacs, "I Remember," and "Come Along," but none of the other songs to this day, has enjoyed the success of "Stay," and "Little Darlin."
The song "May I," was destined to be Maurice Williams and the Zodiacs' next big hit, but then the label on which the song was originally released Vee-Jay, fell into bankruptcy. The production team of Marshall Sehorn and Allen Toussaint arranged for the song to be released on the Dee Su label out of New Orleans, but the momentum that had been generated by the success of "Stay," and the original promise that "May I," had held as a follow-up hit, had been lost.
"It ("May I") was a mediocre hit, but it went national for Bill Deal and the Rhondels, so we were on the right track," Williams laughs, while acknowledging that the song has attracted a lot of fans over the years, "Oh yes! It is on the new album. I made it shaggable (a type of South Carolina Beach Music), with the walking bass to it. People just love it."
In 1965, Maurice Williams and the Zodiacs recorded the live album Zodiacs At The Beach and it was released on a South Carolina record label and it enjoyed regional success.
Williams who says he is still having a lot of fun performing, decided to cover "Mustang Sally," "Spanish Harlem," This Magic Moment," and "High Hell Sneakers," for the new album.
"I have always loved "Mustang Sally," and it is such a crowd pleaser. Over the years, everywhere that we played, everybody loved "Mustang Sally," so I decided to put it on here. It is a favorite of our fans," he says.
As for why "High Heel Sneakers," made it on to the album, Williams says, "Every time that we do it, people get up and they dance."
This summer Maurice Williams and the Zodiacs will be touring in the southeast United States and if you are a fan of the touring and legendary Doo Wop concerts, you may just catch the group performing at one of those events as well.
Bottom Photo: Maurice Williams, far left singing
This interview by Joe Montague published May 11, 2011 and is protected by copyright © and is the property of Riveting Riffs Magazine All Rights Reserved. All photos are the the property of the photographers as noted unless otherwise indicated and all are
protected by copyright © All Rights Reserved.
This interview may not be reproduced in print or on the internet or through any other means without the written permission of Riveting Riffs Magazine, All Rights Reserved