Melanie Stace and Her Sirens of the Silver Screen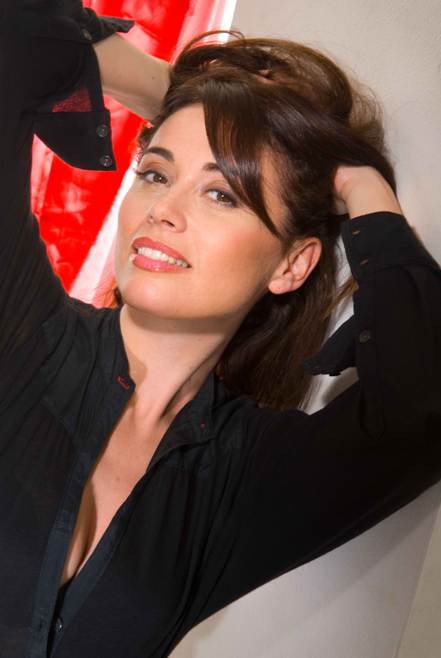 Melanie Stace is appearing at Feinstein's in New York City on June 3rd and 4th and again in September on the 16th and 17th, and the British actress and singer who now makes her home in New York City, is unveiling her new show Sirens Of The Silver Screen, which brings back to life the music and films made famous by people such as, Doris Day, Ruth Etta, Rosemary Clooney, Betty Hutton, Bette Midler, Michelle Pfeiffer, Liza Minnelli, Judy Garland, Barbra Streisand and Marilyn Monroe.
"In my shows, I have always had a movie section and I started to develop a fascination for people like Rosemary Clooney and more modern ones and older ones. I would always come back to particular songs by particular ladies, who were stars of our silver screen, but they were also singers. They were the sirens and the ones who really tugged at your heartstrings, singing about love (both) lost and found and singing about pain, joy, heartbreak and sorrow. You name it and they sung about it. They were almost all completely beautiful and they were almost all incredible actors and mostly dancers, so there was a classic triple threat. Ever since I was a little girl, I have been fascinated by them. It sort of got bigger and bigger and bigger, as I paid tribute to them in my shows. My musical director Doug Oberhamer has the most amazing collection of DVDs and movies. When I go and work with him in his studio, we are singing and writing music together, as we are rehearsing our show, but I can't help it, because these amazing movies are all around me. Last year when I was performing at the Metropolitan Room, I thought wouldn't it be great if I did a more theme driven show and I thought that I would like to do the Sirens Of The Silver Screen. I sat down and thought about who they were going to be. That is such a difficult task," says Ms. Stace.
"I wanted to be focused on the silver screen sirens, but I am not impersonating them. I am not going to stand up there and sing boo, boop e doo a la Marilyn Monroe. It is a love letter to them and the amazing input and amazing influence that they have given to us. Some of the songs are well known and some of them not so well known, because I don't want to appear contrived and they have all sung them so much better. I always wanted to find my own angle and it is always the songs that fit for me. It is Melanie up there. It is not me impersonating somebody else. I don't think that you can base the show on that and I wouldn't be interested to do that," she says.
There is a brief departure from the stars of the silver screen, "We go off on a couple of tangents as well, because I throw in a couple of wildcards. I have to, because it's my show, right? (she says cheekily and laughs). I do a little tribute to an amazing Italian Pop singer named Mina (Anna Maria Quaini) and if there is anybody who should have been a siren of the silver screen it is her. She was really the bad girl of seventies Italian Pop. I love to sing in English and Italian and I have always done it in my shows. I thought she is not a siren of the silver screen, so how can I work this out? I found out that she had done some movies and a series of commercials, so they are going to have to give me that one (she says slyly). I am going to do (her song) "Never, Never, Never," in both Italian and English. I am going to sing it half and half. It is really a lovely song. Mina is now producing some songs for some talented young artists. She became huge in the seventies and still in the eighties when I was working there," she says.
Melanie Stace is an accomplished stage actress, who also performed on BBC's The Royal Variety of Performance as well as co-hosting the popular The Generation Game, both of which appeared on television in the U.K. She has also spent seven years in the role of Madame ZinZanni in the production of Teatro ZinZanni, a wildly popular dinner theater come Cirque du Soleil, with performances in Seattle and San Francisco. The Central character in the storyline, which is presented in a circular tent, is Madame ZinZanni, whom over the years has been portrayed by Joan Baez, Lilane Montevecchi, Maria Muldaur, Sally Kellerman and Ann Wilson (of the rock band Heart). Four years ago Melanie Stace was invited to join the cast of Palazzo a similar production performed in a spiegel tent. The first year with the theater company Palazzo, Ms. Stace performed in Munich, Germany and in subsequent years, Amsterdam (The Netherlands), Vienna (Austria) and in 2011 she performed for five months in Rotterdam (The Netherlands). Ms. Stace therefore gets an opportunity to thoroughly enjoy and merge two of her loves, acting and singing, while performing the songs for Sirens Of The Silver Screen.
"This year they want me to go back to Germany. It is a five course gourmet dinner with candles on the table and a beautiful spiegel tent from the 1930s, all red velvet and everything. It is a story and I am Madame Palazzo really, but they don't call it that. I am the Queen of the Ball and it is a hundred years party," Ms. Stace explains.
Our conversation returns to Sirens Of The Silver Screen and Ms. Stace says, "With each of the choices I came back to the people who poured so much of themselves into what they were doing. Through their songs they were communicating with us, so they could make us laugh or cry. When Marilyn Monroe sings "I'm Through With Love," from Some Like It Hot, it is just an incredible piece of cinema. That is what my show is about in a nutshell."
With what seems to be a favorite phrase of hers, Ms. Stace describes another "amazing piece of cinema," with "Rosemary Clooney is the absolute siren of the silver screen, when she is standing there in White Christmas singing the song "Love You Didn't Do Right By Me." She is so composed. I think she was very underrated and she had her own television show (1956), but you don't hear people talk about her like they do other people. I wanted to find out about her and I wanted to promote her. It is such a joy for me in my work to find out more about these people. They are in my head when I am doing their songs. It is very much me singing them, but it is thanks to them, because they are the inspiration."
Melanie Stace is performing at Feinstein's at Loews Regency on Sunday June 3rd and Monday June 4th at 8 pm. Ms. Stace will be accompanied by Greg Chudzik on bass, David Anthony on drums and guitarist Tony Romano. You can also visit the Melanie Stace website for more information.
Interviewed by Joe Montague May 2012 Return to Our Front Page
This interview is protected by copyright © and may not be reproduced in print or on the internet or through any other means without the written permission of Riveting Riffs Magazine, All Rights Reserved