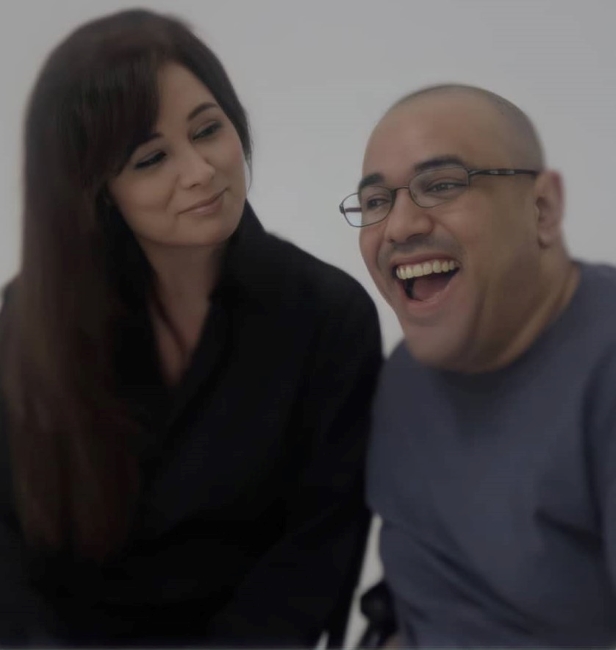 What happens when a producer with Puerto Rican heritage and a British lady who is a talented singer and songwriter meet on social media? The answer is I.Q. The Professor and Melanie Stace created a beautiful album Love On the Rebound. Both individuals called New York City home and their talents complement each other well. Melanie Stace who has been a welcome guest at Riveting Riffs Magazine for a decade and one-half sat down with us recently to discuss the album and the creative process.
The album opens with the beautiful "Getting Started," a good place to begin with a collection of songs that envelope the various stages and aspects of love.
"There is some of that west coast groove, which I love so much, in "Getting Started," and there is a bit of Wayne (Brown) in there, because he taught me so much (Editor's note: the late Wayne Brown for many years was Melanie Stace's co-writer and pianist).
The mood is I have no expectations and you have no expectations, but I am getting started with you. Then that butterfly feeling comes in when you see that person or you are with that person again. It is about going into something new with your feet on the ground and having no expectations. That is exactly how I feel about this album and Edwin (I.Q. The Professor) does too," says Melanie Stace.
So how did this collaboration start, we wondered.
Melanie Stace who is also an actress, was doing voiceover work in her studio during the pandemic, "and then I wanted to start writing again, because now I could be reflective about this time. Sure, enough I got (to know) this very nice music producer that I am working with now. There are terrible things happening, but there are good things happening and I am very grateful for that.
With Love on the Rebound, we did some really incredible things. I think it is something that everybody has experienced. We wrote a track called "Your Love Takes Me Somewhere," which is the first (song) that I wrote with I.Q. The Professor. He released it as a single and it started to get all of these streams and he said I really think we should do an album. We didn't have a concept of what it should be about. He would just send me musical ideas and I would write my words to it and that is how it happened. The song "Love On the Rebound," had a strong message for him and for me and almost every track on the album is about love. What hasn't been written about love? Every single thing on the album is about different feelings of love. There is "Love On the Rebound," "Getting Started," which is that first butterfly feeling that you feel and then there is I am going to "Fight For Your Love," when things are going a bit (sideways).
What I like about the song, "Love On the Rebound," is she is not a victim at the end of it. She is positive and she knows that love will come back to her."
What makes this booklet of love songs work so well, is they are not syrupy, sappy or overly distraught nor are they vengeful, but they are instead more reflective.
"We wrote some of the songs like "Horizon," right in the middle of the pandemic and nothing was happening. I was sitting on a beach and I was just looking out to the horizon. I thought the one thing that is going to happen is the sun is going to keep rising. In that moment it was a beautiful thing to know that sure as anything that sun is going to rise and set. Everything will be okay in the end and I have to be positive and upbeat," she says.
At the time Melanie Stace was trying to think of a name for her recording studio and while she was sitting on that beach, "I saw this little boat battling its way through and it had its sail up. I was thinking it is just plain sailing and then I thought that's it Plain Sailing Studios. I find it very uplifting and very therapeutic. It is also very empowering.
I was looking back the other day and the songs (on the album) are called exactly what I thought they would be called (in the beginning) and I did not deviate.
We are working on a follow-up album and it is called Beautiful Nightmare and we released a little teaser for Halloween. People were oh that is such a great title."
Beautiful Nightmare, is just one of the many oxymorons that populate Melanie Stace's music. Take for instance another song from Love On the Rebound, "Time Flies Slowly."
She elaborates, "They say time flies and it does fly, but during the pandemic I would hate it when people would say I am bored, because the time is going so slowly. I never say that and I always have things to do. Time flies slowly, but during the pandemic it has gone by so quickly. I can't believe it is November. Where has this last year gone?
Time flies, but not for me she (the woman in the song) says, because I am missing him. Tikety tock tickety tock and she is saying there goes the clock it is going around again. It is marking time for me. I couldn't sleep during the pandemic. I have a beautiful English clock and when you can't sleep it ticks louder. I thought oh, that could be like in "Time Flies Slowly," and I said to I.Q. The Professor what do you think? He said just do it. Beneath it all it is because she is missing him. It is also about the pandemic and how time flew during these past two years. It is incredible. You would think it would be a very slow time for everybody, but for me it is not.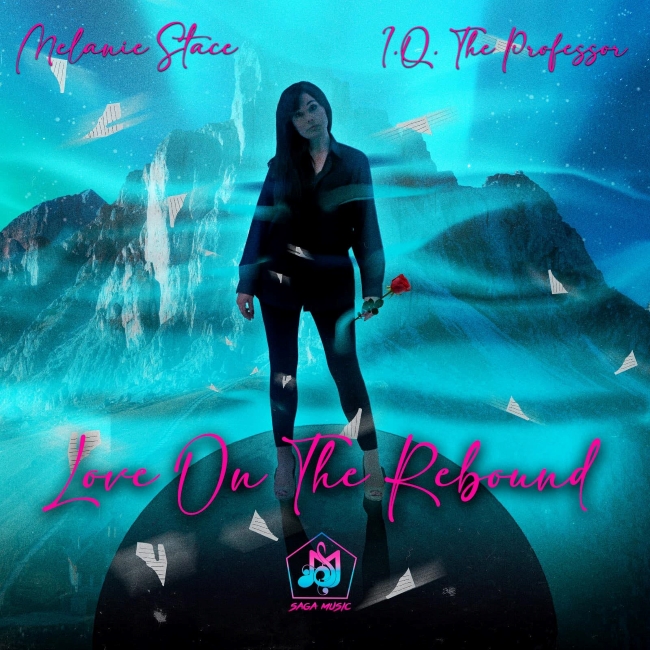 When I was writing these songs, they were probably some of my most personal things. I had people say to me who are you on the rebound from? I said, no, no, no. It is nothing like that. It is about all kinds of feelings of love and grief.
There are many different kinds of love. There is unrequited love, the love associated with grieving, but the resounding theme (on this album) is love. I love the way I.Q. writes and I find it very therapeutic and relaxing. A lot of his music is extremely relaxing to me, so I just let my hair down here in my studio and I let it all out. I had that freedom that I haven't had maybe forever. I didn't have any makeup and I just bared my soul. We did it all through WhatsApp. We never met until we did the video for "Love On the Rebound," she says.
As we mentioned earlier Melanie Stace and Wayne Brown were longtime collaborators and we wondered what it was like to now work with someone she had never met, was not in the same room with and virtually.
"Wayne Brown would play chords and then we would figure out a melody. I would then go home on the train and I had almost written the lyric (by the time I arrived). Then I would go back and record it in the same room as him. What a lovely and great artistic talent he was.
After Wayne died, I thought I had lost my writing mojo, because he had encouraged me into that space, to let it all go, so I could sing and I could write. I know he would be cheering me on, because when I received this track for "Your Love Takes Me Somewhere," which was the single, before we did the album, I listened to it and I thought it was so beautiful. I wanted to sing it in Spanish. I messaged him back and I said I really like your track and he wrote back I really love your voice. He said can you sing Spanish and I said yes. He said do you speak Spanish and I said no. (She says in Spanish the words that she said to I.Q. The Professor in Spanish)
Convinced that her Spanish was passable, she says, "I.Q. The Professor made it sound very pretty and he said that he was going to put it out as a single. That is how we collaborated and it was in a completely different way.
I had to come up with the title and I had to come up with something that sounds beautiful in Spanish. It has a very dreamy feel. It transported me somewhere, because your love takes me somewhere. I thought oh hold on a moment let's see how that sounds in Spanish.
Someone sent me a text and they said when I (sing), love is true and it is so very hard to find, it made them cry, because it is true. I recorded it over a period of a couple of afternoons and then I.Q. mixed it," explains Melanie Stace.
Continuing she says, "I had these beats or tracks coming through to me and he would say just pick what you want and write what you want. I recorded them all in one take. After a few months he said to me you aren't doing all of these in one take are you? I said yes, because I don't know how to do them in any other way.
He said I will be the chef. I will chop it up and I will make it work. There was a lot of back and forth in between. All through the pandemic we were (messaging) through WhatsApp from February until we met in July to film the video," she says.
There are so many colors, shades and tones of Melanie Stace's songwriting and vocals on display with the album Love On the Rebound, more than we have heard at any other time during her career.
"I feel it too and when we were doing I.Q. The Professor felt it too. We were all going through a lot, but his positivity is unbelievable. There was a lot of hard work, emotion and connection. He said I just want to do this and I don't care if we sell one copy. He said I need to do this album with you. I said that I felt the same. When there is the intention and the talent, there is hope. When there is the intention and the good feeling about working together, regardless of the pandemic and regardless of our situations that becomes the reason for bouncing out of bed in the morning. I just thank my lucky stars that it was during the pandemic when I had time to do it. I wasn't traveling and I wasn't gigging in New York and I couldn't go and visit my father. (Editor's note: It was also during this time Melanie Stace's mother passed.)
I.Q. said to me when you sent me that vocal on WhatsApp I started to cry, because I love the way you sing it. I said thank you very much that means a lot and he said, well I have got to have been put in this wheelchair for something. I said so sorry to hear that.
The (album) is for all of us survivors, pandemic or not," says Melanie Stace. Please visit the website for Melanie Stace. You can follow I.Q. The Professor on Twitter. You can follow Melanie Stace on Instagram.
#MelanieStaceMusic #MelanieStaceSinger #LoveOnTheRebound #RivetingRiffs #RivetingRiffsMagazine #IQTheProfessor #MelanieStaceAlbum #NYCMusic #MusicInterviews #NYCEntrevista #EntrevistaMusica
This interview by Joe Montague published November 28th, 2021 is protected by copyright © and is the property of Riveting Riffs Magazine All Rights Reserved. All photos are the the property of
the producers of Melanie Stace and I.Q. The Professor unless otherwise noted and
all are
protected by copyright © All Rights Reserved.
This interview may not be reproduced in print or on the internet or through any other means without the written permission of Riveting Riffs Magazine.