Melanie Stace Gives a Scintillating Performance at New York's 54 Below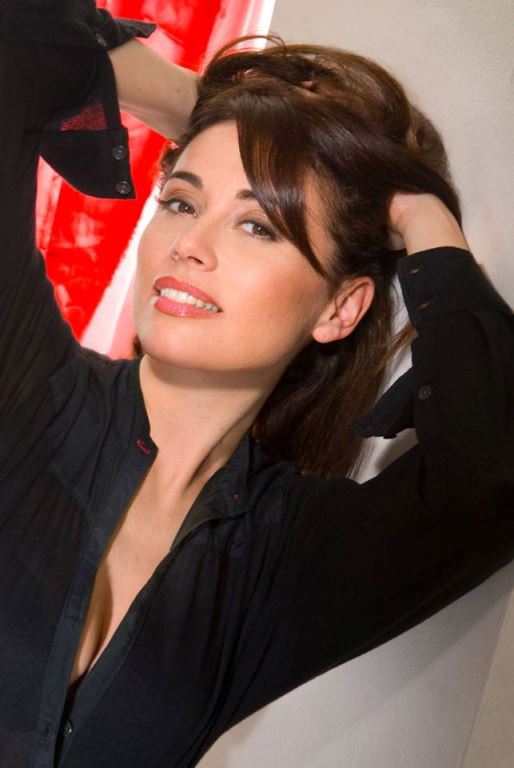 Melanie Stace who for the past five years has made her home in New York City put on an absolutely stunning performance on July 17 th at the dinner club 54 Below located in New York's theater district. Ms. Stace who only weeks before had garnered resounding critical acclaim for her performance at Birdland captivated her audience, enticed them and at times seduced them with a performance that can only be described as truly breathaking, by a lady who not only knows how to sing really well, but who is also the consumate entertainer.
Melanie Stace was backed by a superb quartet of musicians that included pianist and musical director Doug Oberhamer, Tony Romano (guitar), David Anthony (drums) and upright bassist Brian Killeen who opened the evening with a splendid instrumental overture featuring a medley of movie theme songs, before giving way to Ms. Stace.
Melanie Stace has developed a spectacular show that she has titled Sirens of the Silver Screen, which as you can guess pays homage to some of the film industry's most scintillating ladies. We might suggest that Melanie Stace who is easily over six foot in heels and who is also beautiful, is a siren in her own right and although she has not, at least to our knowledge graced the silver screen she has performed on stage in London's West End and on Broadway.
During an earlier interview with Riveting Riffs Magazine Melanie Stace had this to say about her show, "I wanted to be focused on the silver screen sirens, but I am not impersonating them. I am not going to stand up there and sing boo, boop e doo a la Marilyn Monroe. It is a love letter to them and the amazing input and amazing influence that they have given to us. Some of the songs are well known and some of them not so well known, because I don't want to appear contrived and they have all sung them so much better. I always wanted to find my own angle and it is always the songs that fit for me. It is Melanie up there. It is not me impersonating somebody else. I don't think that you can base the show on that and I wouldn't be interested to do that," she says.
Melanie Stace opened with the Liza Minnelli song "The Singer," (written by Walter Marks). She followed that up cooing the song "More Than You Know," from the 1929 Broadway show Great Day (lyrics by Billy Rose and Edward Eliscu, music by Vincent Youmans), but that is not when the siren enters in, at least not in Ms. Stace's mind and hey it's her show, right? For Melanie Stace the real siren was Michelle Pfeiffer who sang "More Than You Know," in the film The Fabulous Baker Boys. Ms. Stace and Doug Ovberhamer collaborated to create "Here's To the Ladies."
Ms. Stace selected a couple of songs recorded by Judy Garland "Embraceable You," and "Someone To Watch Over Me." Melanie Stace was brilliant, while singing "Someone To Watch Over Me," as her powerful vocals filled the room and yet at the same time her phrasing was impeccable and her vocals tender. A third tune recorded by Judy Garland that was performed by Melanie Stace is "Johnny One Note," and it was during this song that it became evident how well Ms. Stace plays to the entire room and how she easily engages her audience both during her performance and while chatting with them between songs. She is personable and authentic and those qualities draw her audience in and it ceases to be simply an evening out to see and hear a singer, but it instead becomes a personal experience for each and everyone who is there.
Introducing the song "It's Magic," from the 1949 film Romance On The High Seas, Melanie Stace referred to Doris Day as "a good girl siren." Ms. Stace was "in the moment," and as you watched her eyes, her facial expressions and her body language, she truly did conjure up images of those magical moments when we know we are in love. This writer never realized that Doris Day could be considered a siren, as she was seen more in the light of the all American girl that lived next door (by this correspondent) until I watched the scene in which she sings "Ten Cents A Dance," in the 1955 movie Love Me Or Leave Me. This was the second song recorded by Doris Day that Melanie Stace served up in fine style. Another beautiful actress, Barbara Stanwyck appeared in the 1931 film Ten Cents A Dance named of course after the Richard Rodgers and Lorenz Hart song.
Other higlights during Melanie Stace's concert included, "Streisand Got There First," a tribute of course to Barbra Streisand and a song that was written by Ms. Stace's friend Richard Kates. The tune mentions twenty-seven of Streisand's songs and it is up-tempo and fun. Just when you thought Melanie Stace would not be able to top her performance of an earlier song, she did it again and she was greeted with rousing applause. She then sang another Streisand tune "How Lucky Can You Get," and the applause kept getting louder, as the evening wore on.
During the beautiful and slower moving "God Bless The Child," Melanie Stace created room for her musicians to shine, with Doug Oberhamer playing the piano elegantly, Tony Romano's guitar solo was exquisite, drummer David Anthony softly played with his brushes and bassist Brian Killeen was emotive.
We could continue to rave about Melanie Stace's performance, but we think you should visit her website and find out where and when her next show is. You can also follow Melanie Stace on her official Sirens of the Silver Screen Facebook page. You may also want to take time to read our earlier interviews with Melanie Stace and here.
Riveting Riffs Magazine would like to take a moment to thank the management of 54 Below for making it possible for us to review Melanie Stace's concert in your beautifully appointed venue and with a staff that was excellent.
This review by Joe Montague published July 20th, 2014 is protected by copyright and is the property of Riveting Riffs Magazine © All Rights Reserved. Photo courtesy of Melanie Stace is protected by copyright ©, All Rights Reserved
This reviewis may not be reproduced in print or on the internet or through any other means without the written permission of Riveting Riffs Magazine, All Rights Reserved