Melissa Stylianou Starring In A Silent Movie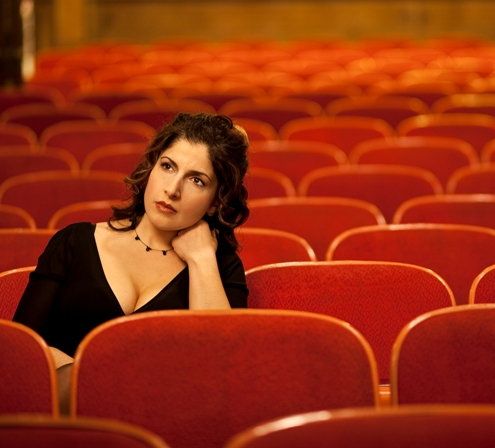 In a day of high tech audio and with film producers continuing to surprise us with even more impressive special effects it is interesting that Jazz singer, composer and arranger Melissa Stylianou, who lives in Brooklyn via Canada, has released an album with the title Silent Movie, a collection of original songs, cover tunes and instrumentals for which she wrote lyrics. Throughout her impressive music career Ms. Stylianou has recorded with equal aplomb Classic Jazz tunes and the music of more contemporary Pop and Rock artists.
"Jamie (Reynolds) and I started to write a song a couple of years ago and we came up with some different versions of this song "Silent Movie," without lyrics first, just as an instrumental piece. About that time we were talking about the phenomena (that takes place) when you go to see a movie or to watch a play and how at some point your own particular story becomes transposed onto the screen and to the drama. Sometimes in the instance of watching a movie it can render it like a silent movie and at that point the sound and the dialogue are unimportant. It becomes about what is going on in your own life and your own imagination. I ran with that idea and I came up with these two people who are at a crossroads in their relationship. That is what is happening to the woman in the relationship (in the song). She is imagining that what is happening on the screen is also what is happening in her life. It is very uncertain or it was to me while I was writing it, if they were going to make it. That is how that song came together and it took us a while to get it into its final form. Jamie gave me a lot of input and feedback on the lyrics. We took it through a couple of different variations in terms of the form and the melody, before settling on this. It became a very important song for us," she explains.
The song "Silent Movie," is a story that gently unfolds, as Melissa Stylianou coos prettily "What are we doing here in the shadows, watching some stranger's story unfold." Jamie Reynolds plays the piano elegantly, accompanied by Pete McCann's subtle guitars and Gary Wang builds a strong, but not ostentatious foundation. The story captures the listener's imagination, because Ms. Stylianou is so adept at painting word pictures of the lights going down in the movie theater, as the listener ceases to be an observer and just like the woman in the song watching the film unfold on the screen, now our lives become intertwined with the couple sitting in the theater.
Melissa Stylianou says, "The songs came together over a couple of years and some of them I had been working on for years and performing. I got deeper and deeper into songs like "Swansea," and "Folks Who Live On The Hill," that I was singing in the earliest part of my Jazz career back in Toronto (Canada) and I brought them back into my repertoire only in the last couple of years. With some other pieces I was in the process of finishing them and in knowing that this project was coming up, I put the fire under my butt to get them done to the place where I was happy with them. Doing the record was really instrumental in getting songs like "Hearing Your Voice," and "First Impressions," to a place where I was at peace. Something is never really finished when you write it, but at some point you have to let it go," she says.
"Hearing Your Voice," is a meandering composition by Vince Mendoza for which Melissa Stylianou wrote lyrics and it features a lengthy and beautiful piano solo by Jamie Reynolds. "First Impressions," is a composition by bassist Edgar Meyer and Ms. Stylianou once again is the lyricist. It is breathtaking in its beauty both instrumentally and vocally, "Now the wine is too thick / And the words are too thin / And my heart seems to stop and I know / You will go. Deeper than the bond between us, Silence fills the tiny room / Sooner than the light has left the sky / Near the end, we will speak with the touch of a hand. / When I smile, what my heart wants to say is "stay." This just might be the most beautiful song that this writer will hear in 2012.
This was not the first time that Melissa Stylianou has recorded an Edgar Meyer song, as she put lyrics to another of his compositions "Sliding Down," and recorded it for her 2006 album of the same name.
"I am definitely drawn to Edgar Meyer's music, songs like "Sliding Down," and "First Impressions," really resonate with me. I think it is the harmony and the movement of the melody, (as well as) the space. I am really enamored of space and when a composer allows a song to unfold. A lot of his songs do that for me. "First Impressions," does that for me and it was first played for me by a bass player from New York. It was after I started making monthly trips down here and when I started to fall in love with New York that I started to think of myself as a musician in a different way than I had thought before. I started expressing myself with this kind of repertoire, with or without words. That is where this song started for me. I first sang it without words, as a wordless song, before the words came to me. It was the same thing with "Angelicus." I was going to record it instrumentally, without words and then suddenly in both cases a story emerged from the lyrics and those words came to me pretty easily. With Edgar's music I find the space and the simplicity of the harmony leave a lot of room for one's own expression. That appeals to me. I love slow songs too, as you can probably tell from my records," she says.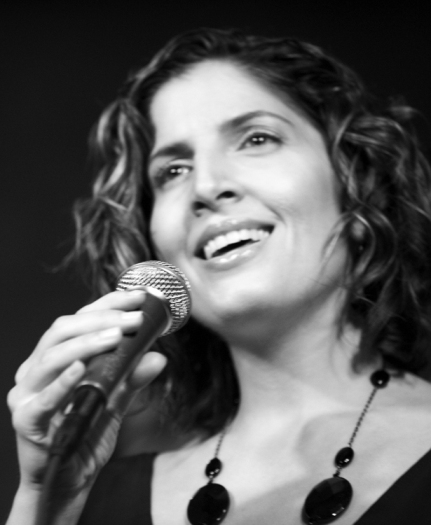 "Working on the repertoire with my producer Oded Lev-Ari was really helpful in solidifying some of those creative decisions. It was part of my live set, before we recorded it. We had been playing these songs live monthly at 55 Bar for quite a while before we went into the studio. That really helped us to get things done efficiently and smoothly with a focus on shape and nuance," she says.
Discussing the various musical choices that she makes, Melissa Stylianou says, "On my second album I did a lot of Bjork, Tom Waits, Sting and Fats Waller. With this record I am still reaching out with different influences and working on and coming to a place where the overall sound is more cohesive. I feel like I am still coming from this centered place and I am able to sing a Paul Simon tune and then sing a Jerome Kern tune and have it all under the umbrella of my idea that the songs on the record are all about these individual stories. I am really proud, because I think that we achieved a cohesive sound and a really intimate vibe with maybe some surprises in terms of the repertoire."
One of those surprising musical choices was to record Johnny Cash's song "I Still Miss Someone." While blushing she confesses, "My husband's band (before they were in a relationship) was playing their weekly gig at the Rex (Hotel in Toronto). Jamie played with his band Exit Man every Wednesday. I had a bit of a crush on him and also a huge musical crush. His band played "I Still Miss Someone," instrumentally and without vocals, as well as "Swansea," and I also credit Jamie for introducing me to the song "Angelicus," by Vince Mendoza, which I then wrote the lyrics for, for the song "Hearing Your Voice." Really there is a strong Melissa and Jamie connection throughout the album that I did not consider before. The arrangement for "I Still Miss Someone," was written by the bass player in Jamie's old band. His name is Paul Matthew. He re-harmonized it in a tasteful, sensitive way that really drew my ear to it. I am always drawn to songs about love and heartbreak, like most people and I found this one to be very affecting and sometimes hard to sing for its raw, simple imagery that puts you right there, where most of us have been."
Melissa Stylianou also decided to record two songs that are often covered, the Johnny Mercer / Henry Mancini song "Moon River," from the film Breakfast At Tiffany's which starred Audrey Hepburn, George Peppard, Patricia Neal and Buddy Ebsen, and she also recorded Charlie Chaplin's "Smile."
Doing "Moon River," really slow like that, helps me to find a different meaning in it. It is a dialogue (between two people) one of whom feels very alone. I imagine that I am alone on a moonlit night. I used to do this all of the time as a romantic pre-teen and I would sit at the window, stare at the moon and commune with the moon. I am taken back to that moment. You feel alone, but you also feel a part of something really big. I can't help but think of that beautiful rendition in the movie Breakfast At Tiffany's with Audrey Hepburn. She was so utterly gorgeous," she says.
Ms. Stylianou says that when she listens to music it is the songs that grab something less tangible inside of her and give her goosebumps that move her.
"It is that authentic person in there who is trying to communicate to me. When they do communicate with me, I feel that it is less about the technical aspect of the music. My ear is also thrilled by really beautiful melodies. I love poetry, I love melodies and I love lyrics. There are a lot of musical elements that thrill me. Songs that really get me are always on that deeper, non… I can't even find the words to express it level," she says.
The album is Silent Movie. The artist is Melissa Stylianou. The music is great. Melissa Stylianou defines what art is; a beautiful expression of our most personal feelings and thoughts and demonstrating the willingness to be vulnerable enough to evoke a strong emotional response from others. You do not need to know anything else, visit her website and listen to the music.
Bottom Photo by Fran Kaufman protected by copyright © All Rights Reserved Interview by Joe Montague, all rights reserved, protected by copyright © April 2011 Return to Our Front Page
This interviewmay not be reproduced in print or on the internet or through any other means without the written permission of Riveting Riffs Magazine, All Rights Reserved