Michael Maron's has enjoyed an illustrious career as a makeup artist, critically acclaimed photographer and beauty consultant. He has authored books such as Child Inside Me and Makeover Magic, which took a look at corrective cosmetics and cosmetic surgery and his book Michael Maron's Instant Makeover Magic was a New York Times best seller. Maron has been sought out by some of the beauty industry's top models, as well as some of the entertainment world's biggest stars and yet he also delights in being of service to clients whose names are only known to their families and neighbors. Michael Maron has been a radio and television personality and worked on the production side of television as well. He was thrust firmly into the spotlight when an entire hour of Oprah's television show was dedicated to Maron doing a makeover of Oprah in front of the cameras. His work with charities and with burn victims has earned him a special place in the hearts of those who have worked with him, in the hearts of his friends and with those who have been the recipients of his generosity. Riveting Riffs Magazine was honored when Michael Maron accepted our invitation to be interviewed by this publication.
Michael Maron was born in New York City and as a child moved with his family of four to Los Angeles.
"(One of) my mother's many sisters lived in Southern California and she said to my mother, 'It's time you took your family and moved here.' We did and she (the sister) sort of orchestrated everything about where to live and so we could be near her. It may be one of the best things that my parents ever did," he says.
Maron talks about his early creative endeavors, "When a kid starts drawing instinctively or maybe even in school you just sort of know that you are doing something that you love. I didn't necessarily know that I did it better than others. Maybe after getting some reinforcement from the teachers you figure out that you are doing something that you are supposed to do and that maybe is excelling what some other children are doing. I never really compared, because I always thought everyone saw what I saw through my own eyes. When I would paint a portrait or later on when I would do photography, I would always hope that people would see the shadows that I would see until I learned that not everybody sees that and you are seeing it through an artist's eyes. It was a gradual thing when I started learning and it was instinctive to me.
My mother always encouraged me and because she said that my artwork was so good, it gave me the confidence to keep doing it. I felt as if I was an old soul and I was told that I was and it showed up in my artwork. My artwork was sophisticated enough that even at the age of twelve adults wanted to hang (my art) on their walls. My first piece, an oil painting was sold when I was twelve years old."
Michael Maron acknowledges the many layers of his career and the eclectic nature of it, as well as a career that he explored at the university level and that may come as a surprise to even some of his friends.
"I have wanted to do so many things. I have always worn many hats and I have always wanted to do many things and I actually have done many things. That is sort of the story of my life. When I was growing up, I think more than anything I was a painter and then I became a photographer. I wanted to be an architect, so I studied architecture at Arizona State University. That was mainly my first thing, but it wasn't until I studied it that I found I wasn't that good. I knew I had to change my path. I was flying home on an airplane for a break and my parents were picking me up at the airport and Barbra Streisand was singing "On A Clear Day (You Can See Forever)." The sky was so clear and I had an epiphany. I thought when I get off of this plane I am going to tell my parents that I don't want to come back (to Arizona State University) and I want to work in show business in some way. That is exactly what happened. They said how are you? I said I am fine, except I am not going to study architecture anymore. I remember my mother saying, what changed your mind? I said, Barbra Streisand. We laughed and then I explained. That's exactly what happened. Then I enrolled at UCLA and I majored in film and television. I pursued the whole directing aspect of being behind the camera. I always loved being behind the camera even though I was working in front of the camera a little bit.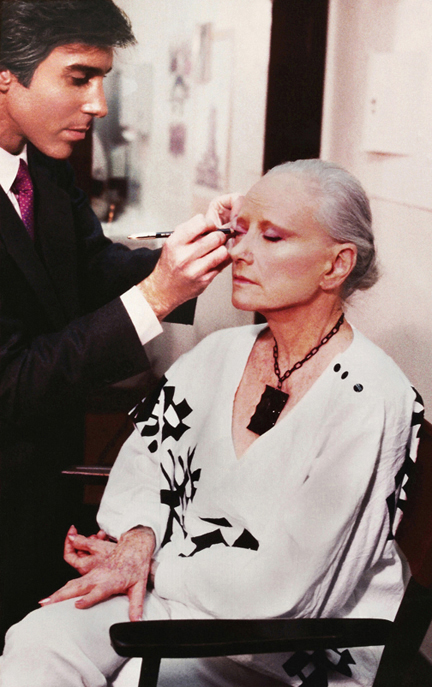 Because I am no spring chicken anymore, there are groups of people from my past who only know me from school, as being in the theater department and then because I was a photographer for so long LA people only knew me as a photographer. When I got into doing makeup, I got into doing my female clients' makeup at the same time. I would do the makeup before I would do the photo session. It was the dramatic differences that I was creating, because I would paint faces instinctively too. It is no different than an oil painting. I decided it was so shocking to see the transformation and the difference that dark and light can create and how makeup can adjust the features of the face and bring it into better balance or make a woman look younger or just enhance. I figured I needed to write a book and that I needed to show this to everybody, so consequently I wrote my first major book Makeover Magic. It turned out to be the best-selling book of the '80s and then it kept me so busy as a makeup artist that I no longer did photography. Consequently, there is this large group of the public who only know me as a makeup artist. You ask one person and they will say oh, Michael Maron the photographer? You ask another person and they may say, oh you mean the makeup artist? Then dating further back another person will say, Michael Maron from UCLA? He was in the theatre department. Because of the theatre department I got my director's guild card and I became an associate director and I worked in television for many years. If you ask one person they will see me one way and if you ask another person they will see me another way and those who know me really well or have known me for a long time know that I have dabbled in so many different careers.
It seems like I have been very fortunate in all of the careers that I have pursued and not only have they given me so much enjoyment, but I suppose I have been successful in them (he only admitted this modestly after being prompted about his success).
Eventually, the Whilhelmina Models began to notice Michael Maron's work.
"My greatest passion turned out (that I liked) being my own boss and doing my own creations with photography and makeup together. I think that was the longest lasting aspect of my career when I was younger. I was so passionate about it and it was Whilhelmina herself who took notice of my photographs, because of the combination of the makeup and I suppose my lighting and my technique. She trusted some of her celebrity clients or models in my hands and she started to send me some of her bigger people. She was more or less the catalyst for me starting to work with more notable names. At the same time I was a part of their commercial and theatrical division as talent. I was represented by Whilhelmina at the exact same time. It was nothing. Occasionally, they would send me out on jobs in front of the camera, but it wasn't my number one passion. My number one passion still was being behind the camera doing the makeup and taking the pictures.
I started to get celebrity clients and because of that many of them agreed to be in my first book. It was virtually the first book that showed scores of celebrities with and without makeup on. That is when my association working with stars really began.
I go so far back, I can't remember who was the first one (that he did a makeover of on TV), but Phyllis Diller (in the photo to the right with Michael Maron) certainly was the biggest star who was in association to me. In other words she was the catalyst for promoting me, my first book and my work, because she was so out there and brutally honest about the fact that she had plastic surgery and that she would show her bare face. No one had ever seen it prior to my first book. She showed her bare face without a stitch of makeup on and without her wigs on," says Maron.
Michael Maron attributes his association with Phyllis Diller and her appearance in his book for generating a lot of positive media attention for him and also numerous invitations to appear on television shows, sometimes accompanied by Phyllis Diller.
We thought, who better to ask than Michael Maron if the way that the entertainment community and the general public view women and beauty has changed during his lifetime and has that changed the way that he approaches his craft?
"It has changed dramatically, mainly because of social media and the paparazzi. Because of the media it seems that every woman wants to emulate the stars and we have sexualized women even more than ever. Fashion and beauty have become sexier if you will and it is more daring and more provocative. I think that it has gotten out of hand," then alluding to a new book he is preparing to write he says, "It may be part of my next book, about dispelling the beauty myth, of why makeup can be a terrific thing and why it can also be a very negative thing.
Where it got negative is the way that advertising and the media have progressed in such ways that the retouching in magazines has made women feel they are not enough. It makes so many women and especially young girls feel that they have to live up to these unrealistic expectations of what beauty is and of what true beauty is and it is all nonsense. Not even the biggest fashion models and celebrities look that good all of the time. Because of the advertising and the media there is a misperceived notion that women aren't good enough unless they are super thin, very sexy, extremely beautiful and flawless. In my opinion of what beauty is, those things don't mean anything," he says.
Does beauty end as we get older? You probably would not get far taking that position when talking to Michael Maron.
He says, "I am getting older and I love every minute of it. I have learned how to say no and I have learned how to walk away, even from something wonderful, such as being an on-air personality at QVC (where he developed two very successful product lines), an experience which will always remain dear to my heart. It was not because being an on air spokesperson and product developer wasn't fabulous, but (there are times) that you do have to move on and often times we get so carried away with our passion and what we love that we don't always take time to enjoy the simple things in life. It is an important thing to do whether you meditate or you just calm down. You have to stop sometimes to just regroup or to simply enjoy life. In that case that meant not being on airplanes as much and not being on the go so much. It is a part of getting older that makes you become wiser in that area.
Getting older is an opportunity to learn how to embrace the simpler things in life. It is also an opportunity to embrace how you look as you become older, because you do indeed change and it is also beautiful to appear older. It may not be as viable in our society where ageism is rampant, but the individual needs to learn to let that go and learn to celebrate every year that you age, because you actually improve. I believe as I age I become wiser and more spiritual and more connected to the friends and family that I love. I think that is the beauty of aging.
Michael Maron talked about a couple of other pathways his career has taken him down.
"One of my books was about plastic surgery. Coincidentally, due to the research I was doing, I was elected to be the makeup consultant to the American Society of Plastic Surgeons. It was not because I was enamored by plastic surgery or that it was something I wanted to do, but because it became such a hot topic in regards to appearance that I wanted to learn everything that I could about cosmetic surgery and that's why I researched it," he says.
We would be remiss if we did not mention Michael Maron's work with burn victims.
"I am really passionate about corrective makeup. The first corrective makeup that I did was on a burn survivor. It was gratifying to see the exuberance in the face of that particular client, because they finally felt more normal, which gave them so much pleasure and that gave me a desire to do more of that. I started to work more and more with burn survivors with our country's renowned burn centers and plastic surgeons," says Maron.
Reflecting upon his career Michael Maron says, "I have slowed down and I am enjoying doing less. I don't think you can equate a particular kind of work with enjoying your life more. I think it is how you are enjoying your life when you are not working that is probably as important as when you are working (he laughs). I don't know if that makes sense, but becoming more spiritually attuned and comfortable with who you are when you are alone is as important as when you are working."
Please visit Michael Maron's website. Return to our Front Page
This interview by Joe Montague published July 26th, 2015 is protected by copyright and is the property of Riveting Riffs Magazine © All Rights Reserved. All photos (including the bottom photo with Phyllis Diller) are the exclusive property of Michael Maron and protected by copyright
©, All Rights Reserved
This interview may not be reproduced in print or on the internet or through any other means without the written permission of Riveting Riffs Magazine, All Rights Reserved