The Music and Passion Of Laura Nyro - Interview with Michele Kort
Michele Kort has served as the Senior Editor for Ms. Magazine since 2003 and she says, "Writing about women in history has always been a guiding light for me. During my freelance career, I wrote a lot about women in sports and the arts. I figured that men already got quite a lot of coverage (she laughs), so I wanted to equalize it a little bit. If I wrote about men in sports I would write about men in really minor sports."
It is not surprising then, when one examines Michele Kort's resume more closely that you notice that she has also authored three books concerning the lives of individuals associated with the entertainment industry, Dinah Shore, Chas (formerly Chastity) Bono and Laura Nyro. Shore of course, enjoyed a lengthy and successful career as a singer, an actress and as a television personality, who hosted two variety shows and two talk shows. Chas Bono is a writer, singer and actor and the trans-gendered child of Sonny Bono and Cher. It is however, the biography which Kort penned concerning the life of singer/songwriter Laura Nyro that led Riveting Riffs Magazine to the author and editor, and she was gracious enough to take time to discuss her motivation for writing the book The Music and Passion of Laura Nyro Soul Picnic, published in 2002, the depth of her research and she providee insights into the lives of one of the most prolific songwriters in the past fifty years.
For those music fans who are not acquainted with the music of Laura Nyro, perhaps a brief overview of her career, will help you to appreciate her accomplishments. For those who are younger than thirty years old, you may need to make good use of google, because tragically Laura Nyro passed away at the age of forty-nine, in 1997, from ovarian cancer and many of the hit songs that she penned were recorded in the 1960's and 1970's. Some of the songs that Laura Nyro wrote and which were covered by a plethora of artists, only some of whom we will mention, include; "And When I Die," (Blood, Sweat & Tears, Peter, Paul and Mary, Chet Baker), "Wedding Bell Blues," (The Fifth Dimension, Lesley Gore, Bobbie Gentry), "Stoney End," (Barbra Streisand, Linda Ronstadt), "Sweet Blindness," (The Fifth Dimension), "Time and Love," (Diana Ross, Labelle, Kenny Rankin), "Stoned Soul Picnic," (The Fifth Dimension, Staple Singers, the Four Tops), "Save The Country," (George Duke, The Fifth Dimension), "Hands Off The Man (Flim Flam Man)," (Barbra Streisand), "Eli's Comin'," (Three Dog Night, Maynard Ferguson), "Billy's Blues," (Mary Foster Conklin).
Despite the fact that she wrote many hit songs and she performed in sold out venues, Laura Nyro remains excluded from the Rock and Roll Hall of Fame, although her name appears on the list of nominees for 2010 induction, and she still has not been admitted to the Songwriters Hall of Fame.
Michele Kort says of those two oversights, "It is pretty shocking. There are still artists rediscovering and recording her music."
When asked, if she thought that Laura Nyro would have cared much, that she has not been admitted into the Songwriters Hall of Fame and the Rock Hall of Fame, Kort pondered the question for a few moments before replying, "You know I didn't really know her. Someone told me that she got an award for a certain amount of sales for "Wedding Bell Blues," from BMI or ASCAP or something, but that (she put) it under the sink in a cabinet. I don't know that honors were all that important to her. People can say that they don't, and then they get the honors and maybe they do care. It is hard to know. I think in her later years, she was very happy to have a small, but serious audience, instead of a big one. It was the quality not the quantity that mattered to her."
Michele Kort's journey with Laura Nyro's music began as a teenager in 1966, when her clock radio blasted out a syncopated piano beat and the words to "Wedding Bell Blues," and so began a lifelong fascination with the music and the life of Laura Nyro that has persisted to this day.
"I was a crazy fan of hers. When she was at the Troubadour (in Hollywood) one time, I made a tuna fish sandwich for her and I brought it to her backstage (Nyro's music publishing company was named Tuna Fish Music). That was nothing compared to what my nuttier cousin Helene did. There was a story that came out about how Laura wanted ducks or something and Helene went out and she found a place where she could buy a baby duckling and she gave Laura a baby duckling (she laughs). She said thank you for the tuna sandwich, but later I thought, why would someone eat something that a fan randomly gave you? I think she had to give away the duckling, but we stayed for two shows that night and during the next show she said (she mimics Laura's whispering onstage voice) 'I got the most wonderful present. Someone gave me a little baby duckling (she emphasizes each phrase and pauses like Nyro would have). Whenever anyone repeats Laura's stories, they always talk in her voice," says Kort with an air of respect.
One gets the sense that Michele Kort is just warming up with her stories of Laura Nyro and her memories, "Another time, I was with the same nutty cousin at The Music Center in Los Angeles. We were sitting way up close and my cousin runs up onto the stage and under the curtain as it was falling, and she runs into Jackson Browne who had opened the show. He said 'Oh you really want to see Laura,' and he gave my cousin his backstage pass. We found a way to take the elevators up to the dressing room and I said to her, 'You really ought to do an album of oldies,' and she said, 'I am' (again Kort whispers in a Nyro like voice). I know that a lot of fans have stories. I know my friend was backstage at a concert and she was invited in. Laura gave her a kiss."
"Many times over the years, I thought of writing a book about Laura Nyro, but I always heard that she was so private and I thought that it would be impossible. In the eighties, I was working for a songwriter magazine for a while and there was another Laura Nyro fan working there. I think that she was in touch with Roscoe Harring, Laura Nyro's road manager and friend, and she (the friend) was trying to arrange for an interview with Laura. It just seemed so difficult that I discounted the possibility."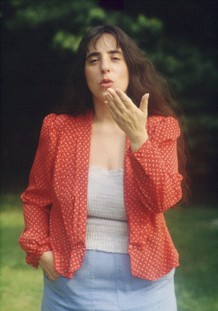 When another well known person, who Kort had interviewed died and she mentioned that to her friend, the friend responded by noting that it seemed like Kort had interviewed everybody. Kort recalls telling her friend, "I said that the one person that I would really like to interview would be Laura Nyro and a week later she died. It was kind of weird and poignant. It was very upsetting. Most of her fans had no idea that she was ill. About a week later a friend said to me, 'You should write a book about her.' I had never thought about that. I thought, I was going to read that book, so it took me another week to think, could I write that book? I knew that I had a lot of material to start with, because I had saved articles about her from the beginning. My partner was acquainted with Jimmy Haskell, who had arranged New York Tendaberry. That gave me a start on one interview and one concerning the most important album. After thinking about it for a week I contacted this agent, who I had never actually worked with, but whom I had talked to some years before. I asked if she thought this would be of interest and she was interested so she took the book on a proposal and I went from there"
The book which Kort originally thought, would take her one year to research and write eventually became three years, before The Music and Passion of Laura Nyro Soul Picnic appeared in print. "At the very beginning of the project, I knew a woman who knew her (Laura's) partner Maria Desiderio, and I got a copy of my proposal to her, through this woman . This friend of Maria's called me and told me that I was the only person they were considering. Then they called me and ultimately they decided not to, because there was an article written in the New York Times by a woman, Deborah Sontag and they didn't like this article, so that was it and they didn't want to talk to anybody. The way the woman expressed it to me was, 'There are seven of us who have taken this vow of silence,' and it was kind of dramatic. I just found it ridiculous that nobody ever cared about these other seven people. I thought I am not going to try and contact these people now, I am going to do the rest of my research and over time, people are going to hear who I am, understand who I am, and where I am coming from, and that I am coming out of love. I am not trying to write an exploitative book, but I am trying to write a very respectful book. If she was alive, I would be destroying her privacy, but now that she was gone, I couldn't and she belonged to history now. As long as I was respectful of her dad and of her son Gil, I felt okay about it. After a number of months I sent a letter to her father and her father responded to me. He ended up being terrific and her father became very interested in preserving her memory. When they did a play called Eli's Comin' in New York her father was there almost every single night. He was at the door (you can hear the smile in Kort's voice) talking to people. He was revitalized I think, by the attention his daughter got. Maria Desiderio died (the year after Laura) so I never got to talk to Maria, but all the other people who supposedly weren't going to talk to me, talked to me. I became good friends with her cousin Danny and her friend Patty DiLauria was wonderful to me. They loaned me pictures. By the end I had a tremendous amount of support. On my book tour when I went to New York, a number of her family members were there. It was wonderful. It was a strange coming together of people in general, because I thought, I never knew this person (Laura Nyro) myself. I had only met her as a fan backstage, but by the end of the project, I knew more about her than anyone did, because I knew everybody's stories about her. I knew all of the stories," says Kort.
Michele Kort who counts "Captain St. Lucifer," among her favorite Laura Nyro songs and considers New York Tendaberry as her most prolific album, something which the music critics of the day agreed with, has not allowed the legacy of Laura Nyro to remain only with the book she authored, but she maintains a blog to help preserve Nyro's memory and to continue to keep her music in the forefront.
"For one thing, I think that when you spend that much time, and you build up this much expertise about someone, you want to keep going with it (she laughs). It is still on your mind. The other thing is that Laura still has not got the recognition that she deserves. It would be amazing if she got elected to the Rock and Roll Hall of Fame this year. It is totally amazing that she is nominated, because she is forgotten by most," says Kort.
Perhaps there was is no more fitting way to define the life and the destiny of Laura Nyro than to reflect upon a conversation which Michele Kort had with Nyro's father, while Kort was doing her research. "My favorite moment was with Lou, her dad. I got really fascinated by Laura's family history; her Russian grandparents (her Jewish heritage) and her Italian grandfather. It was just a very interesting family on both sides. I asked her dad one day, did you name Laura after grandma and Lou said, 'No I named her after a song. I named her after the song "Laura." That's how I started the book that she was named after a song. It was one of those great moments. It became the opening for the book."
Bottom Photo: Laura Nyro
Interviewed by Joe Montague
This interview is protected by copyright © and may not be reproduced in print or on the internet or through any other means without the written permission of Riveting Riffs Magazine, All Rights Reserved